<style="text-align: center;">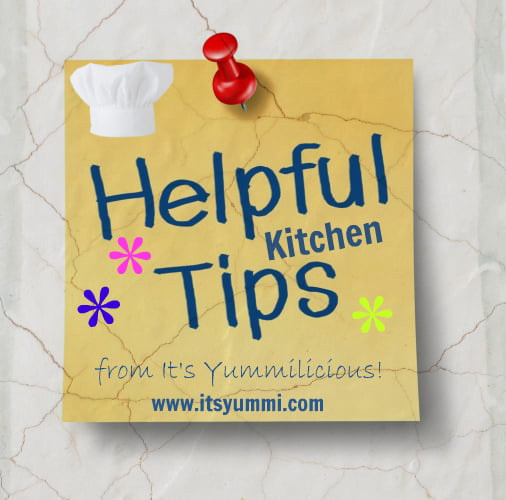 As my body struggles to recover from the medical ordeal and hospital stay it dealt with earlier this week, I'm not able to spend much time on my feet.  Sadly, that reduces the time I can spend creating  Yummi dishes to share with you, but it certainly doesn't prevent me from feeding your spirit with some useful kitchen knowledge!  Here are 5 quick tips that I think anyone spending time in a kitchen should know:
FIFO
– This handy acronym stands for First In First Out.  When you organize ingredients in your refrigerator and pantry after a shopping trip (especially if you stockpile food items), make sure that you're moving the oldest ingredients to the front of the shelf so that they get used first.  This will prevent excess waste caused by expired ingredients.  I like to use food labels on pantry items that last a while.  I place the date purchased and the date opened on them.  I do the same thing with products in my freezer.  These are the labels I currently use.
CLEAN AS YOU GO – 
Keep a bowl on your counter top to collect food scraps and waste as you cook, and try to keep your work area cleared of any dirty dishes to avoid clutter AND to prevent risk of cross contamination of raw meats and fresh produce.
READING IS FUNDAMENTAL – Save yourself some time (and possibly a few headaches) by reading a recipe from start to finish BEFORE you begin cooking.  Recipes can be confusing if they aren't written well, so by reading the directions through from start to finish, you'll avoid any surprises and be able to better manage your time.
KNIFE SAFETY – Kitchen knives can be dangerous when they're sharp, but they can be even MORE dangerous when they're dull.  To help prevent accidents, keep your knives sharp, and store them in a knife block or cover them with a sheath and store them in a drawer or knife bag.  Never store your knives loose or unprotected.  I have a counter top knife block that came with my knife set, but I think this in-drawer model is really awesome!  It fits all sizes of knives and makes it super easy to grab and go.
DON'T PLAY ON THE SLIP & SLIDE – I can't tell you how scary it is to watch someone trying to use a cutting board that is unsecured on a counter.  Every time I see that board sliding around, I cringe.  Why?  Because I was a victim of an unfortunate circumstance in culinary school.  I didn't listen to the wise words of Chef Gary, who advised me to always keep a damp towel or cutting board rings under my cutting board.  I placed my cutting board onto a counter that had just been disinfected and was still a little damp.  I started de-boning a raw chicken and the entire cutting board slipped right off of the counter.  Bye-bye Mr. Chicken 🙁
I hope you found these tips and suggestions helpful.  Please be sure to leave a comment below if you have any questions or if you have an idea or suggestion for a future article.  Remember, this is YOUR blog…I just write here.  🙂

Until next time…Be blessed and well fed!
~Becca