These Asian dipping sauce recipes for hoison, peanut, and sweet n sour sauces are perfect for holiday appetizers. You'll save money and avoid unnecessary chemicals found in bottled sauces. This is a sponsored post for Collective Bias and its client, SeaPak.
How do you feel about hosting holiday parties? Do you love it or hate it?
Truth be told, I have a love-hate relationship when it comes to hosting. Because I'm a trained chef, I feel a lot of pressure to create awesome holiday appetizers and dinner party recipes. Don't get me wrong…I LOVE attending parties, but hosting just isn't my thing. First of all, I have no place in my apartment for anyone to sit down. Unless you'd like to sit on our coffee table or squish yourself into our 2-person love seat.
I suppose you could find a spot on the cat condo if you're really hard up to visit my place.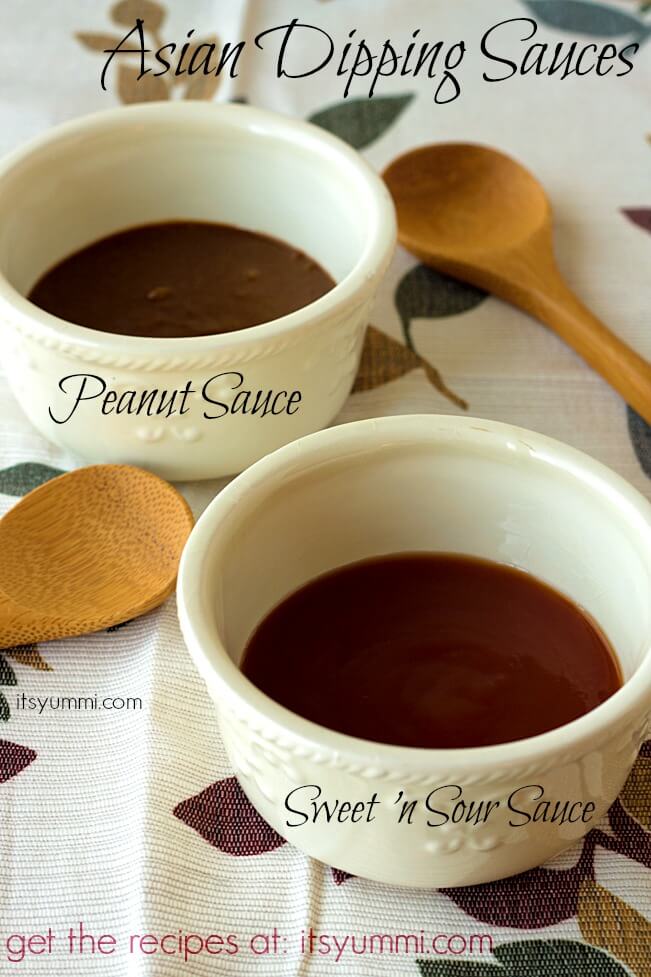 Secondly, I'm a horrible host, because I'm not a good mingler. I prefer to plant myself in the kitchen and whip up the party foods, forwarding the duties of platter passing off to Brian or some other exuberant social butterfly.
Lastly, like I just said, I'm a trained chef, so I feel self-pressured to make my party foods from scratch. I know that I shouldn't care, but dangit, I really want my guests to love what they're eating.
What I've recently realized, however, is that there are some REALLY good frozen party foods available these days. It used to be that frozen appetizers were loaded with preservatives, lacked flavor, and almost always ended up sort of mushy and blah when they came out of the oven. After some label reading, I found that really isn't the case anymore. I came across Rich's SeaPak Spring Rolls during a grocery trip at Wal-Mart, and I kid you not…they're freaking delicious!  Aside of that, they're almost all-natural, and affordable, too. Color me happily surprised!
I love pretty platters of party food. You DO know what the secret to creating a perfect platter is, don't you?  EVERY appetizer looks 100 times more fabulous jazzed up with frilly toothpicks. Truth.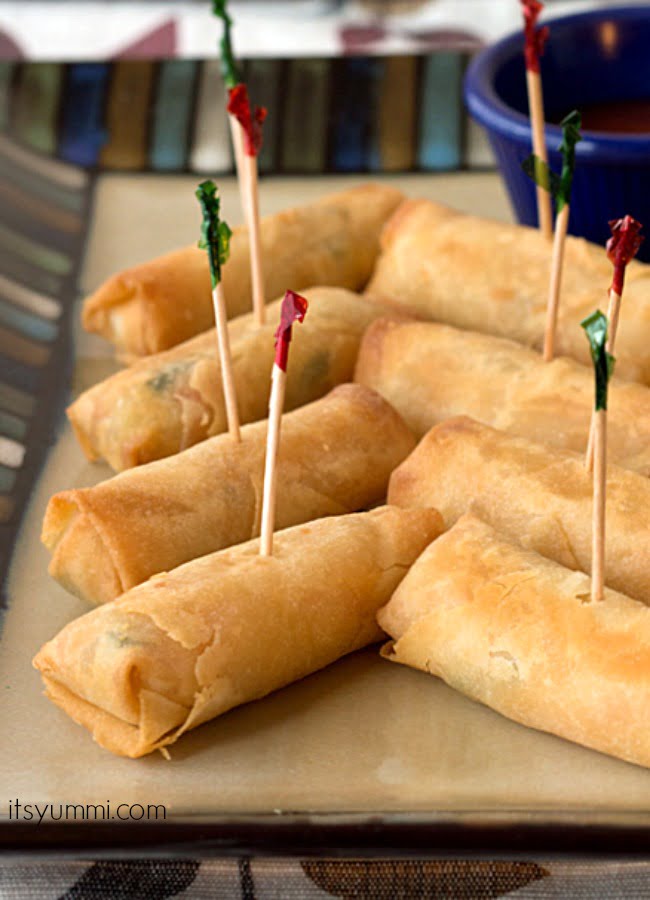 See what I mean? Gorgeous appetizers! Oh, and the size is perfect for turning them into an easy meal idea during the week, too. Just add a tossed salad and you're good to go!
I found some really creative ideas on SeaPak's Pinterest page.
My favorite party appetizers are the ones that can be dipped into a sauce. Cheesy, sweet, or savory… doesn't matter to me. I just love dipping sauce! Once upon a time, I relied on bottled sauces for that job, and I'd be willing to bet that many of you do the same thing. After all, they're quick and convenient. The thing is, I get really sick from some preservatives, especially MSG, and it's a notorious culprit in almost all bottled Asian sauces. That's why I've started making my own.
I think when you see how easy and inexpensive my dipping sauce recipes are to make, you'll want to hop on the homemade dipping sauce train, too.
Then you'll taste flavor instead of pheno-chemically-something-or-other and you might even come back and leave a comment to thank me.  That would totally make my year.