Homemade Cheddar Bisquick Biscuits
Homemade Bisquick Biscuits recipe made perfectly cheesy with cheddar and blue cheese and our homemade bisquick mix. This is a flavor infusion you'll fall in love with over and over again. Prepare yourself for cheesy, golden brown perfection.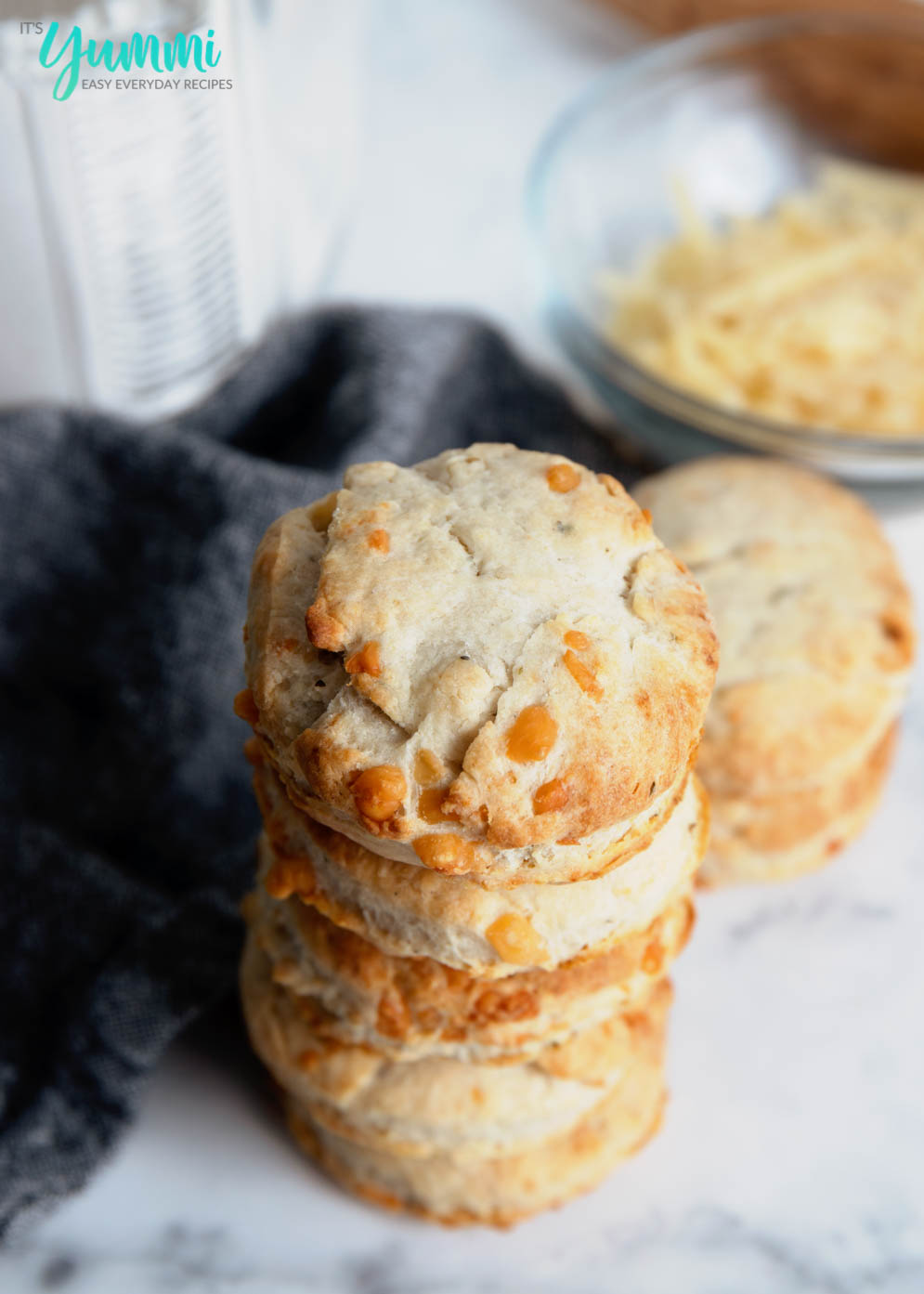 Bisquick Cheddar Biscuits aren't your average dinner biscuits. Perfect for entertaining or just weekend day dinners, these biscuits pair well with many different foods but stand out on their own with an unusual flavor combination that just plain works.
How to Make Bisquick Biscuits
What you'll need to make your biscuits: One of the key elements of these biscuits is the batter base. We use our DIY Homemade Bisquick Mix Recipe to make these. It's so easy and more cost effective to make it yourself!
Can dough be made ahead of time? Yes. Your dough can be made up to 3 days ahead of time and refrigerated, or you can make a big batch and freeze in portions for up to 2 months for a more "on demand" biscuits situation.
How long do these Bisquick Cheddar Biscuits last? Like most biscuits, these are intended to be baked and served the day of. However, you can bake, freeze and serve later by warming in the oven for about 5 minutes or so.
Can these Cheddar Biscuits be frozen? Yes, as stated above the biscuits can be frozen and reheated in the oven. If you've made a big batch, we recommend packaging together a few biscuits in portions you would use. The biscuits will last in the freezer for up to 3 months, but best consumed by 2 months.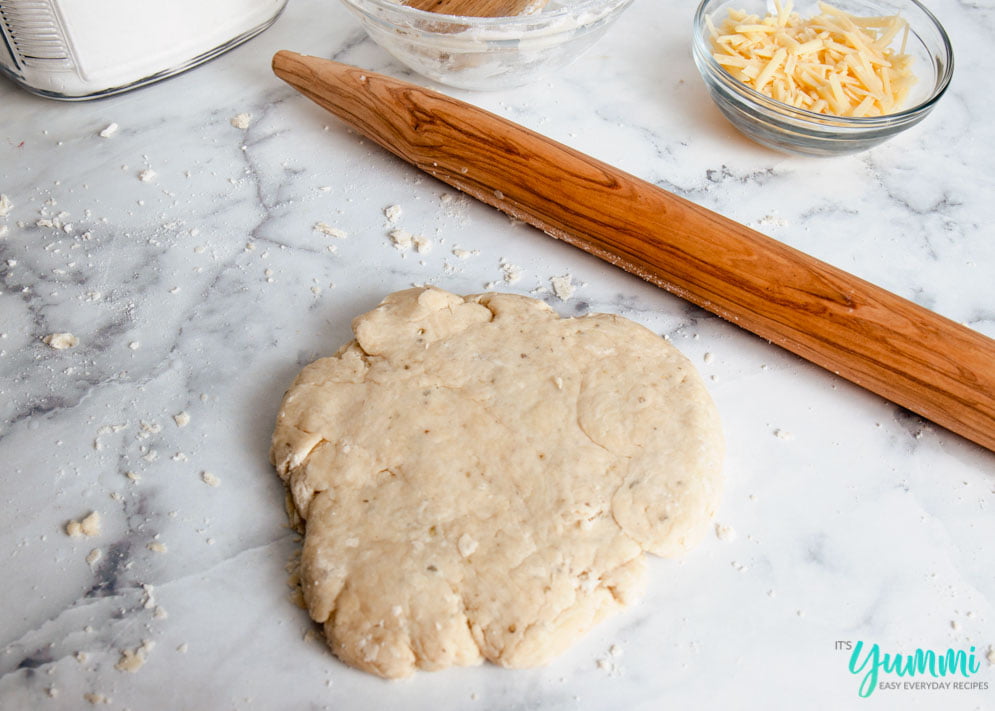 Changing it up a little
If you want, you personalize your biscuits with a small addition to the batter before baking:
Bits of chewy bacon: Just be sure not to use too much or the biscuits will become greasy.
Additional seasoning: Chives, rosemary or garlic power can be a little goes a long way to adding some flavor. When in doubt, go light on the extra seasoning as to not clash with the cheese flavors. Less is more.
More cheese: We're already loving the blue cheese and cheddar combination, but you can add some parmesan in for the trifecta of cheese.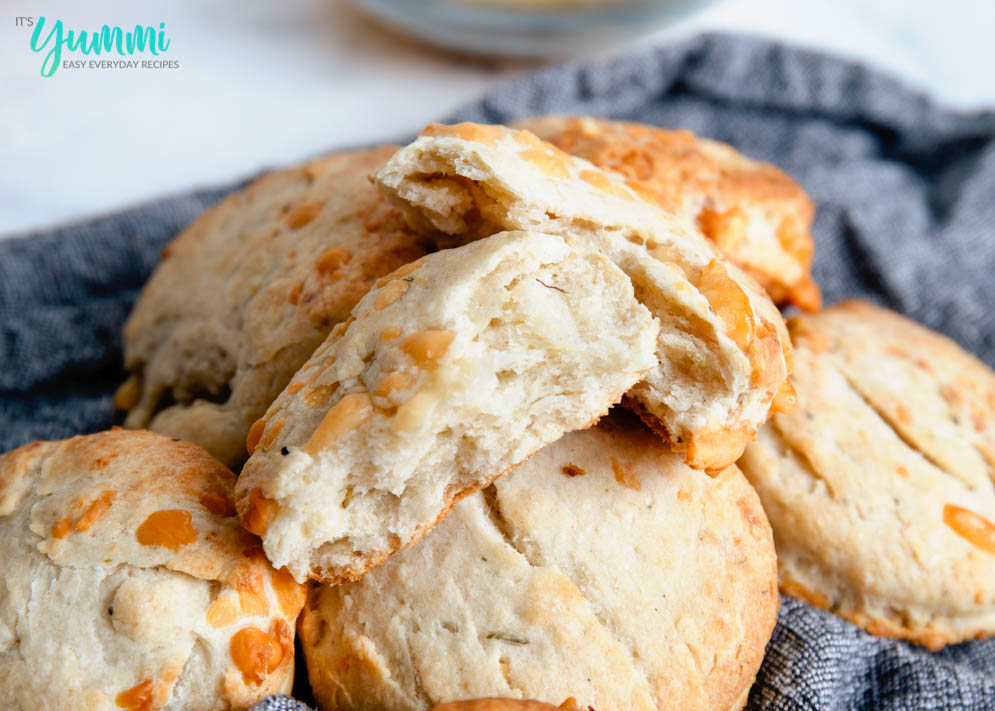 What is blue cheese?
It's true, blue cheese is one that many people avoid out of fear or discomfort over what it is. Or rather, not knowing.
Blue cheese can be made with milk from a cow, sheep or goat – with mold Penicillium. Yes, you read that correctly. The blue in blue cheese is, in fact, spots or veins of mold infused into the cheese.
It gives the blue cheese a distinct look and aroma.
Is moldy cheese really something we want in our foods? Yes. So much yes. It's safe to eat (we promise) and the flavor is both unique and complex, perfect for dishes like these blue cheese Parmesan biscuits.
A culinary history: cheddar biscuits
These savory, slightly salty biscuits are French in origin and have been featured by famous chefs for years, including Julia Child. We'll pause while you hear some combination of Julia Child and Mrs. Doubtfire in your head.
Just a hunch. You're welcome for that auditory experience.
The point being, these biscuits have a long history among some of the greats. So if you're hesitant to try because of the blue cheese, we promise these are worth it.
These are not your average dinner biscuits (and that's a good thing!) Bake until golden and devour.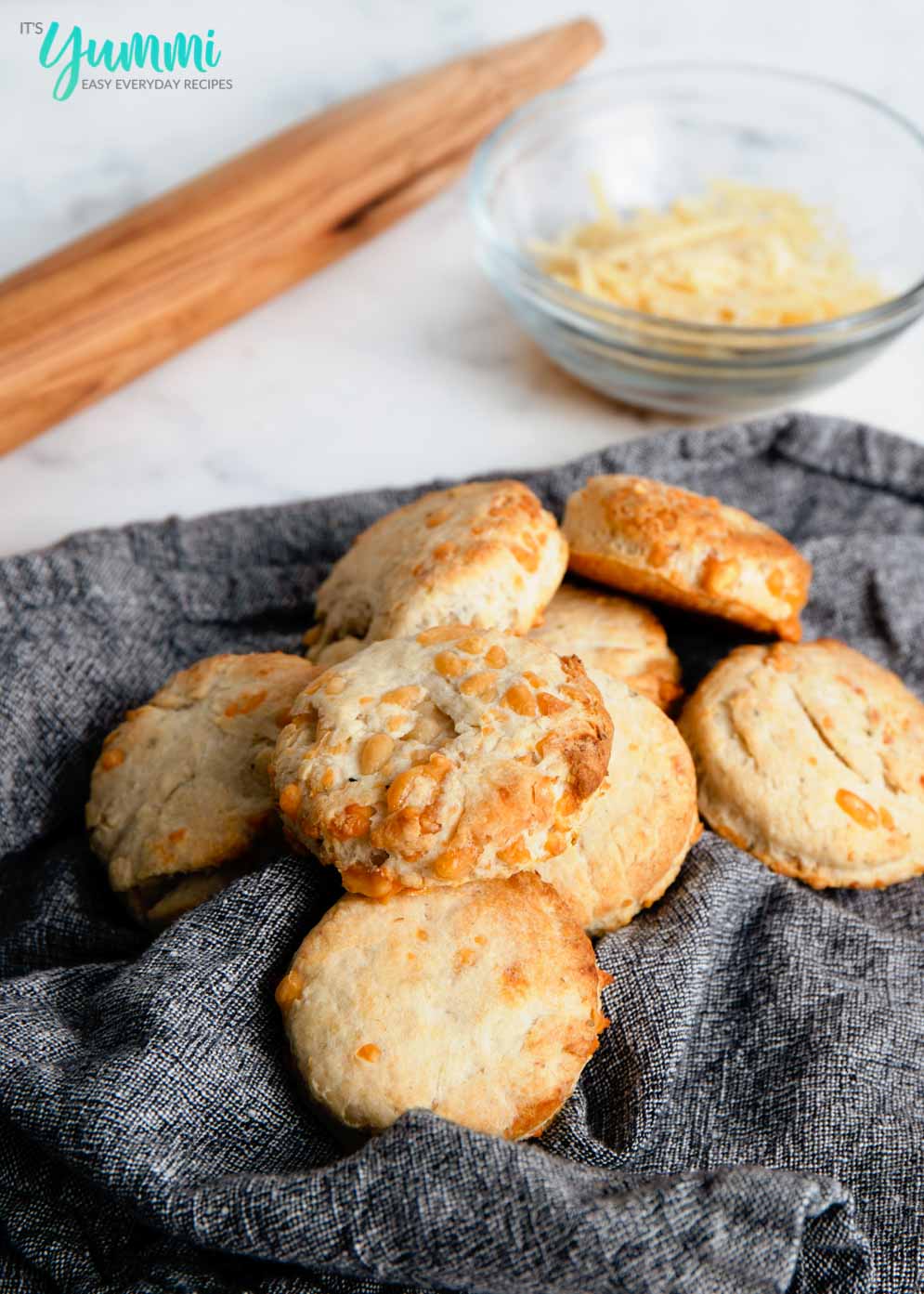 What to serve these Cheesy Homemade Bisquick Biscuits with: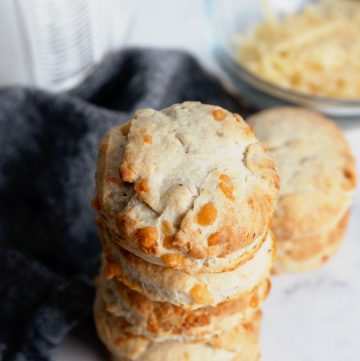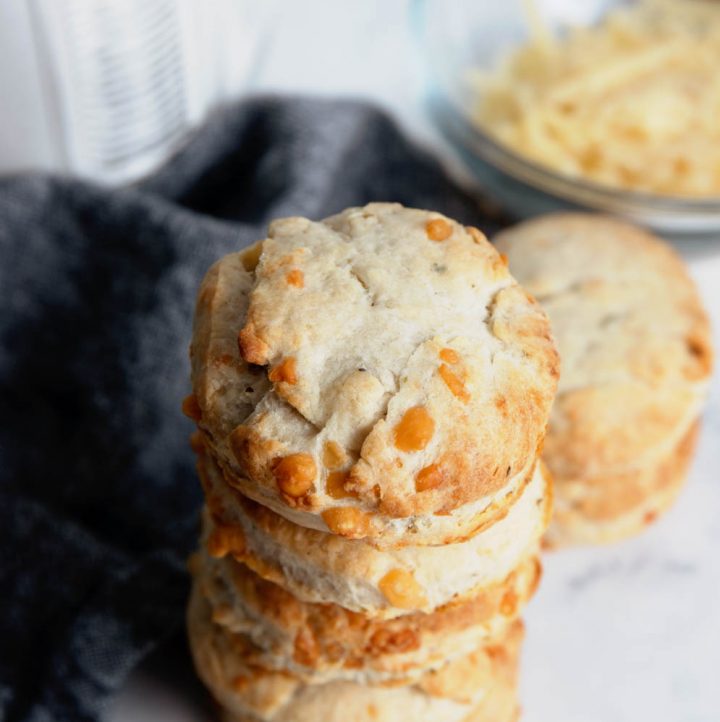 Homemade Bisquick Cheddar Biscuits
Homemade Bisquick Biscuits perfectly cheesy with cheddar and blue cheese.  This is a flavor infusion you'll fall in love with over and over again. Prepare yourself for cheesy, golden brown perfection by using our homemade bisquick mix.
Ingredients
1 1/2

cups

Homemade Bisquick Mix

1/2

cup

blue cheese dressing

1/2

teaspoon

dry italian seasoning

1/4-1/2

cup

milk

(start with 1/4 cup)

1/4

cup

cheddar cheese

, shredded
Instructions
Preheat oven to 350 degrees F

In a large mixing bowl, add bisquick baking mix, dressing, italian seasoning, and ¼ cup of milk. Mix together. As it gets harder to combine in the bowl, dump out onto a very lighting floured surface and finish combining by kneading the dough together.

Roll out to ½ inch thick slab - shape does not matter. Add the cheddar cheese to the dough and fold over kneading a few more times. If dough feels dry and like the flour isn't sticking, wet your hands with leftover milk and slowly incorporate until it is able to rolled out smoothly. Dough should still have some texture to it as pictured

Roll again to ½ inch thick and use a biscuit cutter or a mason jar to cut circles for your biscuits. 

Place them approximately 1 inch apart on a baking sheet. These will not stick, nor will they rise greatly so you do not need to worry about their proximity to one another.

Brush with butter or milk if desired, and bake for approximately 15 minutes until turning slightly golden on the top.
Nutrition
Serving:
1
biscuit
Calories:
103
kcal
Carbohydrates:
12
g
Protein:
3
g
Fat:
5
g
Saturated Fat:
2
g
Cholesterol:
3
mg
Sodium:
387
mg
Potassium:
37
mg
Fiber:
1
g
Sugar:
3
g
Vitamin A:
29
IU
Calcium:
81
mg
Iron:
1
mg