How Much Do Food Trucks Charge For Catering in 2023
On average, a food truck charges $8-$70 per person, depending mainly on the type of food and number of guests. Start with a minimum of $500 and consider your options from there.
The possibilities are endless. From taco trucks to lobster ones, you are in control. Add drinks, and desserts, or even combine more cuisines from all around the world.
Another aspect to keep in mind is that the smaller the event, the more the cost per person will increase, as the minimum price must be reached.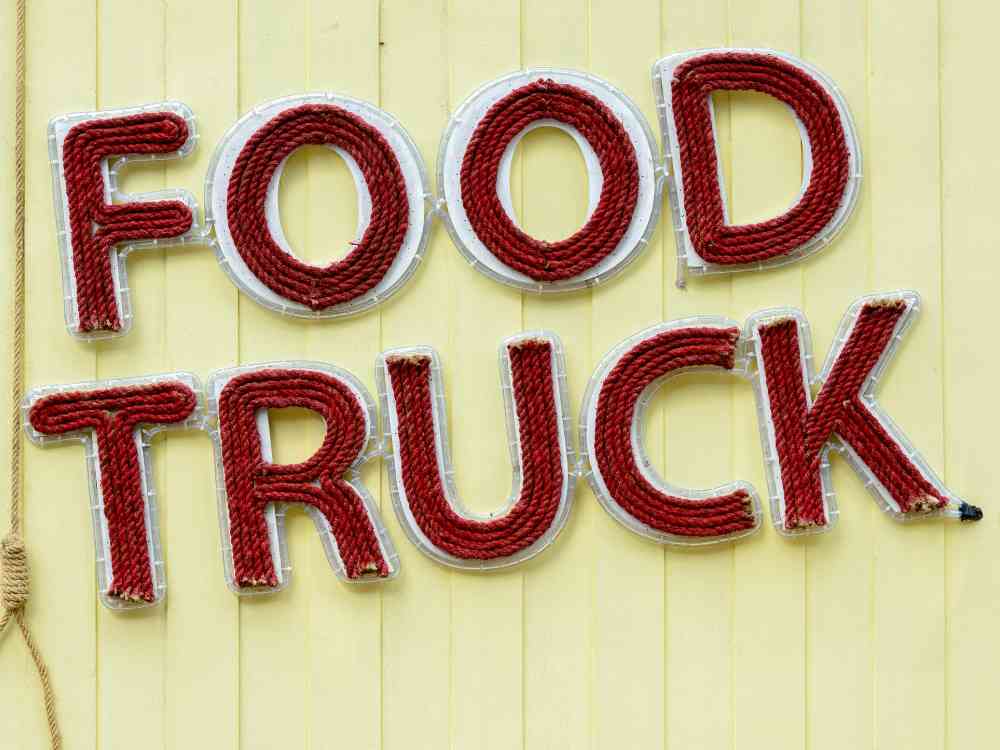 How Much Do Food Trucks Charge For Catering?
Apart from being a fun alternative to dining, a food truck can save you a significant amount of money, especially when organizing large events, where the cost of catering per person is usually around $50–$100.
Some of the most popular brands of food trucks to rent for events include Prestige Food Trucks, Upfitters, Food Shark, and Spencer on the Go! ADG Custom Food Trucks, Street Food Trailers, and many others.
On the other hand, if we're talking about wedding catering, The Crafted and Co, Kickflip Pizza, Taco Addicts, Wilson Barbeque, Pan Man, or Daisy Days for some sweetness are some great examples of food trucks.
A tasty dessert for your guest costs from $8 to $85 per person. The popular food truck brand Daisy Days charges $850 per 100 hundred guests and it's usually a wedding treat that leaves a sweet final impression on everyone present.
Also, an Ice Cream cart like Mary Had a Little Party, perfect for birthdays, only costs $7 per person, with a rental minimum between $300-$500.
Next, moving to more serious matters, like the main course, the quantity increases, as well as the cost of the food trucks. If you're searching for interesting food trucks to rent for events, here are some great brands and their prices.
PANMAN is a food truck that adds a Spanish twist to your event. Serving delicious Paellas and other traditional specialties, the truck will impress the guests and keep their energy up throughout the day
The pricing is about $550 on average per group of up to 30 people. Of course, we also must mention the famous Taco truck.
Perfect for all events, the Taco Cart can be as little as $6-$12 per person, with a minimum delivery of $400-$700.
Brands like Taco Addicts, Tacos El Poblanito, or La Fiesta Mexican Cuisine surely deserve your research time.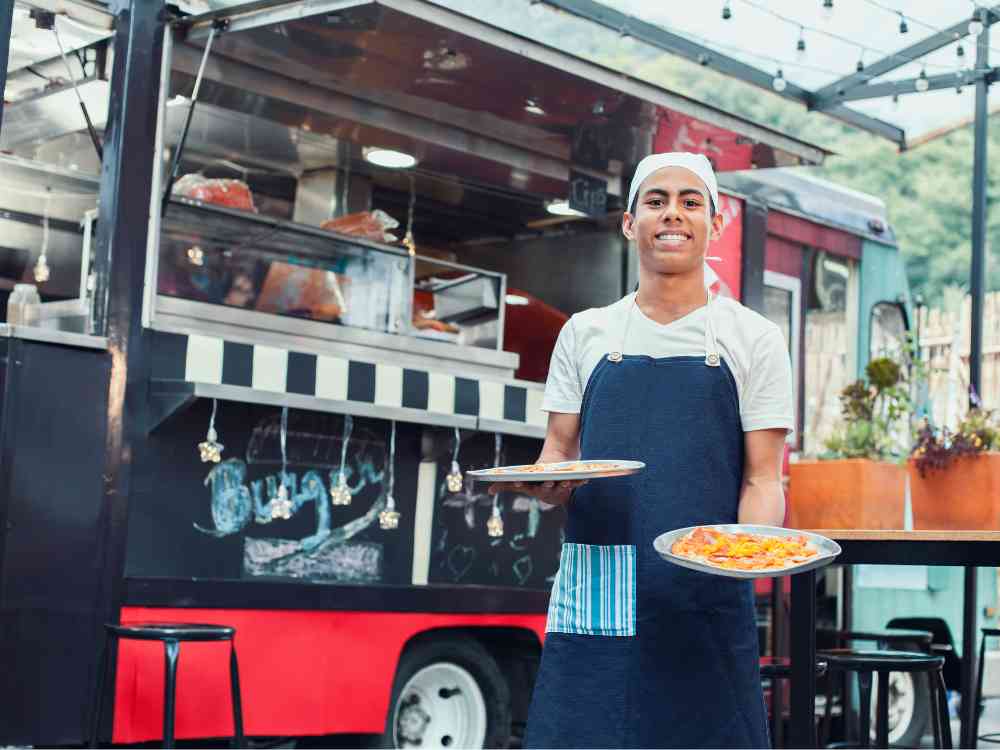 Average Food Truck Catering Cost
Just as a short revision, the average cost of food truck catering is $68 per person, considering that a rent minimum of $300-$800 is always applied.
When analyzing different brands and the number of guests, the price range turns out to be around $8-$70 per person.
Of course, catering can get as expensive as you wish to obtain the best experience, but this is a useful average score to start with.
# Wedding/Anniversaries
Let's get detailed and analyze each of the costs when organizing different events.
As you can see in the YouTube link posted at the end of the article, food truck catering is becoming one of the most popular choices due to its numerous advantages.
So, how much does a food truck for weddings cost?
Planning a wedding is no piece of cake, and even when narrowing it down to simply planning the catering, the choices can be overwhelming so these tips may be useful.
Combining two different food trucks is the perfect way to consider all your guests' preferences.
Alternatively, you can opt for one truck for the main course and one for dessert, offering your guests a veritable memory.
Some catering companies, like Gary steaks, have special wedding offers that involve as little as $35 per person.
The cost differs depending on the brand, the meal, and the serving times, but everything in the price range of $35-$100 per person is available.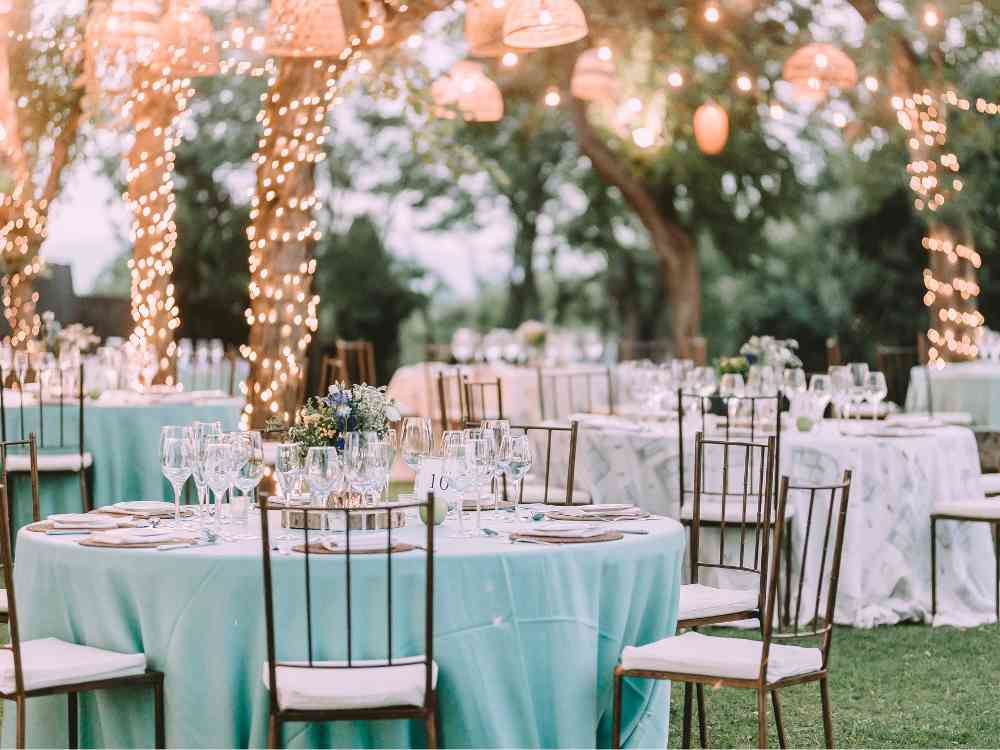 # Birthdays
Luckily, birthdays are not as expensive as weddings when it comes to catering, mainly because of the number of guests.
Also, extra fees like space rental or overnight security don't apply, as the event usually takes less than a day.
Usually, one food truck will do the trick of mesmerizing your guests when it comes to birthdays. Add some party decorations around and enjoy the day!
The minimum rental for birthdays is about $300-$600, but the cost fluctuates with the number of participants. You can expect to pay between $12 and $14 per guest, which is fabulous!
There is an incredible range of food trucks available for each special occasion and each taste.
While sweet trucks and beverage trucks are an economical alternative, as they don't charge as much, other classics like Gary's Steak and Kickflip Pizza are not close behind in the race!
What compares to a photo memory in front of your favorite food truck at the end of the day?
Lastly, when planning, keep in mind to check all available trucks that are close to your locations, as the location fee will drop considerably, and you'll save $30-$50 per extra 10 kilometers.
# Corporate Events
When calculating the cost of food truck catering for a corporate event, you should first establish the number of people that will attend. If this number is more than 20, prepare at least $1000.
Food truck services are aware of the stress that a large event implies, so corporate parties/ meetings are not that different from weddings from this point of view.
The price can go as high as $1600-$2000, but again, a corporate event can extend to up to 100 people, so the cost is more than decent after all.
Reward your employees or keep the audience happy and attentive at a conference with this wallet-friendly option!
Additionally, another aspect to check before renting a food truck for the next corporate event is the extra fees that apply for space rental, electricity, and water.
Also consider the date of the event, as holidays and free days given by the state, as well as weekends, will probably cost more.
Busy summer days are also included in the category, as the food truck season is at its peak.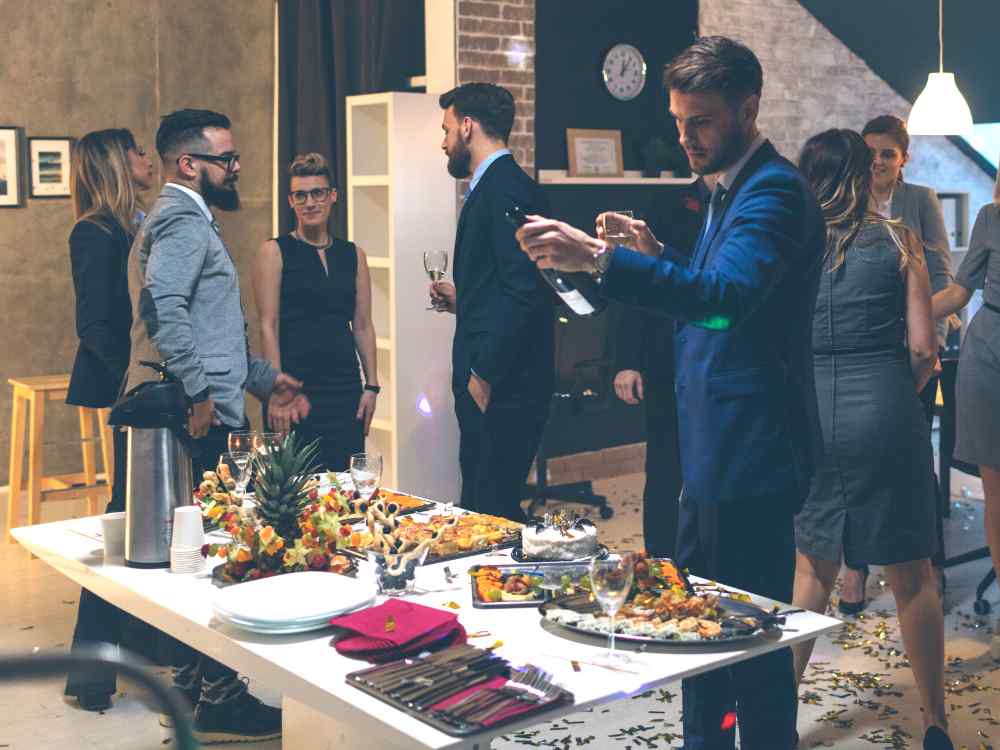 Factors That Differ Food Truck's Charge For Catering
As we mentioned earlier, the cost of food truck catering is not fixed. When establishing a budget, consider firstly the type of event you're planning.
Next, the location, time, food type, and number of guests are the main points that should be covered. To help you with that, here are some tips about every one of these aspects:
01. Types of Events
While a kid will probably be delighted to have an Ice Cream truck at their birthday party, other events require far more planning and additional costs.
On the other hand, a wedding is usually the most expensive event regarding food catering, but even in this scenario, food Trucks are the most wallet-friendly option available, reducing the cost per person by as much as 50%
02. Location
Most Food trucks charge extra for long distances, so finding available options near you is a must if you're searching for the most cost-efficient alternative.
Usually, brands charge around $20-$50 per $10 hm for distances that are over 30-50 km.
03. Time
Most companies offer food truck services for 2-3 hours, so any extra serving time is paid separately.
The idea of letting your guests snack at any time is surely tempting, but realistically speaking, the cost is not worth it. Usually, 2 hours are enough to serve around 100 guests without hurrying anyone.
04. Number of Guests
The number of guests is the most important aspect to check when figuring out how much to rent a food truck for your event.
It's important to know that every food truck has a rent minimum, so even for 10 guests, at least $400 should be set aside.
Additionally, the cost varies between $8-$70 per person, but this primarily depends on the menu and side dishes available.
05. Type of Food/Brands
Popular brands are, of course, harder to reach, financially speaking, compared to amateurs.
For example, the Kogi brand, one of the most popular ones at present, charges starting with $1250 for 2 hours.
Moreover, specialties like Lobster or professional barbeque will be more expensive than the classic burger or taco truck.
To add to all these, any event requires beverages that might come at an extra cost, depending on the menu.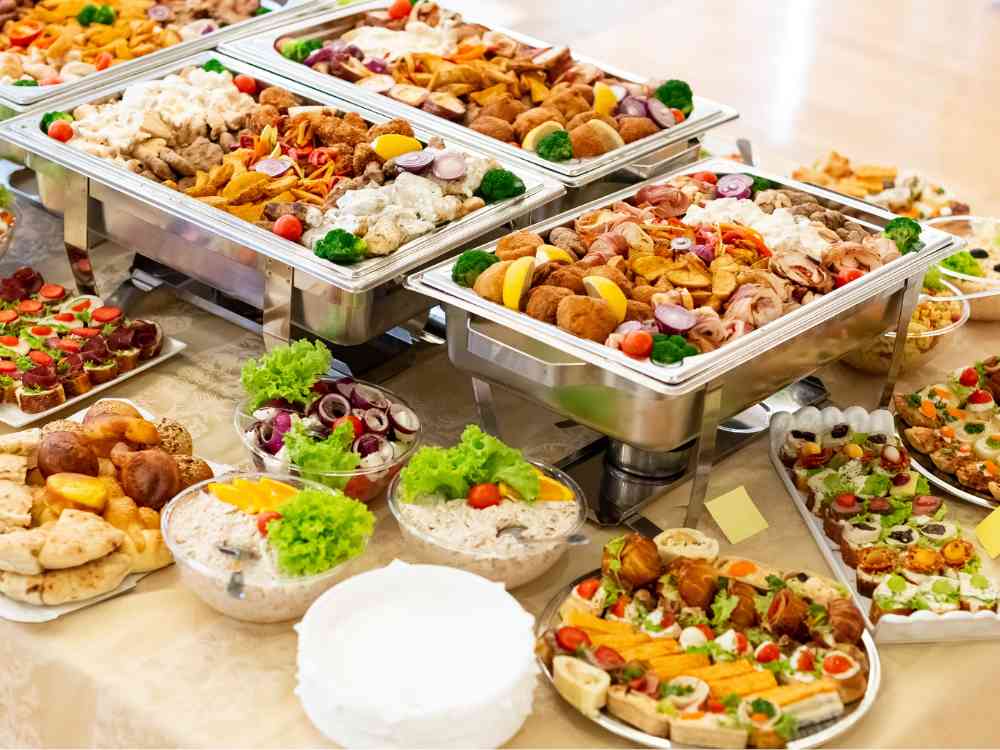 Food Truck Catering Vs Traditional Catering
So, now you know all about different brands of food trucks, different events, and the costs that come with planning them.
Even more, you've probably concluded that food trucks are way more friendly for your budget while also adding a unique atmosphere to a place.
Finally, to help you make an informed, sure choice, here are some differences between traditional and food truck catering:
01. Cost
First, the goal of this article is to analyze the cost of food truck catering. Even though the food truck business is becoming more and more popular each day, it seems to maintain a decent price range.
Even renting a vintage, the lobster food truck is probably less costly than traditional catering.
02. Location
Traditional catering is the go-to when planning an indoor event, and to be honest, it's quite hard fitting a food truck in a banquet hall. However, when it comes to outdoor events, food trucks exceed any expectations.
Fitting perfectly into the natural decor, with colorful designs and unique styles, food trucks are not only a great source of catering but also a decor item.
03. Versatility
Traditional catering companies most often than not offer their clients fixed menu options. The beauty of food truck catering is its versatility.
From delicious Mexican food to unusual sweets and beverages, this type of catering not only satisfies the guests but also offers unforgettable moments.
04. Service
In contrast to traditional catering, food trucks implied being served by a friendly, experienced person who's there to make your day better.
The social interaction, as well as the live preparation of the food, boosts morale and completes the atmosphere!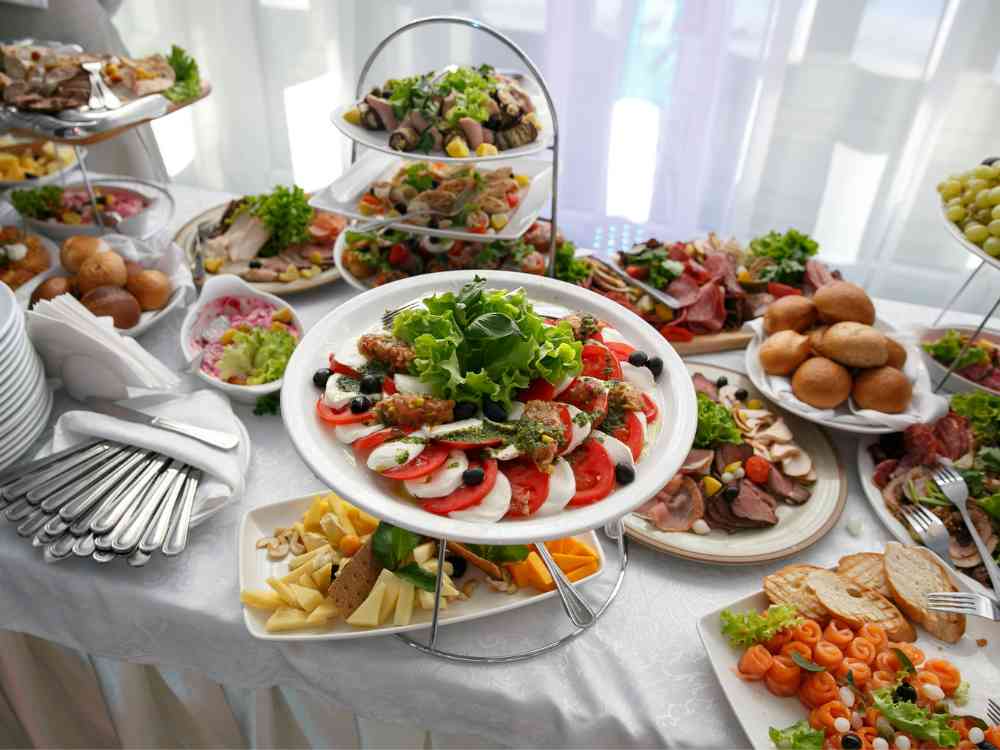 Why Food Truck Catering is Popular These Days?
People love change, and if the change comes in the form of a delicious, unusual meal, it's even better.
Food trucks do not only change the atmosphere of an event through their served dishes but also their aesthetic.
Posing in front of a vintage food truck on your wedding day creates a unique, exciting memory.
Also, when it comes to birthday parties, what kid wouldn't love to hear an Ice cream Truck ready to sweeten everyone up?
Even more, the smell of freshly cooked food awakens happiness even from the most inattentive guests.
Most food trucks prepare the dishes right in front of you, so your appetite is teased every second.
People Also Search For
What is The Place Where Food Trucks Have The Greatest Success?
You'll usually see food trucks in crowded, yet accessible areas like street parking that's close to business buildings or the town center, gas stations, and of course, next to bars and nightclubs.
So, if the food truck you've rented served such amazing food that now you miss it, there are high chances to find it in these locations.
Which Food Type is The Most Popular For Food Trucks?
Number one on the list of the most popular food items served by a food truck is barbecue. Delicious and easy to prepare, it's loved by both customers and vendors. Next in line are pizzas, tacos, cupcakes, and sliders.
What is The Age Group For Food Truck Clients?
Is it appropriate to order food trucks catering to elders or small kids? Although the age range for food truck customers is 18-34, the food served is so varied that you'll surely find a dish that is enjoyed by all generations.
What is The Number of Items To Search For on a Food Truck Menu?
After some detailed analysis, specialists have concluded that a food truck menu should consist of 5 to 12 different food items, plus beverages.
A well-crafted menu contains dishes that are easily prepared in a short time while maintaining superior quality, as a food truck should serve around 60-100 people per hour during an event.
What To Look For When Renting a Food Truck For An Event?
Firstly, establish your budget by following the steps we've mentioned before in the article. After you know the cost of food truck catering, it's time to choose between thousands of brands.
Some qualities to look for are hygiene standards, menu variety, design, and of course, reviews from other customers.
Last Words
To summarize, after learning all about the best food trucks to rent for events and their associated costs, it's safe to affirm that with as little as $300-$800 you can delight the taste buds of up to 50 guests and create an unforgettable experience!