How Much Does Catering Cost For A Party in 2023?
When you want to host a party and feed a crowd, the first question you need to figure out is how much the catering cost for a party.
Catering costs vary a lot and are between $10 per person and $200 per person.
We will help you get a precise idea about how much catering costs for a party.
It depends on what type of party it is, what catering you are offering, what catering company you choose, and other factors.
But don't worry, as we are geared up to help you answer all these questions and resolve all your queries.
The average catering cost for breakfast would cost you about $10 to about $30 per person, depending on what food you choose.
A simple lunch catering would cost you about $15 to $25 per person, but if you want a plated dinner, it can cost you about $60 to $100 per person.
Furthermore, if you are having a cocktail party, the cost per piece is around $5, while for more substantial items, it can go up to $10 per piece.
If you want catering at an event like a wedding, the cost per person would be $50 to $200 per person, depending on your preferred style.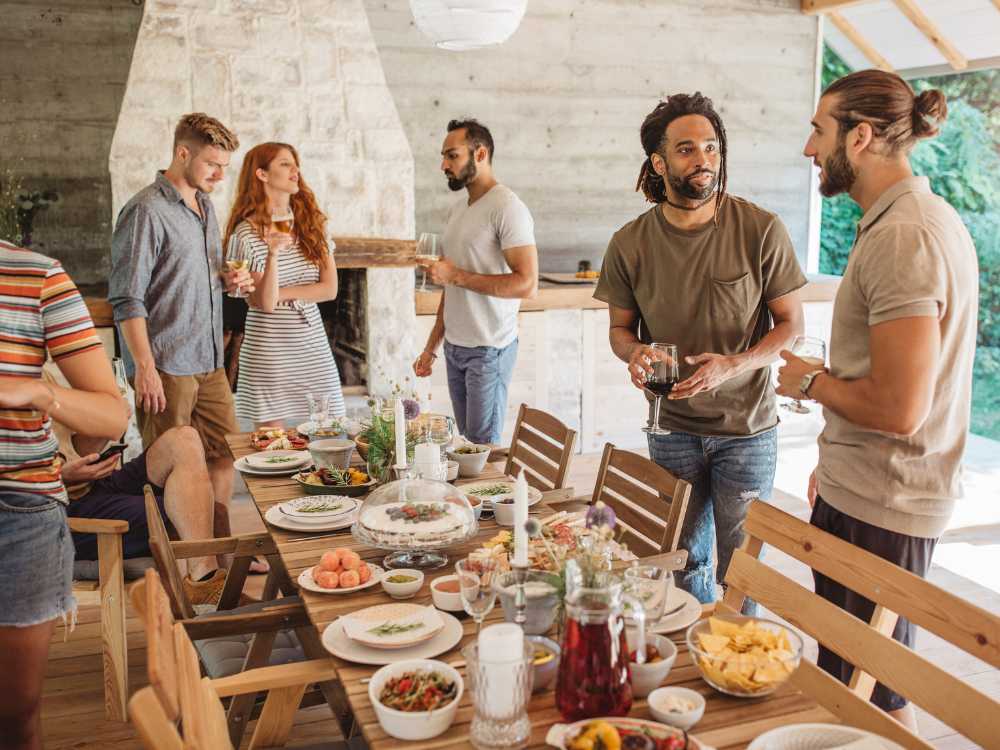 Now that you have an idea about the costs, let's see what some good catering company options are:
The List of Good Catering Companies
01. Sirico Caterers
Sirico caterers can offer you excellent services, whether for a small meeting or a huge celebration. Sirico also offers event planning services. The staff is also very well-trained.
02. Herban Feast
They offer an amazing venue and customized menus and have an expert team to help you in design and management.
Their extraordinary services can take your event to the next level.
03. Brother 2 Brother Catering
This catering company has collaboration with the best suppliers and vendors.
This allows them to offer premium quality and a wide variety of dishes and cuisines.
04. Leading Caterers of America(LCA)
Leading caterers of America are among the best caterers known in the USA and Canada.
They will help you manage your event perfectly and offer you excellent services.
05. Zero Caters
ZeroCaters can deliver excellent food at your venue from local restaurants. They also prepare a customized menu and offer great options within your budget.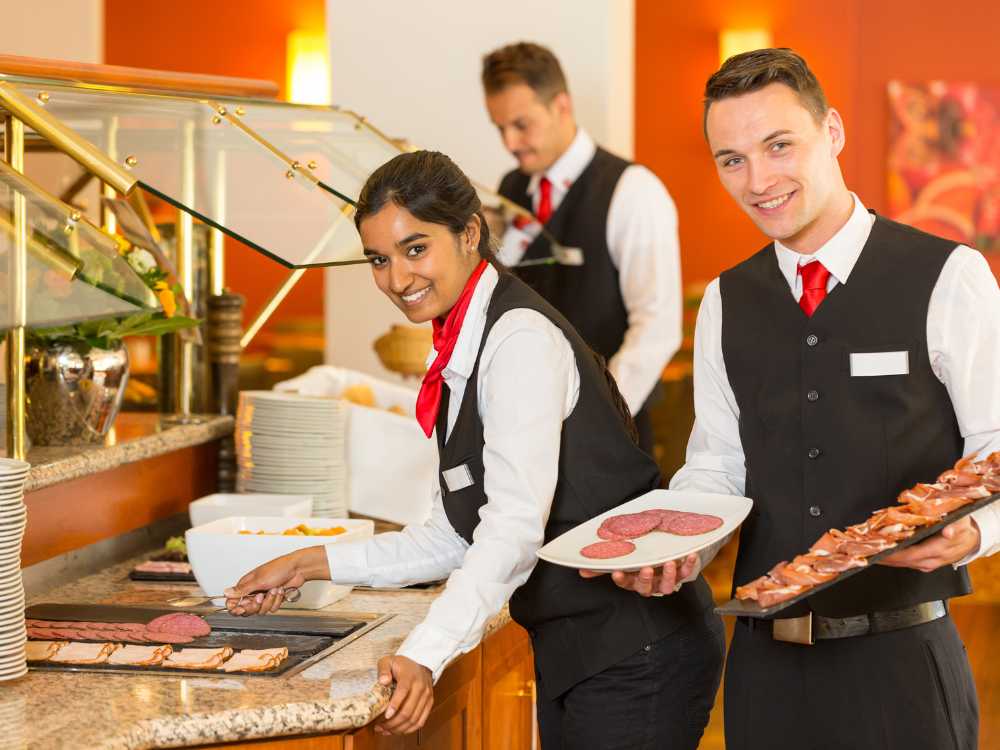 Different Types Of Party Catering Costs
The catering style you choose for your event or party can greatly impact costs.
Different catering styles are preferred for different types of events, which means if you choose the right one based on the number of guests and other factors, you can save a lot of money.
Buffet Catering
This type of catering is ideal for large indoor events such as weddings or other corporate events.
For buffet catering, you'll need a space to set up the buffet and consider if you want to help people serve or refill.
The cost of such catering would be around $25-$50 per person.
Traditional Catering
Traditional catering is full-service catering which is common in dinner events and formal weddings.
The food is served in typical courses and is prepared on-site. The caterers take care of the setup and provide food options for guests with dietary restrictions.
The cost per person varies from $50-$150.
Drop off Catering
It is an easy option that works best for small events. You can get service from a nearby catering company and get the food of your choice delivered.
It is a budget-friendly option as drop-off catering costs between $12 per person and $20 per person.
You can choose this type of service for small private parties or meetings with 10 to 40 people.
Food Truck Catering
This type of catering works best for non-corporate parties and outdoor events like birthday parties and outdoor weddings.
The food is either served on food carts, table setups, or on full-size trucks. The cost for food truck catering varies from $20 per person to $40 per person.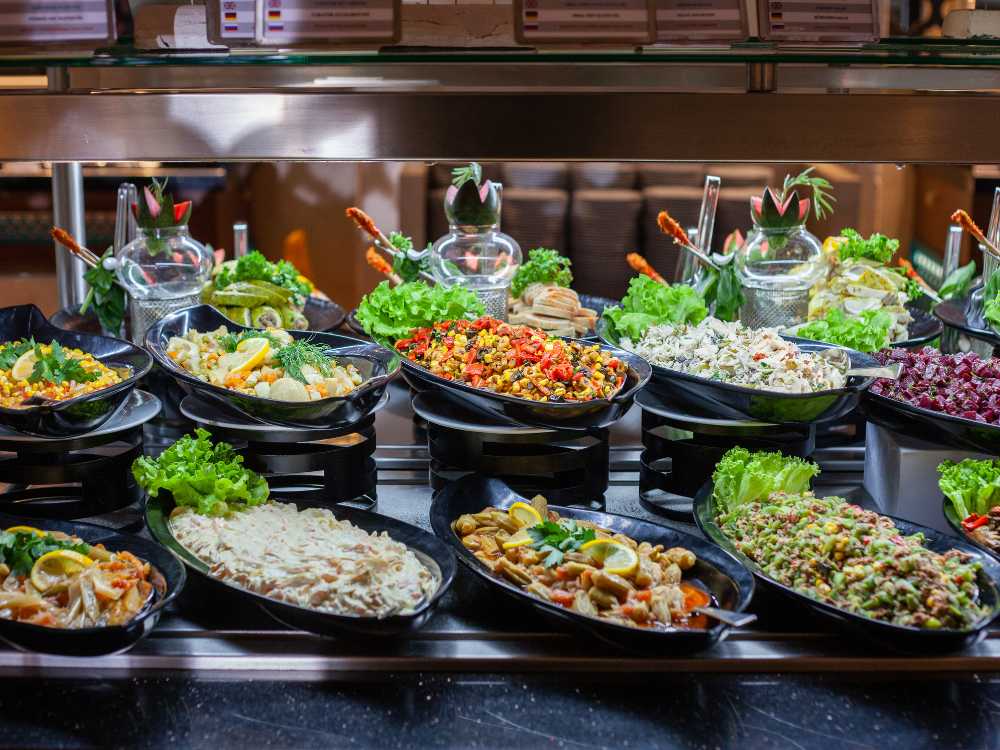 Factors That Affect The Cost of Catering A Party
The factors that affect the costs of catering a party include:
Service Style
Service styles like traditional catering and buffet catering can cost much more as compared to the other catering style.
So if the other types of catering suit your event, then you should go for those. Doing this will save you a lot of money.
Type of Cuisine
The more specialized you get for the type of cuisine, the higher would be the cost. Options like pasta, tacos, and sandwiches would be much less expensive.
But if you go for BBQ or lobster, the cost per person would be much higher. Furthermore, if you hire a private chef, the catering cost can be even higher.
Event Date
The day that you choose for your event affects the catering cost. If the event is on a weekday, the pricing would be lesser compared to the event that is on the weekend. Similarly, for holidays the prices are also increased.
Type of Beverages
Serving beverages along with the food can also give your catering cost a boost. If you want to have a wide variety of beverages that includes wine, then you need to consider the price of those in your budget too.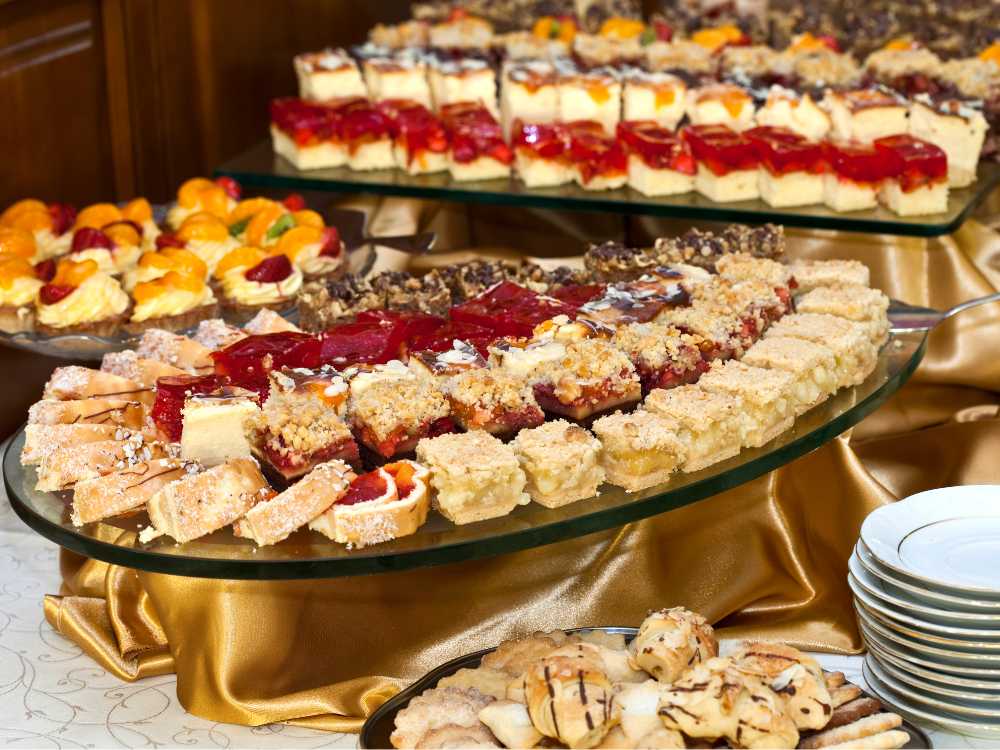 FAQs
How Much Food is Enough For 100 People?
To get an idea about the amount of food, you should consider about one pound of food per adult and 0.5 pounds for a kid. This does not include drinks and desserts.
What is The Best Food to Serve on a Budget?
You can serve soup, pasta, sandwiches, tacos, or other appetizers if you want budget-friendly catering.
How Many Trays Do You Need For 50 People?
If you want to feed them a full meal, you need to have about 40 platters. All the guests have different levels of appetite, so you need to consider that too.
How Many Appetizers are Required for The Party?
You will need 5-10 different items with 3-6 pieces per person.
How Many People Does a Full Tray Serve?
A full tray that is 12 inches by 10 inches can serve about 15-20 people.
Final Words
So, this was all about how much catering costs for a party. To get the catering done on a budget, you must consider all the above-mentioned points, including serving style, catering services, and other factors.
If you choose the right services for your party, it will not only save you a lot of money but will also leave a lasting impression on your guests.
So, get what suits you the best and make your events much more memorable.