7 Effective Ways How To Promote A Catering Business in 2023
Starting a catering business can often be a challenge. The easy aspect of beginning a food business is excellent food, but the challenge is attracting customers to your establishment.
If your business is an online delivery business, it can be more challenging as you lose out on the walk-in customers that a traditional restaurant often relies on.
The goal at the very beginning of your catering journey should not be to make money but to spread the word about your business and the food that it serves.
You want people to taste the food and understand what your menu is all about.
If you are serving a specific cuisine or your menu focuses on a theme, you will want to start by creating a write-up explaining what your food is all about.
You want your food to tell a story. The first part of your promotion should focus on the story that your food tells.
Tell your future customer why you chose this cuisine and what it represents. You can also elaborate on the ingredients and the cooking procedures to make the food.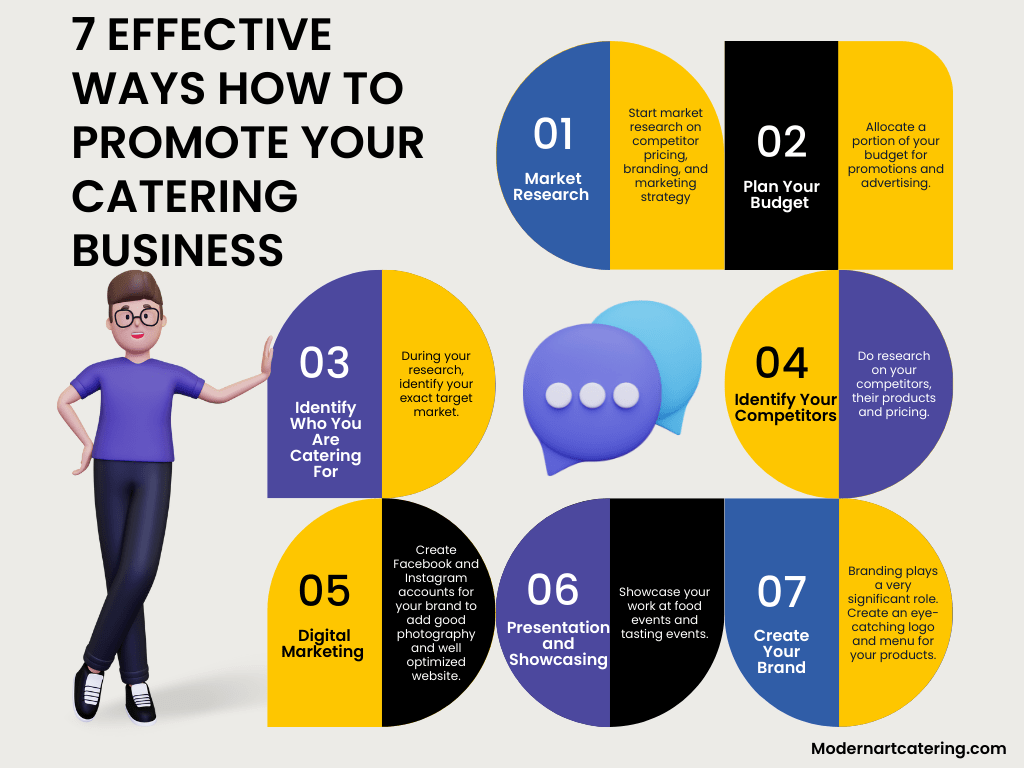 01. Market Research
Once you have completed your first task of creating a descriptive story about your food, you will want to start focusing on doing market research about your industry.
You will need to research the average selling prices of similar food in the market and what areas in your town you are most likely to make the most sales.
02. Plan Your Budget
You will need to start planning your budget for your promotions. You may have allocated funds for ingredients and other food-related costs.
If you have not given much thought ah08t your promotional budget. Advertising is one of the most vital parts of your business to allocate a budget.
03. Identify Who You Are Catering For
To target your marketing and promotional campaigns correctly, you need to identify who you are catering to.
If your business sells affordable lunches, you can make more daily sales in an area with offices.
You could run campaigns to the offices in that area with your menus and samples of the food you sell.
If your menu focuses on higher-end food such as sushi or fine dining, you might want to focus on events such as parties or weddings.
To reach this customer base, you may have to collaborate with a wedding planner or a professional party planner.
04. Identify Your Competitors
Before you begin your promotions, you must identify who your competitors are and analyze their products, their price range, and their marketing strategies.
While you will not want to copy their work, you must get an idea of what successful businesses in a similar category of catering are doing and how their marketing strategy is working.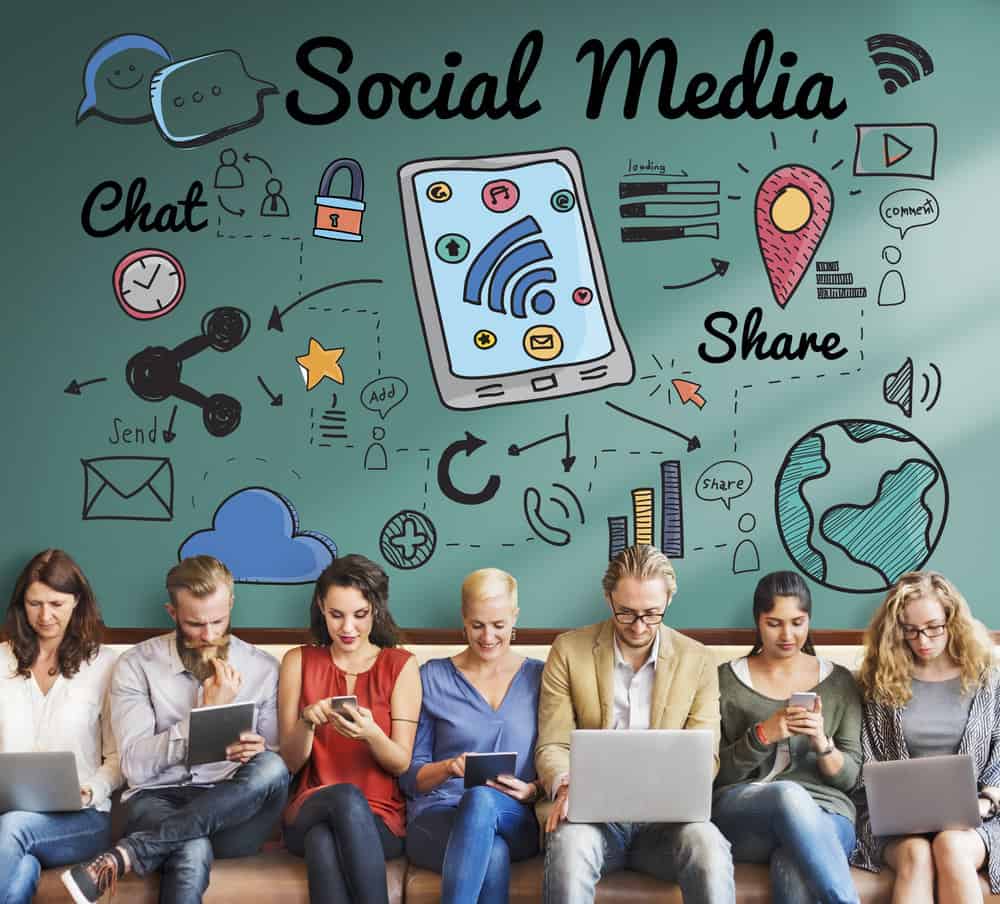 05. Digital Marketing (Social Media & Website)
We live in an era of social media and digital marketing. Therefore, your potential customers will discover you on social media.
One of the first things you will have to do when you begin your catering business is to start a Facebook and Instagram account for your customers can find your products and give feedback.
The more positive reviews you receive for your food, the chances your potential customers will buy your products are higher.
You will need to have brilliant food photography with eye-catching pictures.
You can let your customers know about promotions that you are having on the food you serve and introduce new products to the market using social media.
If you have a brand new dish or something you are testing, you could have a competition or a promotion offering it for free to a lucky follower in exchange for a review or feedback.
Facebook paid to advertise can be utilized to specifically target potential customers based on different attributes such as gender, age, location & preferences.
In addition to social media, you will need an attractive website showcasing your products.
Ideally, your website should have a payment gateway so that online ordering options are available to customers.
For this to work smoothly, however, you will need to have a delivery person ready or sign up with a delivery company.
The website has to be mobile-friendly as most customers will order food through their phones. It should have a valid phone number, email, and address listed.
06. Presentation and Showcasing
At the very beginning of your business, customers will not know what your food tastes like and might stick to restaurants that are familiar.
You will need to showcase your food at local events, gatherings, and other events.
You may have to offer these food samples at low costs or even give them out for free.
Another option is to have food-tasting options available at your stalls so customers can taste the food before buying it.
07. Create Your Brand
Once you have run your catering business for a few months and studied the competition, you will find that good food alone will not play the main role in the success of your business.
Your branding plays a stronger role than the food. This is why big chain brands with bad food tend to sell more food than smaller shops with delicious food.
You need to design an eye-catching logo and a beautiful menu to represent the dishes you serve.
Your first task is to tempt your potential customers with pictures of your food and get them to try it.
You can offer discounts and coupons through social media advertising to entice customers to try your food.
People Also Search
How Do I Get Customers For a Catering Business?
The best way to get customers for the catering business is to give samples of your food to targeted groups.
You can do this through your social media accounts or by physically giving out samples at events and outside offices.
How Can I Make My Food Business Thrive?
You can make your food business thrive by adding new and exciting products to your menu that cater to a greater audience.
What is The Best Kind of Promotion For a Catering Business?
The best kind of promotion for a catering business is social media advertising.
What Should a Caterer Do Get Recognized?
The best way to get recognized as a caterer is to earn your customer's trust by displaying good reviews from people who have tried your food.
Always ask customers to leave a review when they buy your products.
What Kind of Food Would Make Me Successful As a Caterer?
Choose food that is popular among a wider audience. A lunch business would likely have more success than a wedding cake business.
| | |
| --- | --- |
| Market research | Start market research on competitor pricing, branding, and marketing strategy. |
| Plan your budget | Allocate a portion of your budget for promotions and advertising. |
| Identify who you are catering for | During your research, identify your exact target market. |
| Identify your competitors | Do research on your competitors, their products, and their pricing. |
| Digital Marketing | Create Facebook and Instagram accounts for your brand to add good photography and a well-optimized website. |
| Presentation and showcasing | Showcase your work at food events and tasting events. |
| Create your brand | Branding plays a very significant role. Create an eye-catching logo and menu for your products. |
| Referral Programs | In order to entice potential customers, offer coupon codes and discounts. |
Final Thoughts
If you follow these steps, you will have a successful catering business.
One final point that needs to emphasize is that the photography of the food plays a key role in the success of the catering business.