How To Start Catering Business From Home in 15 Steps & Be Your Own Boss
If you have been wondering how to start a catering business from home, you are in the right place. Catering businesses are part of the food service industry that always shows annual profit increases.
By 2025 it is expected that online food ordering will grow to over $220 billion in revenue. This includes restaurants that deliver through an app and catering companies that bring the food to any location.
A catering company from home can be set up in two different ways. The first can be a catering service that delivers to their location, and the second is to operate on the go from a mobile food truck.
Why Catering From Home is So Popular?
People trying to work from home has risen substantially over the years. It is hard to make a good living working for other people because the hourly wage is lower than the cost of a living wage.
Since the catering business startup costs are so low, it is a great choice to get you started. You will be able to set your own wages and be in charge of your own hours. It is the way of the future.
Working from home in the catering business allows you to work with something you enjoy, which satisfies your love for food. Plus, it will give you profits that you have complete control over.
The best thing is that you can take time off whenever you need it. You will no longer have to put in a request and hope it is authorized. The boss will not be able to call you back from a vacation.
Can You Start a Catering Business From Home?
Catering business requirements are not as strict as you would think, so catering can be very easy to break into. It is the perfect first step toward business ownership within the food industry.
The possibility of starting and operating a profitable catering business from home is high. So high, in fact, that people all over the nation are getting themselves started, which is where you need to be.
The steps from start to finish are not complicated at all. They can be done in your spare time, or you can go all in and make it your only source of income. Either way, you need to follow the steps below.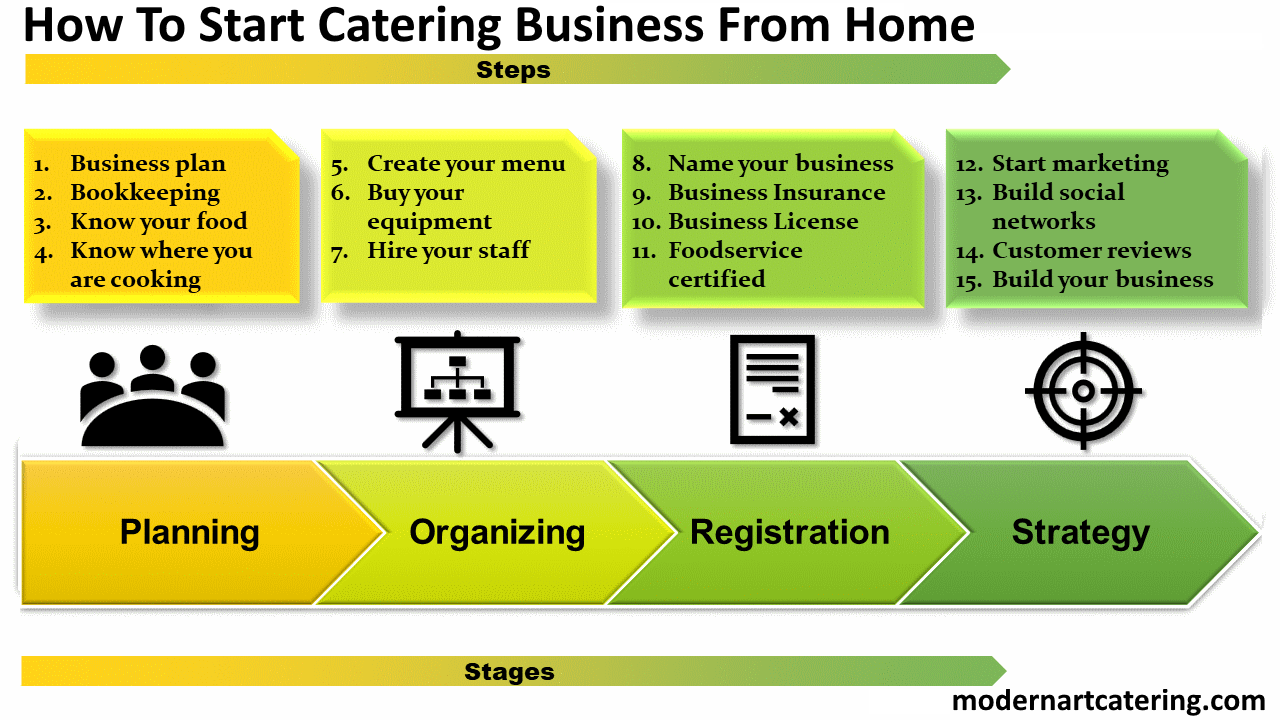 How Much Does it Cost To Startup a Home Catering Business?
Before getting into that, you will need to know what the startup costs will be for you. The thing is that every area will be a little different because of the permits and legal requirements.
It will also be slightly different depending on whether you buy your supplies online or through a local company. Another cost that can vary is the purchasing price for the food you are preparing.
With all that in mind, the average catering business startup costs will run between $10,000 and $50,000. It will depend on the points discussed above, what you plan to serve, and where you plan to deliver it.
Requirements For Starting a Catering Business From Home
The requirements will vary from location to location, so you must contact your local government to see what they require. There are some basic catering business requirements though, that you will need to know about.
Food Safety Certificate
Business Name
Business Insurance
Business License
The good news is that you do not need any secondary school degrees. You can take many classes to get a certificate, which will boost your creditability once you start looking for customers.
Table of The Steps To Start a Catering Business
| | |
| --- | --- |
| STEPS TO TAKE | BRIEF EXPLANATION |
| Business plan | Have a plan created and follow it to get your business started |
| Bookkeeping | Have a program in place to complete your bookkeeping |
| Know your food | Know what niche you are planning to work in |
| Know where you are cooking | Have a plan in place of where you are going to cook |
| Create your menu | Have a menu designed and produced, including any large signs |
| Buy your equipment | Buy the equipment that you are going to need |
| Build social networks | You need to start building a customer base on social networks |
| Foodservice certified | Study and take the test to get food safety certified |
| Name your business | Come up with a unique name that is not already taken |
| Business Insurance | Get all the business insurance that you will need |
| Business License | Obtain the licenses your state and local governments require |
| Start marketing | Now is the time to start implementing your marketing strategies |
| Hire your staff | Get your staff hired and in place before taking a job |
| Customer reviews | Work hard to get some positive customer reviews |
| Build your business | Work hard to obtain more clients to keep building your business. |
Step By Step Guidelines on How To Start a Food Catering Business From Home
The time has come. The nagging stress of how to start a catering business from home is starting. You will need to follow a few steps if you want to be successful in your entrepreneurial adventure.
01. Business Plan
Successful companies have one thing in common with their competitors. They took the time to create a business plan before they moved forward with their plans.
A good business plan will show information you have researched, giving you a clear insight into the business you are entering and offering the answer to how you can be successful.
02. Bookkeeping
You do not want to wait until the last minute to get a sound bookkeeping system up and running.
Even if you plan to use an accountant for your taxes at the end of the business quarter, you will still need some programs to keep track of your expenses and income.
You must have a way to keep track of all your finances from the start.
03. Know Your Food
The best way to operate a profitable business is to have a niche. This means you choose one specific type of food you plan to cook for your catering business.
For example, if you plan to offer cold dishes such as sub sandwiches and salads, you will need to focus on those two things. You must specialize in one area of food.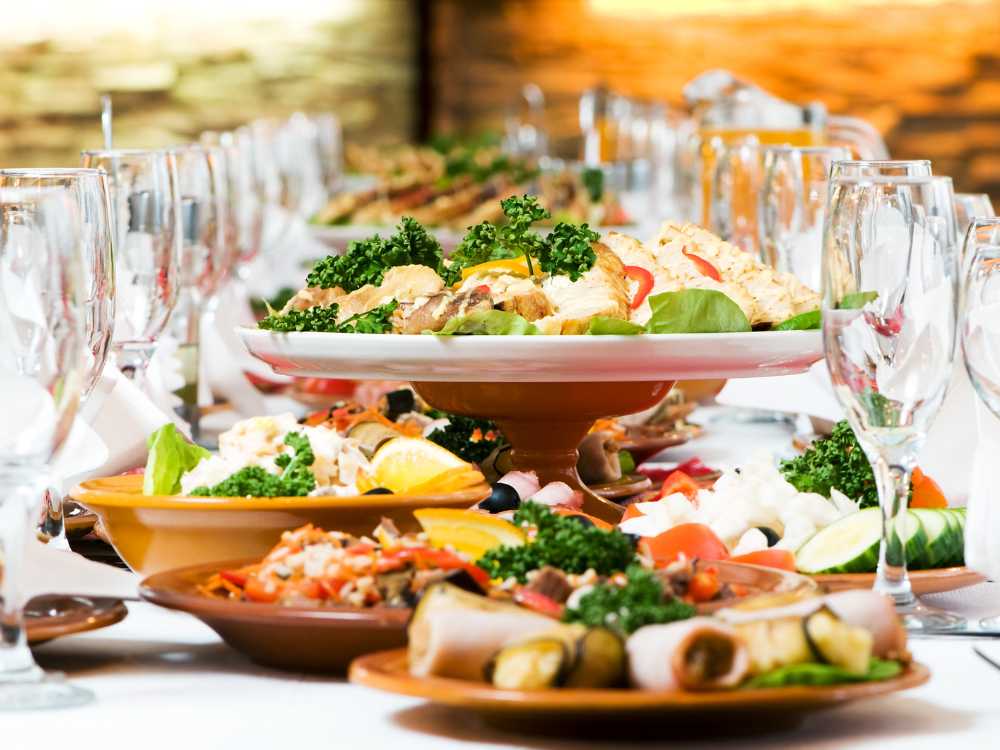 04. Where Are You Planning To Cook
You need to set how you are planning to deliver the food. That means you need to decide if you are going to cook at home and then deliver, run a mobile food truck, or if you plan to cook everything on the job site.
You can offer all these services, but you will need more equipment to ensure that you stay within the food safety regulations.
05. Create Your Menu
It does not matter where you plan to cook or how you plan to operate. You will need to get a menu made up.
If you are going to work out of a food truck, you will need to have a full-size sign made up as well.
Either way, you will still need a primary menu to give out to customers or to be able to send out in your marketing campaigns.
06. Buy Your Equipment
Depending on how you have decided to run your business, you will find that there will be some equipment requirements that you need to fill.
You want to have these ordered and delivered before you open your doors to customers.
You cannot operate a catering business from home if you do not have the equipment to cook and transport the food.
07. Build Your Social Networks
You will find that the best way to get customers, and vendors, to back your business is to get out there and socialize.
Go to food-tasting events, visit local vendors, and talk to some of the competitors. Get your name out there before you spend the money you need to get up and operate legally.
08. Food Service Certification
Speaking of following food safety regulations, You will need to get ahold of ServSafe or one of the other educational platforms and get the study materials you will need for the test.
You can also enroll in some classes to help you achieve a food safety certificate.
09. Name Your Business
First, you want to make sure no one else in your area is using the same name. Secondly, you want to make sure that the name you use is unique enough to be easily remembered.
It must be created in such a way as to make it easy for everybody else to know right away what your business is and what you are doing.
10. Business Insurance
This step should be done before you attempt to get a business license but after all the steps above.
You do not want to pay for catering insurance until you are ready to move forward. You need to get it now because most local areas require it before issuing you a business license.
Which, of course, is not something you want to try and operate without.
11. Business License
Now you are ready to make it official. You need to obtain your business license from your local courthouse.
You will need to show that you have insurance, and you may be asked to produce other documents to ensure that you are able and willing to run a catering business within the specified city limits.
If you plan to travel to other counties, you will also have to get a license for those counties.
12. Start Marketing
You should have some marketing campaigns already designed and ready to go. There are many ways that you can get your name out there and get some customers.
Local newspapers
Local billboards
Online billboards
Online website (an absolute must)
Email marketing
Blogs
Social network
Door hangers
Flyers
Coupons
13. Hire Your Staff
If you are planning to have your business encompass more than just family and friends, you will need to take the time to hire your staff.
Take your time, interview all the prospects, and hire some people that fit.
They should have the same values and work ethics as you, and maybe even a little independence so they can run things without you being on site.
14. Customer Reviews
The only way that you will be able to get some good customer reviews is to get some clients to work for.
Offer your first few jobs at a discounted price just to get your foot in the door.
Do not go below your costs, though, because if you have little time between customers, you will not be able to continue paying your bills.
15. Build Your Business
Now that you have your foot in the door, it doesn't mean you can back off a little. More than ever, you need to market, socialize and do everything possible to build your business.
Offer some free food to the local fire department to give them a taste of what they can expect. Never stop building your brand because it is your baby.
That is all that there is to it. You can easily control your catering business startup costs and get it up and going.
Profits will not be immediate because you will have to cover your operating costs and the costs you must pay to get started.
If you had to go with a bank loan to get going, you would also have that payment. It may take a few months or even years before you start seeing a good profit.
Do not give up, though, because if you keep pushing forward, you will get to the point you see in your mind.
Advantages and Disadvantages of Starting a Catering Business
Consider one of the jobs that you have had throughout your life. Try to remember some of the advantages that you had while working for someone else.
Now, consider all the disadvantages that you had while there. Owning your own business will include both of these aspects of business, even when you own your own company. Let's take a look at both sides of the coin.
Advantage
You will have all the freedoms that come with owning a business. You can set the schedule, the prices, the days you work, and so on. You will always need to work around your clients if you want to stay in business, but the point is that you have the ability to do as you see fit.
You get to work in an industry you are passionate about. Something that you genuinely enjoy doing and not just something that you do to pay the bills.
You can work when you want, especially if you have a few staff members that you can rely on to continue working.
You can earn a substantial amount of money if you put effort into it. The only limits are the ones that you put on yourself.
Disadvantage
You are responsible for everything that goes on, even if you are not present. If your staff calls in, you still must ensure your client's needs are met.
You will need to work a lot of hours to truly become one of the caterers that people go to when they need good food.
The stress of running your own business can weigh heavily on you if you are not prepared for it. Have a way to release the tensions; otherwise, it will eat you to the core of your soul.
You can see that with the good comes the bad. All the advantages far outweigh the disadvantages, which can be dealt with efficiently.
All you need is a positive mindset, the drive to succeed, and the work ethic to get you there.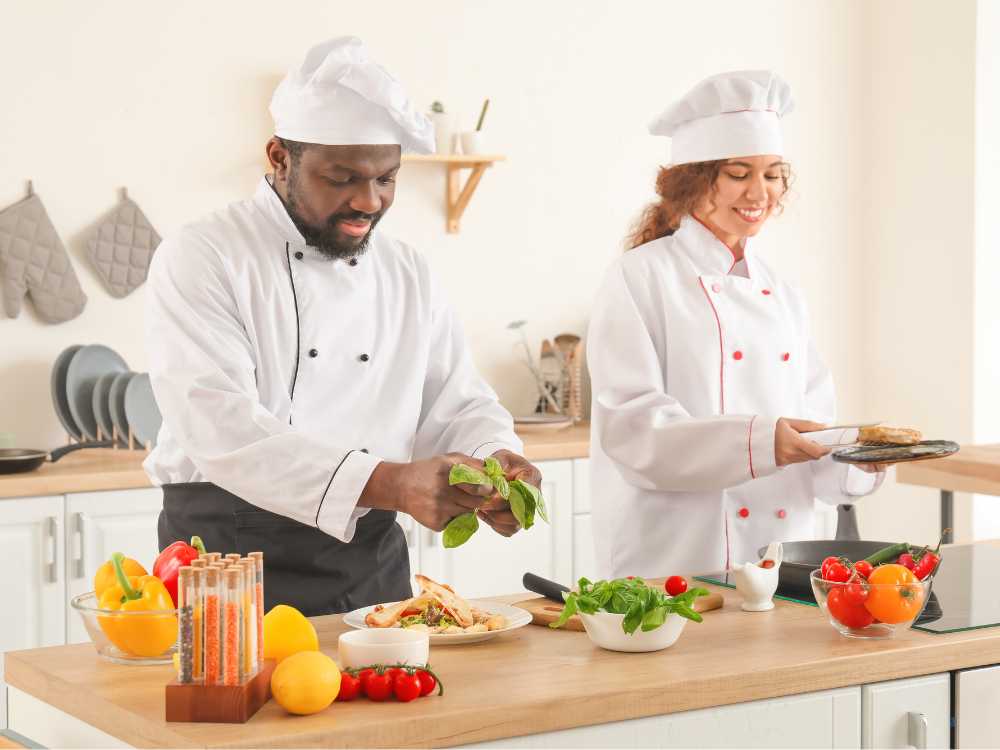 Strategies To Provide Better Service in Home Based Catering Business
A catering business is part of the food service industry, which has seen massive increases in profits for some. For others, they have dropped off the face of the Earth.
It all boils down to customer service. Not just excellent customer service but above and beyond what they ever expected. Let's look into this a little deeper.
Train all your family, friends, and staff members on creating a customer service environment so over the top that your customers will remember you. When they remember you, they will give you free advertising by spreading your name to other potential clients.
Never lose your cool. There is a saying in the world of customer service: "the customer is always right." This may be a hard rule to follow, but you must always make your customers happy. If they have a problem with something, go out of your way to fix it.
You and your staff need to be able to communicate with each other effectively. If you are going to be spread out, you may want to invest in some two-way radios so you can always stay in touch.
Timetables are essential. You want to ensure that you show up to the job on time (early if allowed). Your staff must be on time, and all the food must be ready when you tell your client it will be served.
Never take on a job that you are not comfortable with. Do not take it if you do not think you can get it done effectively. You must stay within your current abilities, no matter how much they offer to pay.
You must ensure that you get nothing but good reviews and recommendations. It is said that someone that is upset will tell ten people about their bad experience.
Those ten will tell ten more, and so on. You need positive experiences to be the ones remembered, so never take on more than you can chew.
Relevant Asked Questions
Is it Hard To Start a Catering Business From Home?
Starting a home-based catering business is much easier than starting other businesses. As long as you have a business plan, have the capital to invest in the business, and secure all the certificates and licenses, all you will need to do is get some customers.
How Profitable is a Catering Business?
A lot of that will depend upon you, but the average annual income for a home-based catering business runs between $30,000 and $80,000.
What Are The Three Types of Catering?
The most common is the food trucks that you can see all over town. The second way is to make your dishes at home and deliver them to the client (or you can cook them on-site if that is an option.)
The third way to cater is to work with another company, such as a hotel or business meeting.
What Qualifications Do I Need To Become a Caterer?
You need to know how to cook the foods you are offering, but you do not need an advanced degree. You will, however, need to obtain a food safety certificate and a business license.
How Do I Start My Own Catering Sale?
You would need to include your sales with your marketing plan. Make sure you take advantage of all the social platforms because that will be one of the most significant ways to gain new customers, especially when offering them a discounted price.
Final Thoughts
Starting your own catering business from home does not have to be complicated. In fact, it is one of the most straightforward businesses to get off the ground.
The most important thing to remember is that you control everything that goes on. You need to research your area and find out what the requirements are.
Meet those, get your advertising campaign out there, and build some clients. Once you have one client, use excellent customer service to get a good reference and to get word-of-mouth advertising flowing. It is that easy.