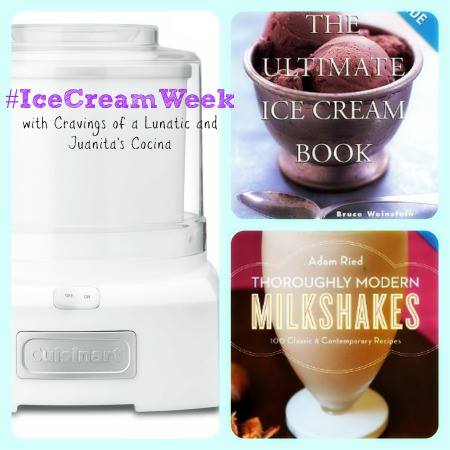 Welcome to #IceCreamWeek! Kim of Cravings of a Lunatic and Jen of Juanita's Cocina have teamed up with more than 20 of their blog friends to bring you a week full of ice cream treats, including a special ice cream giveaway! Prepare to have your taste buds tempted with some of the best ice cream treats around! Make sure you enter the giveaway for a Cuisinart Ice Cream Maker and two fabulous ice cream cookbooks so that you can join in on the ice cream fun!
Even though I'm lactose intolerant, there are a few dairy products that I can't resist. Tummy aches and pains are worth it for me when it comes to REAL ice cream. I'm not talkin' about low fat, low sugar frozen concoctions. Eww. I need the real thing, baby! Half & half, sugar, egg yolks, heavy whipping cream with a whole lotta flavor and love tucked inside!
This week is going to be crazy awesome. Please don't miss out on the goodness! I'll be posting my first recipe on Thursday, but there will be plenty of my blogging buddies posting all week long.
Make sure you check out each of these blogs, today and all week long, for their #IceCreamWeek recipes ~ and for chances to enter to win our #IceCreamWeek giveaway!
Follow our #IceCreamWeek Pinterest Board all week for chances to win bonus prizes!
Kim of Cravings of a Lunatic and Jen from Juanita's Cocina have also teamed up for a fabulous giveaway!
***This giveaway is for one Cusinart Ice Cream Maker (in white), one copy of "The Ultimate Ice Cream Book" by Bruce Weinstein, and one copy of "Thoroughly Modern Milkshakes" by Adam Reid (three different winners)! This giveaway is open to US and Canadian residents only. When the contest concludes, the winner will be chosen by random draw. The winner will then be notified through e-mail and they will have 3 days to respond or another winner will be chosen.***
Alongside all our deliciously, cold ice cream treats, a new week-long PinChatLive event has been created just in time for #IceCreamWeek! For full details on how to participate in this event click here.
Participate in the PinChatLive and Rafflecopter below daily to increase your chances of winning!
Then, cap off #IceCreamWeek with a celebratory 30 minute PinChatLive on Saturday, August 17th at 2 p.m. EST, where:
To enter the giveaway, use this Rafflecopter form:
Best of luck, my lovelies!
***Disclaimer: This giveaway is sponsored by Cravings of a Lunatic and Juanita's Cocina. No brand sponsors have taken a part in this giveaway.***