Jasmine Rice Pilaf with Asparagus and Sun-dried Tomatoes
If you're looking to dress up your dinner table with flavors and colors of Spring, this Jasmine rice pilaf with asparagus and sun dried tomatoes will fit the bill perfectly! Step into my virtual kitchen and I'll show you how quickly and easily you can have this beautiful and tasty dish on your table!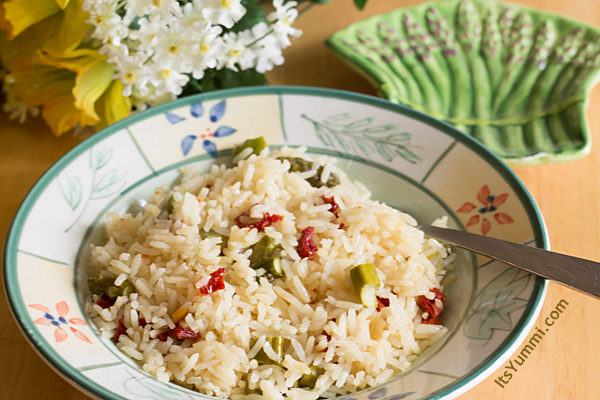 When I think of the word spring (as in the season, not the coils inside of your mattress), it conjures up photographs in my mind of renewal, new life and growth…a fresh start after a cold, dark winter.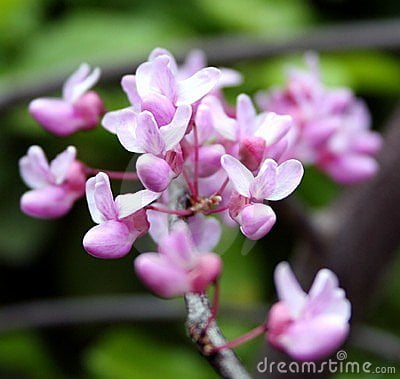 A fresh start is what I really desire the most for in my life right now.  I've screwed up in so many different ways over the past year that I've lost count.  I made poor food & diet choices, I made poor money decisions, I didn't spend as much time with God in prayer as I should have, nor did I trust Him enough to put my life completely into His hands.  My list goes on and on.  One year later, my poor life choices have done a 180 and are all coming back to haunt me.  C'est la vie…  I made my proverbial bed and now I must lie in it… or I get the heck up out of that bed of disaster and fight fight fight to get things back into order.  THAT'S what I  plan to do!
I've decided to start with the health issues first.  I believe that once I'm healthier, my outlook on everything else that's wrong in my life will improve.  I need to stay spiritually strong, too.  No more trying to "row my own boat".  I'm crappy at navigating rough waters…but my God isn't!  I'm going to pass over the oars to Him and trust that He knows where I'm headed and how to get me there!
I need to be realistic and honest with myself, though.  There's no way that I can right all of the wrongs in my life overnight.  I've packed on 50 extra pounds since my hysterectomy last August.  It's going to be a long, tedious process to remove…especially since I have physical limitations that will restrict the type and duration of exercise that I'm able to do.  There are, however, some basic lifestyle changes that I can and will be taking on.  Here are a couple that I'm starting with right away:
Eliminate caffeine – I gave up Caffeine-Free Diet Pepsi last year and swapped it for water that I was flavoring with powdered drink mixes. , I'm not a lover of plain water, and I really enjoyed the flavor varieties from Crystal Light.  The Raspberry Lemonade is my favorite.  I got lazy and just started buying pop again.  It's gotta go.  I can see a bit of a challenge coming on in the mornings, since I ADORE coffee, but after the initial withdrawal headaches have passed, I'm sure that I'll be fine.
Limit intake of sugar/carbohydrates  – Notice I said LIMIT.  There's no way in high Heaven that I'll EVER be able to maintain a complete carb-free eating plan, so I'm not even going to try.  I'm committed to shedding weight without feeling deprived of things that I love.  I just need to work on portion control and avoid mindless eating.
Increase fruit & veggies – I also plan to increase my intake of foods that are high in fiber and iron, as well as increasing the amount of fruit and veggies that I consume every day.  I really enjoy them, but again, the lazy slug inside of me just turns her nose up at the thought of anything that requires prep work.  Well boo flippin' hoo, Ms. Lazy Butt….. it's time to shape up or ship out!!

Give this somewhat healthy, but UBER delicious Jasmine rice pilaf a try.  I made my own sun dried tomatoes and served it as a side dish with our Easter lamb and ended up with NO leftovers of this dish and more lamb than I know what to do with!
Are there any recipes with leftover lamb that you enjoy? Leave me a comment if you're willing to share!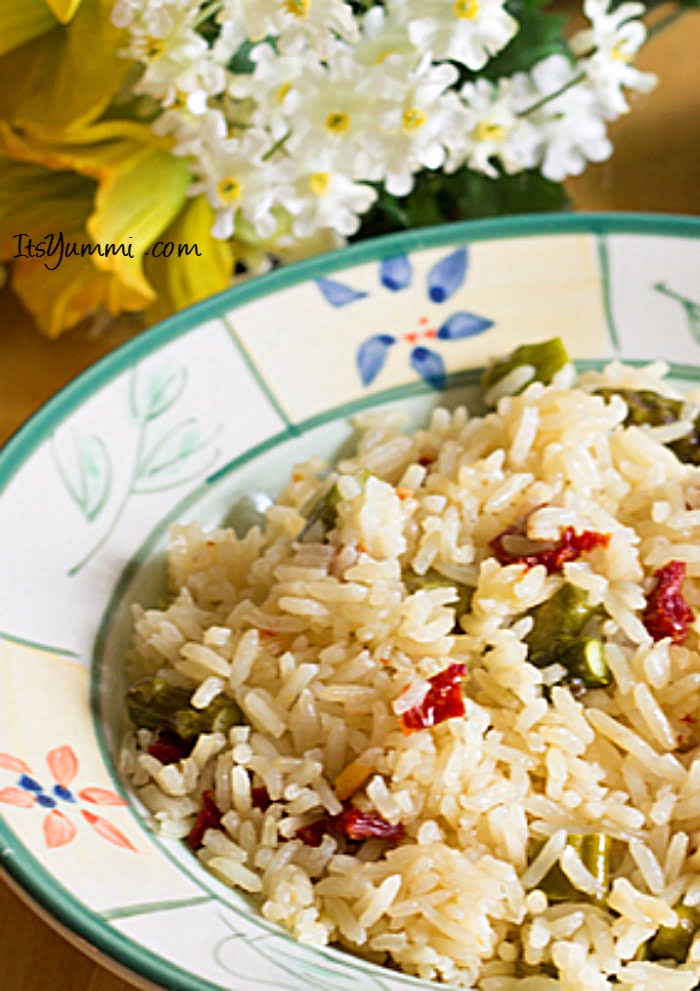 Jasmine Rice Pilaf with Asparagus and Sun Dried Tomatoes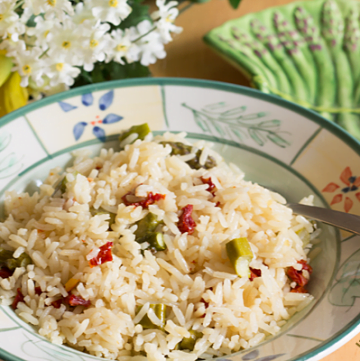 Jasmine Rice Pilaf with Asparagus and Sun-dried Tomatoes
A bright, flavorful Jasmine rice pilaf with the spring flavors of asparagus and sun-dried tomatoes makes this side dish a wonderful accompaniment to any meal
Ingredients
1

cup

Jasmine rice

1.5

cups

vegetable stock

at room temperature or warmer

2

Tablespoons

salted butter

1/4

cup

onion

finely chopped

5

stalks asparagus

trimmed and cut into 1/4-inch pieces

1/4

cup

b][sun-dried tomatoes [/b]

chopped finely

1/8

teaspoon

crushed red chili flakes

1/8

teaspoon

dried lemongrass

1/4

teaspoon

sea salt (optional)
Instructions
Melt butter in a 2-quart saucepan over medium heat. Add rice and onion and saute for 2 minutes, until rice begins to develop a nutty aroma.

Add vegetable stock and bring to a boil, then immediately reduce heat to medium low. Cover saucepan and simmer rice for 12 minutes. Remove lid and add asparagus and sun-dried tomato. Stir briefly, then cover and continue cooking for 5 minutes, or until rice and vegetables are cooked al dente.
Nutrition
Calories:
21
kcal
Carbohydrates:
4
g
Fat:
1
g
Cholesterol:
1
mg
Sodium:
6
mg