Jeweled Asparagus with Vanilla Greek Yogurt Cheese
Good golly, I adore fresh produce, and I just spent a weekend living in the luxury of a mile long exhibit hall in New Orleans that was filled to the brim with it!  I'll be sharing the details of my INCREDIBLE experience at the PMA Fresh Summit conference with you next week, but for now, let's talk fresh asparagus and pomegranate arils, topped with homemade yogurt cheese, also known as JEWELED ASPARAGUS!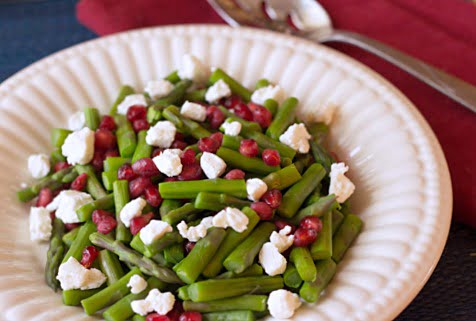 For as long I choose to live across the Great Cheddar Curtain in northeastern Wisconsin, I will continue to be envious of those of you who live in warmer climates. Having access to fresh fruits and veggies any time of the year is a GIFT, people.  One that is easily taken for granted, especially where asparagus is concerned. It's my very favorite veggie and in my opinion, great flavor goes out the window as soon as you place asparagus into a frozen state and/or can it with chemical preservatives. Although asparagus is available year-round, it's only at its peak up here for about a month.
Asparagus takes a while to harvest, as you won't get any stalks from it until the 3rd growing season, but after that, it's really hardy and should stand up to the elements well. It does grow best in sandy soil, though.
FOOD FACTS
Here are just a few reasons to love ASPARAGUS
It's one of the 50 most nutrient-dense foods on the PLANET
One cup of chopped, raw asparagus has just 27 calories, 1 gram of fat, 3 grams of fiber, and 3 grams of sugar. Net carbs per serving is just 2 grams!
Just 5 spears provides 60% of the average daily requirement of folic acid.  That's the B-vitamin that helps to prevent birth defects, so mamas-to-be… eat up!
USE, CARE, and PREPARATION 
Choose stalks with as little dark "woody" color on the bottom as possible.  The closer in size the stalks are to one another, the more evenly they'll cook up for you
Asparagus needs to be kept cold. Refrigerate, unwashed.  Store in a plastic bag in the crisper drawer for 3-4 days, or stand the stalks upright, covered with plastic wrap, in a dish with about 1-inch of water.  Try to keep them out of the heat and light to avoid diminishing the folate content.
Wash just before preparation. Trim the woody ends off with a knife, or hold one end in each hand and snap the ends off where there's a natural breaking point.
Asparagus can be eaten raw or cooked.  Raw will give you the greatest health benefits. If you'll be cooking them, take care not to overcook or the stalks will become stringy and lose their nutritional value and great taste.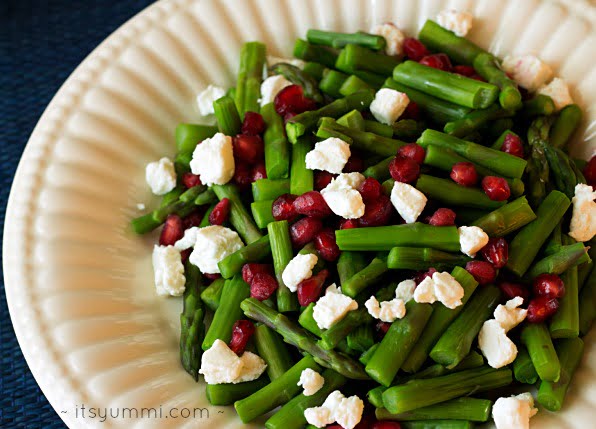 I'm not sure about you, but looking at this dish makes me want to put up a Christmas tree and decorate the house with holiday colors!
WHOAAA… back up.  You did NOT see me just mention a certain December holiday before Halloween. !  Well, maybe you did… but it's true!  This would be fabulous sitting next to a holiday roast or as a great brunch side dish.
I tossed the asparagus with my new favorite treat, pomegranate arils.  Since I can't really find fresh pomegranates around here right now, the perfect solution was to use PomPoms. They come in the cutest little container, complete with a spoon. SUPER CUTE!  The crunchy sweetness complimented the crisply steamed asparagus perfectly.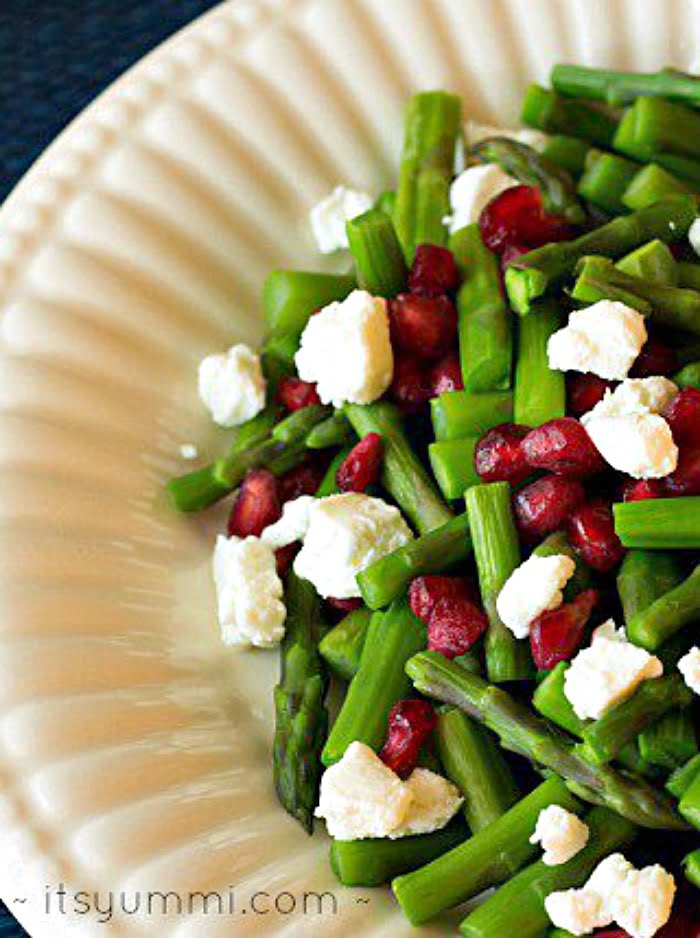 I really wanted to take the dish over the top though, so I decided to try my hand at making yogurt cheese.  There are recipes all over the Internet that explain how to make it, but I never really had a desire to try. I eat non-fat Greek yogurt every day, and the recipes I found all called for using full fat yogurt. I really didn't feel like buying any for that purpose.  But I had some of my non-fat vanilla variety available so I decided to give it a try, and WOW, what a success it was!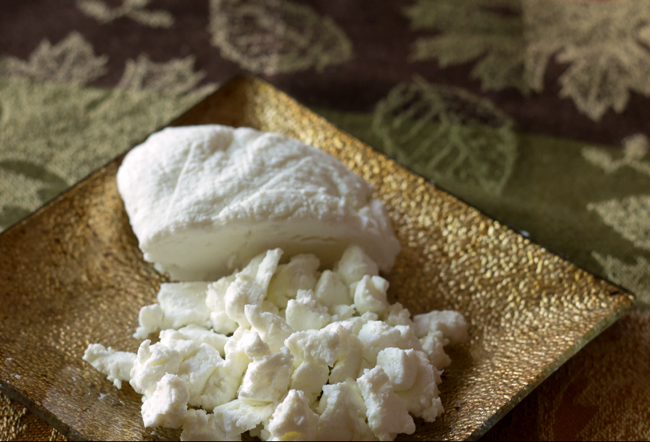 This was SUPER easy to make, and if you've got kids, they'd probably have a blast helping you.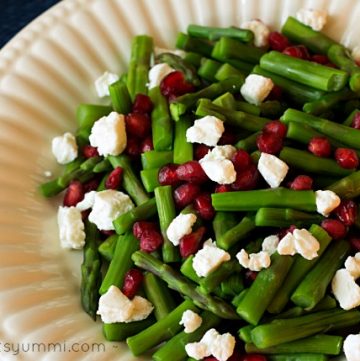 Jeweled Asparagus with Vanilla Greek Yogurt Cheese Jeweled Asparagus
A creamy, sweet cheese made from vanilla flavored Greek yogurt. PERFECT for use in salads or sandwiches, or for delicious snacking all on its own!
Ingredients
1

cup

full or non-fat Greek vanilla flavored yogurt (any flavor will work)

1

pound

asparagus

trimmed, cut into 1/2-inch pieces, and steamed

1/2

cup

fresh pomegranate arils

1/4

cup

crumbled Greek yogurt cheese

any flavor (goat cheese substitutes well)

Salt & pepper

to taste
Instructions
Line a fine mesh sieve with paper toweling or cheesecloth, and place the sieve over a bowl.

Spoon yogurt into the lined sieve and cover with another piece of paper toweling.

Place weight on top of the yogurt, such as a large can of tomatoes. Refrigerate for 2-3 hours or until all liquid has been absorbed and drained from the yogurt. Replace paper towel if it becomes too water logged.

Slice or crumble cheese as desired.

Place cooked chopped asparagus into a large bowl. Add pomegranate arils, salt and pepper, and toss gently.

Transfer to a serving dish and add crumbled yogurt cheese over the top.

Serve and enjoy!
Nutrition
Calories:
57
kcal
Carbohydrates:
6
g
Protein:
3
g
Fat:
3
g
Saturated Fat:
1
g
Cholesterol:
4
mg
Sodium:
245
mg
Fiber:
2
g
Sugar:
4
g