Kale sprouts salad is a healthy, delicious, warm salad. It has crispy, crunchy sauteed kale sprouts, asparagus, crumbled bacon (because bacon makes everything better), ginger infused baby beets, and grated asiago cheese. Three words perfectly sum up this salad…
OH MY YUM!
Until I went to the Fresh Summit conference in New Orleans, I'd never even heard of kale sprouts. They're a cross between kale and Brussels sprouts. I'm NOT a fan of Brussels sprouts, but I love kale, so when I received a complimentary container of them from Melissas Produce (A HUGE thank you to them for that), I decided to throw caution to the wind and give 'em a try. I have to say that my decision was a stellar one. Kale sprouts are not only delicious, they're incredibly good for us, too!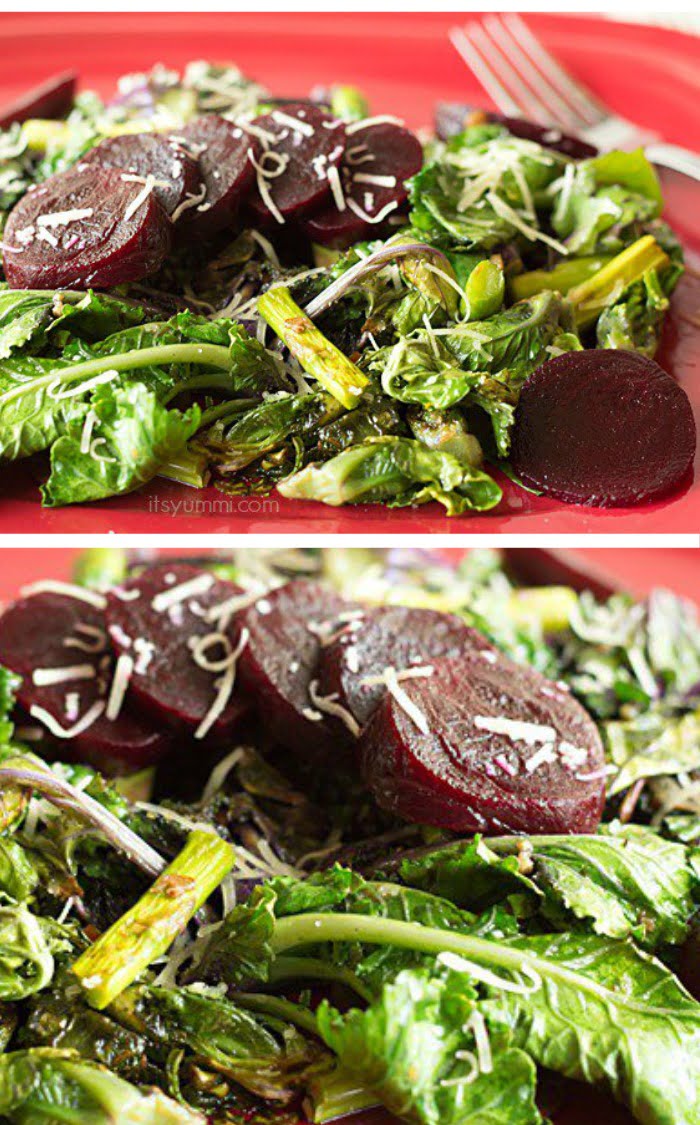 FOOD FACTS – Kale Sprouts
Kale Sprouts are a colorful cross between Kale and Brussels Sprouts. The leafy vegetable is, in fact, not a sprout. Filled with powerful antioxidants and high amounts of dietary fiber and vitamins, Kale Sprouts are tender-crisp in texture with a sweet and complex flavor with undertones of nuts and pepper.
Though more developed than its micro green cousin, baby kale, it is much smaller. It's harvested when the first leaves of the plant have developed around a tiny, compact central head. This small leafy delicacy has the same striking coloring as Red Russian Kale; silvery-green to blue-gray leaves with pronounced crimson veins.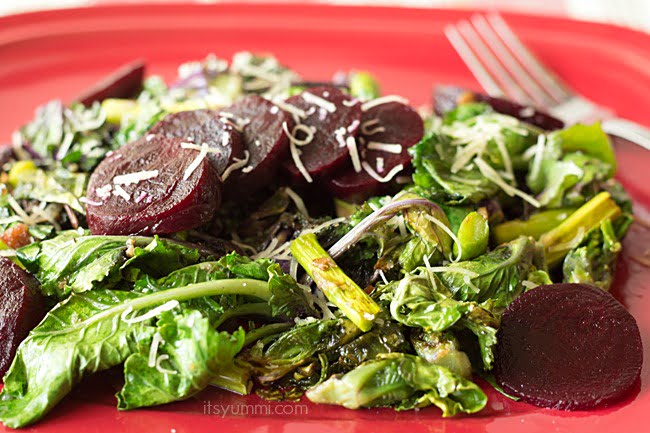 Purchase and Storage
Select crisp bright leaves that are not wilted or turning black. Store in the refrigerator for 5-7 days.
Quick Serve Ideas
Steam for five to six minutes and season with butter, spices and herbs. Also great for sauteing and roasting.
Nutrition Facts
Serving Size 2 ounces (67 grams)
Amount Per Serving

Calories 33
Calories from Fat: 4
% Daily Value*

Total Fat 0 g
Saturated Fat 0 g
Cholesterol 0 mg
Sodium 29 mg
Total Carbohydrate 7 g
Fiber 1 g
Sugars 0 g
Protein 2 g
Vitamin A 206%
Vitamin C 134%
Calcium 9%
Iron 6%
*Percent Daily Values are based on a 2,000 calorie diet. Your daily values may be higher or lower depending on your calorie needs.
Are you ready to rock this healthy kale sprouts salad?  Grab your apron and let's do this!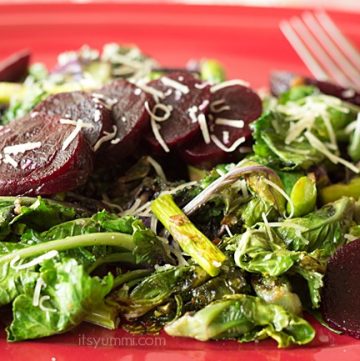 Kale Sprout, Asparagus & Baby Beet Salad ~ and a GIVEAWAY!
Crisp, crunchy sauteed kale sprouts and asparagus, topped with sliced beets, bacon, and freshly grated asiago cheese. Healthy meets delicious!
Ingredients
2

strips uncooked bacon

diced

3

ounces

(about 2 cups) kale sprouts (1 package of Melissa's kale sprouts)

4

stalks asparagus

cleaned and cut into bite sized pieces

1/4

teaspoon

sea salt

4

prepared baby beets

sliced (I used Love Beets ) or 1 regular beet, cooked and sliced

1/4

cup

freshly grated asiago

parmesan, or similar nutty flavored cheese
Instructions
Fry bacon until crispy in a medium sized skillet over medium-high heat; Leave bacon grease in pan and transfer bacon to paper toweling to drain.

Reduce heat to medium and add kale sprouts and asparagus to the pan with bacon grease. Sprinkle with salt and saute for 3 minutes, until the tough end of sprouts have softened slightly and the asparagus is cooked, but still crisp.

Remove from pan and transfer to a serving platter. Top with sliced beets, crumbled bacon, and grated cheese.
Nutrition
Calories:
265
kcal
Carbohydrates:
18
g
Protein:
12
g
Fat:
17
g
Saturated Fat:
7
g
Cholesterol:
34
mg
Sodium:
653
mg
Fiber:
6
g
Sugar:
12
g