Kowalski's Easter Dinner 2023
This time, Kowalski's easter dinner comes with the homiest and the most decadent food.
Starting with their easter dinner meal, you get a couple of package deals.
Your choice of meals includes their signature ham, prime rib, and turkey dinner.
Then, there's the option to order just the sides and easter breakfast with Kowalski's signature Quiche breakfast.
If you're in the need to buy more food, you could always go for their numerous meat and cheese trays.
Here, you get over 15 trays, some consisting of just cheese or meat while others feature a combination of both.
It's quite possible to have fresh fruits in your tray as well.
Each of these meals and trays could easily serve from two to thirty people, depending on what boards and meals you pick.
The price greatly varies according to what's included in the meal or the board. They could cost anywhere between $15 -$150.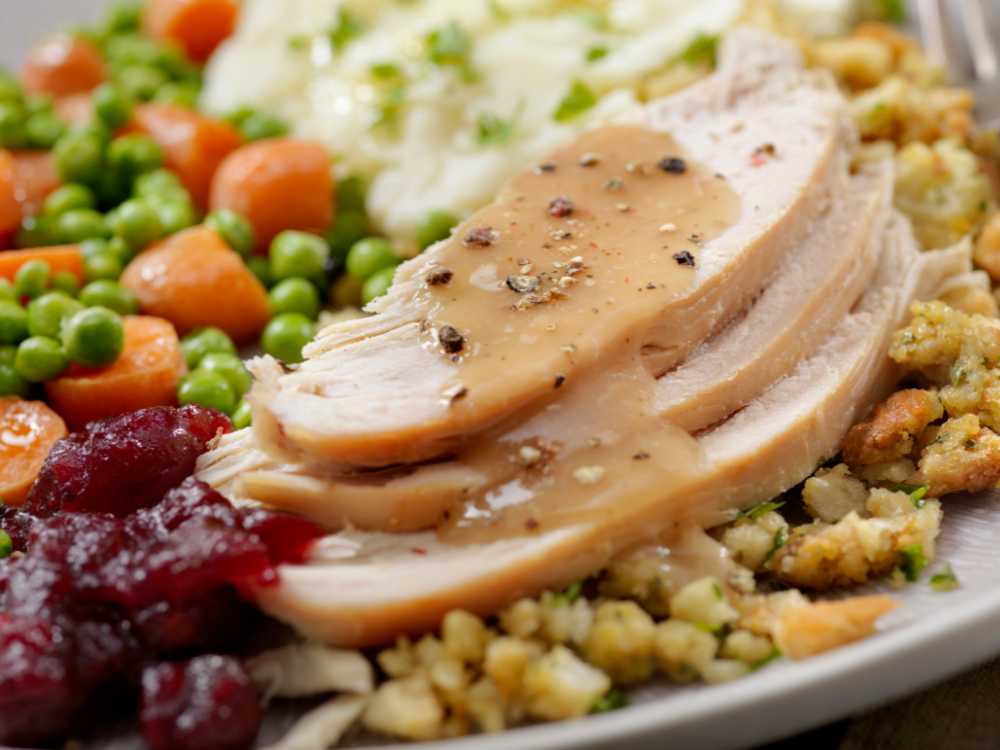 Kowalski's Easter Dinner Menu
Kowalski's easter dinner meals feature several holiday staples in their meals. As for the main protein dishes, you get three options.
Glazed ham in spiral cut, tender turkey, and the juiciest prime rib are those.
Moving into meats and cheese boards, the options are vast with All American Boar's head, Cheesemonger's grazing board, local artisans' cheese tray, and more.
You get your fair share of various types of cheese (Donnay Chevre, St. Helga Swiss, Northern light blue), meat options (grilled beef, chicken, turkey), and fruits (apricots, grapes, and more)
Kowalski's sides are a thing of decadence. Chicken breast masala, citrus herb salmon, and fried chicken are some of the protein side options here.
Green beans, mac and cheese, and glazed baby carrots are also on the side menu.
if you're hunting for gluten-free holiday food, Kowalski's easter dinner can be made gluten-free upon request.
Simply let them know when ordering to avoid any inconveniences.
You could order easter brunch as well with their signature quiche breakfast.
Since desserts are indispensable, Kowalski's offers delicious cakes (chocolate ganache, carrot cake), and many other sweet platters with dipped strawberries, donuts, cookies, and dipped brownies that are to be shared on the easter dinner table.
Kowalski's Easter Brunch & Dinner Time
Ordering deadlines
| | |
| --- | --- |
| Date | Day |
| April 7 | Friday |
| April 8 | Saturday |
| April 9 | Closed |
Kowalski's Easter Dinner Meals
Items
Price
Spiral-Cut Ham Dinner for 8
Cheesy Hash Browns, Hickory-Smoked Pit Ham, Green Beans with Slivered Almonds, Spring Mix Salad, crumbled feta cheese, fresh raspberries, slivered almonds, sunflower seeds, red onion and Raspberry Poppy Seed Dressing
$139.99
Small Ham Dinner for 2-4
$69.99
Quattro Formaggio Cheesy Hash Browns 32.00 ounces
Fresh garlic, 4 Italian cheeses, a hint of nutmeg and cream.
$9.99
Quiche Breakfast for 6
Choice of Flavor: Veggie, Ham & Cheese, Denver, Feta & Spinach.
$79.99
Meats & Cheeses Grazing Board
Items
Serves
Price
Cheesemonger's Favorites
cheeses and Crackers
4-6
$24.99
2-4
$14.99
Grazing Board
The Cheesemonger's
7 different cheeses, including chèvre, English Cheddar, Stilton, Gouda, BellaVitano, Manchego and Signature Cheese Spread. cornichons, prosciutto, fresh mango, candied oranges, spreads and an assortment of crackers.
25-30
$150.00
The Northwoods
Savory rosemary chicken, Tender grilled beef and Northwoods Seasoned Pork, a horseradish cream sauce and apple-cranberry chutney.
20-24
$130.00
Foodie Favorite
Combinations of: chèvre, Swiss and Cheddars & Goudas. pistachios, charcuterie, preserves, honey + dried fruits, and Honey Snack Mix + assortment of crackers.
25-30
$150.00
Rosemary Garlic Chicken
grilled + sliced platter
12-15
$90.00
Rotisserie Meat
Slices of tender turkey & grilled beef, horseradish sauce & honey mustard + grilled red peppers, grilled mushrooms and roasted garlic cloves
12-15
$100.00
Kowalski's Signature
cheeses that include aged goat, chèvre, Manchego, Gorgonzola, mixed milk and Signature Cheese Spread. specialty crackers, charcuterie, olives, nuts, spreads & dried fruits
25-30
$175.00
Kowalski's Party Trays
Items
Serves
Price
Cheese
Mild Cheddar, Swiss, Pepper Jack, Muenster, Dill Havarti, Co-Jack, Smoked Gouda, and creamy Boursin. Choice of cubed, sliced, or cracker-cut.
Small
15-20
$50.00
Large
25-30
$65.00
Fruit and Cheese
Jarlsberg, Havarti, Cubes of Cheddar and smoked Gouda cheeses + strawberries, cantaloupe, pineapple, and red & green grapes and cheese buffet.
Small
15-20
$70.00
Large
30-35
$90.00
Local Artisans Cheese
St. Helga Swiss, Bent River Camembert, Northern Lights Blue and Donnay Chèvre, slices of handmade salami, Signature Cranberry Pecan Crisps, and TC Chocolate, sourced honey, grapes, and dried apricots.
16-18
$125.00
Kowalski's Signature Meat and Cheese
turkey, roast beef, Ham, Havarti, Swiss, hard salami, and Cheddar + mixed olives
Small
15-20
$80.00
Medium
25-35
$120.00
Large
40-50
$150.00
Small Gatherings Cheese
This tray is served with strawberries, grapes, and Marcona almonds.
6-8
$50.00
Salami and Cheese Snacker
with Pepper Jack, Co-Jack, Gouda, Colby and Boar's Head Hard Salami, Genoa Salami, and Pepperoni.
18-24
$50.00
The All-American Boar's Head
EverRoast Chicken, Boar's Head Tavern Ham, Roast Beef, Black Wax Cheddar, Hard Salami, and Baby Swiss.
Small
10-15
$70.00
Medium
20-30
$110.00
Large
35-40
$140.00
Wedge and a Pint of Cheese
Choice of beer: Cheddar + ale, Red Dragon and mustard seeds, a local cheese + Surly Bender, The Stag, Cheddar and Cotswold, an English cheese + chive and onion. cocktail mix, spicy prosciutto spread, and Salty Date & Almond Raincoast Crisps. Served with dried fruit and grapes.
16-18
$100.00
World Cheese Party Tray
Parmigiano-Reggiano, St. Angel triple crème, mountain Gorgonzola and 3-milk Ibérico cheeses + Rougié Duck, Lesley Stowe Cranberry & Hazelnut Raincoast Crisps and Pork Pâté, and Valencia almonds + fine herbs, grapes, and dried apricots
16-18
$100.00
Kowalski's Easter Desserts
| | | | |
| --- | --- | --- | --- |
| Items | Size | Weight | Price |
| Classic Cheesecake | 8" | 32 oz. | $28.99 |
| Spring Joy Raspberry Bavarian Coconut Cake | 5" | 18 oz. | $14.99 |
| Lemon Heaven Cake | | 36 oz. | $19.99 |
| Lemon Blueberry Cheesecake | 8" | 40 oz. | $28.99 |
| Spring Joy Raspberry Bavarian Coconut Cake | 7" | 40 oz. | $29.99 |
| Carrot Cake with Cream Cheese Icing | 7" | 48 oz. | $29.99 |
| Lemon Meringue Cake | 7" | 28 oz. | $14.99 |
| Banana Cake with Penuche Icing | 7" | | $14.99 |
| Carrot Cake | 5" | | $14.99 |
| Lemon Blueberry Cheesecake (half) | | 16 oz. | $14.99 |
| Classic Cheesecake (half) | | 16 oz. | $14.99 |
How to Order For Easter Dinner
The easter dinner orders at Kowalski's could either be placed online or by phoning them.
Feel free to customize your easter meal by adding your preferred protein, entrées, sides, platters, and desserts.
Kowalski's Market accepts any major credit, or debit card and gift cards for payment.
Pick-Up and Kowalski's Delivery Options
All of your easter dinner orders could be pick-up at your local Kowalski's Market.
Kowalski's Market allows delivery, pick-up, and curbside only on the 15th and 16th of April.
If you wanna get your dinner delivered, the delivery charges may vary according to the mileage.
Easter dinners are available for pick-up, curbside pick-up, and delivery.
Important Links of Store
Kowalski's easter dinners are exceptional. However, we recommend trying the spiral ham dinner meal.
There are plenty of dishes to pass around and feed eight guests. It's delicious, complete, and homey.
Related Asked Questions
Does Kowalski's Market Have An Easter Dinner This Year?
Absolutely. Kowalski's offers several easter dinner meals this year that you could order according to your liking.
What is Included in Kowalski's Easter Dinner?
Items included are your choice of meat, several sides, desserts, and more with Kowalski's easter dinners.
Does Kowalski's Market Offer Delivery For The Easter Dinner?
Of course, it does. Delivery is available in all their stores.
How Soon Can I Pick Up Kowalski's Easter Dinner?
Pick-up of easter dinner is only available on the 7th and 8th of April.
Can I Buy Gluten-Free Easter Meals At Kowalski's?
Yes. Gluten-free options are certainly there at Kowalski's.
https://www.delish.com/holiday-recipes/g32054986/easter-to-go-meals/