Leek and Asparagus Quiche with a Puff Pastry Crust
Today's recipe is leek and asparagus quiche with a puff pastry crust. You will love this quiche! It's made with a flaky, buttery, homemade puff pastry crust. Take a look at this beauty!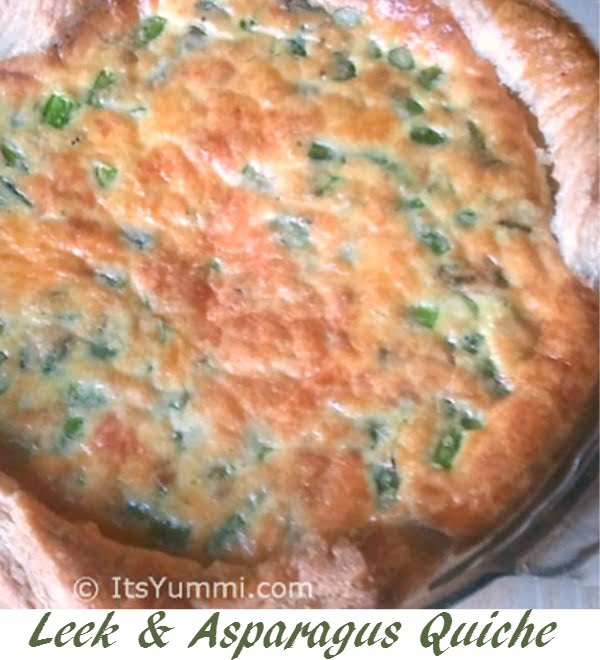 If you're new around these parts, I've been  baking my way through Joy the Baker's latest cookbook, 100 Simple and Comforting Recipes
.
I'm not alone in this fun event, either.  There are currently over 30 people participating!  Some of us are food bloggers, but not all of us.  We've got a Facebook group where we discuss the recipe of the week, post photos, and generally share our love for Joy Wilson! There's always room for one more at the table, so if you're interested in participating, the only requirements are that you have a copy of Joy's Book, a love for her recipes, and a commitment to cook along with us!  If you'd like an invite, just use the "contact me" tab at the top of this website to send me a request.
Even if you're not interested in joining the group, I want to encourage you to purchase a copy of Joy's book so that you can get the recipe to make this quiche.  It's just too delightful not to try for yourself!  I searched for the best price and found it HERE
OK, let's get on with the details about this asparagus quiche.
Joy's crust recipe calls for frozen puff pastry dough. Perfectly simple and delicious, but I decided to challenge myself a bit.
I had never made puff pastry from scratch, so I stepped out of my comfort zone and decided to try it for this recipe.  Much to my surprise, it wasn't difficult at all!  Yes, it did take a good chunk of my day to create the flaky, buttery layers, but it was well worth it.
Besides, I had help from my great friend, Jenni.  She's a pastry chef and really knows her stuff.  She made the process incredibly easy by putting together a video tutorial that helped me create a beautiful dough.  You can find the recipe and tutorial for the homemade puff pastry HERE.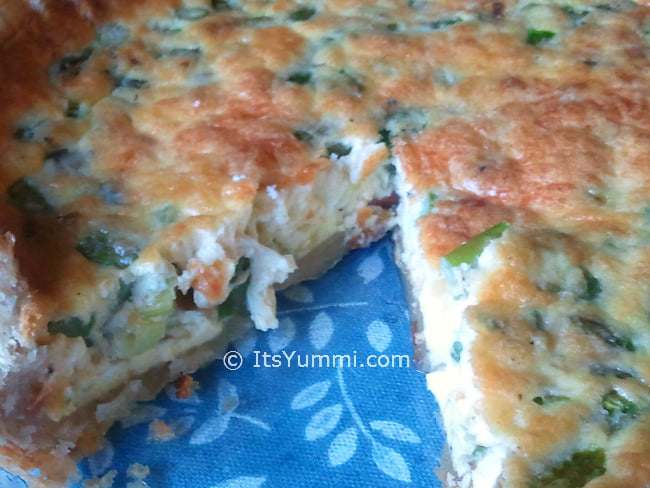 The leek and asparagus quiche recipe itself is really quite basic.
To make a 9-inch quiche, you'll need:
Unbaked puff pastry, placed into a 9-inch pie pan
1 Tablespoon olive oil
1 cup of sliced leeks
2 cups of asparagus
5 eggs
1 cup of heavy cream
1/4 cup of milk
a pinch of nutmeg
salt and pepper (about 1/4 teaspoon of each, for starters. Adjust as  you like it.)
1 cup of grated Gruyere cheese, divided in half
MY REVISIONS
Besides making the puff pastry from scratch, I also tweaked Joy's recipe by using 1/2 cup of grated Parmesan and 1/2 cup of shredded smoked Provolone cheese instead of the 1 cup of Gruyere cheese that she used. Please understand. I adore the smooth, creamy, texture and taste of Gruyere.  Unfortunately, I had no grocery shopping budget left to spend on that wonderful cheese, so I used what I had on hand.  It still tasted amazing.
I also made one other minor adjustment:  I like a little kick with my eggs, so I added a couple of dashes of hot sauce to the egg mixture.  It added a little zing to each bite.
And that's it. A simple, yet absolutely yummi recipe that can be enjoyed for breakfast, brunch, dinner, or anywhere in between.
Oh, and if you love quiche, you should also check out my recipe for Dubliner Quiche Crescent Cups. They're made with Kerrygold Dubliner cheese. They're portable and freezable, too!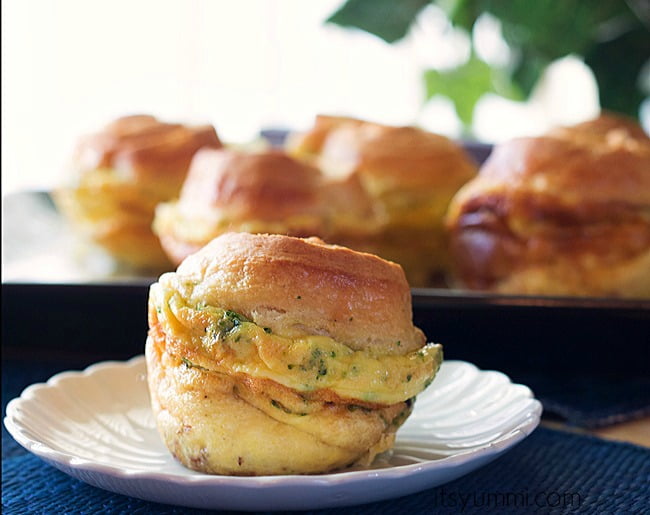 Here's a printable version of the asparagus quiche recipe for you: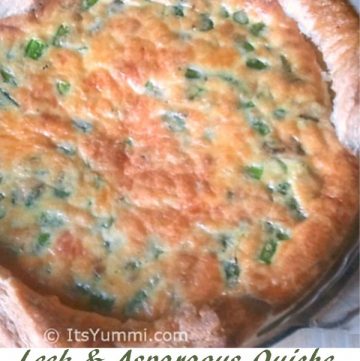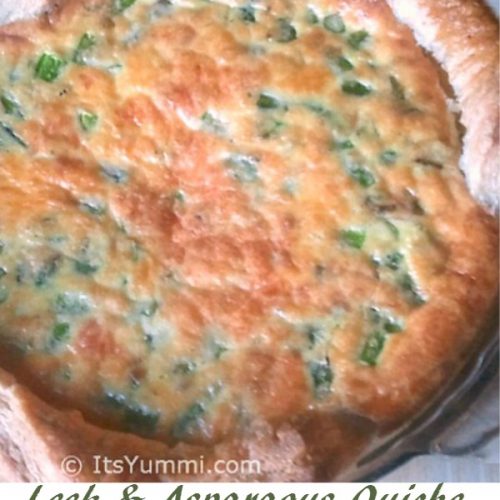 Leek and Asparagus Quiche with a Puff Pastry Crust
Light and flaky puff pastry holds bright and crisp asparagus and leeks, fluffy eggs, and salty Gruyere cheese. It's all baked up until golden and absolutely delicious.
Ingredients
1/2

package

(1 sheet) puff pastry

placed into a 9-inch pie pan

1

Tablespoon

olive oil

1

cup

sliced leeks

2

cups

asparagus

5

large

eggs

1

cup

heavy cream

1/4

cup

milk

1

pinch

nutmeg

2 to 4

dashes

hot sauce

optional

1/4

teaspoon

salt

for starters. Adjust as you like it.)

1/4

teaspoon

black pepper

for starters. Adjust as you like it.)

1

cup

grated Gruyere cheese

divided in half
Instructions
After sauteing the leeks and asparagus for a few minutes in the olive oil, you place them into the pie pan that has been lined with unbaked puff pastry.

In a medium sized bowl, whisk up the eggs, cream, milk, nutmeg, hot sauce, salt, and pepper. Add half of the cheese into the egg mixture and pour it over the veggies, then top the quiche off with the other 1/2 cup of cheese.

Bake it up at 375 degrees for 35-40 minutes, let it rest for at least 20 minutes, and then slice and enjoy!

If wrapped well in an airtight container or with plastic wrap, it will stay good for 4-5 days in the fridge.
Nutrition
Serving:
1
slice
Sodium:
364
mg
Iron:
3.1
mg
Calcium:
308
mg
Vitamin C:
4.5
mg
Vitamin A:
1600
IU
Sugar:
2
g
Fiber:
1
g
Potassium:
246
mg
Cholesterol:
233
mg
Calories:
553
kcal
Saturated Fat:
18
g
Fat:
43
g
Protein:
16
g
Carbohydrates:
23
g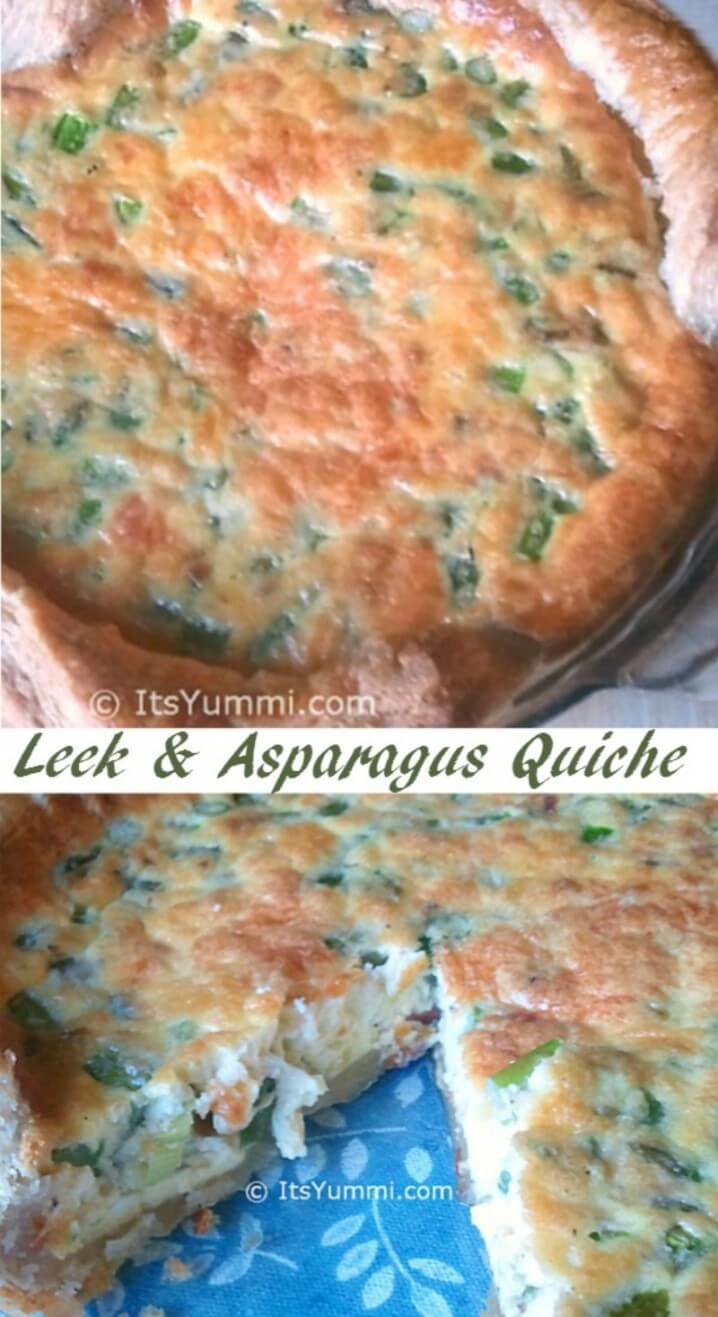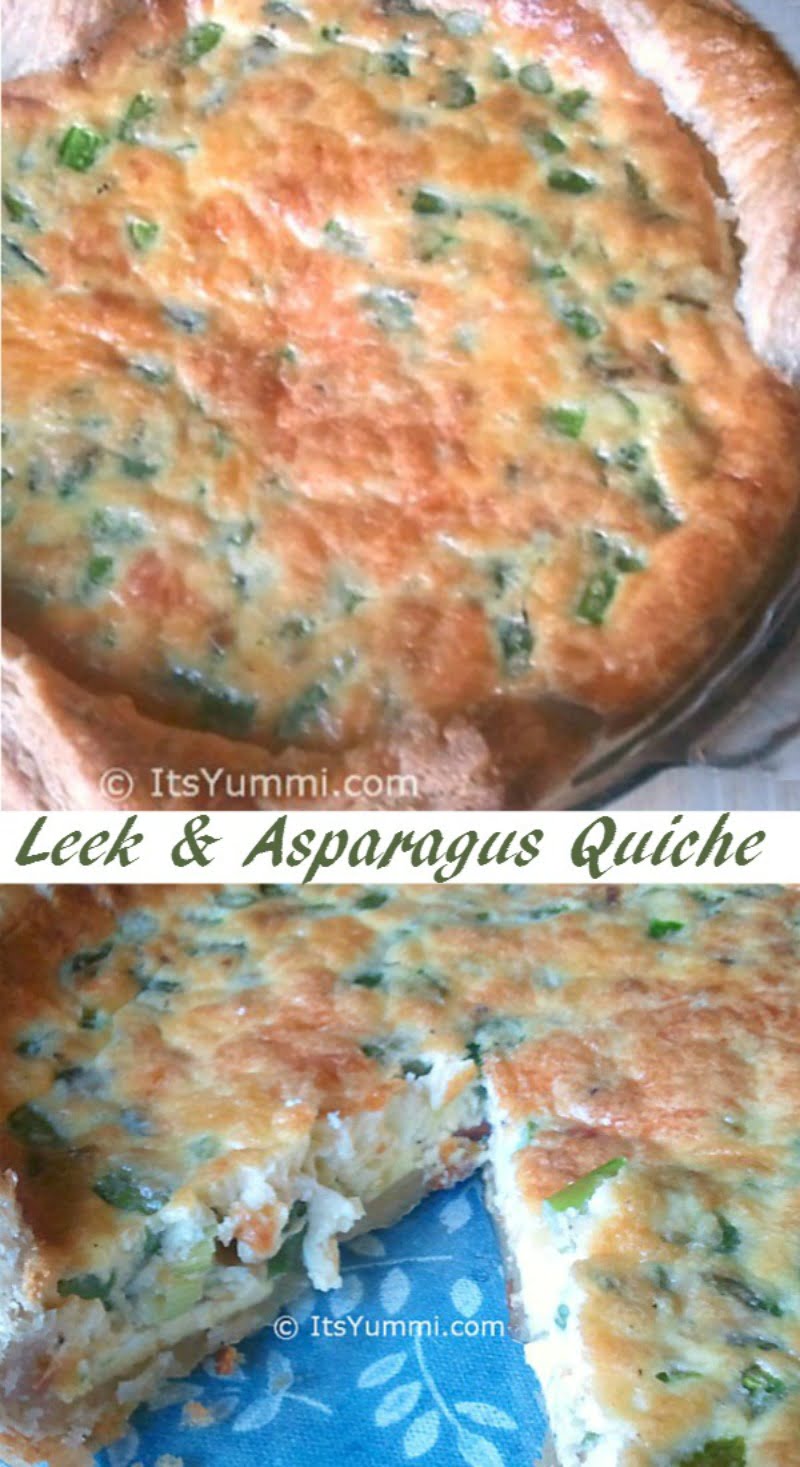 Until next time, be blessed….and be sure to feed your stomach and your spirit!