Low Carb Recipe: Double Chocolate Pistachio Cookies
Double Chocolate Pistachio Cookies – sweet and salty chocolate cookies dipped into white chocolate, then sprinkled with chopped pistachios. Can you say yummi goodness?
WHAT DO YOU GET WHEN YOU PAIR: Healthy, delicious in the shell pistachios + low carb double chocolate pistachio cookies + sugar-free vanilla almond milk? A NUTTY GOOD TIME and a healthy snack that's delicious any time you're in the mood!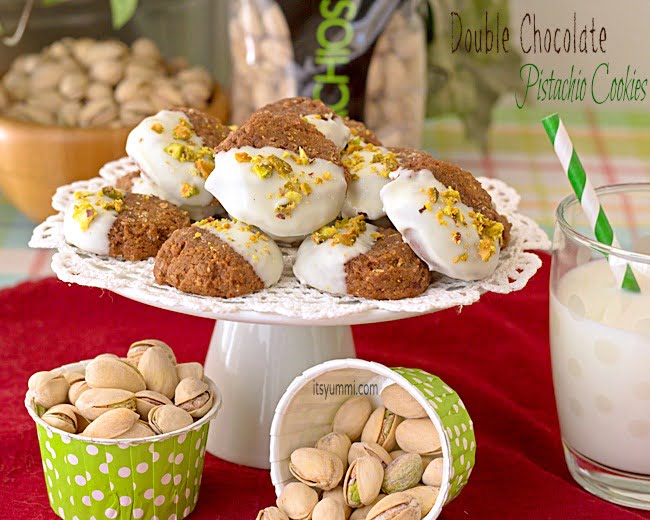 Because I'm on a low carb eating plan, I try really hard to keep my snacking under control. It's SO easy for me to grab a spoon and dig into ice cream, or pop a "fun" sized candy bar (or 4) in my mouth without thinking twice about it.  Because I'm such a sugar addict, there are times when I don't have the self control and/or will power to stop at a tiny, reasonable portion of sweets. That's why I've started snacking on healthier things like string cheese, fruit, or a hand full of pistachios.  It probably goes without saying that they're delicious, but did you know that in-the-shell pistachios are healthy AND they've got a built in portion control feature?  Get this:
A one-ounce serving of pistachios equals approximately 49 nuts, which is more nuts per serving than any other snack nut, and a reduced serving of about 30 pistachios is just about 100 calories. (There are 35 pistachios in the paper cup in the photo, above)
Crack 'em, Chew 'em, Love 'em, Leave 'em: Let the Pistachio Principle be your guide! Empty pistachio shells may serve as a "visual cue" of how many pistachios you've consumed, so don't discard the shells after you've enjoyed the treat inside. Keep these two behavioral studies in mind as you prepare your healthy Pistachio Pairing: ~ Study participants who left pistachio shells on their desk reduced their calorie consumption by 18 percent compared to participants who discarded shells immediately after consumption.1  
Just don't let your boss see all of those empty shells sitting on your $1,000 laptop, m'kay?
~ People who consumed in-shell pistachios ate 41 percent fewer calories than those who consumed pistachios without shells.2 This suggests that empty shells may be a helpful visual cue as to how much has been eaten – thereby potentially encouraging reduced calorie consumption.
Want another reason to go nuts snacking on pistachios?
Recent research from Harvard University and published in theNew England Journal of Medicine suggests that the benefits of snacking on nuts go up as the number of servings goes up, too3.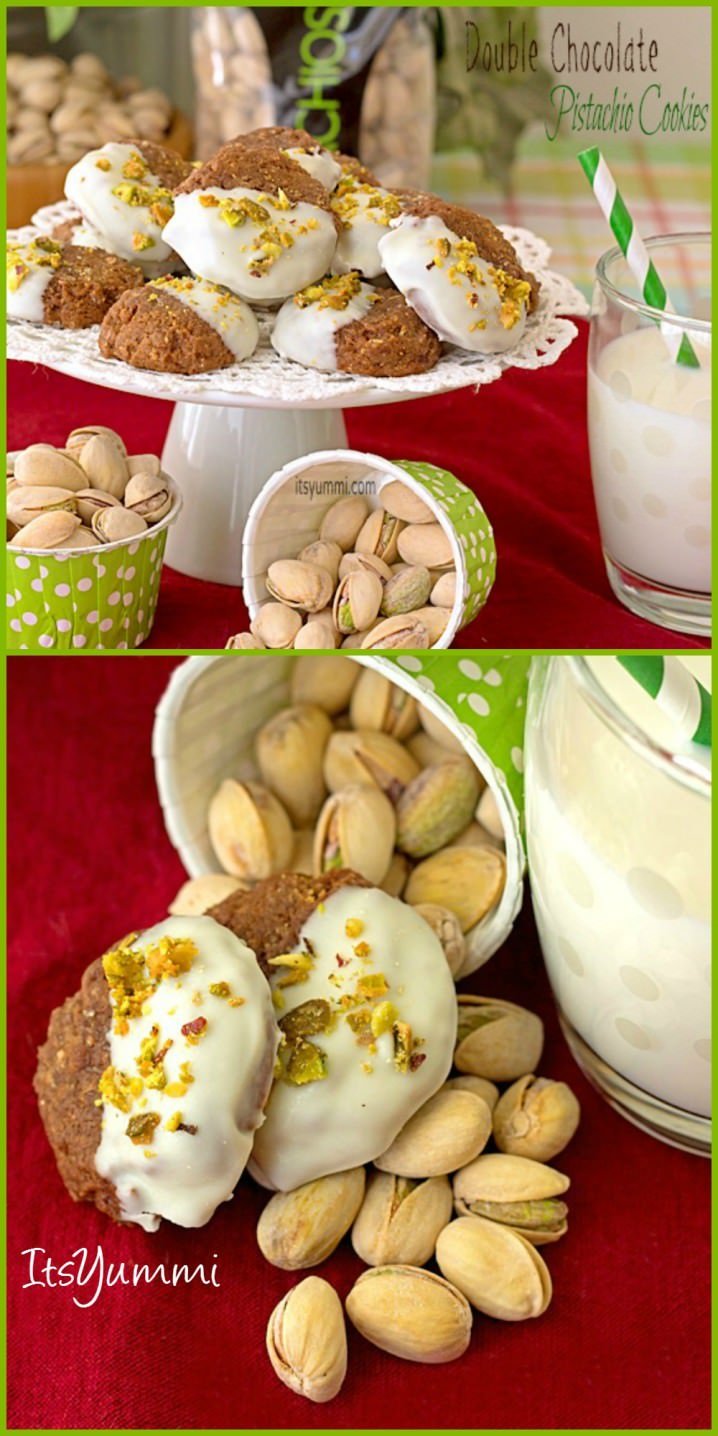 Bottom line: more nuts, more benefits. Go for a daily handful of pistachios as part of a healthy diet. A daily handful of pistachios is a delicious and healthy everyday snack for those striving for seven servings a week. 1. Painter, J. "The Effect of Pistachio Shells as a Visual Cue in Reducing Caloric Consumption."  Appetite. 2011, 57(2):418-420. 2. Honselman, C.S., Painter, J.E., Kennedy-Hagan, K.J., Halvorson, A., Rhodes, K., Brooks, T.L., & Skwir, K. "In-shell pistachio nuts reduce caloric intake compared to shelled nuts." Appetite. 2011, 57(2):414-417. 3. Bao et al. Association of nut consumption with total and cause-specific mortality. N Engl J of Med. 2013;369:2001-2011.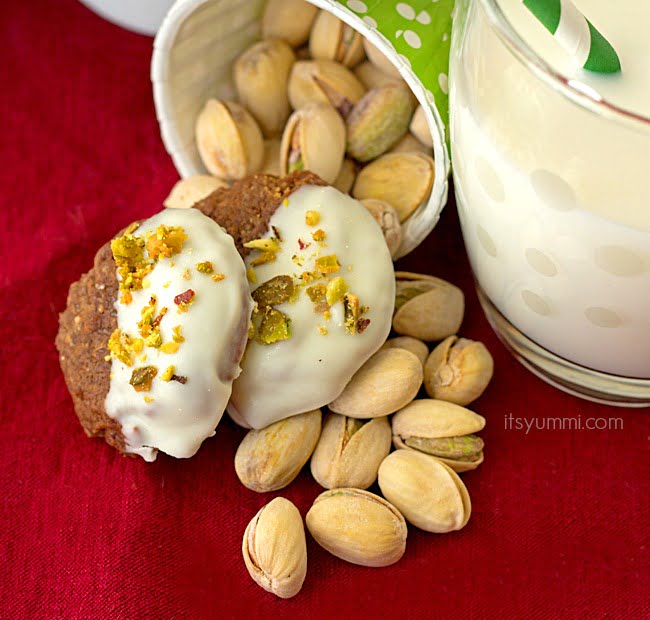 So what's NOT to love about a snack of some in-the-shell pistachios with a low carb chocolate cookie or two (also with pistachios!) and a tall glass of cold, sugar-free vanilla almond milk?  Grab your apron and your snack bowl, and I'll meet you in the kitchen!
How to Make Double Chocolate Pistachio Cookies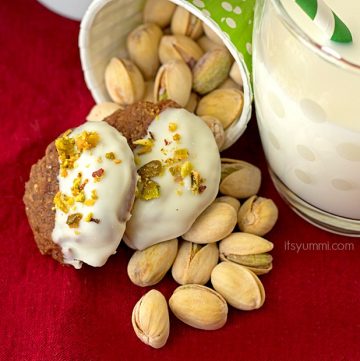 Low Carb Double Chocolate Pistachio Cookies
Bittersweet cocoa drop cookies, filled with tasty bits of crushed pistachios, baked with low carb flour and sugar substitutes, then baked and dipped into white chocolate & pistachios
Ingredients
2

ounces

bittersweet chocolate

chopped

3

ounces

unsalted butter

5

ounces

(roughly 3/4 cup) Tagatose (or similar low glycemic sugar substitute)

2

Tablespoons

raw honey or molasses

1

whole egg

plus 1 egg yolk

1/2

teaspoon

vanilla extract

5.5

ounces

(1 1/4 cups) low carb baking mix (I use Bob's Red Mill) or all-purpose flour

1/4

cup

shelled pistachios

crushed, plus 2 Tablespoons crushed for garnish.

FOR THE COATING

3

ounces

white chocolate

chopped (I use Ghiradelli)
Instructions
Melt chocolate & butter together in a double boiler over medium low heat, until chocolate is completely melted. Remove from heat and add sugar and vanilla; whisk to combine.

In a small mixing bowl, beat the egg and yolk together with a fork. VERY SLOWLY, drizzle about 1/2 cup of the melted chocolate mixture into the eggs, whisking continuously as you pour in the chocolate. This is called tempering the eggs. If you skip this important step, your eggs will become cooked from the hot mixture and you'll have scrambled eggs in your cookies!

Add the baking mix/flour and 1/4 cup pistachios and stir with a spoon, just until combined. Wrap bowl with plastic wrap and refrigerate for an hour.

Heat oven to 350 F. and line a cookie sheet with parchment paper or a silicone baking mat. Roll dough between your hands to form 1-inch balls. Space 2 inches apart on prepared cookie sheet, then press them with your fingers to flatten the tops slightly. Bake for 8 minutes, or until cookies have just set. Cool for 1 minute on sheet, then transfer to wire cooling rack to cool completely.

When cookies are cool, melt white chocolate in a double boiler, as in step 1, above.

Dip half of each cookie into the melted chocolate and sprinkle with crushed pistachios. Allow chocolate to set before serving.
Nutrition
Calories:
86
kcal
Carbohydrates:
12
g
Protein:
1
g
Fat:
4
g
Saturated Fat:
2
g
Cholesterol:
12
mg
Sodium:
31
mg
Sugar:
4
g