10 Best Lunch Catering Restaurants in 2023
If you're in a rush and wanna get your lunch catered, here are our top picks for lunch catering in 2023.
With the best prices, these restaurants are way ahead of the lunch catering game.
Panera Bread
Jason's Deli
Corner Bakery Café
Potbelly sandwich shop
Firehouse Subs
Jersey Mike's subs
Jimmy John's
Subway
Chick-fil-A
Boston Market
But why are these restaurants such a hit among the crowds? The truth is that these places are known for affordable lunch catering with a diverse range of food, catering to every dietary need of the people.
Considering the affordable price tags, the food is off-chart, too. If we ever had to pick one restaurant as the best, I'd say Subway wins the crown.
There's always a Subway location around the corner, where they offer you multiple lunch catering options.
The platters are always customizable according to your taste and arrive fresh and packed with flavors.
Jason's Deli, so far, reports the most diverse options for vegetarians and gluten-sensitive people with a separate catering menu dedicated to them.
On the other hand, Jersey Mikes reports the lowest prices equated to the rest.
Corner Bakery Café, Jason's Deli, and Subway are where you should visit for the most Keto-friendly options.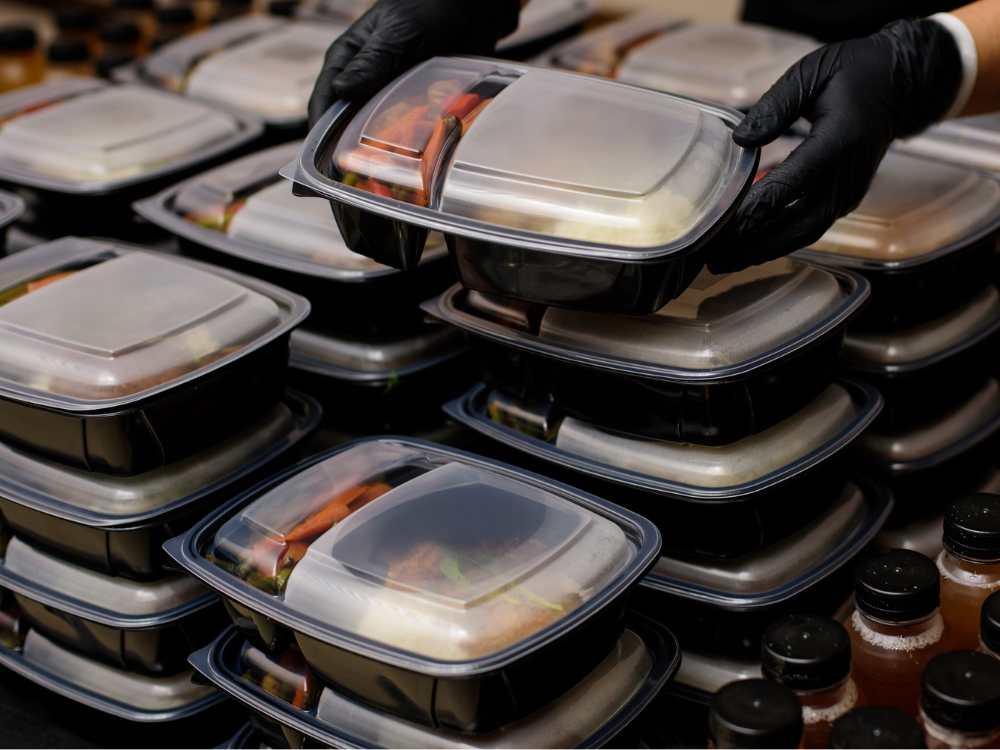 What is Lunch Catering?
Lunch catering is where you get your lunch pre-made and catered to a particular place.
Corporate lunch catering gets much attention these days where you could go for buffet-style lunch catering. There's the option for boxed lunch catering as well with individual portions.
Lunch Catering carries several options, including food specially catered to people with dietary restrictions.
Here are 10 best Restaurants That Offer Lunch Catering;
01. Panera Bread – Best For Boxed Lunch Catering
Panera Bread offers 10+ boxed lunches with sandwiches. The sandwich-boxed lunches vary from toasted steak and toasted turkey with avocado BLT to chipotle chicken avocado melt.
Their baguette lunch boxes are popular with pepperoni mozzarella melt, smoky buffalo chicken, Napa almond chicken, and more.
They do cater boxed lunches with salads including Southwest Caesar salad, Citrus Asian crunch, and more.
02. Jason's Deli
Jason Deli perhaps caters to the most delectable sandwich trays with Southwest wraps, Tuscan Focaccia sandwiches, and trays feeding up to 18 people.
Their lunch catering consists of boxed sandwich options such as a Deluxe box, Boardroom box, and traditional box.
There are a few popular event packages with sandwiches, pasta, potatoes, and salads feeding five or more.
Gluten-sensitive traditional boxes and vegetarian boxes are two of their go-to items.
03. Corner Bakery Café – Individual Lunches and Boxes
Corner Bakery Café's lunch catering is solid with 8 different salad choices.
Then, there are a few individual pasta choices with chicken carbonara, chicken rosa, etc.
You may go for their salad boxes with cookies, or the famous sandwich box with chips, best fitting for a corporate event.
Corner Bakery café sells sandwich baskets and trays, multiple salads and soups for a large group of people, and soups and pasta as well.
04. Potbelly Sandwich Shop – Individual Boxes and Large Bundles
Potbelly lunch catering has the perfect belly individual lunch boxes, customized to each one's needs, coming with a sandwich, a cookie, and a bag of chips.
Their most popular items include a small bundle for six, a Box O' sandwich feeding 10 people, and Mac and cheese for a group with cutlery and cups.
The other catering packages are the all-day meeting, the Potbelly bundle, and the full belly, including sandwiches, salads, chips, and sometimes drinks.
They even provide catering for soups, chili, mac and cheese, and many toppings as well.
05. Firehouse Subs – Catering Platters
Firehouse Subs is knowns for its lunch catering platters that go from standard platters with subs, meat, and veggies to deluxe platters.
There are salad and deluxe salad platters and half platters with subs & salads and subs & snacks.
Their 24-count cookie and brownie platters are heart winners. Go for their box lunches – The Rookie and The Lieutenant- if you want an individual lunch.
Desserts could be a part of the deal if you wish to as well.
06. Jersey Mike's Subs
Jersey Mike's lunch catering goes by the bag and the box. Their subs by the box is an ideal option for a smaller party that comes with twelve of their cold subs as per your choice.
The Subs by the Bag is a loved item that comes in three sizes to serve 1-4 people.
Each of their boxed lunches comes with a sub, cookies, chips, and a drink if you wish to.
You may even opt for cookies, brownies, chips, and drinks as well.
07. Jimmy John's
Jimmy John's lunch catering is a fancy affair where you could easily order a boxed lunch that comes with any of their regular sandwiches, a bag of chips, cookies, and pickles.
Depending on your choice, you could make a little John combo, an original combo, or a favorite combo. Feel free to add any drink, side, or dessert to the boxed lunch order as well.
For larger parties, go for their crowd-pleaser assortments with 18, 30 pieces feeding up to 15 alongside the mini Jimmys package.
There are over 10 various sandwich options to choose from to make your own customized lunch.
08. Subway
Subway lunch catering is an affordable option to consider where they have individually wrapped meals and platters.
Subway to Go Meal is their most loved item, each coming with a sub or a footlong, and a cookie,
The classic combo platter with 15 subs is a clear winner with many of their house specials such as Italian B.M.T and Tuna.
You could always go for your customized platters as well.
09. Chick-Fil-A
The popular Chick-fil-A lunch catering includes grilled chicken bundles, nugget trays – grilled or hot, grilled chicken subs, cool wraps, fruit trays, and more.
You could order green salads as sides or mac and cheese as well.
As for the desserts, go for their chocolate cookie trays or chocolate brownie trays.
They do have packaged meals with chicken sandwiches, cold wraps, nuggets, and more.
10. Boston Market
Boston Market catering packages include silver, gold, and platinum options, each with entrées, sides, and salads.
Opt for their hot buffet catering if there are more than five people, including entrées, cornbread, and two sides.
There are boxed sandwiches and salads, as well as individual salad meals.
How Much Does it Cost To Throw a Lunch Catering Party?
It may cost around $ 15- $40 per individual if you wanna throw a catering party. These prices will massively vary depending on your party size.
You could effectively save some money by ordering a platter or a tray which will cost less than ordering individual boxes.
What Are The Menu Options Typically Offered For Lunch Catering?
Typically, a lunch catering menu consists of sandwiches, salads, and dessert items, available in individual boxes or platters.
However, they do have soups, pasta, chili, and other entrées with beverages as well.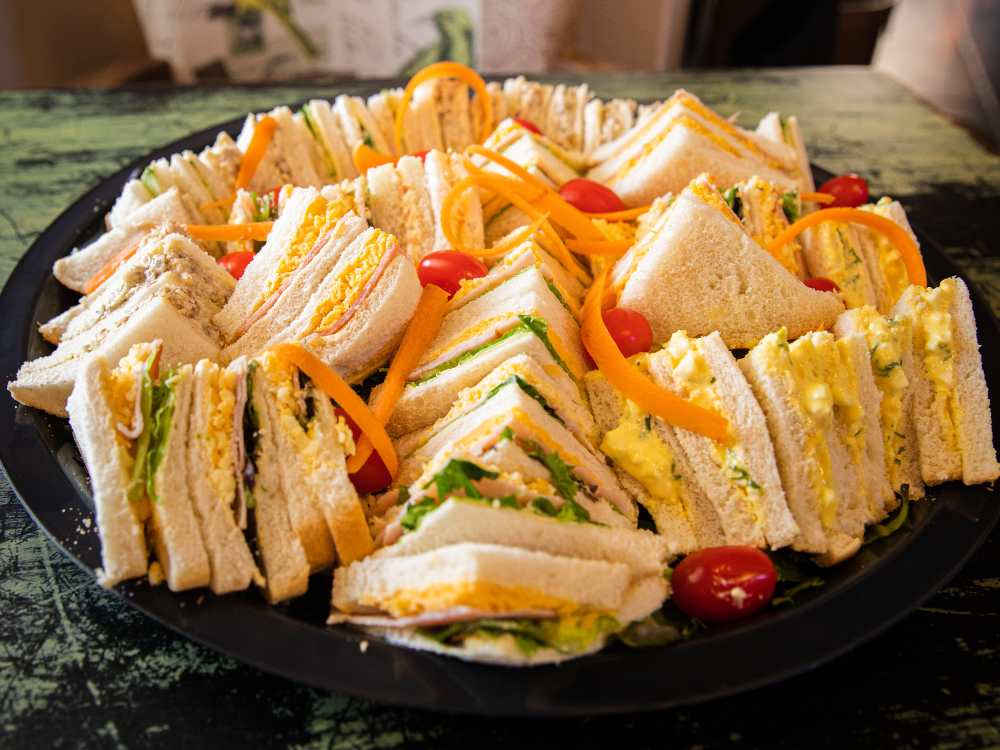 Is There a Minimum Order Requirement For Lunch Catering?
That depends on the restaurant you're ordering food from.
Certain restaurants do not have a minimum catering order requirement while many do have a minimum which you should abide by.
Are There Options For Both Hot and Cold Food in Lunch Catering?
Of course, there are. Many restaurants have both hot and cold items for lunch catering. The cold items include sandwiches, salads, and cold wraps.
Various pasta dishes, soups, and chili are a couple of items that are served warm. Feel free to reach out to your preferred restaurant for more details.
Can The Catering Service Provide Equipment and Utensils If Needed?
Of course, most of the catering companies provide equipment and other cutlery as per your request.
Boston Market, for example, comes with the staff, linen for the buffet, the dishes, buffet table set-up, plates, and cutlery.
Depending on the restaurant, there could be additional charges as well.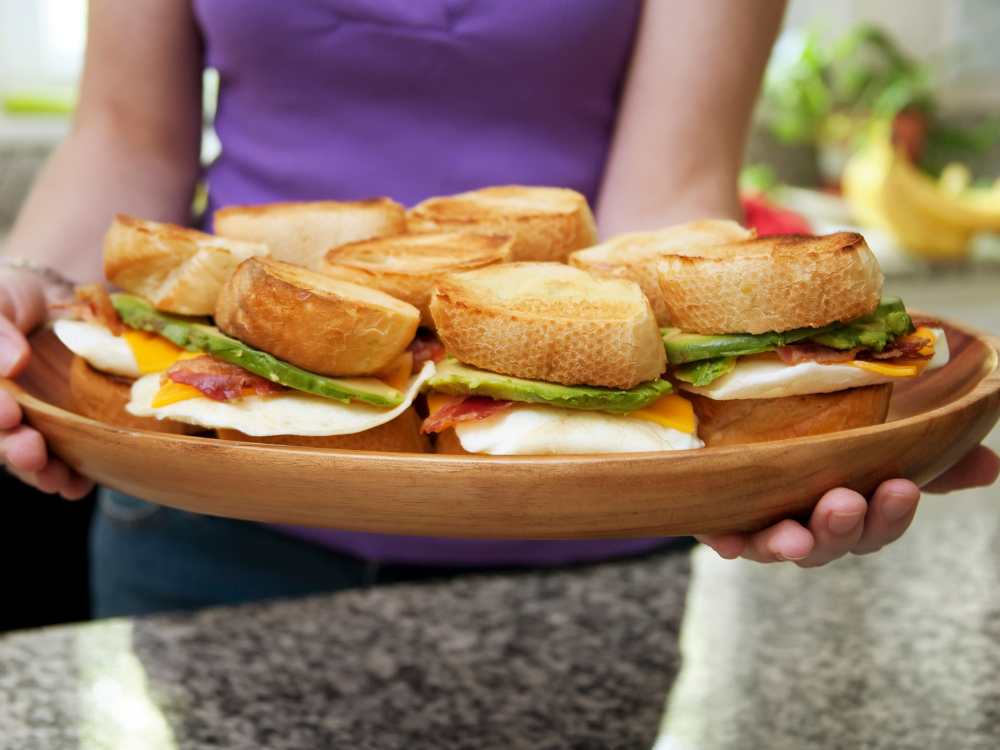 Restaurants That Serves Lunch Catering