Maple Passion Fruit Almond Fudge
This maple passion fruit almond fudge recipe is gonna make you think twice about overly sweet fudge. Your taste buds won't know what to do with the natural sweetness and the velvety smooth texture. With reduced calories from using Greek yogurt instead of sweetened condensed milk, this almond fudge recipe is gonna knock your socks off without bulging your waistline!
One of the things that I love about being a food blogger is how fun the food blogging community is.  There's a big world filled with cooks and bakers of all experience levels, but one thing is a commonality among us all…novice home cooks and uber talented master chefs alike appreciate the caring, generous fellowship that can be found with another "foodie".
Last month, a group of us came up with the idea to do a mystery ingredient swap.  We were randomly assigned to another blogger with the directions to send an ingredient to that blogger.  The ingredient had to be something local to the area we live in, and we weren't allowed to spend more than $5.  I was assigned to send an ingredient to Kristin (I sent her a bag of dried Wisconsin cherries) and my sweet friend Nettie was assigned to send me an ingredient from her state of Maine.  She sent me a bottle of maple passion fruit syrup that's manufactured by Tropical Maine.  I enjoy all sorts of fruit, but the truth is, I've never seen a passion fruit, much less eaten one.  I knew that this would be a fun experience, but certainly a challenge.
The taste of the syrup is very complex.  In my opinion, too sweet to be used as a pancake syrup, but not quite sweet enough to hold up on it's own in a cake or cookie.  So I put on my culinary thinking cap and came up with this fudge recipe.  It's not a traditional fudge recipe for a number of reasons.  First and foremost, I wanted to keep the fat content down.  Secondly, I really didn't want to use sweetened condensed milk.  (That's secret food code for I was too lazy to go grocery shopping).  So I used Greek yogurt instead of the majority of the butter and condensed milk.  It kept the sugar from burning as it cooked and it gave the fudge a creamy texture.  The tang of the yogurt paired up really well with the sweet passion fruit, too.  I did have to cook the sugar a couple of minutes longer than I normally would have, just to make sure that the sugar crystals had all dissolved, but all in all, I was pretty happy with the end result.  Give it a try and see if you agree!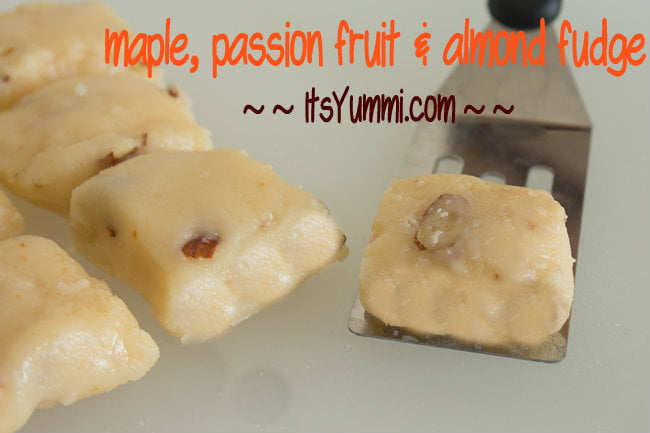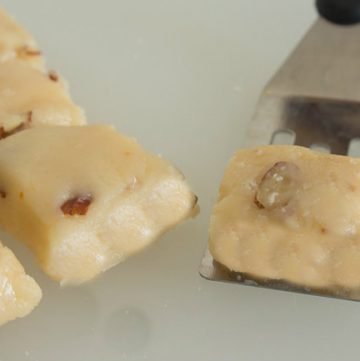 Maple Passionfruit & Almond Fudge
This fudge is creamy, fragrant, and quite rich!
Ingredients
4

cups

granulated sugar

2

Tablespoon

butter

1

cup

plain Greek yogurt

3

ounces

(1/3 cup) Tropical Maine Maple Passion Fruit Syrup (or pure maple syrup)

1/2

cup

chopped or sliced almonds
Instructions
Place sugar, butter, and yogurt into a heavy-based sauce pan over low heat. Stir until sugar has completely dissolved, about 4-5 minutes.

Boil without stirring until the mixture reaches 239.0ºF or soft ball stage has been reached. Remove from heat and let mixture sit for 4-5 minutes.

Transfer mixture to a heat proof mixing bowl and beat with a hand or stand mixer until mixture is thick and creamy, about 3 minutes. Stir in almonds and spread mixture into a greased 8" x 8" pan.

While still warm, but firm, cut into squares. Leave until completely set before removing from pan.
Nutrition
Calories:
262
kcal
Carbohydrates:
55
g
Protein:
2
g
Fat:
5
g
Saturated Fat:
2
g
Cholesterol:
6
mg
Sodium:
11
mg
Fiber:
1
g
Sugar:
53
g