Mcdonald's Vegan Menu (USA & UK) – 2023
McDonald's has a specific menu for vegans, only if you are ordering from any store in the United Kingdom. But for the fans residing in the US, you will not get to see a particular vegan menu.
Currently, McDonald's has only one burger named McPlant which is suitable for vegans and made with a plant-based patty but tastes like meat, that's why name McPlant.
The sad news, McPlant is not available in all McDonald's stores, the burger is available in Texas and California states right now, here is the list of the stores where you will get the McPlant burger.
The price of the McPlant is $5.49 and the size is small comparing other restaurant's burgers and a little bit expensive.
This does not mean that vegans located in the US have to avoid McDonald's!
We have listed here some of the meatless items which are not simplified as vegan menu but if you are vegan these options are great currently at the US stores.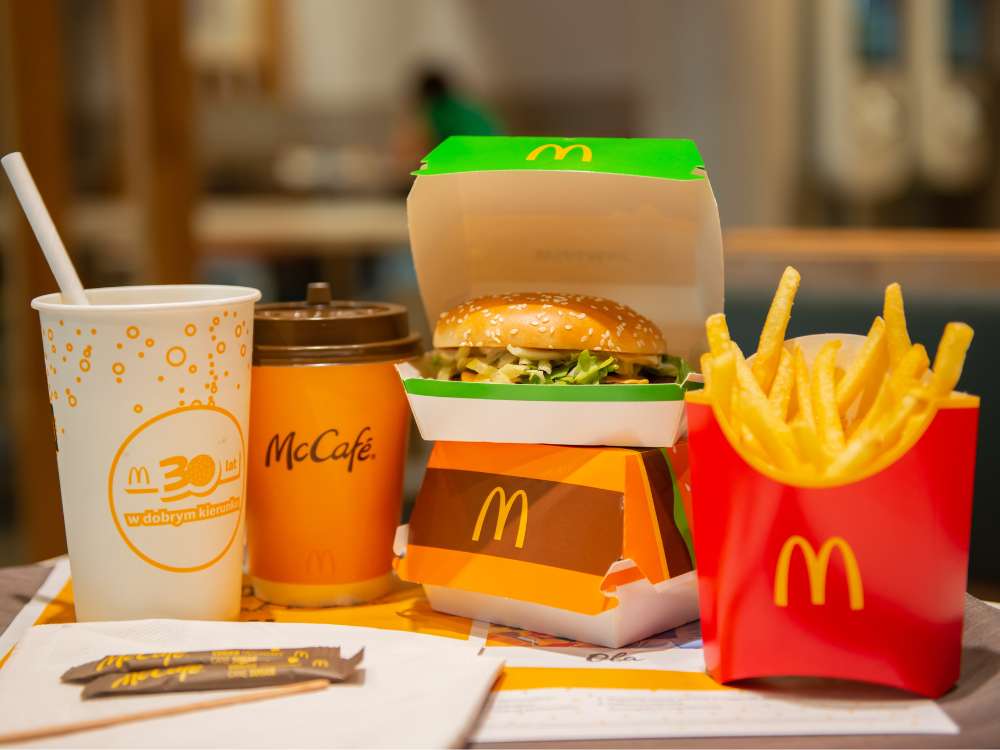 The table illustrates McDonald's vegan menu USA
| | | |
| --- | --- | --- |
| Items | Calories | Price |
| McPlant | 510 | $5.49 |
| Mccafé Cinnamon Roll | 540 | $3.59 |
| Hash Browns | 150 | $2.19 |
| Apple Slices | 15 | $1.79 |
| Oatmeal | 320 | $3.43 |
| Strawberry And Crème Pie | 280 | $3.34 |
| Apple Pie | 230 | $1.81 |
Does Mcdonalds USA Have Vegan Options?
McDonald's USA does not have a vegan menu right now, but they have a vegan burger called McPlant which is made with plant-based patty, the burger is available in two states currently.
Is The McPlant in The US Vegan?
Yes, McPlant is vegan burger because McDonald's prepares McPlant with vegetables and plant-based patty.
Are US McDonald's Fries Vegan?
According to McDonald's official website, their fries in the US are 100% vegan.
Are McDonald's Hash Browns Vegan USA?
No, McDonald's brown is not vegan because it contains dairy flavor.
Does McPlant Taste Like Beef?
Although McPlant is prepared by plat based and vegetables it tastes like meat.
McDonald's Vegan Menu UK
Let's dive into the McDonald's UK menu and talk about vegan burgers first.
It's pretty rare to find a fast-casual restaurant with a decent menu of vegan food these days.
Now, all the vegans out there don't have to worry as McDonald's vegan menu is a complete collection of juicy food and amazing drinks.
Currently, McDonald's offers three of them in their menu.
McPlant is their most basic vegan burger with the freshest sesame bun, a patty made with plant-based ingredients, lettuce, tomato, pickles, and more.
They have added a vegan alternative for the cheese slice here, and it's served with a vegan sandwich sauce.
Up next is the supreme version of McPlant – Double McPlant.
It comes with the same ingredients as its basic version except for the fact that you get two plant-based burger patties for all the extra juiciness.
If you wanna try something new and succulent, go for their Vegetable deluxe.
This vegan accredited burger comes with crispy veggie goujons with pesto and red pepper, nestled between a soft sesame bun.
There's iceberg lettuce inside for the something-green aspect.
The spicy veggie one is their ultimate vegan wrap with crunchy and spicy veggie dippers, onions, and lettuce in a soft wrap of tortilla.
If you're missing chicken nuggets, you could try McDonald's vegan alternative – a veggie dipper that comes in 2 or 4 pieces.
Of course, feel free to order their fries or a bag of carrots as sides.
They even have fresh pineapple sticks to go for a quick and healthy snack.
As for the beverage options, you get a decent collection of over ten different drinks.
These include orange juice, mineral water, classic, and zero-sugar Coca-Cola, Diet coke, Fanta Orange, etc.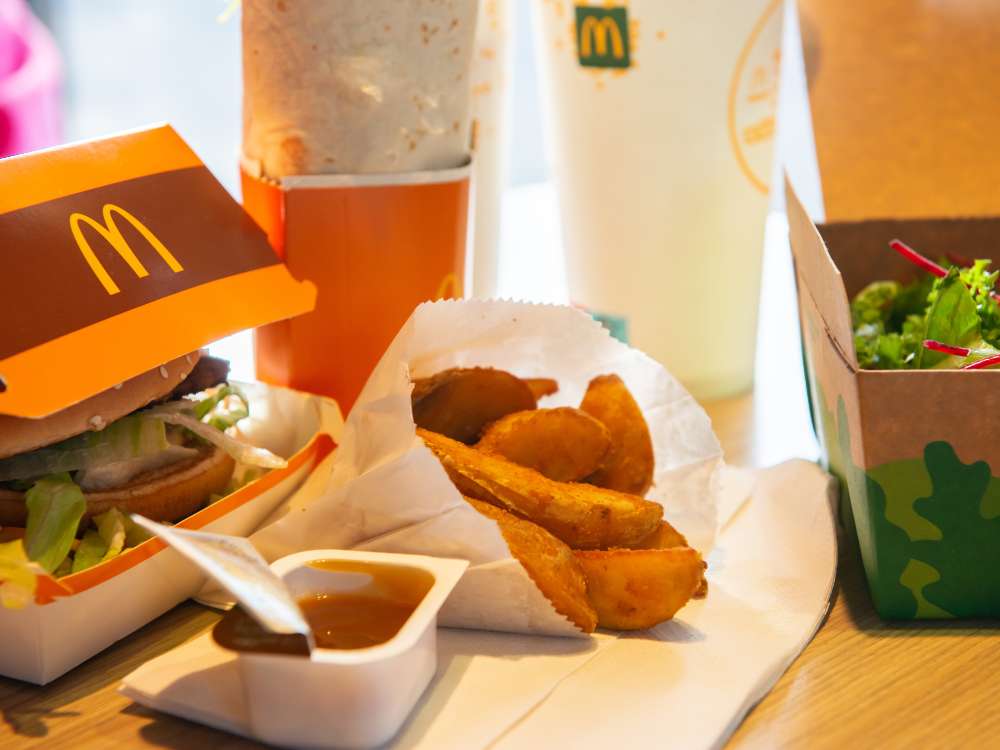 Vegan Menu (Based on McDonald's UK)
Items
Size
Calories
Burgers
McPlant
(Plant-Based Patty, Ketchup, Mustard, Onion, Lettuce, Pickles, Tomato)
429
Medium
767
Large
875
Double McPlant
(Two Plant-Based Patties, Ketchup, Mustard, Alternative Cheese, Onion, Lettuce, Pickles, Tomato)
590
Medium
928
Large
1036
Vegetable Deluxe
(Red Pesto Veggie Goujons with Sandwich Sauce and Shredded Lettuce)
361
Medium
699
Large
807
Others
The Spicy Veggie One
(Veggie Dippers + Spicy Relish, Red Onion & Tomato, Lettuce, Wrapped Up in A Tortilla Wrap)
365
Medium
703
Large
811
Fries
Small
237
Medium
337
Large
444
Veggie Dippers
(Tomato Pesto & Red Pepper, Coated in Golden Breadcrumbs)
321
Medium
659
Large
767
FAQs
Are There Any Vegan Menu Items At Mcdonald's?
Of course, there are in the UK but not in the USA. Currently, their vegan menu features burgers, wraps, fries, and some other drinks that are certified to be vegan.
Can a Vegan Order Fries At Mcdonald's?
That's possible at McDonald's. Their fries are fried in verified rapeseed, and sunflower oil, and are not dipped in any animal fat.
This makes their fries truly suitable for all vegan customers.
What Are The Vegan Nuggets Made of At Mcdonald's?
These nuggets are made with a blended mixture of corn, peas, and wheat.
What is The Newest Addition To Mcdonald's Vegan Menu?
The most recent item added to their menu is Double McPlant with two vegan burger patties.
Can You Consider Mcdonald's Apple Pies Vegan?
Though they aren't made with any animal-based ingredients, you cannot 100% guarantee that they are vegan.
Final Thoughts
Vegans always struggle to find accredited vegan dishes in fast-food chains.
McDonald's, however being sensitive to the timely demand has come up with its plant-based meat – beyond meat, and now makes burgers, wraps, and nuggets with them.
After all, thanks to McDonald's now vegans get to munch on juicy burgers, all without feeling guilty at all.