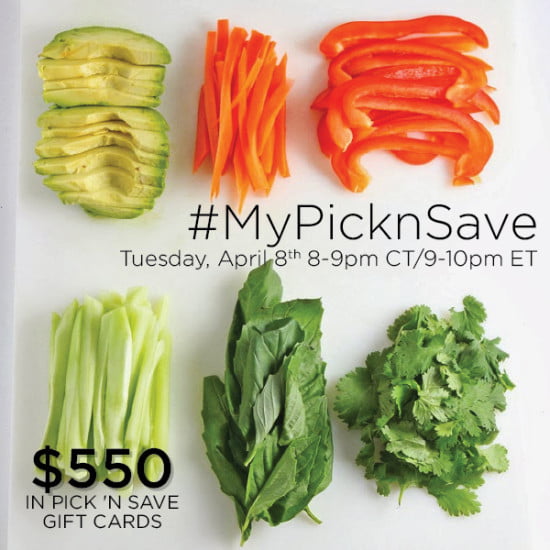 Do you struggle knowing what healthy foods are right for your family?  Is shopping for healthy foods and eating healthy a chore that you dread because you just don't understand how do do it right?
Whether you try and feed your family organic foods whenever possible or you make an effort to substitute healthier ingredients into your favorite recipes, shopping for those healthy ingredients can be confusing.  Your local Pick 'n Save store is making that task easier with their health key™ system.  Join us on April 8th, when we'll discuss healthy eating, organic choices, and leafy greens at the #MyPicknSave Twitter Party.
Finding the highest quality ingredients to use when I cook can be a challenge, especially with a tight grocery budget like mine!  Thankfully, Pick 'n Save Stores are there for me, with easy to find ingredients and high quality organics that I can trust! Their health key™ system makes identifying my best food choices quick and simple.  Add to that the great prices, and shopping at My Pick 'n Save is truly the right choice for my family.
Join me at the #MyPicknSave Twitter Party on SoFabChats!
DATE: Tuesday, April 8th
TIME: 8-9pm CT/9-10pm ET
PRIZES: 5- $100 Pick 'n Save gift cards
EARLY BIRD: 1 – $50 Pick 'n Save gift card
RSVP: #MyPicknSave Party Page
LOCATION:  SoFabChats Tweet Grid
HOST: @WisconsinMommy
CO HOSTS: @OutnumberedMama, @ItsYummi, @ChelsaBe
SPECIAL GUEST: @PicknSaveStores
PARTY RULES: #MyPicknSave Official Rules
 CLICK  BELOW TO RSVP!

What's a party without friends, right?! Send this Tweet to invite your friends!
Let's chat healthy! #MyPicknSave Twitter Party 4/8 8pm CT/9pm ET. Organic #recipes! Prizes $550! RSVP/Rules http://t.co/wjBIbGPJvs #shop

— Becca ~ It's Yummi! (@ItsYummi) April 1, 2014
Join the fun by following me on Twitter!
 Love Twitter Parties?
New to Twitter Parties and want to learn more?
Stay in the loop with the SoFabChats Twitter Party Schedule, RSVP for individual Twitter parties, find SoFabChats Twitter Party Tips and sign up for SoFabChats Twitter Party email alerts!
RSVP today and learn how you can enter to win our special Early Bird gift card prize!