Holiday Recipes: Nutty Graham Truffles with a Holiday House
These holiday recipes that I created are sponsored by #CollectiveBias and their advertiser. All thoughts and opinions are my own. #PBandG
It seems a bit early for the snow to be falling, but reality set in this past weekend, and it looks like Winter has arrived early. To take full advantage of the situation, I decided to put together two holiday recipes for you. Well, technically, the holiday house isn't a recipe, but you'll be able to see the steps I took to create it. The important part is the creativity that you'll use to make your peanut butter and graham cracker house your very own. First, I'm sharing my recipe for nutty graham truffles.
Ermigerd, you guys. I think I hit a home run with this recipe.
Nutty graham truffles are bite sized pieces of light sweetened cream cheese and all-natural peanut butter, coated in cinnamon and graham crackers. SO yummi!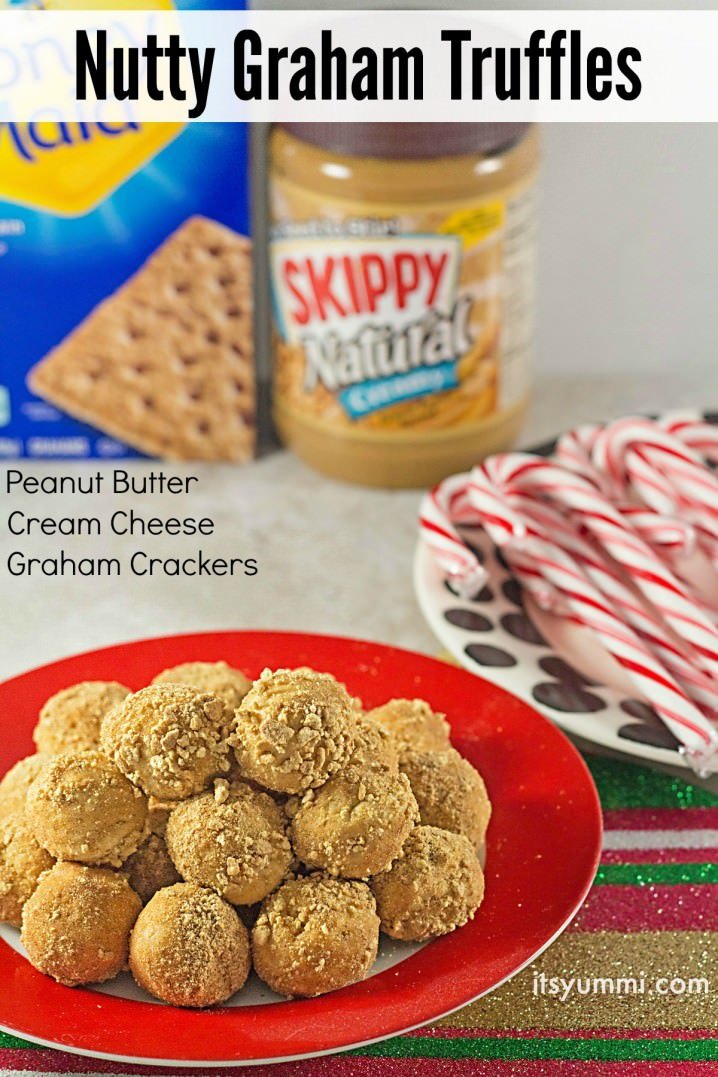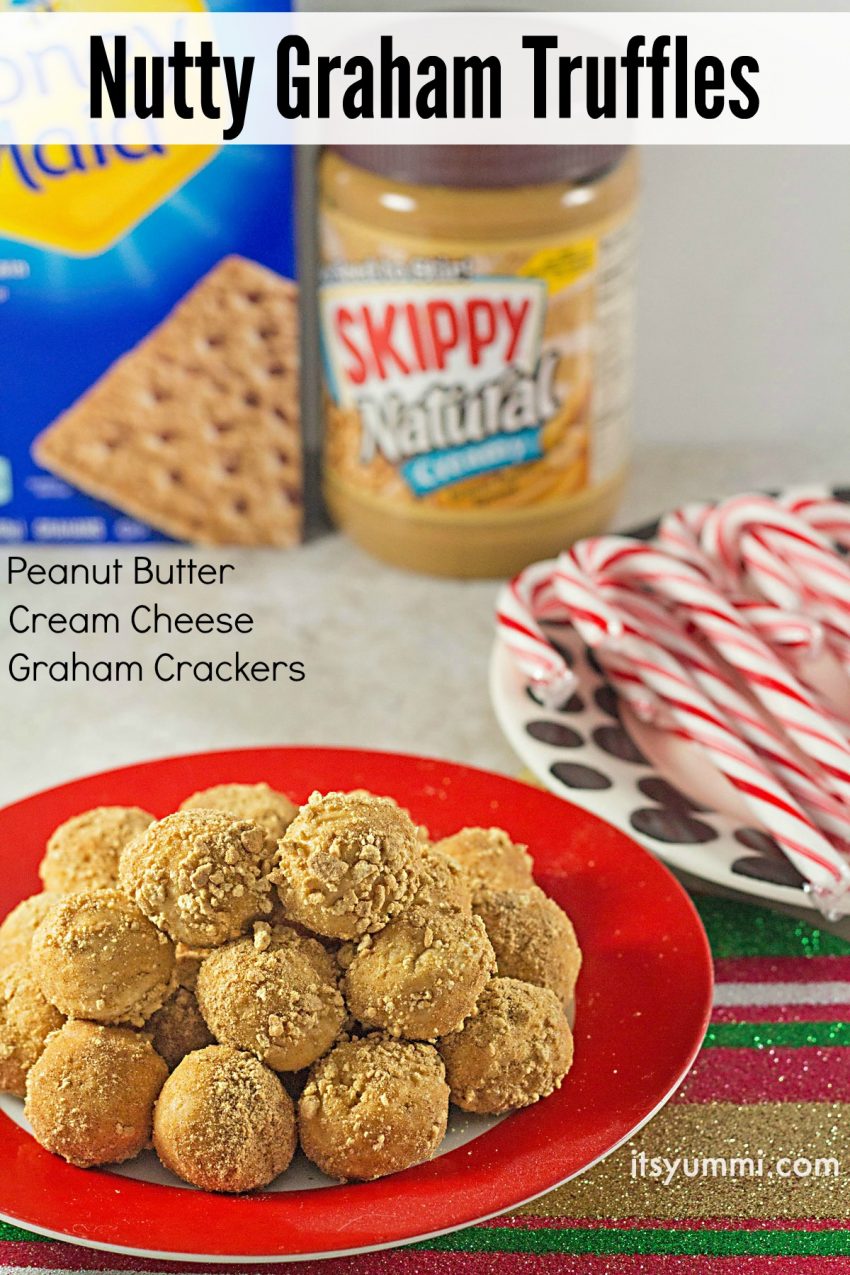 Because I've been trying to keep a good balance of sweets and healthier snacks around, I thought I'd create my graham cracker and peanut butter house with nutrient packed fruits and veggies. Creating holiday crafts from food is always loads of fun, and as you'll soon see, even those of us over the age of 50 can get into the fun of playing with their food!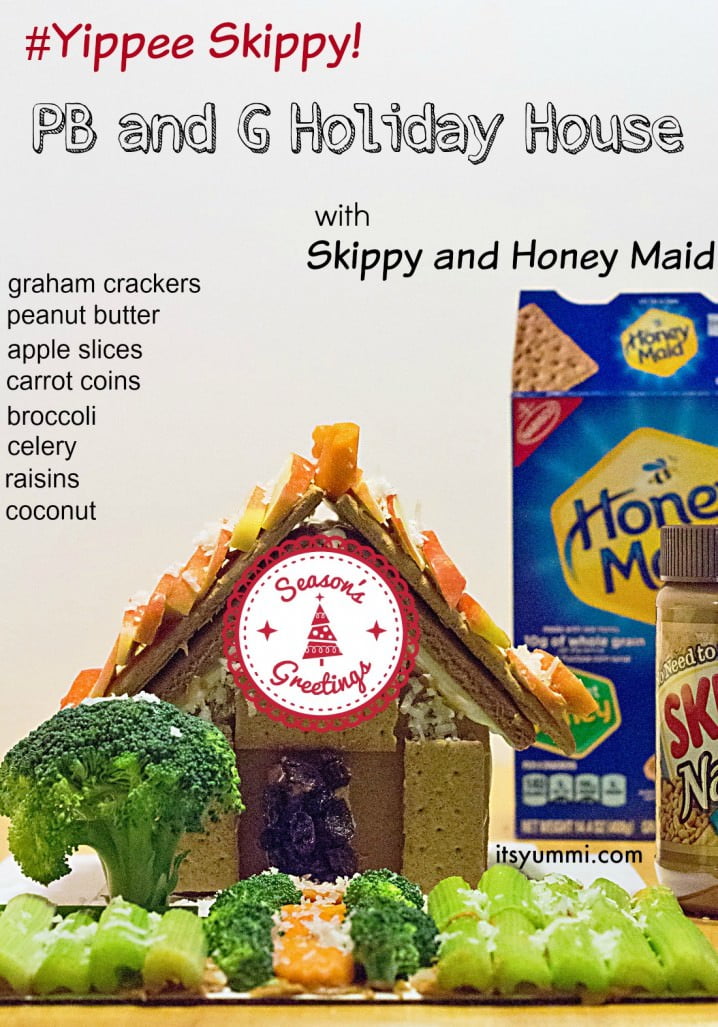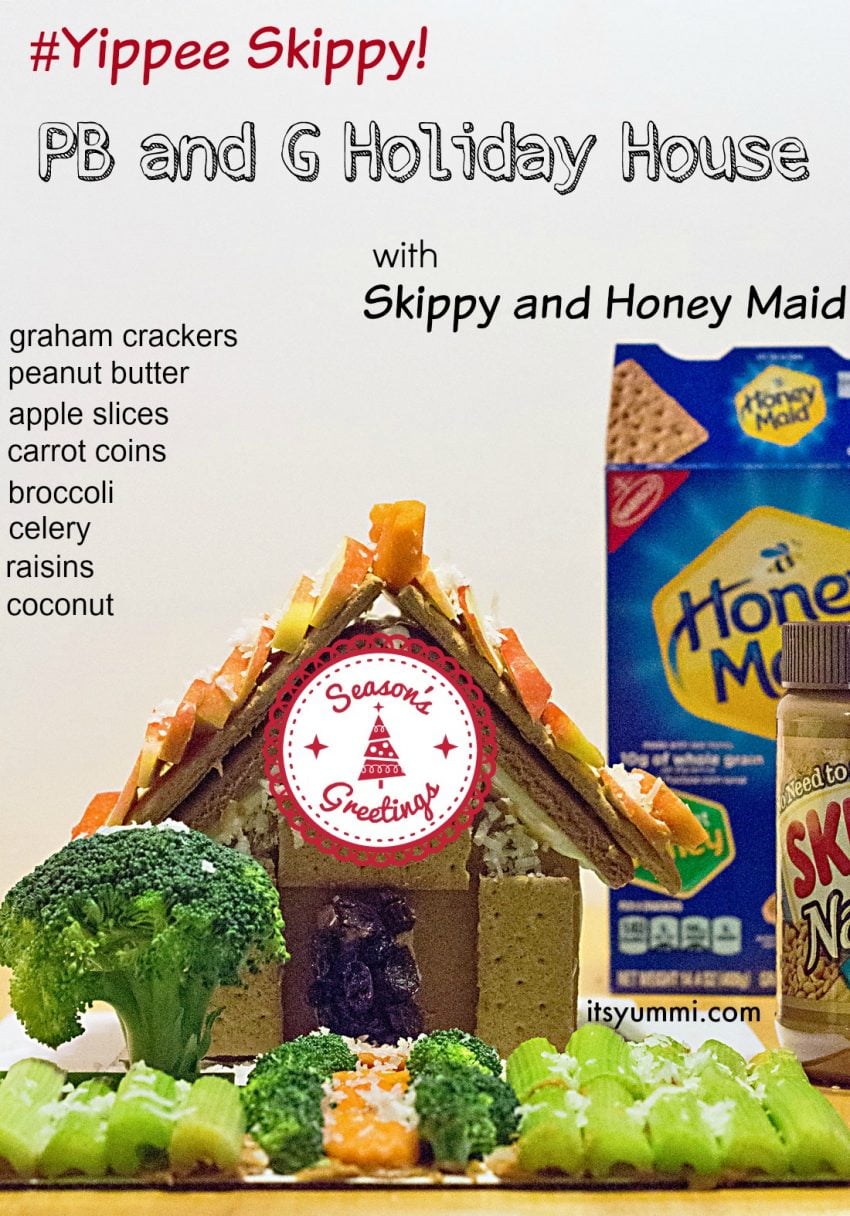 I created my holiday house with the help of a ready-to-decorate gingerbread house kit. I figured spending a few extra dollars to prevent major engineering and construction was worth its weight in gold, and I was right. Using peanut butter as the "glue", I attached graham crackers to the exterior of the house. I decorated it in a way that makes it easy to disassemble and eat during a party. For example, there's peanut butter on the underside of the celery sticks, so if you pick up a piece, it's ready to eat, with no dipping required.
My sweet hubs may be in his mid-50's, but not much gets in his way when he's in the holiday spirit. He professes to be a big kid at heart, and by the looks of him hard at work, installing the "grass", I'd say he lived up to the Peter Pan rule perfectly.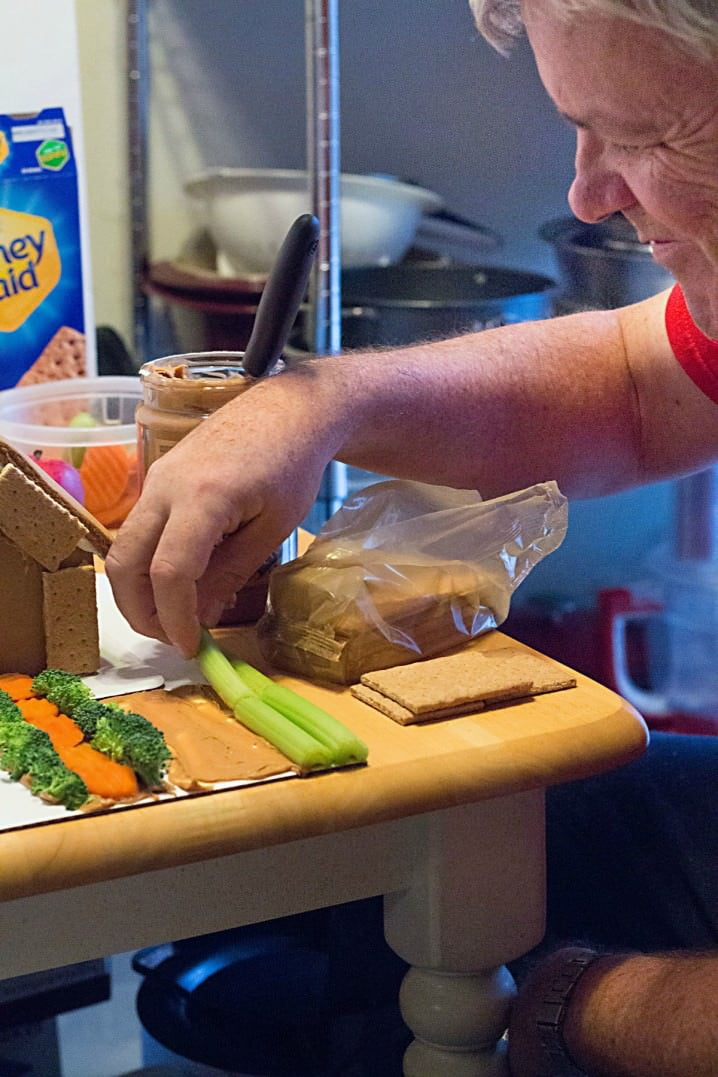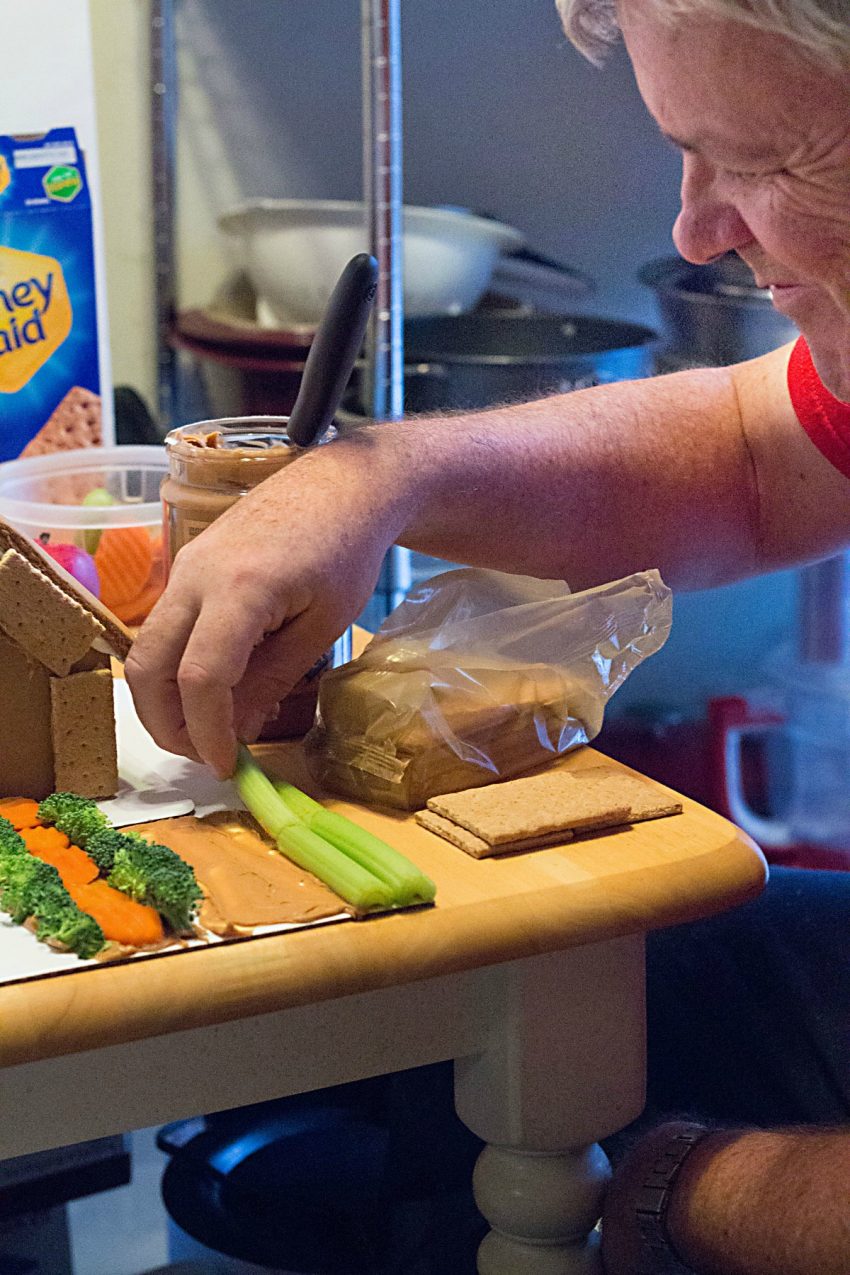 We used celery for the grass, broccoli for the shrubs and trees, carrot coins for the walkway and sides of the house (not shown), raisins for the front door, and apple slices for the roofing tiles.  Everything was attached using peanut butter.  Like I said earlier, how you decorate your holiday house is all up to you and your imagination. Just have some fun with it…with or without kids involved!
Oh, by the way, I shopped for everything I needed for these recipes at Walmart. I'm not sure how your Walmart is laid out, but at the one here in Appleton, they moved the peanut butter to the end of the cereal aisle. It was a little tricky to find it.  The graham crackers were in the cookie aisle, which of course, is why I also put 2 packages of iced ginger snap cookies into my cart. Couldn't help myself, and besides, buying iced ginger snaps and gingerbread is the holiday thing to do.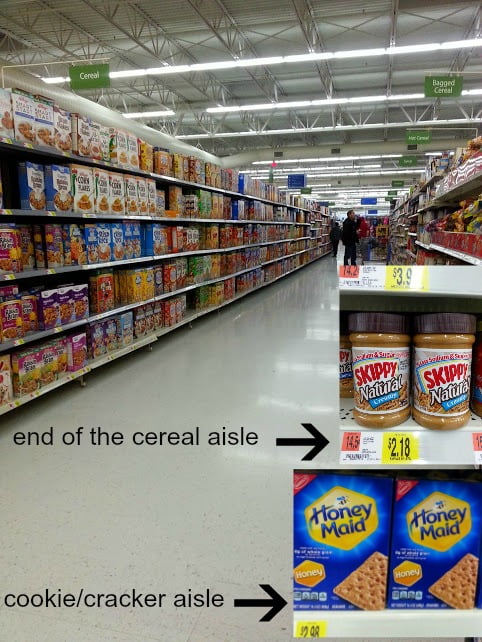 If you're lookin' to save some cash, here's a coupon to save $0.50 when you buy one (1) Honey Maid Grahams (12.2 oz. or larger).
Now that the holiday house is finished, who's ready for some nutty graham truffles?  This recipe is super easy and takes a whopping 5 minutes to put together. If you're anything like me, you'll have them devoured 5 minutes after that.
Just put some cream cheese, peanut butter, a smidgen of confectioner's sugar into a bowl, and stir to combine.  Then roll them up into balls about the diameter of a quarter and let them chill for a few minutes to get the stickiness out. Otherwise, you'll end up with peanut butter all over your fingers. Not a horrible tragedy, but a bit messy.  While you're waiting, crush up some graham crackers. I put 4 full sheets (8 squares) into a zip top bag and ran a rolling pin over it until there was nothing but crumbs.  Place them into a bowl, stir in some ground cinnamon, and you're ready to roll!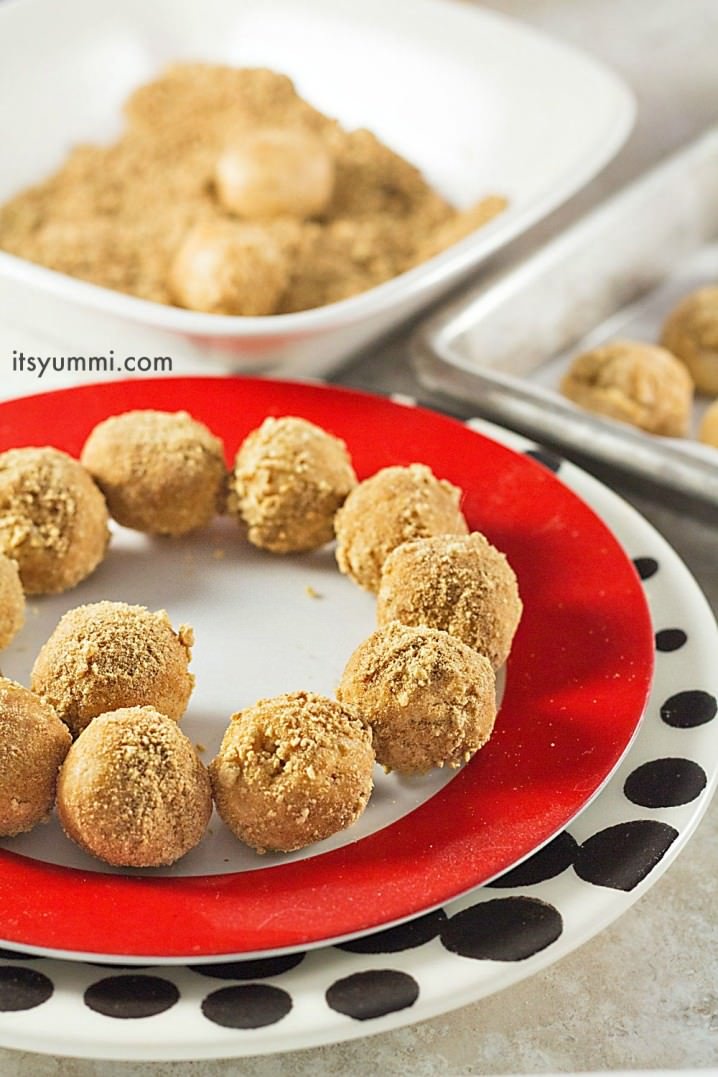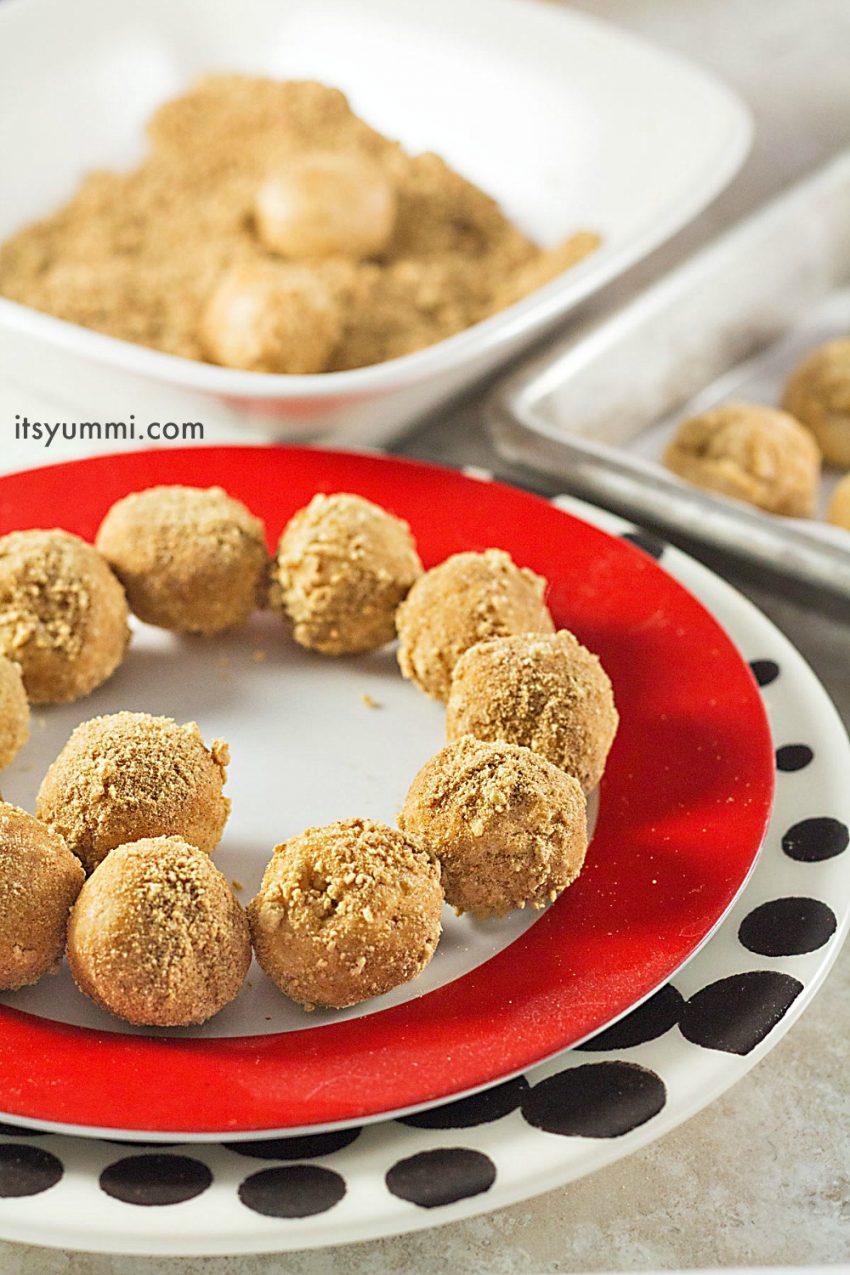 After they've been rolled, the nutty graham truffles will be completely poppable and perfectly addictive.  If you make them before you start decorating your holiday house, you'll have the perfect snacking opportunity.  That's a win-win, kids!
So please tell me in the comments below:  How will you decorate YOUR house for the holidays?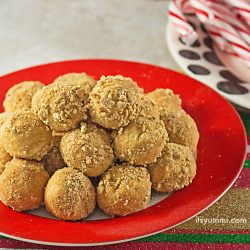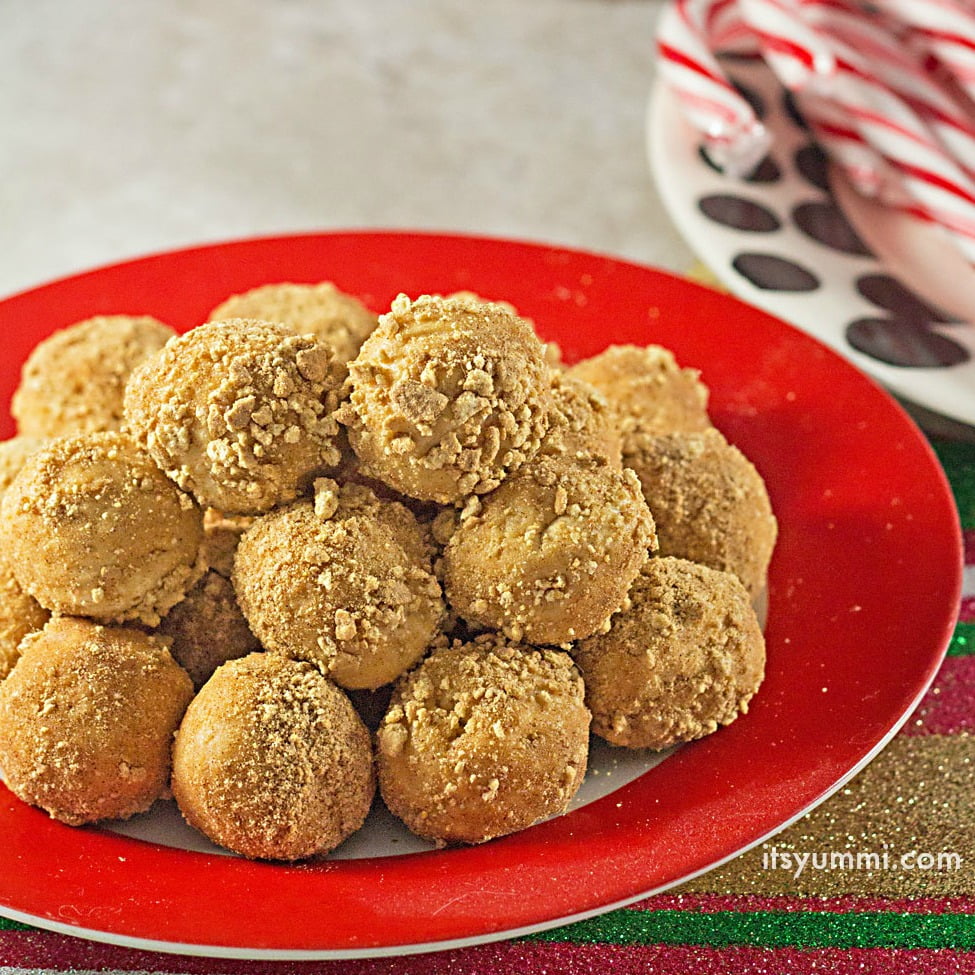 Nutty Graham Truffles
Lightly sweetened cream cheese and all-natural peanut butter are rolled into bite sized truffles, then rolled in cinnamon flavored graham cracker crumbs. The perfect poppable snack!
Ingredients
8

ounces

plain cream cheese

softened (regular, light, or low fat)

1/2

cup

creamy peanut butter

3

Tablespoons

confectioner's sugar

3/4

cup

graham cracker crumbs (about 8 squares)

1

Tablespoon

ground cinnamon
Instructions
Add cream cheese, peanut butter, and sugar to a medium size mixing bowl. Use a silicone spatula or wooden spoon to stir until well combined. (You could also use an electric mixer.)

Roll into 1 Tablespoon sized balls (about the diameter of a quarter) and place in a single layer onto a parchment paper lined sheet pan. Place pan into refrigerator for 20 minutes, or freezer for 10 minutes.

While truffles are chilling, crush graham crackers. Combine graham cracker crumbs and cinnamon in a small bowl. Once truffles are chilled, roll in crumb mixture to even coat them. Serve immediately or place back into refrigerator or freezer until ready to serve.
Nutrition
Serving:
1
truffle
Sodium:
72
mg
Iron:
0.3
mg
Calcium:
17
mg
Vitamin A:
125
IU
Sugar:
2
g
Potassium:
52
mg
Cholesterol:
10
mg
Calories:
79
kcal
Saturated Fat:
2
g
Fat:
6
g
Protein:
2
g
Carbohydrates:
4
g