Red White and Blue Patriotic Cupcakes
Old Glory is a nickname for the flag of the United States of America. These adorable red, white, and blue cupcakes are easy to make and will bring some patriotic spirit to your Memorial Day or 4th of July party.
It's almost time to cue the patriotic songs, raise our flag, and bake up some patriotic recipes, like these Old Glory cupcakes!
I love everything about the 4th of July. I adore what the day stands for, I think it's fantastic that it occurs right in the middle of the most glorious weather we have during the year, and most of all, I love that it encourages a sense of unity among the citizens of our country. What a better way to celebrate than with picnics, cook-outs, fireworks, parades, and delicious desserts like cupcakes!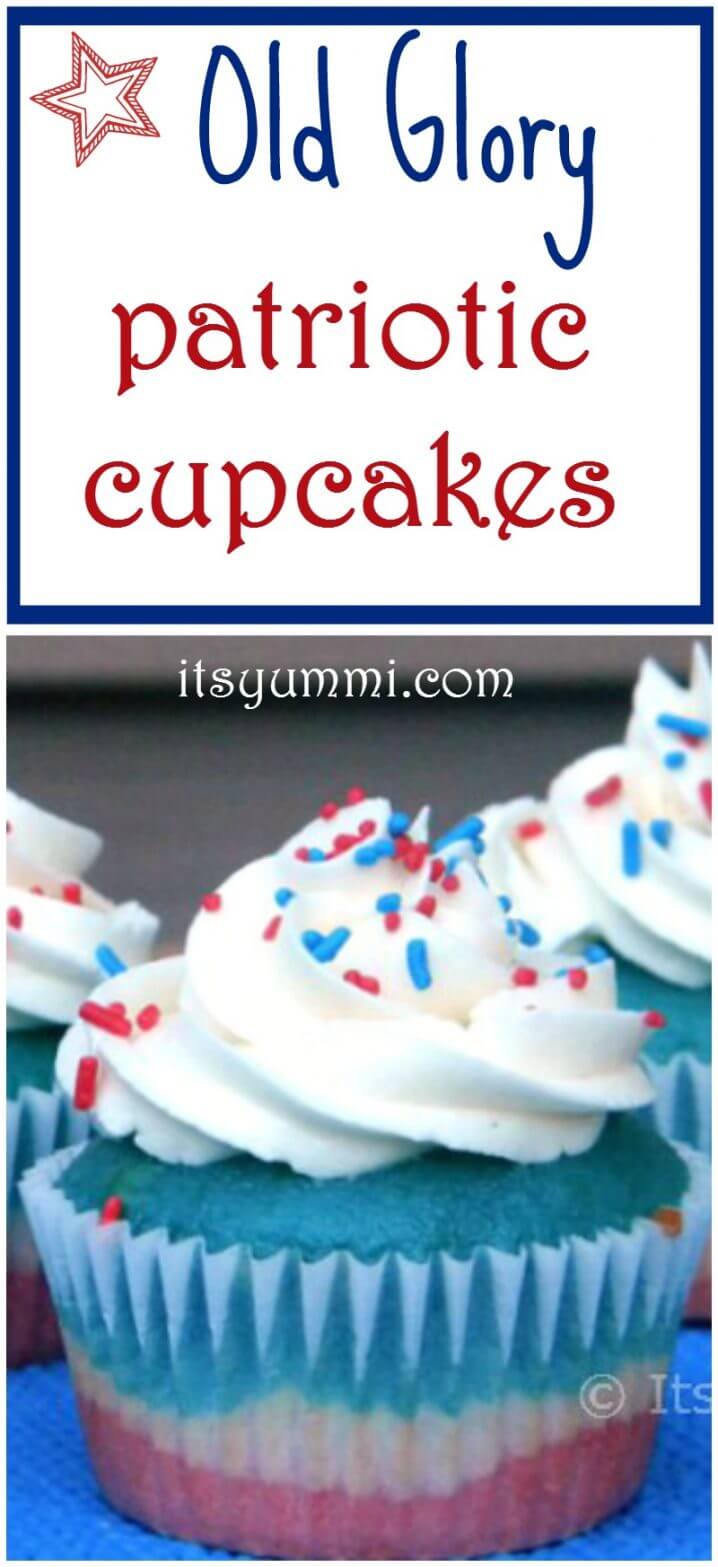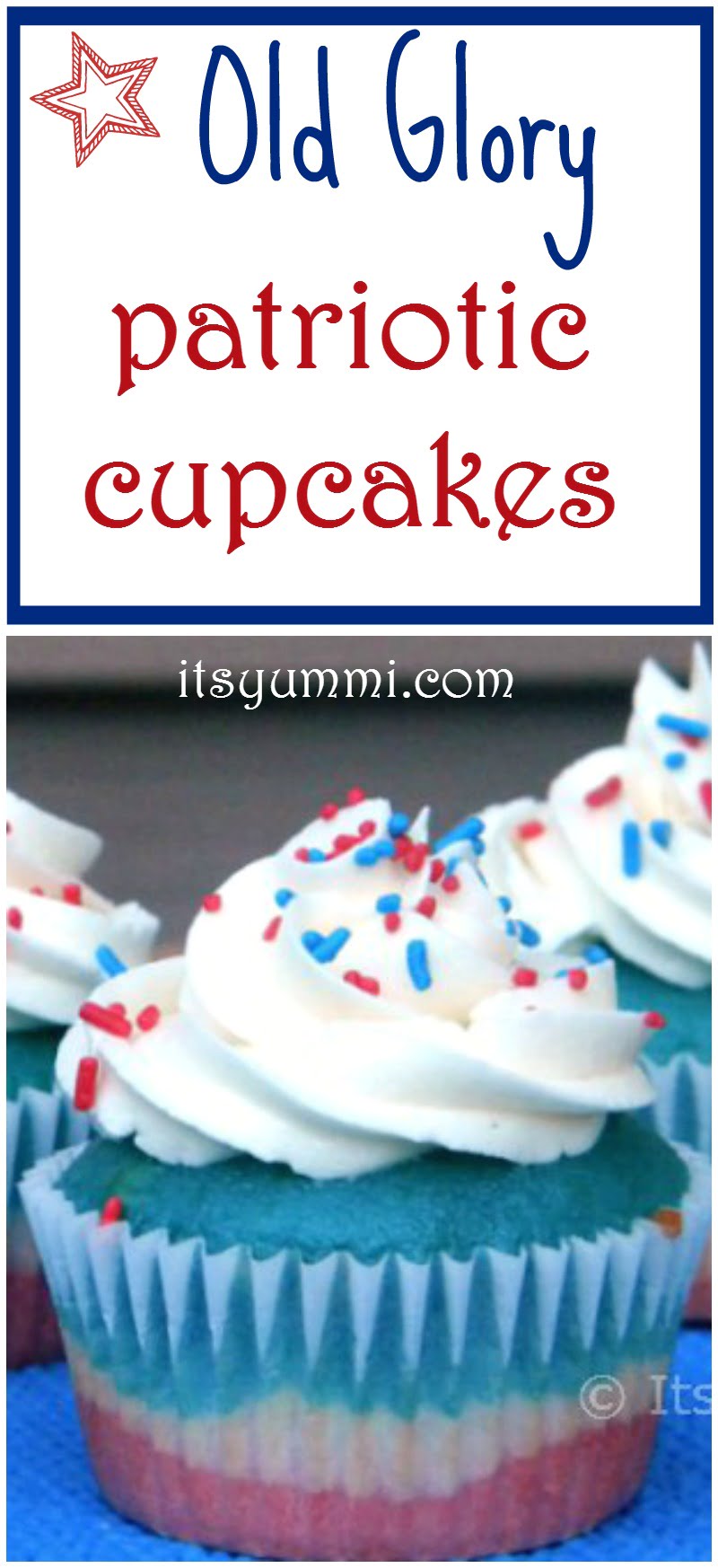 I'm relatively certain that Uncle Sam would approve of these Old Glory cupcakes. They're patriotic, they stand at attention, and they represent freedom of choice to all who eat them!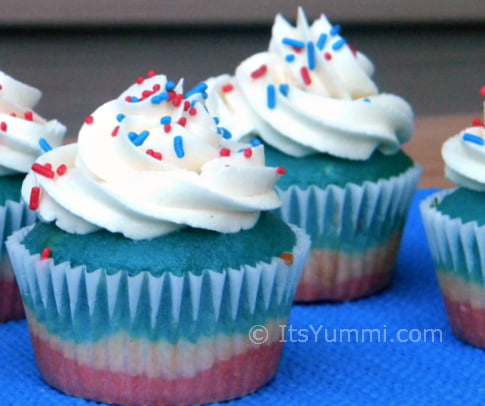 I think you'll love the fact that they're semi homemade, so they bake up in a snap… and a fun snap at that! They're a great project for your kids to get involved with, and of course, if you'd like to use them for a different celebration/holiday, the colors can be switched out to your heart's content. Think orange/brown/gold for Thanksgiving or pink/white/red for Valentine's day.
Oh, and if you're a baker who can't find it in you to make these from a cake mix, fear not.  Your dessert will be uber tasty made from scratch… it might just take you a bit longer to get the project done.
How to make the Old Glory cupcakes:
Mix up the batter for a simple white cake mix.
Separate it into 3 bowls and add the food coloring of your choice to each bowl.
Place about 2 Tablespoons of one color batter in the bottoms of a lined cupcake tin.  Then place 2 Tablespoons of the next color on top of the first, and lastly, add 2 Tablespoons of your 3rd color onto the top.  Bake according to the directions on the box and then let them cool on a wire rack.
The frosting I used for these cupcakes is some of the best cupcake frosting I've ever eaten in my life.  It's a bit snarky and pesky if you don't use a high quality butter, and it does take a little longer to make than a traditional buttercream, but the stuff is ahh-mazing! The consistency reminds me of the fluffy white centers of a Hostess Cupcake or a HoHo, but it's not nearly as sweet.
Get the "world's best" Ermine frosting recipe" here!
Add your frosting with a piping tip (I used this star tip from Wilton) or spread it on with a knife, then decorate with colored sprinkles and a blueberry or strawberry on top!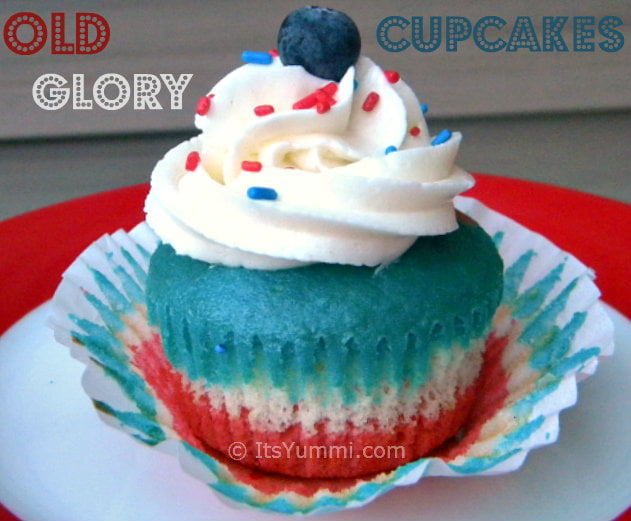 Looking for more delicious and easy patriotic recipes?
Check out my Patriotic Recipes Pinterest Board, as well as these recipes of mine:
Patriotic Quinoa Fruit Salad Recipe
Patriotic Recipes: Firecracker Cupcakes
Patriotic Recipes: Pinwheel Cookies