When it's hot outside, you'll definitely want to chill out with this orange Creamsicle smoothie! At just 4 Weight Watcher's Plus points, it's a low calorie indulgence!
I have a lot of difficulty remembering most of the events from my childhood.  Undoubtedly, it's due to a couple of tragic events that occurred in my family, including the death of my father when I was just 15 years old.  We are were a loving, but pretty dysfunctional group of stubborn Germans.  Making poor life choices coursed through the Heflin gene pool like a flowing chocolate fountain.  To protect me from living a life inside of a white padded cell, I think my brain decided to take a hike from most of the nastiness.  I do have one incredibly wonderful memory, though… the popsicle man!  Are you old enough to remember these?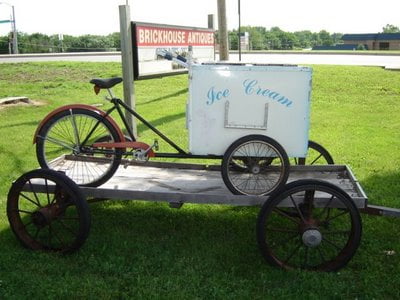 In the southeastern Wisconsin town where I grew up, the ring of the bell on the popsicle man's cart was the pied piper of my neighborhood.  My friends and I became highly skilled at picking up on the sound from blocks away.  The instant we heard that bell, we'd stop dead in our tracks, quickly dash inside to crack open our piggy banks and then we'd RUN FORREST RUN up and down our street until we found him.  Oh, how I wish we had GPS back then…our little legs sure did a get a work out though!
I loved everything that was available from the selection of frozen treats, but I had two favorites.  Root beer popsicles and creamsicle push-ups.  OH MY… that creamy dreamy vanilla orange ice cream…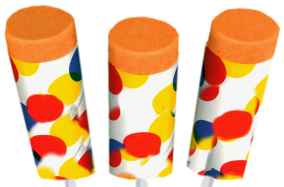 Before the Wisconsin summer draws to a close and brings in my favorite time of year, the glory of fall color, I thought I'd give myself a treat and relive a happy childhood memory.  Because I'm trying to slash a few pounds, I decided to change things up a bit and put my creamsicle into a glass!
This delicious orange creamsicle smoothie is sweetened with oranges and vanilla yogurt.  It's a thick, cold, smooth treat that can be enjoyed any time of day…and DOUBLE SCORE for being just 4 Weight Watchers Plus points!
 Orange Creamsicle Smoothie
Orange Creamsicle Smoothie
This fruity smoothie tastes like a Creamsicle in a glass!
Ingredients
1 cup skim milk
1 package (6-ounce) low-fat vanilla yogurt
1/4 cup frozen orange juice concentrate
3 mandarin orange slices
1/4 teaspoon vanilla extract
5 ice cubes (more if you like really thick smoothies)
Directions
Combine milk, yogurt, orange slices, orange juice concentrate and vanilla extract in a blender. Blend 15 seconds to combine ingredients.
Add ice cubes and blend about 20 seconds to crush ice. Serve immediately.
Loading nutrition data...
Thank you so much for visiting me today!
If you make this recipe, I'd love it if you'd share a photo and/or give your feedback over on my Facebook page, Cooking with Chef Bec!