Parmesan Avocado Fries with Spicy Remoulade
Avocado fries are a deep fried appetizer or snack that everyone loves! Avocado slices coated with Panko bread crumbs and Parmesan cheese are fried until golden. To complete the fried avocado snack, serve them with a spicy remoulade dipping sauce. The spicy dipping sauce tastes just like the one that's served with the Bloomin' Onion at Outback Steakhouse. Yummi!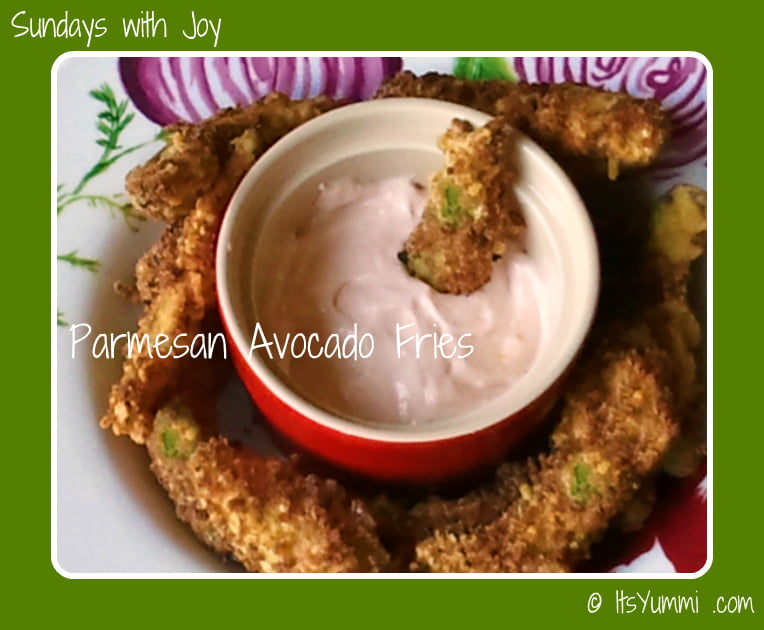 Welcome to week 4 of SUNDAYS WITH JOY! Today's recipe had me traveling well out of my food comfort zone. Not only am I not much of a lover of deep fried foods (weird, I know), but until this week, I had never even purchased or cooked with an avocado!
To recap, Sundays with Joy is a series of weekly posts where I've been joining other foodies in  baking and blogging our  way through Joy the Baker's latest cookbook, 100 Simple and Comforting Recipes
.  The author, Joy Wilson, is extremely talented, and she makes every recipe in the book look and sound worthy of drooling all over yourself for.  The photography in the book is beautiful and the recipes are written with easy to understand, step-by-step format.  Simply wonderful!
I highly recommend that you purchase a copy of the book so that you can get the recipe to make some of these incredible dishes!  I searched for the best price and found it HERE
OK, let's get on with the details about this week's recipe!
Avocado Fries with Remoulade Dipping Sauce
These fries really couldn't be easier to make.  I started by slicing up a ripe avocado.  As I mentioned earlier, until this recipe came along, I had never purchased or cooked with avocado, so believe it or not, I had no idea how to tell a ripe one from a rotten one, and I didn't even know how to properly cut it open.  My fellow blogger buddies immediately jumped into action, giving me tips and tricks of the trade.
I cut my slices about 1/4 inch thick, which worked fine, but I think that the next time I make this recipe, I'll make my slices a little bit thicker…maybe 1/2 inch, just so they stand up a little prettier after being fried.
Next, I coated the slices in a beaten egg, dredged them in seasoned flour, dipped them back into the egg, and then coated them with my breading.  I used Panko bread crumbs for a nice crunch factor, and I mixed in a little Parmesan cheese, cayenne pepper, and salt.
After the avocado had taken a dip into the fryer for about 2 minutes (I used peanut oil heated to 375 degrees), the result was creamy, warm avocado fries covered with a spicy crunch.
Completely yummi on their own, but as you probably know, I like to kick things up a notch, so I made a spicy remoulade dipping sauce to serve with the fried avocado fries.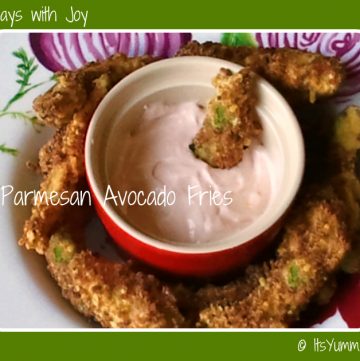 Spicy Remoulade Dipping Sauce
This sauce tastes very much like the Bloomin' Onion dipping sauce used at the Outback Steakhouse. It's a great compliment to your favorite deep fried vegetables or as a condiment on a deli meat sandwich.
Ingredients
1/4

cup

mayonnaise

1/4

cup

sour cream

2

teaspoon

chili sauce

or ketchup

2

tablespoon

prepared horseradish

1/4

teaspoon

paprika

1/4

teaspoon

salt

1/8

teaspoon

garlic powder

1/8

teaspoon

dried oregano

1

dash

black pepper

1

dash

cayenne pepper

or hot sauce
Instructions
Place all ingredients into a small bowl and stir to combine. Keep refrigerated and use within 7-10 days.
Notes
Recipe yields approximately 1 cup of sauce.
Nutrition
Serving:
2
tbsp
Sodium:
159
mg
Calcium:
11
mg
Vitamin C:
1.2
mg
Vitamin A:
60
IU
Potassium:
23
mg
Cholesterol:
3
mg
Calories:
56
kcal
Fat:
5
g
Carbohydrates:
1
g
My thoughts about the avocado fries with spicy remoulade sauce recipe: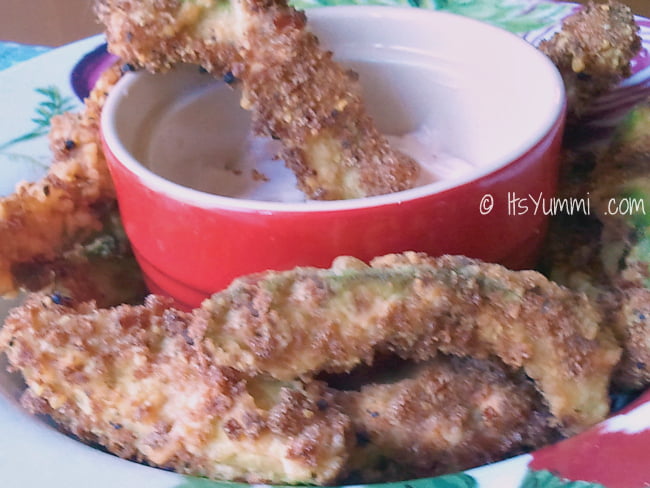 To be completely honest, I really wanted to fall in love with the fried avocado, but I didn't.
There are definitely foods that taste MUCH worse (insert mushy Lima beans here), but I think I prefer my avocado chilled in guacamole form.
Regardless, I'm really glad that I didn't turn up my nose to this avocado fries recipe.
Creating dishes that are new and unique to me keeps me from falling into a mundane, monotonous cooking rut.  That's always a good thing!