Is there really much better than the taste combination of peanut butter and chocolate?  I mean, just take a look at this Chocolate Peanut Butter Cake. The frosting is made with real cocoa. How can that be anything but delicious?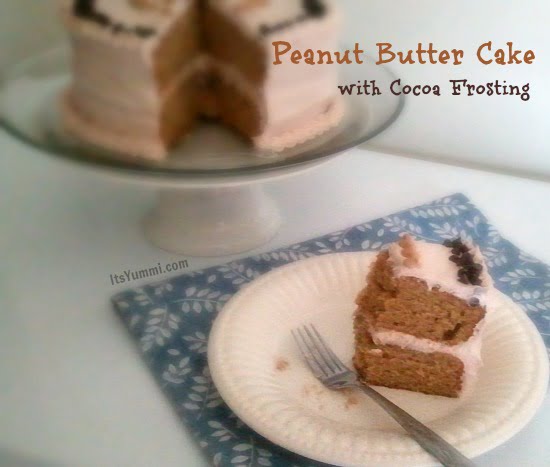 You may have noticed that posts on this blog have been few and far between lately. I've noticed it too…
I can apologize profusely for my lack of budgeting time for everything that's important in my life, or I could just put a plate of this chocolate peanut butter cake in front of your beautiful face, give you my sweetest smile and puppy dog eyes, and hope that you'll forgive me. Because I truly am sorry.
It's been said that life is what happens when you're too busy making other plans, and baby oh baby, have I been making plans!
After two years of a dull ache and non-verbal cues to take it to a dentist because it had cracked, one of the teeth in the upper right portion of my mouth decided to break the rules last week by hosting a pain party without my prior permission.  Apparently, that tooth doesn't like to party alone, because he came to that party along with the molars on either side of him. Oh, and my gums, too. Some people call it an abscess…I prefer to call it Hell on Earth.
For the love of caramel bacon brownies, floss, floss, floss your teeth, gang!
Anyhoo, I had to put my life on hold so that I could have the problem addressed.
Before the "fun" was over, I had to be pumped up with 5 shots of Novacaine into my gums and the upper roof of my mouth. Three teeth were extracted and I was fitted for a partial denture that I'll pick up on Monday morning.
Some negative Nellys out there (no offense intended if your name is Nelly) may choose to look at this as a bad thing, but I'm going to look at the bright side. I've had 3 days of really powerful pain medication (yeee haw), and now I can use more than just my ugly face to scare the kids when they come to Trick-or-Treat at my house. I've got removable teeth! This may be my best Halloween yet!
If that's not a reason to celebrate with this chocolate peanut butter cake, I'm not sure what is!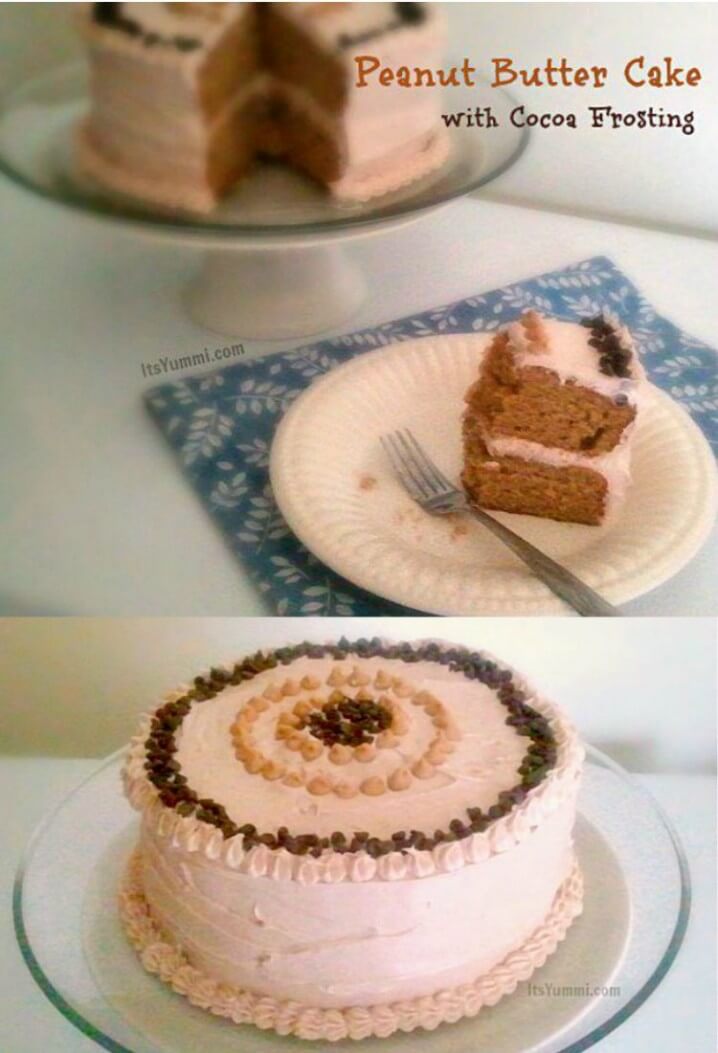 The recipe for this cake was adapted from one I found in the Joy the Baker cookbook.
Joy's cake looked beautiful, as do all of the photos in the book, and the recipe as written sounded like a winner winner cake for dinner.  It truly didn't need to be tweaked at all, but I did add some sour cream and cinnamon to the batter. I love moist cake, and sour cream does double duty, adding moisture and a nice tang. The cinnamon adds another layer of flavor that in my opinion, takes the cake to great heights.
Joy's book also has a chocolate buttercream frosting recipe. She calls it "The Best Chocolate Buttercream Frosting" and explains how she amps up the flavor of a traditional buttercream frosting by adding a secret ingredient…Ovaltine! I plan to try it out on some cupcakes next week. For my celebration cake, I wanted to use my favorite Ermine frosting. It truly is the best frosting I've ever tasted in my life. Aside of that, it spreads perfectly and looks beautiful on a cake.  I added some peanut butter and mini chocolate chips to the top of my cake, patted myself on the back, put on my best stretchy pants and, threw my face onto the cake plate.
So what's left to say except let's bake a peanut butter cake!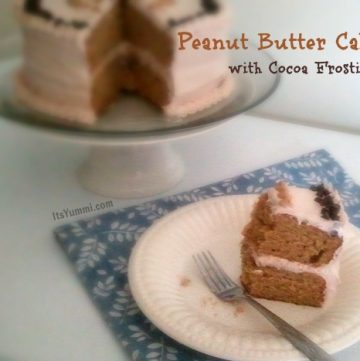 Chocolate Peanut Butter Cake
This dessert brings the best of all worlds together. Creamy peanut butter cake meets delicious chocolate frosting. Any celebration will become a party when you serve this cake!
Ingredients
9.9

ounces

(2 1/4 cups) all-purpose flour

2

teaspoons

baking powder

1

teaspoon

baking soda

1

teaspoon

ground cinnamon

1/2

teaspoon

salt

3/4

cup

smooth peanut butter

3

ounces

(3/4 stick) unsalted butter

softened

4

ounces

(1/2 cup) granulated sugar

4.2

ounces

(1/2 cup) firmly packed brown sugar

3

large eggs

1

cup

buttermilk

1/4

cup

sour cream
Instructions
Grease and flour two 8 or 9-inch round cake pans; set aside

Heat oven to 350 degrees F (325 F convection oven)

In medium bowl, whisk together flour, baking powder, baking soda, cinnamon, and salt. Set aside.

In bowl of an electric stand mixer, use the paddle attachment to cream together the butter, both sugars, and peanut butter until light and fluffy, about 3 minutes.

Add eggs, one at a time, beating at medium speed for 1 minute between each addition. Scrape down sides of bowl if necessary.

With mixer on low speed, add half the flour mixture to butter mixture. Once combined, slowly pour in all of the milk and sour cream. When mixture just starts to come together, reduce mixer speed to low and add remaining flour. Mix just until batter starts coming together. Turn off mixer, remove bowl, and finish combining ingredients by hand with a spatula.

Divide batter between the two cake pans (I used 17 ounces of batter in each pan) and bake on center rack in oven for 28-35 minutes, until a wooden skewer inserted into center of cake comes out clean. Allow cake to cool in pan on wire rack for 10 minutes. Remove cake from pan and transfer to wire rack to cool completely before frosting.
Notes
Frost cakes with Chocolate Ermine Frosting or your favorite flavor buttercream frosting.
Cake will stay edible for up to 4 days if wrapped and stored in refrigerator.
Nutrition
Calories:
343
kcal
Carbohydrates:
42
g
Protein:
8
g
Fat:
17
g
Saturated Fat:
6
g
Cholesterol:
65
mg
Sodium:
244
mg
Fiber:
2
g
Sugar:
22
g