Peanut Butter Pretzel Bars
Peanut butter pretzel bars are the sort of treat that screams "cover me in comfort… and chocolate!"
It's been a while since we've chatted, my lovelies.  A LOT has happened in my personal and professional life over the past couple of weeks, but nothing in comparison to what that crazy, creepy, downright terrifying super storm, Sandy has done to some of you!  I know that many of you suffered damage from her wrath, and some of you are STILL suffering.  Please know that I'm praying for your well-being and safety.  Healing and recovery can take a long time, but you've got lots of loving, positive thoughts and prayers being sent out on your behalf.  STAY STRONG!
I'm not sure about you, but I'm an emotional eater.  Happy, sad, angry, elated… makes no never mind to me… I want to eat.  Probably has something to do with the stretchy pants invading my closet, but it is what it is.  I yam what I yam.  Right now, I yam being helpful…. Far be it from ME to keep my foodie goodness from YOU, right?  RIGHT!  Take a look-see at this yummilicious creation.
PEANUT BUTTER PRETZEL BARS… AKA, Take 5 candy bars in a pan!  WOO to the HOO!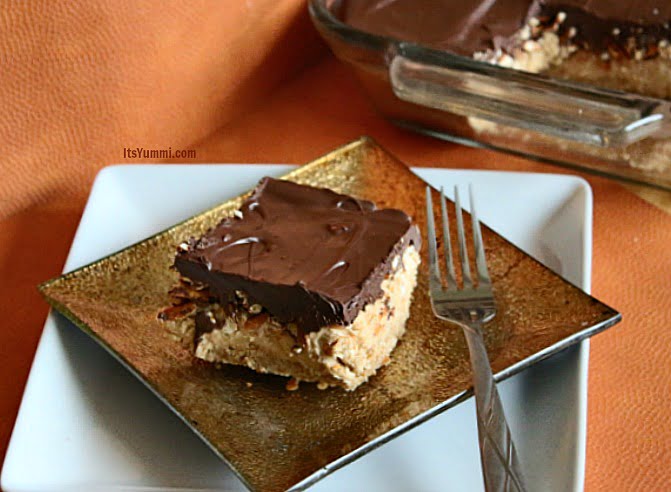 Come on… what's not to love about chocolate, peanut butter, and crunchy pretzels?  The trio just sings my tune!
Earlier this week, I had a nasty awful case of the boo hoos.  Seriously, Lovely… I could NOT stop crying.  If you had seen me, you'd think I had just watched a marathon of "The Notebook" or 15 Hallmark commercials or something.  It was pathetic.  Anyway, the first thing I thought of to help wipe away the sadness was a jar of peanut butter.  Shoveling it into my mouth by the spoonful wasn't doing the trick, so then I wanted buckeyes.  You know what I'm talking about, don't you?  THESE yummies.  But then I decided that I wanted something crunchy and a bit salty, too.  Enter pretzels.  That's where this little diddy of an idea spawned from.  Grab your drool bib and a cutesy apron and let's head to the kitchen.  I'm going to show you how incredibly easy it is to make this yummilicious treat!
FIRST THINGS FIRST:  PLEASE washeth thy hands!!  For the love of bacon, please wash your hands well before you delve into this recipe.  It involves lots of hands on activity and I really don't think you'd enjoy germy peanut butter and pretzels covered in chocolate as much as the clean version.  OK, now that I've got that off of my chest, let's commence!
STEP ONE:  Prepare and bake your pretzel crust.  It's super simple to do.  Just toss your pretzels into a food processor with some melted butter and pulse until everything is ground into a powder (or close to it) and then press it into the bottom of a 9 x 13-inch pan.  NOTE:  My pans are strange sizes.  I have an 8.5 x 11-inch and an 11 x 14-inch.  I chose to use the smaller sized pan, so my crust came out a little bit thicker than I would have liked.  It didn't taste bad, it was just extra thick.  No biggie.
After about 10 minutes in the oven, your crust will be nice and golden brown.  While it's cooling a bit, prepare your peanut butter mixture.
STEP TWO:  Prepare peanut butter layer and press into the pan on top of the pretzel crust – Creamy peanut butter… check.  MORE butter (softened, not melted)… check.  Powered (confectioner's) sugar…check.  Oh, and a touch of vanilla extract for good measure.  Mix, mix, mix, then spread into the pan on top of your crust.  Use your fingers  to press it evenly on top of the crust.  If you forgot to follow my numero uno step, or you couldn't keep your fingers out of the bowl (not that I would know ANYTHING about that…), then please feel free to use a spatula to press the mixture in.
STEP THREE:  Sprinkle some more crushed pretzels over the peanut butter layer.  Your creation should look something like this: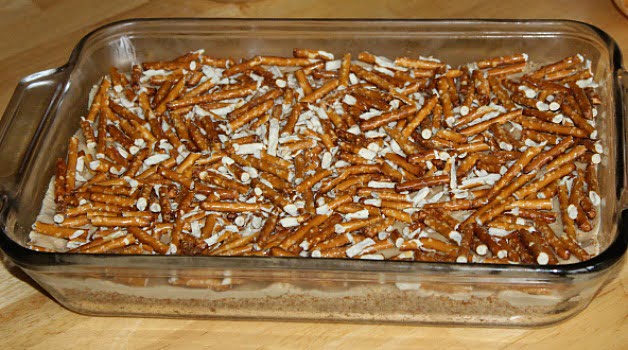 STEP FOUR:  Spread some chocolate love on top.  I used my trusty microwave to melt some semisweet chocolate chips and a little bit of vegetable shortening together.  45 seconds on high…stir…another 45 seconds and a final stir and it was perfectly melted.  If you prefer to melt your chocolate via the double boiler method, be my guest.  It's the end result that matters…and HERE, my Lovely, is the end result.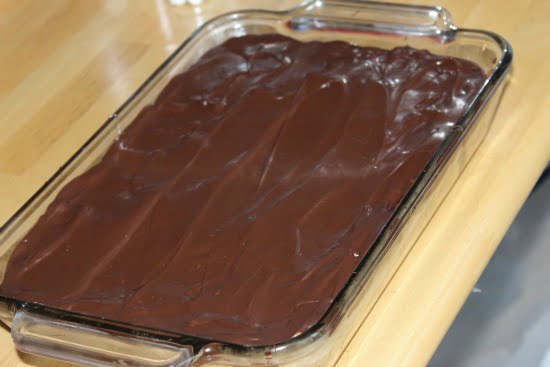 After a 30 minute chill in the fridge, the chocolate and peanut butter have hardened a bit and are the perfect consistency for slicing…and eating.  ENJOY!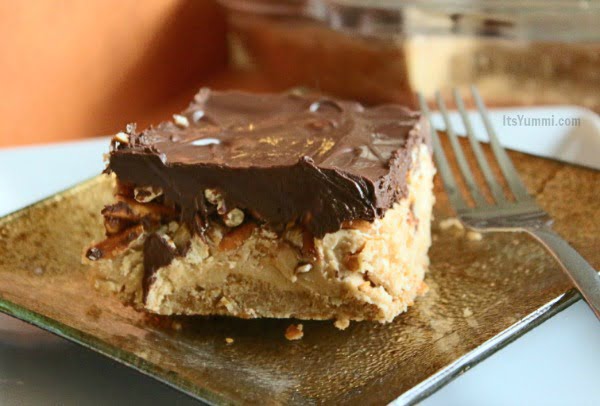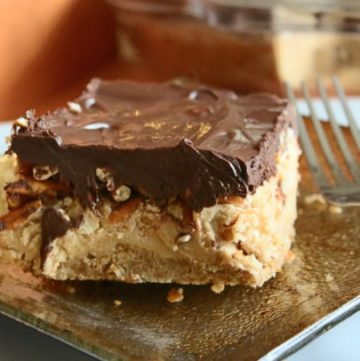 Pretzel Peanut Butter Pie Bars
Creamy peanut butter and crunchy pretzels covered in smooth, sweet chocolate, all lovingly placed into a crushed pretzel crust.
Ingredients
FOR THE CRUST
8

ounces

thin pretzel sticks

1/4

cup

granulated sugar

6

ounces

unsalted butter

melted
FOR THE PEANUT BUTTER PRETZEL FILLING
3/4

cup

creamy peanut butter

4

ounces

unsalted butter

softened

1/2

teaspoon

vanilla extract

3

cups

powdered sugar

4

ounces

thin pretzel sticks

roughly broken/chopped
FOR THE CHOCOLATE TOPPING
4

cups

semisweet chocolate chips

1/4

cup

vegetable shortening
Instructions
Heat oven to 400 degrees F.

Place pretzel sticks n the bowl of a food processor and pulse until finely crushed. (If you don't have a food processor, place pretzels in a gallon sized plastic bag and crush with a rolling pin). Add melted butter and pulse to combine.

Using fingers or spatula, press crumbs evenly into bottom of a 9 x 13-inch baking dish. Bake at 400 degrees for 8-10 minutes, or until crust is lightly browned.

Remove from oven and place baking dish on a wire rack to cool slightly.

In a large bowl, use a spoon to combine peanut butter, butter, powdered sugar, and vanilla. Mix until well incorporated. Use spatula to spread evenly on top of pretzel crust.

Sprinkle 4 ounces of crushed pretzels evenly over peanut butter filling.

Place chocolate chips and shortening into a microwave-safe bowl. Heat on high for 45 seconds. Stir and heat on high for another 45 seconds. Stir until chips are melted. Use spatula to spread chocolate evenly over pretzels.

Chill bars in refrigerator for at least 60 minutes before slicing and serving.
Nutrition
Serving:
1
bar
Calories:
445
kcal
Carbohydrates:
45
g
Protein:
5
g
Fat:
27
g
Saturated Fat:
14
g
Cholesterol:
27
mg
Sodium:
221
mg
Potassium:
243
mg
Fiber:
3
g
Sugar:
28
g
Vitamin A:
310
IU
Calcium:
27
mg
Iron:
2.8
mg