Pieology Pizza Menu Prices 2023 (Get Ready To Pizza Feast)
If you are an avid pizza lover, the Pieology Pizza Menu is a must-try for you.
Containing 16 different types of pizza with other sides and beverages, the menu of this place is widespread and delectable.
With the huge number of options, this food joint is surely going to make your pizza-loving soul dance with joy.
Not only the regular menu items, but Pieology Pizza also offers Custom pizzas to fulfill your cravings like none other.
From a collection of 4 different crusts choices and 40+ sauces, and toppings, and after breaks, you can make your own customized pizza to try something new.
Because you are making one with our choice of crust, toppings, and others, no pizza is alike the other.
Besides all the available versions of your customized pizzas, they also serve 8 different Signature Pizzas, 4 house-special crust pizzas, 3 scrumptious Lifestyle Pizzas, and one Kids' Special Bambino Pizza to give you options while you want to eat.
All these variations are in-house made, and hence, there is no doubt about freshness or hygiene.
You can eat and feed your loved ones these items without any worries.
Not only the varieties of piping hot Pizzas; the Pieology menu has other items too.
This food joint offers 3 mouthwatering sides, 2 desserts, and 3 drinks options to go with your mains perfectly. All you need to do is just order and enjoy!
Keeping in mind the kids of your family, Pieology also has a kid's menu so that they never feel left behind.
One interesting thing about this pizza place is that they offer free menu items in exchange for reward points.
You can redeem your earned points and enjoy your favorite dish without paying a dime. Sounds fun, right?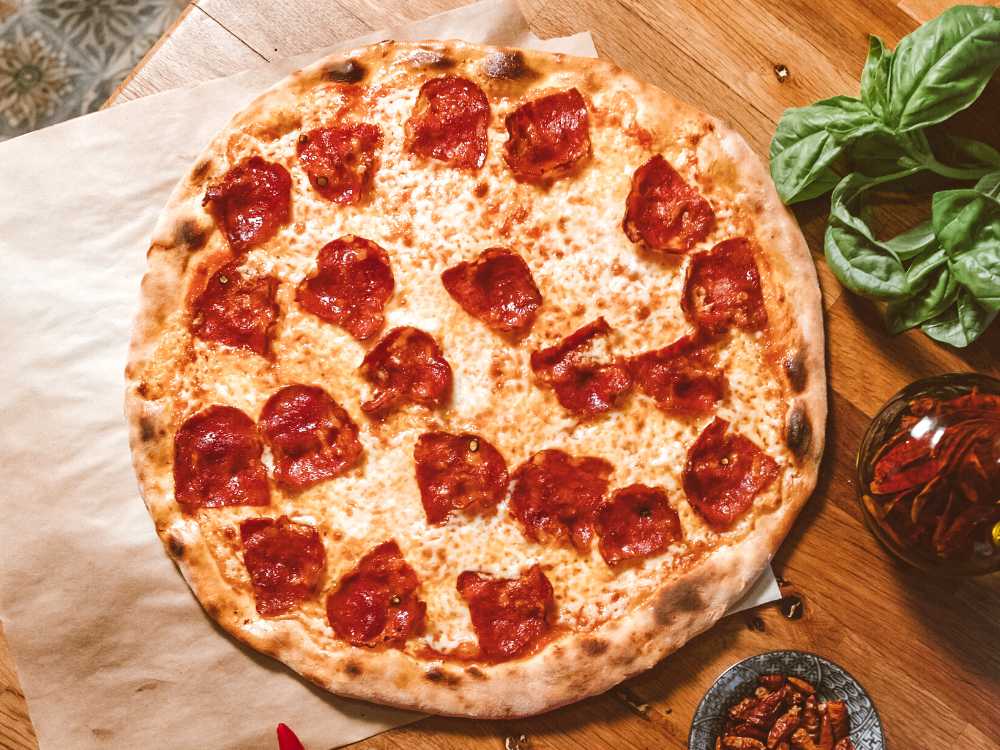 Pieology Pizza Sizes
| | | |
| --- | --- | --- |
| Pizza Crust | Size | Calories |
| Cauliflower (+$3.00) | 10″ | +460 |
| Pierise Thick (+$2.50) | 11″ | +1040 |
| Original Thin | 11″ | +570 |
| Gluten-Free (+$2.50) | 10″ | +360 |
Pieology Pizza Menu (Signature Pizzas)
Original Thin Crust, (Not Available with Island Style)
Items
Calories
Price
Mega Meat
(Sausage, Meatball, Pepperoni, Red Sauce, Mozzarella & Olive Oil)
940-1980
$12.95
Chicken Bacon Ranch
(Chicken, Housemade Hidden Valley Ranch, Bacon, Red Onion, Spinach & Mozzarella)
$12.95
Fiery Buffalo Chicken
(Spicy Chicken, Fiery Buffalo Sauce, Red Onion, Mozzarella, Gorgonzola, Olive Oil & Fresh Cilantro)
$12.95
Fire Grilled BBQ Chicken
(Mozzarella, Chicken, Gorgonzola, Fresh Cilantro, Red Onion, BBQ Sauce After Bake & Olive Oil)
870 – 1910
$12.95
Veggie Pesto (Vegetarian Friendly)
(Mozzarella, Housemade Red Sauce, Artichokes, Spinach, Mushroom, Grape Tomatoes & Finished With Pesto)
900 – 1940
$12.95
Alfredo Bacon Chicken "ABC"
(Bacon, Chicken, Spinach, Mushroom, Olive Oil, Mozzarella & Alfredo)
1010 – 1580
$12.95
Island Style
(Red Onions, Pineapple, Canadian Bacon, Mozzarella, Portuguese Sausage, Olive Oil, BBQ Sauce After Bake & Kalua Pork)
$11.99
Bundles & Deals
Items
Serves
Price
Valentine's Bundle
(Includes Two Custom Pizzas, Two Fountain Drinks & One Cinnamon Churro Dessert Pizza)
2
$29.99
Custom Pizza
Original Thin Crust
| | |
| --- | --- |
| Items | Price |
| Customized Pizza | $12.95 |
| 1 Topping Pizza (Cheese, Sauce & One Topping) | $10.99 |
| 3 Topping Pizza | $11.95 |
Classic Pizzas
Original Thin Crust
Items
Calories
Price
Hawaiian
(Housemade Red Sauce, Pineapple & Canadian Bacon, Mozzarella & Olive Oil)
830 – 1870
$12.95
Margherita
(Garlic, Grape Tomatoes, Basil, Olive Oil, Mozzarella & Red Sauce)
800 – 1840
$12.95
Sausage
(Mozzarella, Sweet Italian Sausage & Red Sauce)
830 – 1870
$10.99
Combo
(Pepperoni, Sausage, Mushroom, Olives & Green Pepper, Olive Oil, Mozzarella & Red Sauce)
970 – 2010
$12.95
Pepperoni
(Mozzarella, Pepperoni, Red Sauce & Olive Oil)
830 – 1870
$10.99
Cheese
(Olive Oil, Extra Mozzarella & Red Sauce)
790 – 1830
$10.99
Lifestyle Pizzas
Original Thin Crust
Items
Price
Vegan Custom
(Available Gf Crust)
$12.95
Gluten Free Custom
(Available Gf & Cauliflower Crust)
$12.95
GF Cauliflower (Gluten Free, Vegetarian Friendly)
(Green Pepper, Grape Tomato, Artichokes And Basil, Mozzarella & Herb Butter)
$13.95
Dairy Free Custom
(Available GF Crust)
$12.95
Veggie Pesto (Vegetarian Friendly)
(Mozzarella, Housemade Red Sauce, Mushroom, Artichokes, Grape Tomatoes, Spinach & Finished With Pesto)
$12.95
Topping
Items
Gorgonzola
Mozzarella
Ricotta
Feta
Banana Peppers
Artichokes
Cilantro
Black Olives
Garlic
Fresh Basil
Jalapenos
Green Peppers
Pineapple
Mushrooms
Roasted Red Pepper
Red Onion
Bacon
Spinach
Meatball
Canadian Bacon
Sausage
Pepperoni
All-Natural Chicken
Spicy Sausage
All Natural Spicy Chicken
Salads
Items
Price
Entree Caesar
(Chicken, Romaine Hearts, Shaved Parmesan, Caesar Dressing & Croutons)
$8.95
Entree Classic
(Chicken, Field Greens, Candied Walnuts, Gorgonzola, Light Raspberry Vinaigrette & Dried Cranberries)
$8.95
Custom
$8.95
Side
$4.95
For Kids
Items
Size
Price
Bambino 1 Topping
(Original Crust Including Red Sauce, & Personal Choice Of 1 Topping)
7″
$8.99
Chocolate Milk
$2.29
Apple Juice
$2.29
Sides & Sweets
Items
Calories
Price
Ooey Gooey Garlic Cheese Bread
(PieRise Thick Crust. Loads Of Cheesy Goodness Including Mozzarella, Garlic & Parmesan Cheeses)
1570 – 1570
$7.99
Cinnamon Churro Dessert Pizza
(Original Crust. Sweet Cream Sauce & Cinnamon Sugar + Or – Ghirardelli Chocolate Chips)
950 – 950
$4.25
Red Velvet Cookie
$2.79
Drinks
Items
Size
Calories
Price
Apple Juice
350 – 350
$2.29
Chocolate Milk
380 – 380
$2.29
Bottled Water
$2.29
Fountain Drink
Diet Coke, Coca-Cola Barq's Root Beer Sprite, Dr. Pepper
20 oz.
$2.29
Delivery Methods
| | |
| --- | --- |
| In-Store | Yes |
| Drive Thru | No |
| Home Delivery | Yes |
| Curbside Pickup | Yes |
Important Links of Pieology Pizza
Find Pieology Pizza on Social Media
Frequently Asked Questions
How Many Locations Does Pieology Pizzeria in The USA?
There are 122 Pieology Pizzeria stores all over the United States. This means that you will find a store anywhere near your locations.
How is a Pieology Pizza Made?
Interestingly, Pieology Pizzas are made are made in 800 degrees flame in a gas-flame, brick-lined oven to present you with the perfect crust.
They then add your favorite toppings and sauces to make a perfect piece of pizza for you.
Is Pieology Pizza's Crust Vegan?
Yes, Pieology Pizza's crust is vegan. This crust is also gluten-free. So, if you are gluten intolerant, you can still have them without any problem.
Who is The Owner of Pieology Pizza?
Founded in 2011, Pieology Pizza is owned by Carl Chang, brother of Michael Chang (former tennis player).
Final Words
Even though Pieology Pizza Menu has a whole lot of scrumptious items to indulge in, what we love the most about them is that they offer customized pizza ordering options.
You can always mix and match the crust, toppings, and sauces to make that one perfect pizza that you are craving.
Also, as they are pocket-friendly, we can try them more often than not. So, don't wait. Just order and enjoy the meal!