Top 15 Best Restaurants For Pizza Catering in 2023
Pizza catering involves serving your guests hot, freshly-baked, delicious flavorful pizzas at an event.
Nowadays, many restaurants offer excellent pizza catering services for different types of events and occasions. Here are the top 15 ones that do pizza catering.
Domino's Pizza
Pizza Hut
Papa John's
California Pizza Kitchen
Blaze Pizza
Mellow Mushroom
Giordano's
Sbarro
Grimaldi's Pizzeria
Lou Malnati's Pizzeria
Marco's Pizza
Jet's Pizza
Papa Murphy's
Toppers Pizza
Anthony's Coal-Fired Pizza
All of these places have their unique specialties for pizza catering. For example, Pizza Hut serves real Italian taste pizzas, while Lou Malnati's Pizzeria serves super delicious deep-dish pizzas.
On the other hand, Blaze Pizza is the best option for those looking for keto-friendly pizzas.
For vegan and vegetarian pizzas, there are many good restaurants. For example, Mellow Mushroom, Blaze Pizza, Giordano's, and California Pizza Kitchen, all serve vegan/vegetarian pizza options.
Similarly, you must go for Grimaldi's Pizzeria or Mellow Mushrooms when you want gluten-free pizzas.
For flavorful stuffed pizzas, Papa Murphy's pizza catering is the best of all. They also serve dairy-free cheese pizzas.
Let's explore these restaurants in detail so that you can pick the best one for your next occasion.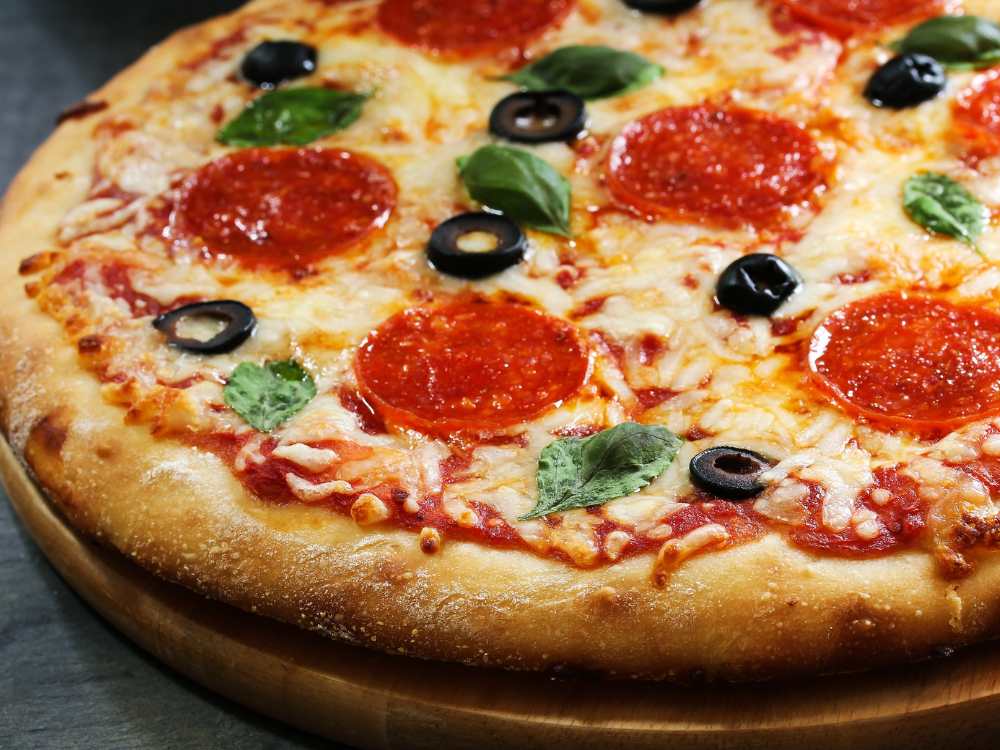 What is Pizza Catering?
Pizza catering is the simplest yet most demanded catering, where you serve pizzas to your guests.
These pizzas come in a great variety, i.e., deep-dish, thin crust, coal-fired, stuffed or loaded, and premium Italian-style pizzas.
Pizza catering also includes several vegan, vegetarian, and keto-friendly pizza options. Also, pizza catering usually includes serving pizzas with subs, wings, salads, sides, desserts, & drinks.
Here are the top 15 best restaurants that do pizza catering.
01. Domino's Pizza
Domino's is famous for its oven-baked fresh hot pizzas in a variety of tempting flavors.
Whether it is a family reunion, birthday party, graduation party, or sports event, Domino's pizza catering is the best pick.
Domino's serves everything from specialty pizzas, customized pizzas, chicken, loaded tots, pasta, dips, sandwiches, salads, desserts, and sides.
Add these Domino's extras to your pizza catering and delight your guests with the menu.
02. Pizza Hut
Pizza Hut is the most famous name in the pizza industry that has been serving pizzas since 1958. With its real Italian taste pizzas in various flavors, it wins people's hearts.
For event catering, Pizza Hut offers its hot delicious cheesy pizzas, with pasta, flavorful wings, and more. Its pepperoni and cheesesteak pizzas are a must-have for every event due to their excellent taste.
Pizza Hut also offers exciting packages and bundles to cover your events or you can choose their boxes.
03. Papa John's
Papa John's is best for its pepperoni, mushrooms, and sausage pizzas with lots of cheese and other toppings.
It is a good option for your occasions due to lots of flavors, quality ingredients, and delicious pizzas.
You can also pick sides and desserts, e.g., chocolate cookies, along with their main pizza catering.
Remember that Papa John's is a bit more expensive than other pizza catering restaurants. However, the price is worth the taste and quality of its pizzas.
04. California Pizza Kitchen
When you want catering with rewards, go for California Pizza Kitchen. They offer free starters when you first register with them.
They also offer free dessert for your birthday as well as reward points for ordering catering.
Their selling pizzas flavors include BBQ chicken, pepperoni, Thai chicken, and wild mushroom pizzas.
California Pizza Kitchen's catering doesn't only include pizzas but also pasta, lunch boxes, family dinner, sandwiches, appetizers, and more. The best thing is that they also offer vegetarian and gluten-free items.
05. Blaze Pizza
Blaze Pizza is famous for its taste-rich flavorful pizzas with chef-inspired cheesy garlic bread. With them, you can either build your "own" pizzas or order from pre-defined flavors.
These flavors include meat eater, red vine, BBQ Chicken, art lover, hotlink, white top, veg out, simple pie pizza, etc.
Additionally, Blaze Pizza also serves keto pizza, vegan pizza, protein pizza, and vegetarian pizza.
06. Mellow Mushroom
If you are a vegan but love eating a cheese-filled pizza, go for Mellow Mushroom. They use vegan cheese in preparing flavorful pizzas for vegan people.
Not only vegan, but they also prepare several delicious gluten-free pizzas. Besides these, their regular buffalo chicken pizza, mighty meaty, funky Q chicken, and house special pizza are the best.
They also serve a great variety of salads in their catering menu. However, their catering menu dramatically differs from one location to another.
07. Giordano's
Giordano is famous for its traditional style of deep-dish pizzas with incredible taste. Its legendary deep-dish pizza is loaded with cheese, meat, veggies, and some secret ingredients to boost the taste.
Other best flavors include Chicago Classic, Super Veggie, chicken sausage deluxe, and bacon BBQ chicken. They also serve lots of vegan/vegetarian pizzas.
Along with pizzas, their catering menu also includes sandwich trays, platters, salads, starters, desserts, and beverages.
08. Sbarro
The most distinctive feature of Sbarro is that you can either order several pizzas or a single slice from them.
They deliver it all to make you happy. Also, both delivery and pickup services are available at all their locations.
Their must-try specialty pizzas include Supremo, buffalo chicken, and XL veggie, and meat primo.
Besides pizzas, their catering also covers fresh salads, deli subs, wings & tenders, pasta, desserts, large Stromboli, and beverages.
09. Grimaldi's Pizzeria
Grimaldi's Pizzeria is famous for its coal-fired brick-oven pizzas with the best taste and aroma.
Their chef's selection of pizzas is so unique and tasty i.e. Margherita, Brooklyn Bridge, The Don, and Garden Pesto. They also offer you to "Build Your Own" pizza from various ingredients.
They also have gluten-free and vegan pizza options. You can also add-on their tempting starters, desserts, and drinks to your pizza catering event.
10. Lou Malnati's Pizzeria
It is famous for its deep-dish Italian-style pizzas with a delicious crunchy buttery crust. From small events to larger ones with even 200 people, Lou Malnati's Pizzeria catering is the best in town.
The best flavors in their deep dish pizzas include Malnati Chicago, The Lou, Sausage, Pepperoni, and Veggie. These include lots of cheese, flavorful ingredients, loaded meat, and a buttery crust.
They also offer thin-crust pizzas, frozen pizzas, and the space to create your customized pizza.
11. Marco's Pizza
When you're in search of budget-friendly pizza catering, Marco's Pizza is the best choice. They offer the best and most affordable pizza packages to cover your event without compromising on taste and quality.
Hawaiian chicken, white Cheezy, and their deluxe pizza are the most delicious. Couple these pizzas with fresh and flavorful subs & wings, desserts, salads, and sides for extra fun.
12. Jet's Pizza
It is the most popular for its premium quality Detroit-style hot pizzas. Especially, their Triple-Roni pizza and the large specialty pizza is the best pick for any event.
They also offer party-size pizza trays, party bread trays, party wings trays, boneless chicken, salads, brownies, cookies, and cinnamon sticks.
Not all Jet's Pizza locations accept online ordering. Also, they may deliver your order through third-party delivery providers. Therefore, pick-up is the best option if you choose Jet's Pizza.
13. Papa Murphy's
Papa Murphy's is the best pick when you want more variety of mouth-watering pizzas. They offer special & new flavors, specialty pizzas, stuffed pizzas, and dairy-free cheese pizzas.
Moreover, Papa Murphy's is also the best place for those who want crust-free keto-friendly pizzas.
You can also create your customized pizza at Papa Murphy's from various delicious ingredients. They also serve Calzones, salads, cinnamon wheels, and Pepsi as a drink.
14. Toppers Pizza
Toppers Pizza also comes up with the cheapest yet yummiest pizza options. Here, you can buy any large pizza for just $11.99.
Their chicken Alfredo cheesemaker, walking taco topper, and buffalo chicken mac & cheese pizzas are the best ones.
Along with pizzas, you can also order their loaded pizza sticks, hot wings, dipping sauces, drinks, desserts, and gift cards.
15. Anthony's Coal-Fired Pizza
Anthony's is famous for its delicious natural-flavored coal-fired Pizzas & wings.
They serve about 10 tempting flavors of their coal-fired pizzas. In addition, Anthony's also allows you to build your customized pizza by using its premium quality ingredients.
Pair their pizzas with their coal-fired starters, sandwiches, pasta, non-alcoholic drinks, and sweets & drinks to delight your guests.
How Much Does Pizza Catering Cost?
Some restaurants offer the cheapest pizza catering while others provide the pricey ones. For example, pizza catering by Marco's Pizza is more affordable than other restaurants.
On the contrary, Pizza Hut offers expensive pizza catering. Similarly, when you add more complimentary items with pizza e.g. salads, desserts, or drinks, the price goes up.
How Does Pizza Catering Work?
To order pizza catering at any restaurant, check out if they do pizza catering for events. If yes, visit them personally or order from their website. To place an order from the website, follow the steps.
Visit the website and enter your location. See if it is available at your nearest location.
If yes, go through their catering menu. Choose your items and submit the catering order/form.
Wait for their response and confirm your order.
Get it delivered or pick up your order and serve it to your guests at your event.
How Many Pizzas Do I Need To Feed 100/40 People?
For a gathering of 100/40 people, arrange some complimentary items and pizzas. For example, you can order about 15-20 large pizzas along with subs, salads, desserts, and beverages.
It also depends on which age group is invited to your event. If there are more children or elderly people, you will need fewer pizzas. If there are more adults, you will need more pizzas to fulfill them.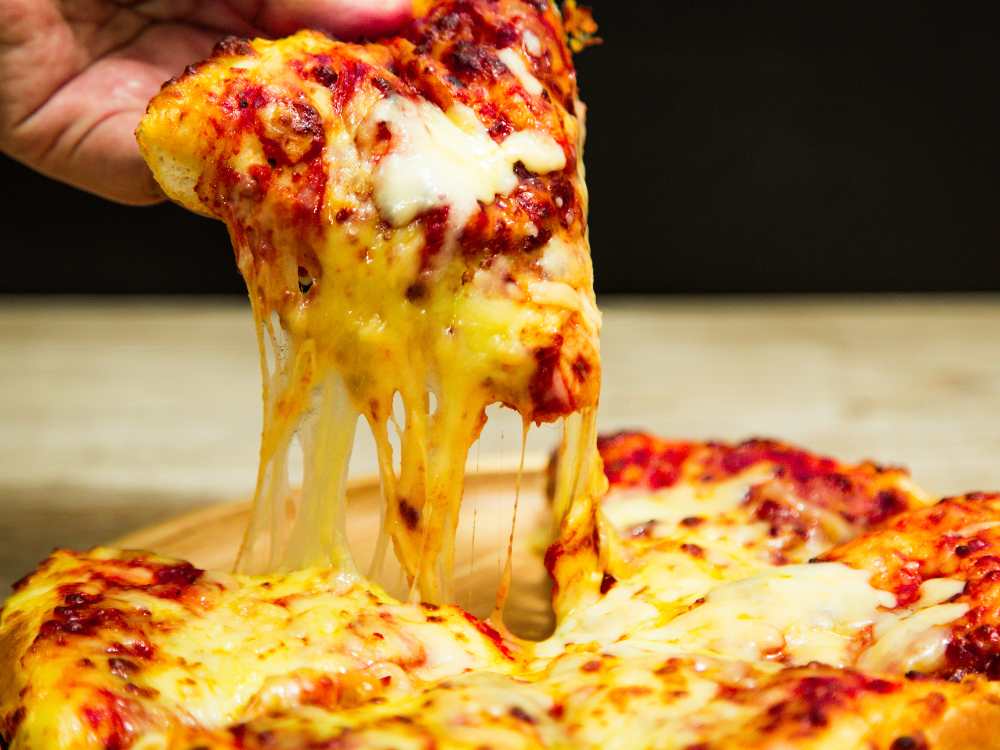 How Many Pizzas Do I Need For 60/20 People?
For an event covering 60/20 people, you will probably need 10-15 large pizzas. Couple your pizzas with sides, salads, cookies, brownies, chicken wings, and beverages.
In this way, you will require a few pizzas to serve to your guests. However, if there are only pizzas and drinks, order more pizzas so that everyone can be fully satisfied.
What Services Does Pizza Catering Typically Include?
Pizza catering services typically include serving pizzas, sides, salads, and drinks at different events. Some restaurants also serve subs, wings, delicious desserts, and pizzas.
Many of them also include delivery services to your event location on their decided day and time.
How Can I Find a Pizza Catering Service Near Me Online?
To find a pizza catering service near you online, follow these steps.
Go to www.google.com
Turn on your location and search Pizza catering near me.
The search results will show many pizza catering options near you. Select the one that you find the most suitable.
Else, visit any of the above-discussed restaurants' websites. Enter your location and see if they have any nearest restaurants to your location.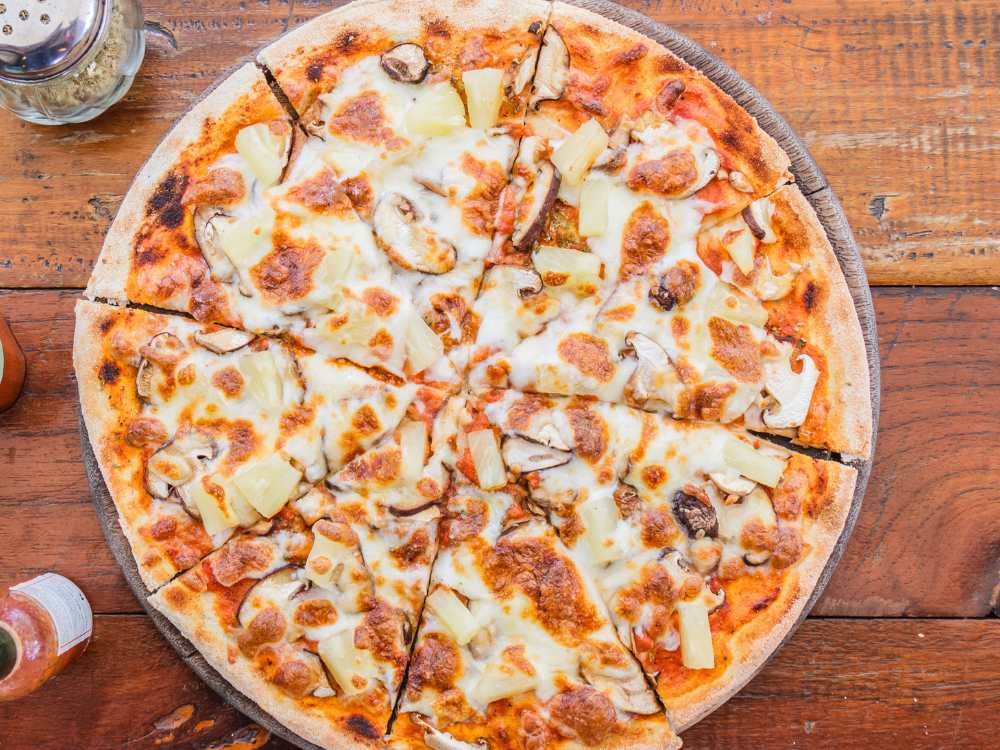 Website Links of Restaurants For Pizza Catering
Final Thoughts
Pizza catering is the best option for all types of events as everyone loves having pizzas any time.
However, choosing the best pizza catering restaurant for your events is essential to assure more fantastic taste, freshness, and quality.
This article discussed the top 15 pizza catering restaurants that are a must-try. Choose any one of them for your upcoming event and bring enjoyment among your guests with the best pizza party.