If you love quinoa, you're gonna flip for these delicious, healthy quinoa pasta bundles!  Grab your apron and come on into the kitchen and I'll show you how easy the recipe is to make!
I love when other people are smarter than I am and they allow me to suck off some of their smartness and put it into my own head.  People like my culinary mentor, Chef Jeff.  Better yet, food bloggers like Jessica.  She shared her knowledge and love for quinoa (pronounced "KEEN-wah") pasta with me and now I can't eat enough of it.  Seriously.  I've gone through so much of it, I should have SUPERGRAIN HERO stamped across my forehead or something.
For those of you that haven't heard of quinoa pasta, or quinoa for that matter, slide out from underneath that heavy rock you've likely been lying under and allow me to enlighten your brain on the wonders of quinoa.  Actually, I found a fantasmic (yes, that's a word and no, you don't need to get out Webster's to check… just trust me) article that sums it up and describes it perfectly.  Check it out here.  Please… I'll wait 🙂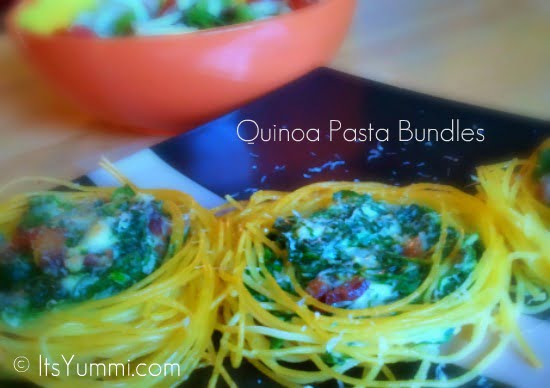 Now that you know why it's so wonderful and why I adore it so much, I want you to have a chance to indulge in its nutty, protein-packed, delightful goodness.
I opened up my well stocked refrigerator last night and threw this recipe together on the fly.  I've always been a self professed carboholic, but I've been craving them even more than usual this week.  These quinoa pasta bundles were a delicious way to incorporate my craving into a healthy meal.  The fact that it contains bacon, cooked up in less than 30 minutes, and requires only 5 ingredients makes it a hands down dinner winner in my book.  Pair them with a fresh salad and some garlic bread and you'll be sent straight into a culinary Heaven so wonderful that you likely won't want to return to Earth any time soon.
I hope you'll give this recipe a try, and if you do, please come back and let me know what you thought of it.  I'm always welcome to accepting compliments and constructive criticism.
Thanks, and I hope you have a yummi weekend!
QUINOA PASTA BUNDLES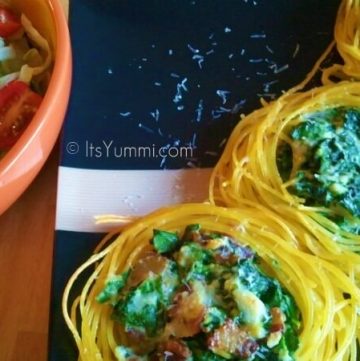 Quinoa Pasta Bundles
Good for you quinoa pasta is nestled with a comforting blend of spinach, bacon, and cheeses to create a quick and easy, protein packed dinner that you're sure to love.
Ingredients
2

quarts

(8 cups) water

2

Tablespoons

Kosher salt

4

ounces

quinoa pasta (raw

uncooked)

4

strips bacon

cut julienne style and cooked crisp

3

cups

fresh baby spinach

roughly chopped

1/2

cup

part-skim ricotta cheese

1/4

cup

Parmesan cheese

freshly grated

1

whole egg

1

Tablespoon

extra virgin olive oil
Instructions
Heat the oven to 375 degrees F (350 F if using a convection oven)

In a large pot over medium high heat, bring 2 quarts (8 cups) of water to a slow rolling boil.

Place the spinach into a steamer basket or mesh strainer and place over the water. Steam 3-4 minutes or until the spinach has wilted. Place into a strainer to drain for a couple of minutes, then squeeze as much water as possible from the spinach and set aside.

Raise the heat on the stove to high and bring the water to a rolling boil. Add the salt and cook the pasta as directed on the package to al dente (don't overcook the pasta, as it will finish cooking in the oven). Drain and add the olive oil. Toss to coat.

Meanwhile, cook the bacon in a frying pan over medium heat, until it's rendered and crispy. Place between sheets of paper towel to drain.

In a medium bowl, combine the spinach, ricotta, bacon, egg, and half of the Parmesan cheese..

Spray a large casserole dish or jelly roll pan with non-stick cooking spray.

Loosely form the pasta into 4 nests. Place 1/4 of the spinach mixture into the center of each nest and top with the remaining grated cheese.

Place into the oven and bake for approximately 15 minutes, or until the cheese is browned slightly.

Serve with a tossed salad and garlic bread and enjoy!
Notes
Weight Watchers Plus Points = 8 per bundle
Nutrition
To see my new recipes as soon as they're "cooked", use this form to sign up and I'll send them straight to your inbox!
[mc4wp_form]