Ra Sushi Menu Happy Hour Menu Prices 2023
Ra Sushi Happy Hour is all about fun! Its lively music, signature cocktails, and the best sushi dishes are why you dine at Ra Sushi.
The happy hours at Ra Sushi usually start at 3:00 pm to 7:00 pm and 10:00 up to closing during the weekdays, while weekend happy hours typically end at closing time.
Patrons prefer to visit Ra Sushi during happy hours because booze, cocktails, and some food are half the price.
Here is Ra Sushi's Happy Hour Menu that you can try.
Shareables – such as Tempura, sushi, gyoza dumplings, shumai, sashimi, tuna, onion rings, shrimp, and edamame
Specialty Rolls – like maki, shrimp tempura roll, calamari roll, and Las Vegas Roll.
Maki rolls – shrimp, tuna, rainbow, yellow tail, and California rolls,
Nigiri – Salmon, Tuna, Yellowtail, and Shrimp
Drink Specials – such as Hot Sake Carafe, Kirin Sake bomb, and Margarita
Rackin Cocktails – like Sake Sangria, blushing geisha, dragon bite, umami punch, and wicked watermelon.
Wines by the Glass – some are merlot, sauvignon blanc, cabernet, and pinot grigio.
Signature Spirits – like bourbon, gin, vodka, and tequila.
Mules, Martinis, and Highballs – such as Japanese mule, cucumber collins, mango martini, and milagro paloma.
Beers – from large formats like Asahi, kirin ichiban, and kirin light; import such as Corona, Modelo, and Stella; and domestic like bud light, Michelob, and seltzer.
Artisanal sake – Mio sparkling, crème de sake, and Hakutsuru draft sake.
Happy Hour is shareable and rolls are worth every penny, priced from $5.90 to $13.
Ra Sushi's signature items include rainbow rolls, Viva Las Vegas Roll, seared tuna, and "Ra"ckin shrimp.
You may try Casamigos emperor's margarita for the booze, traditional cucumber, mango, strawberry, cucumber, and passion fruit.
A glass of Blushing Geisha, Baby Umami Punch, Dragon Bite, Wicked Watermelon, Japanese mule, and Shiso naughty martini can also complete your Ra Sushi experience.
You have to remember that some of the dishes or drinks on the menu may not be available in your location, but rest assured that all their dishes and beverages are concocted to provide satisfaction and optimum fun to customers.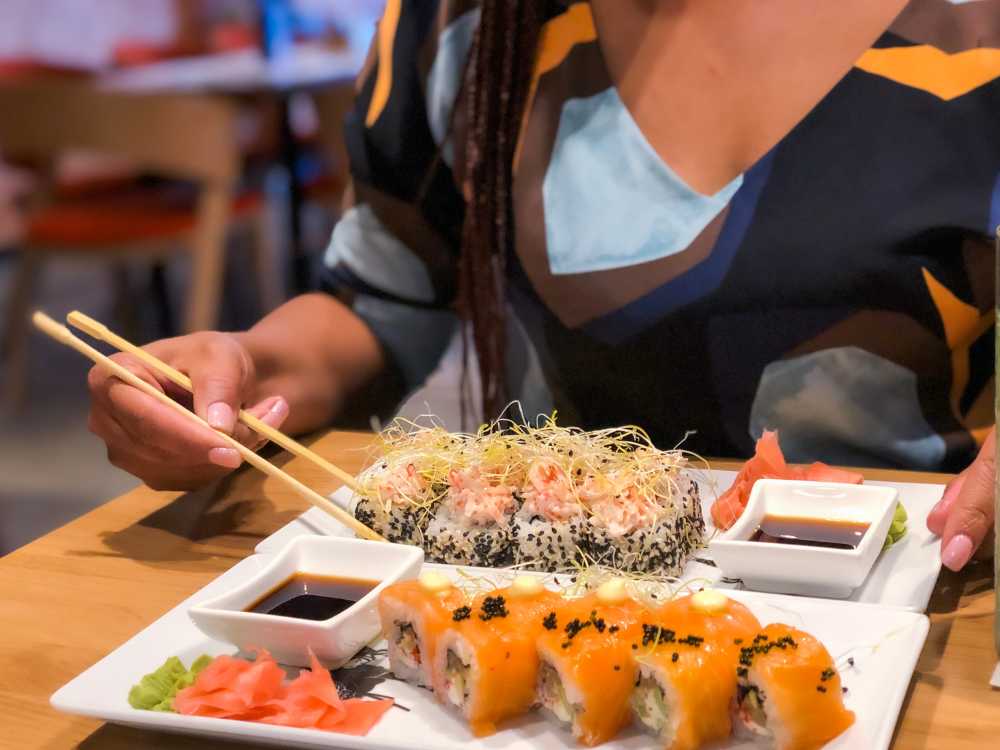 Ra Sushi Happy Hour Time
| | |
| --- | --- |
| Days | Time |
| Monday | 3 pm-7 pm 10pm-Close |
| Tuesday | 3 pm-7 pm 10pm-Close |
| Wednesday | 3 pm-7 pm 10pm-Close |
| Thursday | 3 pm-7 pm 10 pm-Close |
| Friday | 3 pm-7 pm 10 pm-Close |
| Saturday | 10 pm-Close |
| Sunday | 3 pm-Close |
Ra Sushi Happy Hour Menu – Shareables
Items
"Ra" "Ra" Shrimp
"Ra"Ckin' Shrimp
Edamame
Shrimp Tempura
Onion Rings
Spicy Seaweed Salad
Shrimp Shumai Dumplings
Pork Gyoza
Chicken Skewers
Spring Rolls
Salmon Avocado Sashimi
Panko Chicken
Garlic Ponzu Yellowtail
Seared Tuna
Crispy Spicy Tuna
Chili Garlic Albacore Tuna
Specialty Rolls
Items
Tootsy Maki
Viva Las Vegas
Crunchy Shrimp Tempura
Crunchy Calamari
Maki Rolls
Items
Spicy Salmon
Rainbow
Spicy Shrimp
Spicy Tuna
California
Spicy Yellowtail
Nigiri
Items
Shrimp
Salmon
Yellowtail
Tuna
Ra Sushi Happy Hour Drink Specials
Items
Kirin Sake Bomb
Hot Sake Carafe
Margarita
Cucumber
Traditional
Strawberry
Mango
Passion Fruit
"Ra"Ckin' Cocktails
Items
Dragon Bite
Blushing Geisha
Wicked Watermelon
Baby Umami Punch
Sake Sangria
White Peach
Red Port
Rosé Lychee
Wines By The Glass
Items
Seaglass Sauv Blanc
Mionetto Prosecco
Gerard Bertrand Rosé
Lunardi Pinot Grigio
Portillo Malbec
14 Hands Merlot
The Federalist Cabernet
Signature Spirits
Items
Aviation Gin
Tito's Vodka
Espolón Tequila
Jim Beam Bourbon
Captain Morgan
Bacardi Rum
Mules, Martinis & Highballs
Items
Shiso Naughty Martini
Japanese Mule
Mango Martini
Tito's Mule
Milagro Paloma
Cucumber Collins
Beer
Items
Import
Modelo
Stella
Corona
Large Format
Kirin Light
Kirin Ichiban
Asahi
Domestic
Michelob
Bud Light
Seltzer
Artisanal Sake
| | |
| --- | --- |
| Items | Size/Bottle |
| Sho Chiku Bai Nigori "Crème De Sake" | 300 Ml |
| Hakutsuru 'Draft' Sake | 300 Ml |
| Mio Sparkling | 300 Ml |
Important Links
Relevant Asked Questions
What Are Ra Sushi's Happy Hour Drink Specials?
Ra Sushi's Happy Hour drink specials include a concoction of Casamigos emperor's margarita with five flavors traditional strawberry, mango, cucumber, passion fruit, hot sake carafe, and kirin sake bomb.
What is The Ra Sushi Happy Hour Schedule in Chino Hills?
The happy Hour schedule at Ra Sushi Chino Hills is the same as other locations from Monday to Saturday, 3 pm-7 pm and 10 pm to closing time, while on Sundays, it starts at 3 pm to closing time.
Is There a Fried Chicken on The Ra Sushi Happy Hour Menu?
Fried chicken is not directly available on their menu but yes, a chicken dishes appetizers, like chicken skewers and the Panko Chicken tenders are available.
How Many Ra Sushi Locations Serve a Happy Hour Menu?
The happy hour menu is available in 19 locations throughout the US.
When Did RA Sushi Start Serving Americans?
Ra Sushi opened its doors to customers in 1996. Scott Kilpatrick and Rich Howland, former Childhood friends are the founders of this Sushi Bar Restaurant in Phoenix.