Disclosure: To conduct this review of Tasting the Seasons cookbook, I received a free copy of the book from the publisher, with no additional compensation provided. All thoughts and opinions are my own. Please see my disclosure page for more information.
Details
Title: Tasting the Seasons
Author: Kerry Dunnington
Publisher: Artichoke Publishers; Baltimore, Maryland
Material: paperback, 288 pages
Retail Price: $19.95
Summary
Inspired, In-Season Cuisine That's Easy, Healthy, Fresh and Fun
This cookbook is 288 pages filled with recipes from breakfast items to appetizers – main dishes and desserts.
The first section of the book is dedicated to tips on entertaining and hosting the perfect dinner party. Although I'm not much of a hostess with the mostest and I don't hold dinner parties at my apartment, there are some great tips in this book, including hiring party staff, creating menu cards, serving sizes etc.
The next section of the book warmed the cockles of my heart, as the author, Kerry Dunnington, invites the reader to join her in The 365 Challenge. That's her pledge to make more environmentally friendly choices by eliminating plastic ware, eat in more often, eat local foods, and generally support and maintain this world of ours.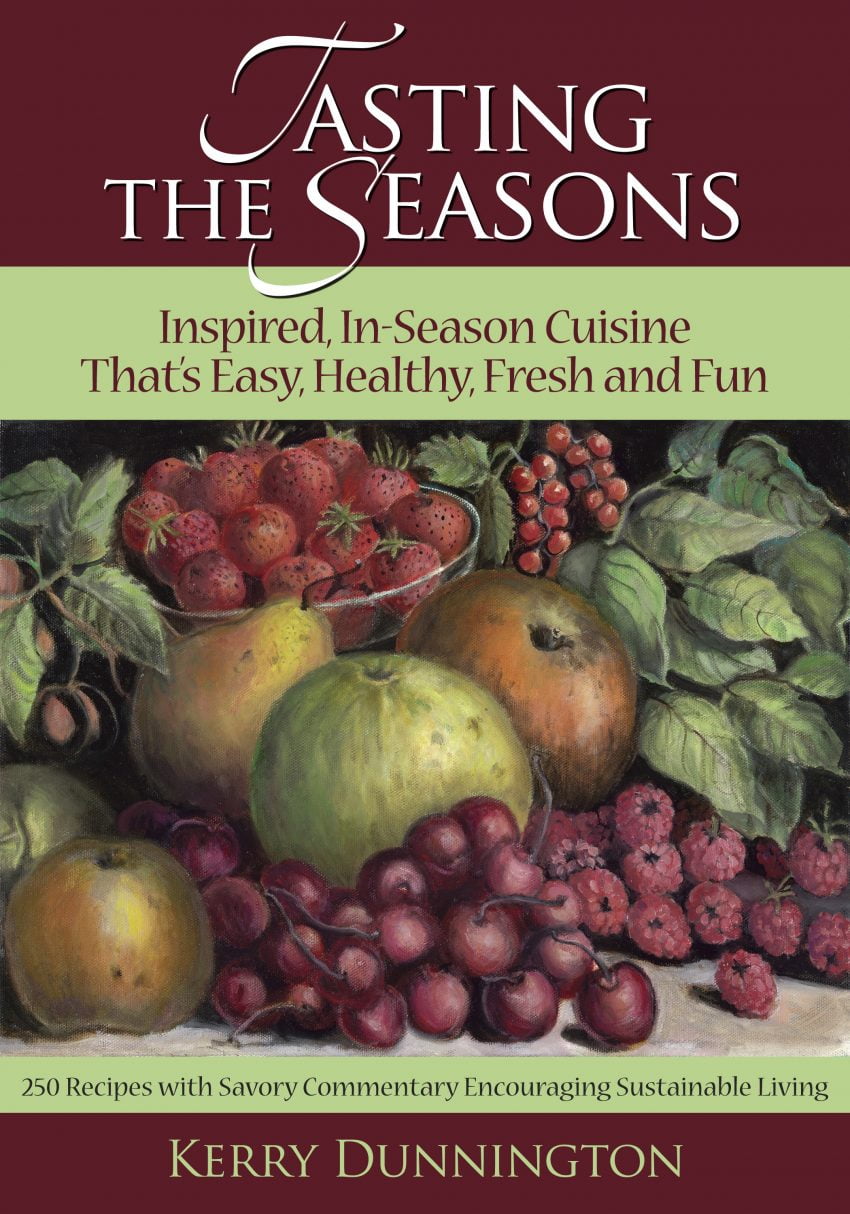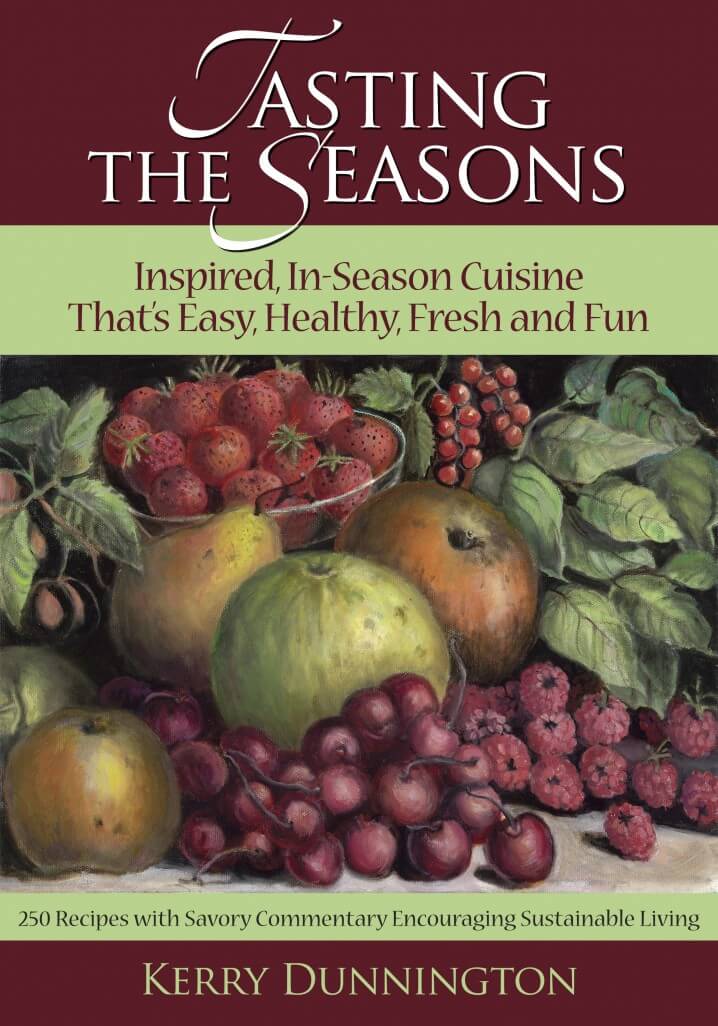 Pros
1. Each recipe section starts out with a nice, easy to read introduction that's followed by a recipe overview.
2. The book is categorized well, including 11 sections
appetizers – Check out her version of guacamole. There's a great ingredient twist!
enhancers – Salad dressings, sauces, beverages and anything else you want to make your meal special.
breakfast and brunch – I love quiche recipes, and this book has a oven roasted tomato quiche that sounds amazing!
soups – There are 21 recipes ranging from chowders to bisque, and a recipe I can't wait to try, for Italian Sausage Bread Soup.
Pescatarian (main dishes) The lemon pasta with asparagus is calling my name, but there are 26 other recipes to choose from, including seafood, fresh garden veggies, and even tofu for the vegetarians in the crowd.
meat – With recipes calling for beef, chicken, and pork, the meat lovers in your family won't be forgotten. Although my slow cooker Italian meatloaf recipe is hard to beat, the ginger-tomato crowned meatloaf sounds absolutely amazing.
side dishes – This section is divided into Cold Garden Greenery and Warm Garden Greenery. The Cold Garden Greenery part includes thirteen recipes for things such as Kohlrabi Coleslaw and Marinated Yellow Beets with Horseradish. The Warm Garden Greenery includes twenty recipes for sides such as Caramelized Parsnips with Roasted Pecans and a Berry Nutty Couscous.
Bread, Biscuit, Rolls  – Of course, my favorite section of the book was related to carbs! There's a great introduction with a useful guide for successful bread making, and twelve delicious sounding recipes including one for popovers, which I've wanted to try baking for years now.
Sweet Endings – Every good cookbook needs a sweet, happy ending, and Tasting the Seasons doesn't disappoint. Twenty-two recipes from Baked Alaska to pudding and peach cake.
3. The back of the book includes an A-Z Product Resource List with information on what, where, and when to buy. This informational part is followed with an explanation on Eco-Terms, Tips, and Techniques.
4. This cookbook encourages the reader to understand the importance of knowing where food comes from and to make sustainable food choices. I also love that it focuses on the use of fresh produce. It's a great book to look through before going to your local farmer's market.
5, With a retail cost of $19.95, this cookbook is a good value for the money, but right now, you can CLICK HERE to get it for just over $15 on Amazon!
 Cons
1. Besides a few black and white sketches, there are no photos in this book. This is not a coffee table cookbook, and I'm bummed that there are no photos of finished dishes. For me, it's easier to know how to create a new dish when I know what it's supposed to look like.
2. The pages aren't protected from spills. It's frustrating for me when I can't feel comfortable leaving a cookbook open on the kitchen counter. I'm willing to pay extra for laminated pages in a cookbook.
3. It's a well bound paperback, but the paper feels rough and it's definitely not pretty to look at. Even the colors on the cover image are unappealing.
4. There are some odd ingredients called for like millet seed and clove preserves that I don't think I'd be able to find in my local grocery store.
This review of Tasting the Seasons cookbook scored:
3.5 out of 5 forks – Great recipes, but nothing exciting to look at.