This rocky road bundt cake is a wild and wonderful combination of Elvis Presley's favorite sandwich flavors, banana and peanut butter, with the rocky road ingredients of chocolate, marshmallows, and nuts. Grab your apron (and maybe your blue suede shoes) and come into the virtual kitchen and we'll bake up my Elvis on a Rocky Road bundt cake!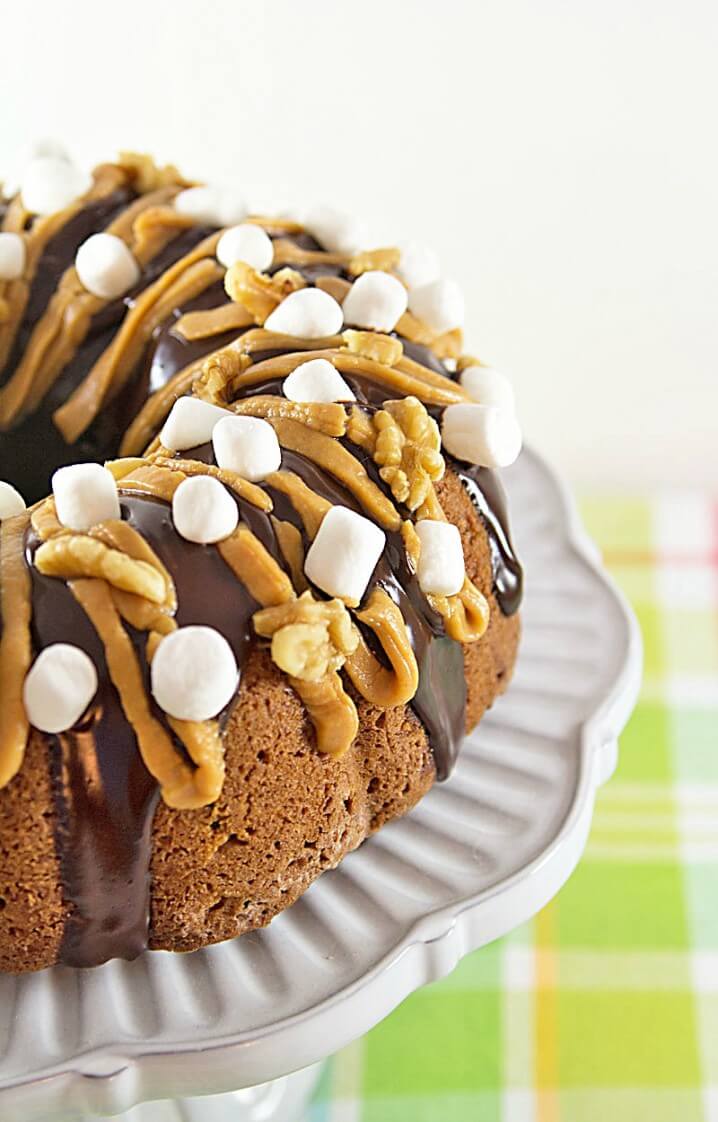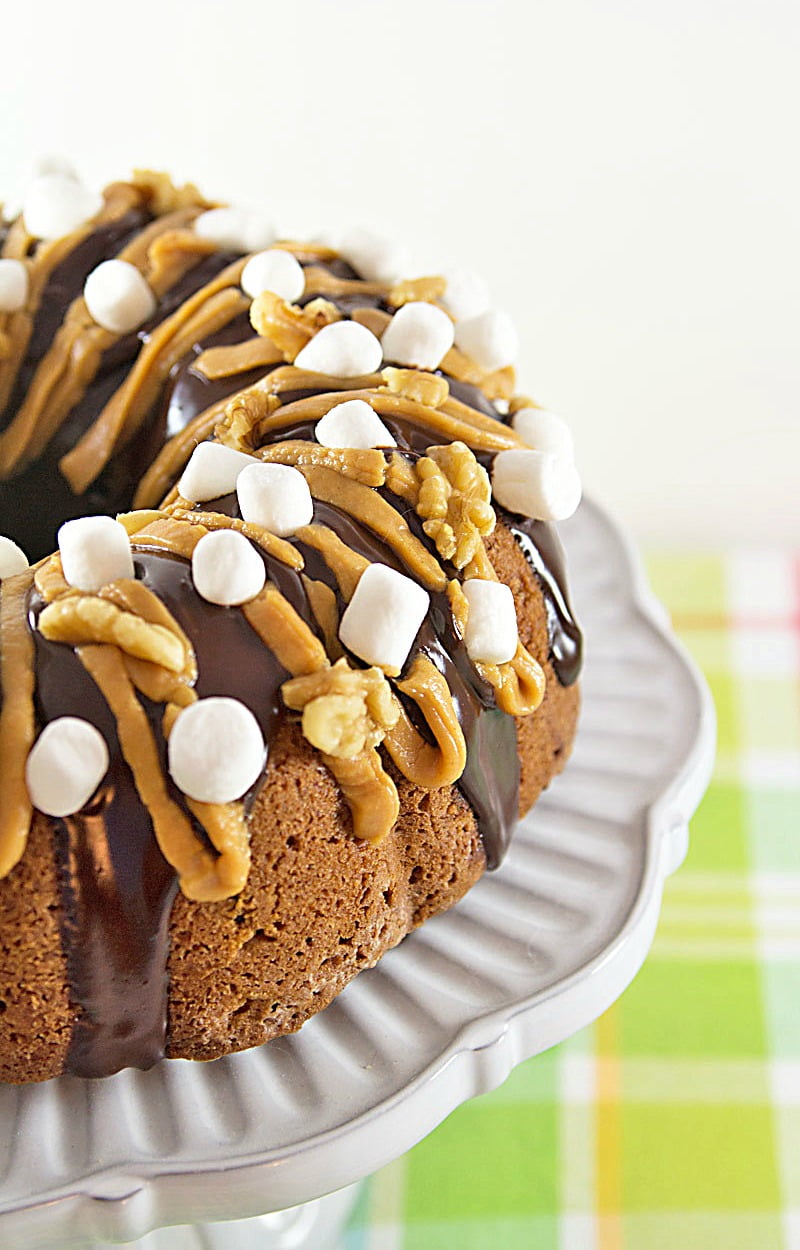 I've joined some super talented bloggers in a group called Bundt Bakers, and this is my first month participating with them.
Every month, someone in the group is in charge of hosting the event and creating the topic and/or ingredient that everyone's bundt cake recipe needs to be based on. This month, Laura from Baking in Pyjamas is our host. She selected our theme to be centered around Rocky Road… cookies, chocolate, marshmallow, and nuts. That's how this rocky road bundt cake creation started. But I didn't stop there!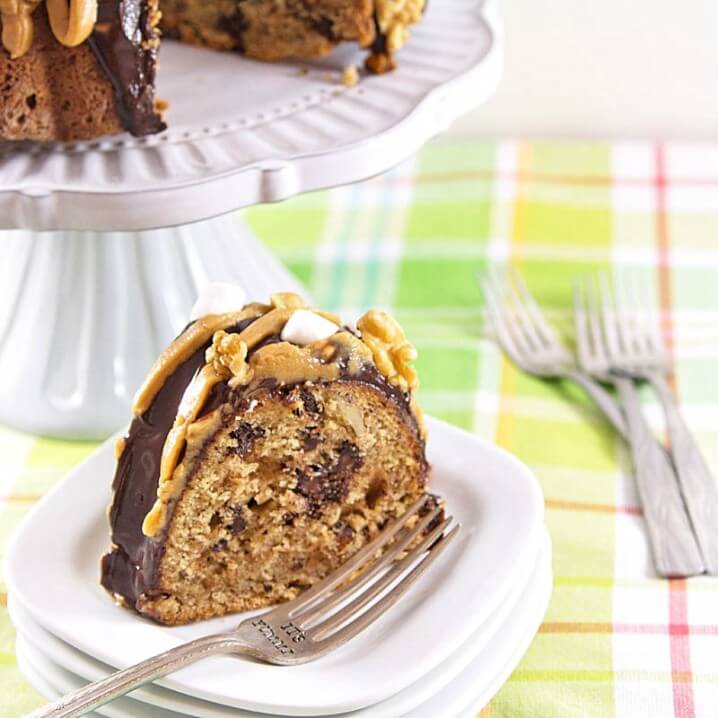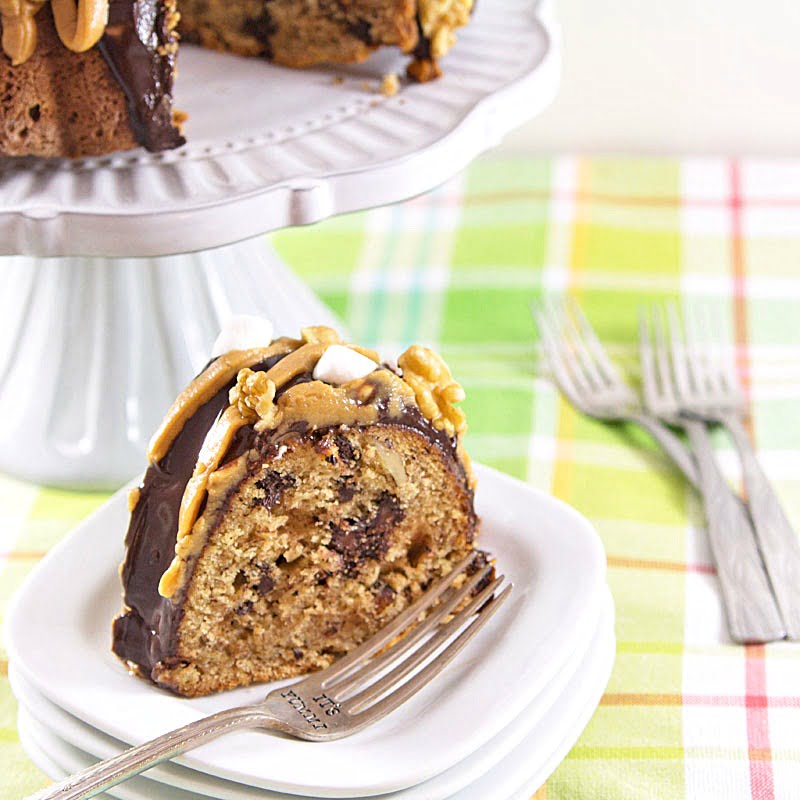 As I looked through my older blog posts, I came across delicious bundt cake recipes that I've already made. My favorites are the double chocolate, a pomegranate lime, and creamsicle flavors.
The fun part of this group is that we're all allowed to put our own unique twist on the theme, so as long as some of the rocky road ingredients were used, we were free to get creative. I took that invitation and ran with it!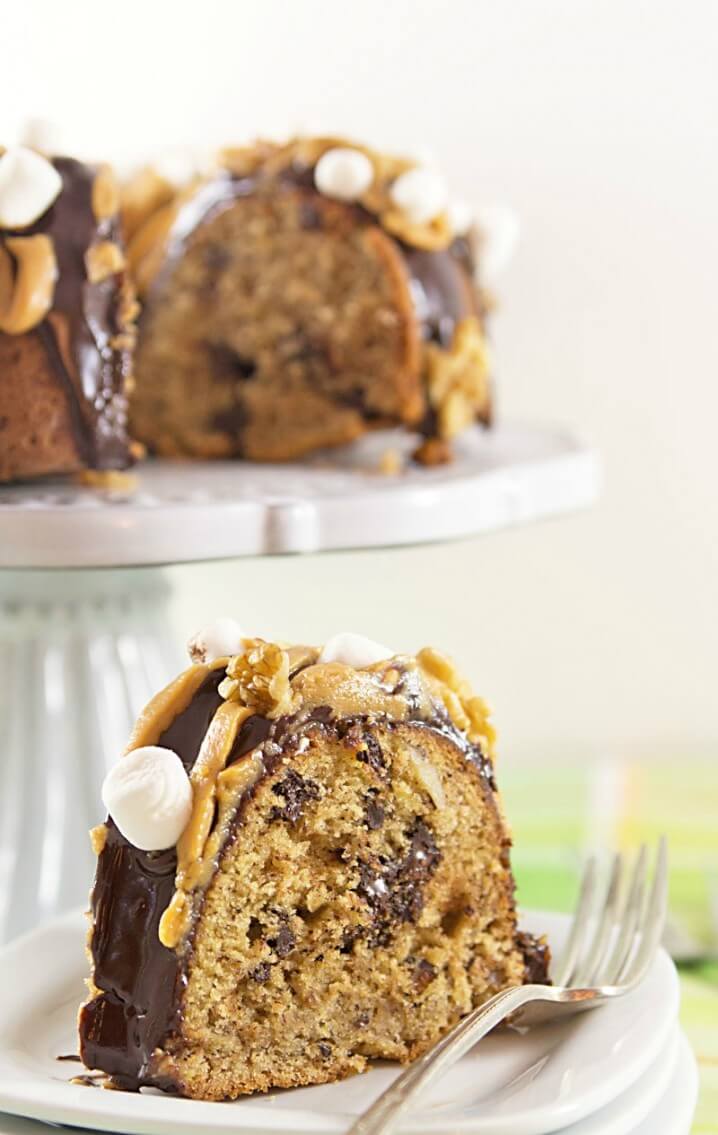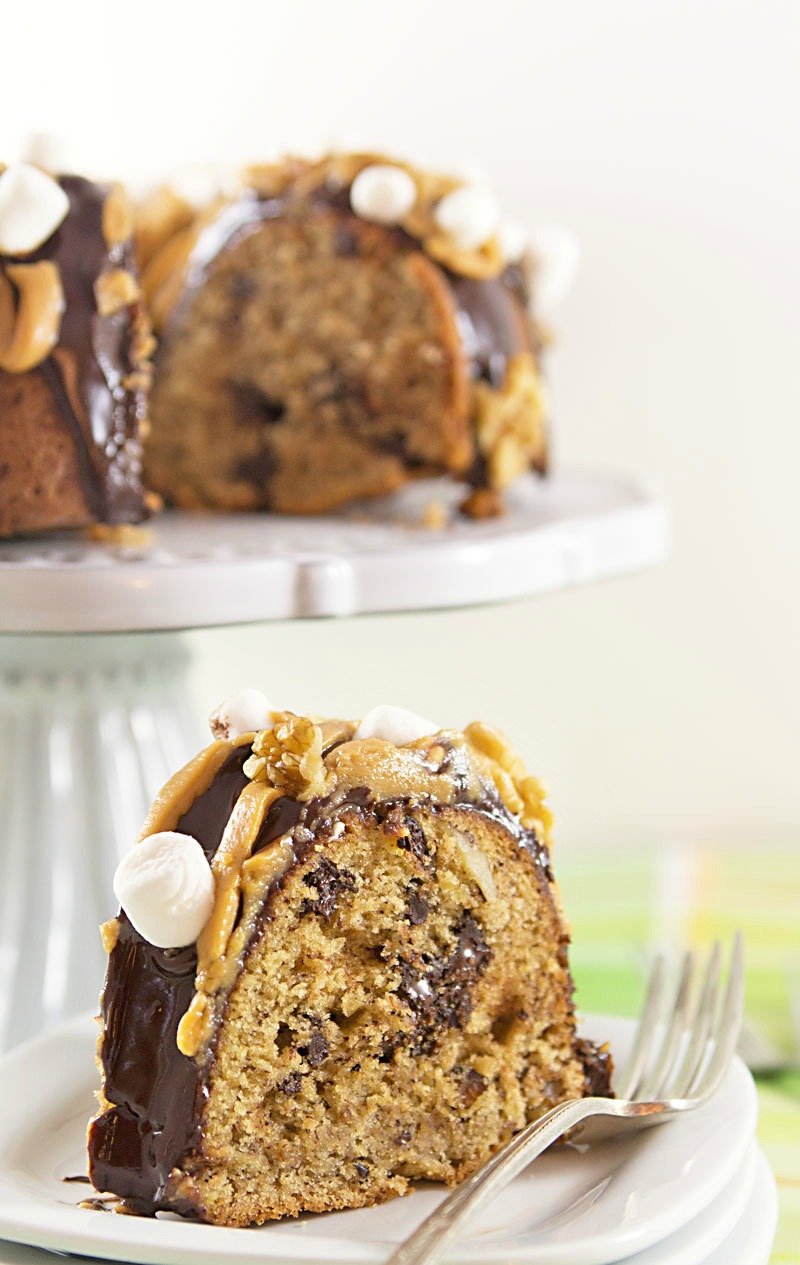 I am a huge fan of peanut butter and banana flavors in cakes and muffins. Those were also the ingredients in Elvis Presley's favorite sandwich, so I thought I'd combine them with the rocky road ingredients and see what kind of deliciousness I could bake up.
Th only trouble that I had in creating this rocky road bundt cake was with the marshmallow sauce. I don't know why, exactly, but I couldn't get it to thicken up. That's why you see mini marshmallows on top instead of a ribbon of glossy white marshmallow glaze.
I've made it successfully before, so I decided to leave it in the recipe for you. If you'd rather not use it, you can join me in putting a marshmallow parade on top of the cake instead.
I think you're going to love this rocky road bundt cake!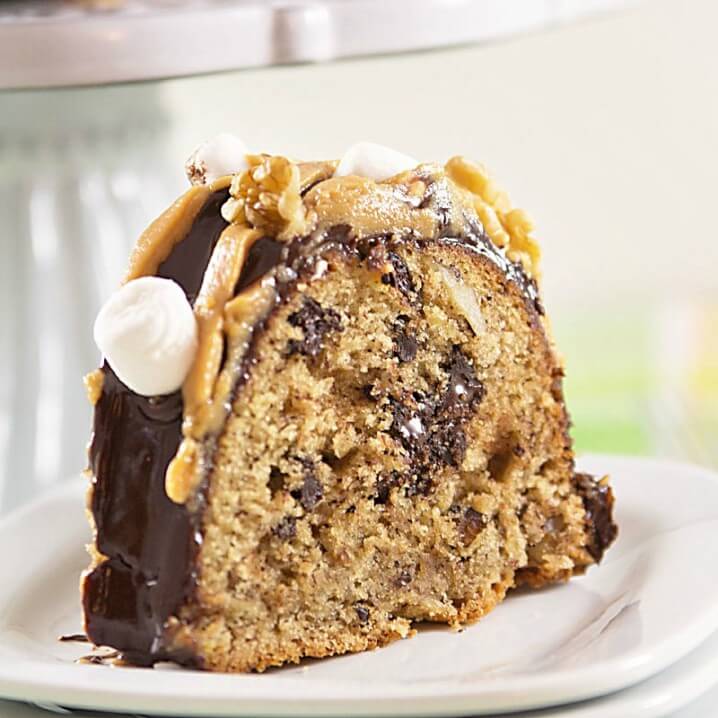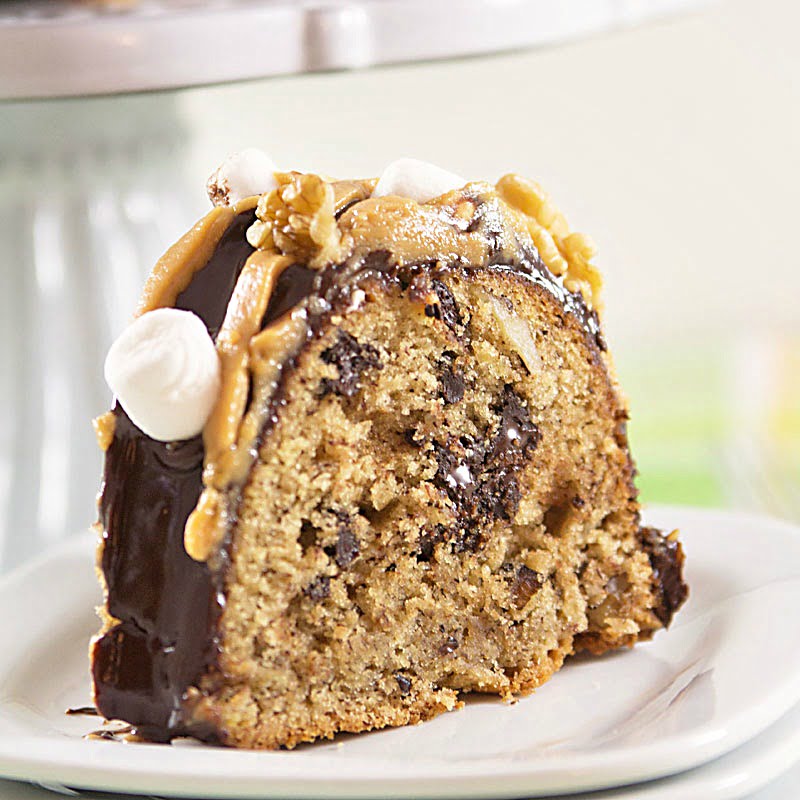 After you've taken a look, keep scrolling down to check out the other delicious rocky road themed bundts from my blogging friends!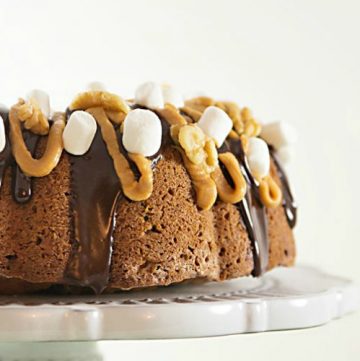 Elvis on a Rocky Road Bundt Cake Recipe
Bananas, chocolate chips, and walnuts are baked up into a delicious bundt cake, which is then drizzled with chocolate ganache, peanut butter glaze, and marshmallow sauce. This is an epic bundt cake recipe!
Total Time
1
hour
5
minutes
Ingredients
7.5

ounces

(1 cup) white sugar

5.0

ounces

(1/2 cup) smooth peanut butter

4

ounces

(1/2 liquid cup) vegetable oil

2

eggs

beaten

3

medium ripe bananas

mashed

7.7

ounces

(1 3/4 cups) all-purpose flour

3.3

ounces

(3/4 cup) cake flour*

1

teaspoon

baking soda

1/2

teaspoon

baking powder

1/2

teaspoon

salt

2

ounces

(1/4 liquid cup) milk (I used unsweetened vanilla almond milk)

8

ounces

(1 cup) bittersweet or semisweet chocolate chips

1

cup

chopped walnuts or pecans
CHOCOLATE GANACHE
1

cup

good quality bittersweet or semisweet chocolate chips

8

ounces

(1 liquid cup) heavy whipping cream

1

tablespoon

unsalted butter

softened
PEANUT BUTTER GLAZE
1

tbsp

peanut butter

4-5

Tablespoons

confectioner's sugar (icing sugar)

1-2

Tablespoons

of milk
MARSHMALLOW SAUCE
2

cups

miniature marshmallows (18 regular size

quartered)

2

ounces

(1/4 liquid cup) heavy whipping cream

1/2

teaspoon

vanilla extract
Instructions
Heat oven to 350° F.

Place sugar, peanut butter, and oil in the bowl of a hand or stand mixer. Beat on medium speed until combined, then add eggs, one at a time, mixing until combined. Turn to low speed and add mashed bananas, mixing until combined.

Sift together dry ingredients and mix half into banana mixture then add half of the milk, and repeat with remaining flour and milk. Gently mix or fold in chocolate chips and nuts.

Pour batter into well greased and floured bundt pan. Bake for 50-55 minutes, until the internal temperature of the cake reaches 205° - 210° F, or a toothpick inserted in the center of cake comes out clean or with just a few crumbs.

Remove pan from oven and cool cake in pan for 15 minutes before removing and transferring to a wire rack to cool completely.

Once cool, drizzle with chocolate ganache, peanut butter glaze, and marshmallow sauce.

CHOCOLATE GANACHE

Place chocolate in a medium heatproof bowl; set aside.

Place cream in a small saucepan over medium heat and bring to a simmer (tiny bubbles around the edge of pan. (Don't let the cream come to a boil.) Pour hot cream over chocolate and let it sit until chocolate has softened, about 5 minutes. Add butter and stir until smooth. Let cool slightly before pouring or spreading over the cake.

PEANUT BUTTER GLAZE

Combine the peanut butter and icing sugar. Add a few drops of milk at a time until the glaze reaches a thick but pour-able consistency. Drizzle the glaze over the chocolate ganache.

MARSHMALLOW SAUCE

Heat marshmallows and cream in top bowl of a double boiler, folding and stirring until marshmallows are almost melted.

Add vanilla and continue cooking and stirring until completely melted and well blended with cream.

Use while sauce is hot, as it will thicken as it cools.
Nutrition Facts
Elvis on a Rocky Road Bundt Cake Recipe
Amount Per Serving
Calories 718
Calories from Fat 396
% Daily Value*
Total Fat 44g 68%
Cholesterol 62mg 21%
Sodium 253mg 11%
Potassium 0mg 0%
Total Carbohydrates 81g 27%
Protein 10g 20%
* Percent Daily Values are based on a 2000 calorie diet.
Check out these other delicious rocky road bundt cake variations:
#BundtBakers is a group of Bundt loving bakers who get together once a month to bake Bundts with a common ingredient or theme. You can see all our of lovely Bundts by following our Pinterest board. We take turns hosting each month and choosing the theme/ingredient.
Updated links for all of our past events and more information about BundtBakers, can be found on our home page.