Sheet Pan Chicken Fajitas
ouSheet Pan Chicken Fajitas are a perfect weeknight dinner, packer with flavor and easy to whip up. Bonus, clean up is an absolute breeze!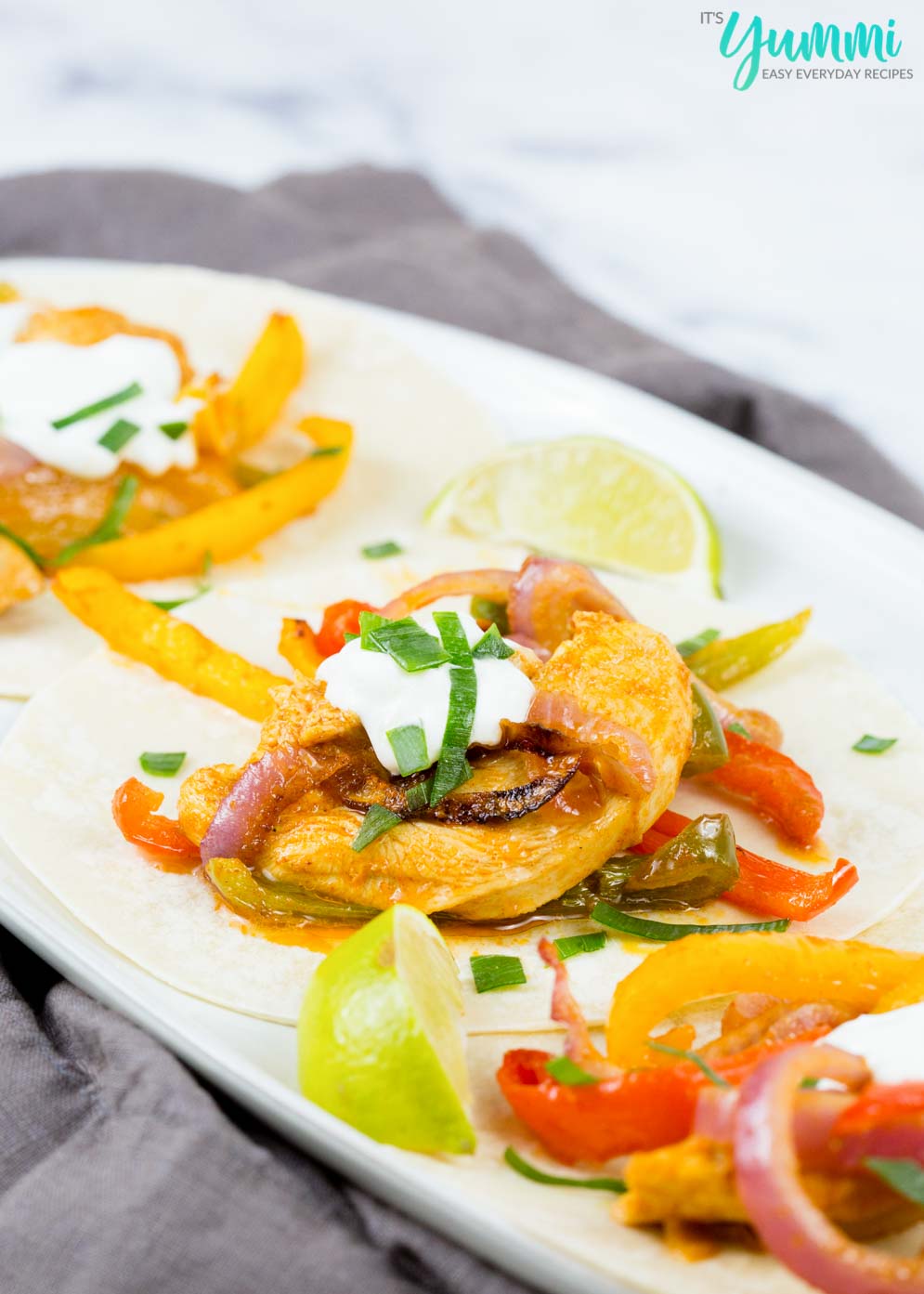 Sheet Pan Chicken Fajitas are one of those dishes you'll make over and over again for so many reasons. The flavor, for one, is perfection. Even the pickiest eater will love these fajitas. The chicken is tender and the veggies are that perfect crispness to balance out the meal.
Sheet Pan Chicken Fajitas 101
Are Sheet Pan Chicken Fajitas Keto? Yes and they can be even more so if you opt to eliminate the tortillas. Swap for lettuce wrap or just enjoy the Mexican flavors simmered into your chicken and vegetables. We actually really like the lettuce wrap swap on occasion, it adds a freshness to the heat these fajitas bring.
How to store your fajitas: The chicken and vegetables can be stored for 3-4 days in the refrigerator. Use an airtight container to keep the flavors sealed in.
How to reheat your fajitas: As with many baked meals, the best way to reheat is in the oven to restore crispness. Place your fajita filling on a foil lined baking sheet and give 10 minutes at 375 degrees. If your fajitas fixings need a little longer to recrisp, that's OK, but make sure not to overheat/burn, stirring occasionally.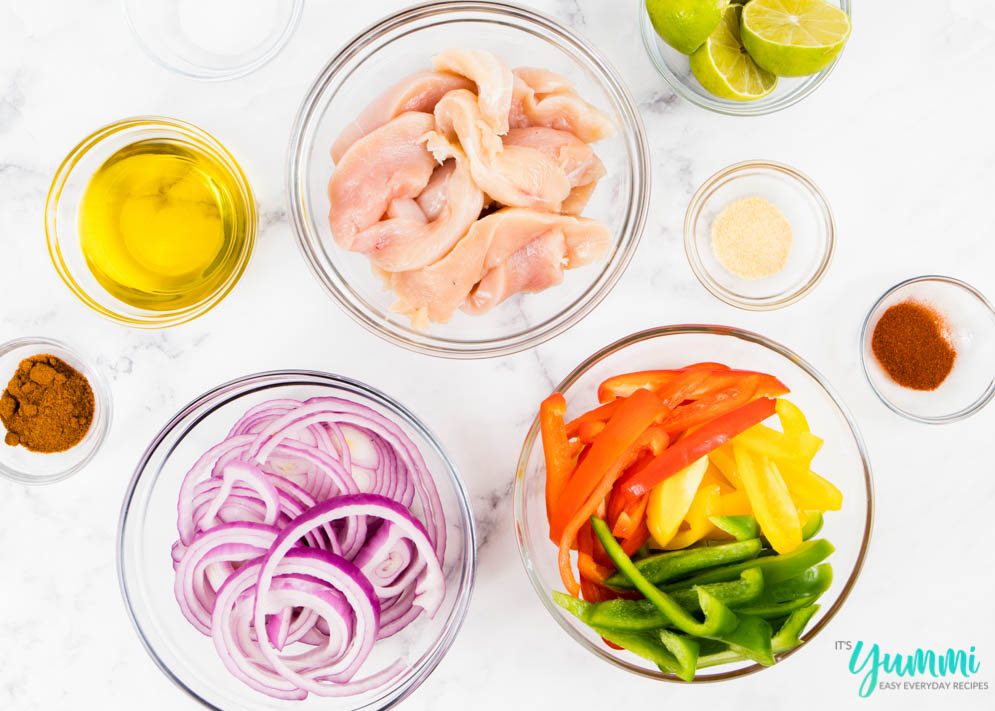 What makes this an easy weeknight meal?
Sheet Pan Chicken Fajitas are incredibly easy for a few reasons. The marinade packs a punch and can be mixed in one bowl, with the chicken only needing 30 minutes to make the marinade magic happen.
A quick preheat of the oven and then put all your veggies and chicken across the sheet pan. The marinade works as a sauce to bake in those amazing Mexican flavors along with the veggies' natural flavor.
Last but certainly not least, the clean up. Just 1 bowl and 1 pan. If that's not winning weeknight dinner, we're not sure what is!
For the record, we strongly believe that a meal that requires very little clean up is elevated on the Yummi scale. We can enjoy our meal so much more if we know we won't be buried in dirty dishes, pots and pans.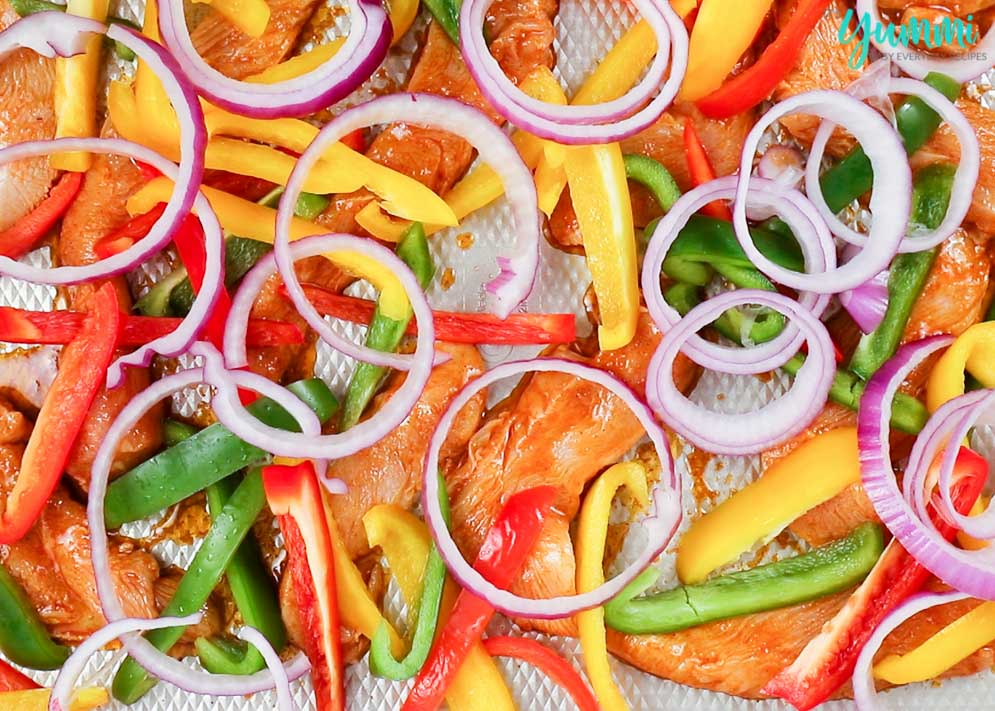 A short, flavor filled history
Believe it or not, Chicken Fajitas are a relatively new culinary delight, in terms of history. And they didn't originate in Mexico, despite the strong flavor roots.
Fajitas first came to be in Texas in the early 1900s, created by ranch workers. Marinating the meat tenderized tough, cheap cuts of meat for an economical but full of flavor meal. So fajitas are a labor of love born out of necessity that we still enjoy today.
So there you have it, a short lived Tex-Mex history that brought us to one of our favorite easy weeknight dinners.
We appreciate that this meal can be made with less expensive cuts of meat and still be delicious and tender. That also adds to the many reasons why sheet pan chicken fajitas is a perfect easy weeknight dinner.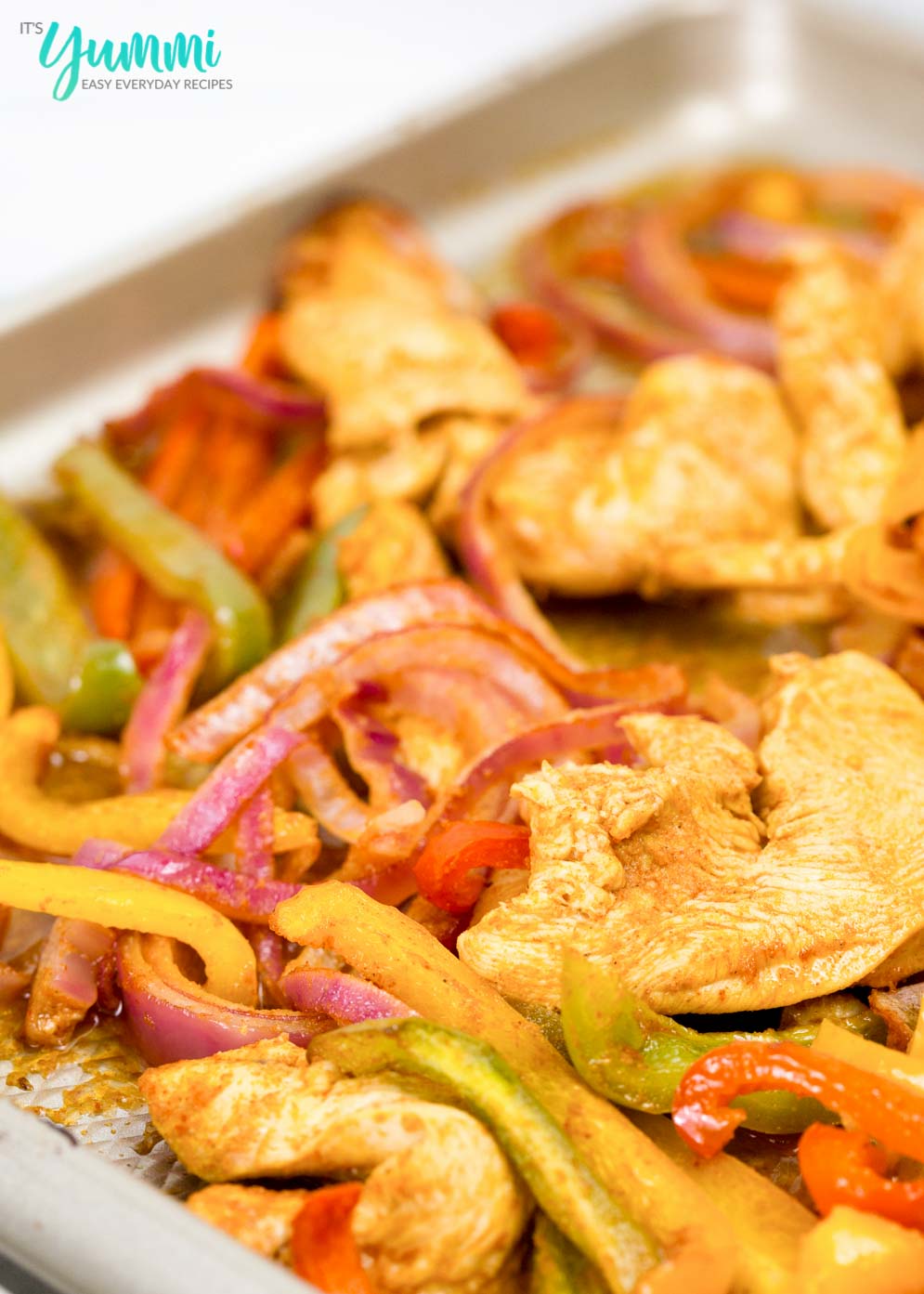 What to serve with Chicken Fajitas
It's a wrap: Your tortillas of choice are always a solid option for a traditional fajitas experience. Flour tortillas offer a softer texture and hold up well with the heft of ingredients. Another solid option include a lettuce wrap, which also offers the neutral flavor and appealing texture with a cold crispness to balance the heat from these sheet pan chicken fajitas.
When it comes to some sides/add-ons to accompany this meal, a few good options:
Sour cream
Street corn
Refried beans
Salsa
Pico de gallo
Shredded cheese or lettuce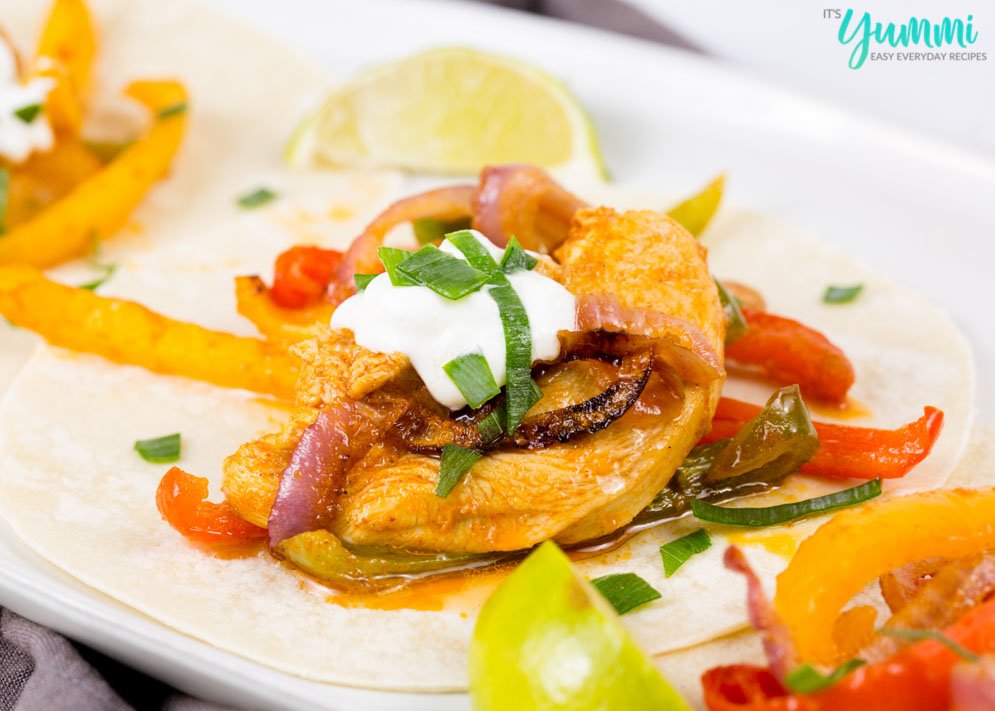 Low Carb Tortillas – these low carb tortillas from That's Low Carb are a delicious alternative without sacrificing any flavor.
And speaking of low carb. That's Low Carb has put together a spectacular Keto Guide for including recipes like these chicken fajitas that are deliciously low carb with a few adaptions. This is a great deal if you are looking into going low carb/keto this year including a 21-Day Meal Planner to help after the holidays.
Some other recipes you might enjoy: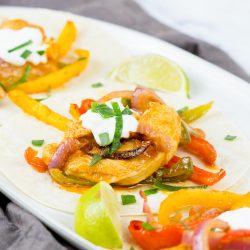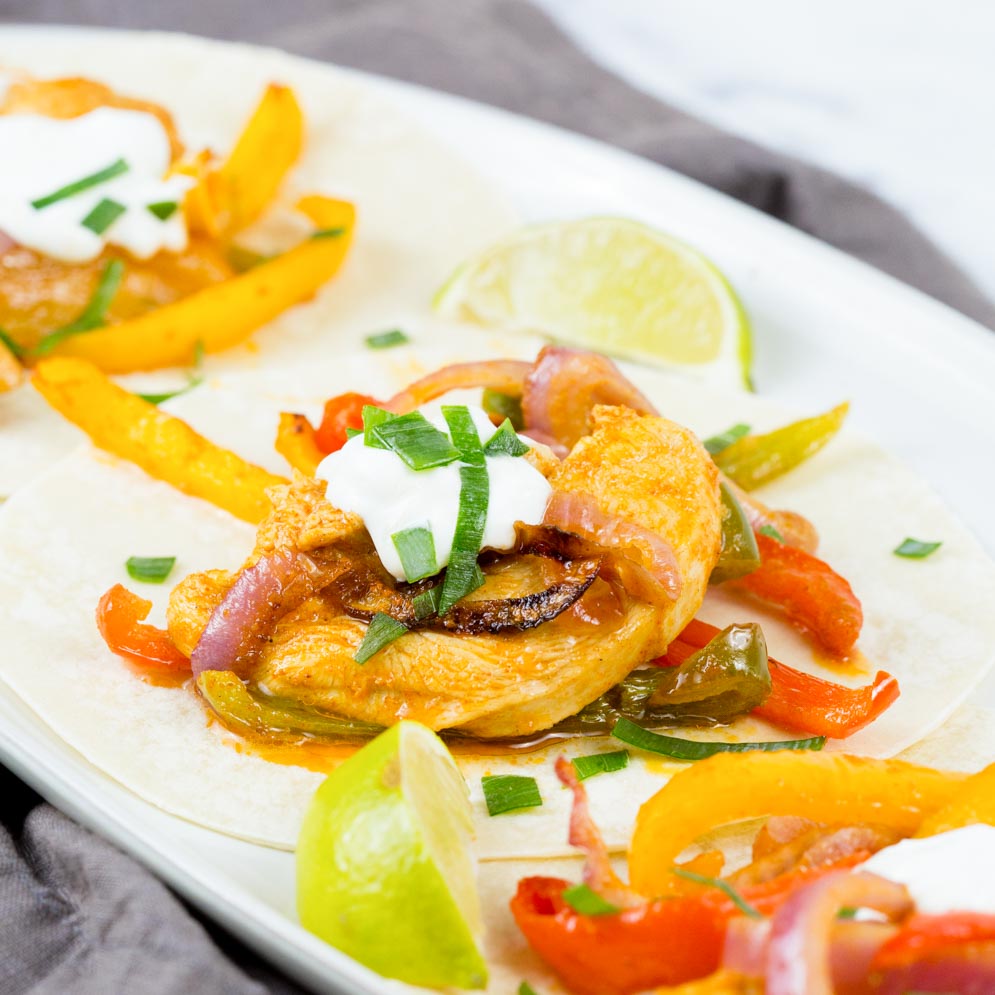 Sheet Pan Chicken Fajitas
Sheet Pan Chicken Fajitas are a perfect weeknight dinner, packer with flavor and easy to whip up. Bonus, clean up is an absolute breeze.
Ingredients
4

tbsp

lime juice

1/4

cup

extra virgin olive oil

1

tbsp

chili powder

1/2

tsp

garlic powder

1

tsp

smoked paprika

1

tsp

salt

3

large

green bell pepper

1

whole

red onion
Instructions
In a large bowl combine lime juice, olive oil, chili powder, garlic powder, smoked paprika and salt.


Add in chicken and allow to marinate for 30 minutes.

Preheat oven to 375 degrees F

Add chicken, bell peppers and onion to baking sheet with sides.

Drizzle leftover marinade over chicken, bell peppers and onion. Toss to ensure everything is evenly coated with sauce.

Bake for 22-27 minutes. Or until veggies are tender and chicken is cooked through and internal temperature reaches 165 degrees F.

Drizzle with extra lime juice and fresh cilantro.

Serve in your favorite tortillas and desired toppings and enjoy!
Nutrition
Serving:
1
serving
Calories:
285
kcal
Carbohydrates:
9
g
Protein:
26
g
Fat:
17
g
Saturated Fat:
3
g
Cholesterol:
73
mg
Sodium:
751
mg
Potassium:
703
mg
Fiber:
3
g
Sugar:
3
g
Vitamin A:
1328
IU
Vitamin C:
105
mg
Calcium:
25
mg
Iron:
1
mg