HEY, everyone! We made it through another grinding week, so it's time to FEED YOUR SPIRIT!  Today, I'm going to share what's goin' on around my kitchen, including a fun winter cookie craft idea for kids… these simple snowman cookies!
WORD OF CAUTION: When I was standing in line for creativity and hand/eye coordination, God decided to give me crazy awesome Scrabble skills instead. Seriously… I couldn't paint myself through a kindergarten art class…but I ROCK at coming up with 7- letter words to fit onto a Triple Word Score.
So please know that these snowmen cookies, while immensely ridiculous looking, were made with love and can be made MUCH more awesome by anyone ages 4 and up. 🙂  Regardless, I think they're perfectly adorable in their own imperfect way. No two humans are made exactly alike, and apparently, the same goes for snow people.
A HUGE thank you and welcome to all of my new readers. You guys have made this Cheesehead really happy by stopping by to help me reach 4,000 fans on my Facebook page last night, and for hanging out with me on my Twitter feed, Instagram, Pinterest Boards, and Google+!
If you want some really exciting news, today is the 3rd anniversary of It's Yummi!! I've got a great blogiversary celebration giveaway in the works for later this month, so please be sure to subscribe to my FREE newsletter so you can get in on the details before anyone else. (Psst… I'm planning a special Paypal CASH giveaway JUST for my subscribers!)
Today is my last submission for #CookieWeek. I've been sick for most of this month, so I'm physically drained and finding it difficult to get into the kitchen. I'm sure that we've all had times where we've needed to make a treat to send to school with the kids or for an office party at work, but there was just no motivation or energy to do it. That's when these super easy, super simple snowman cookies will fit perfectly into your life.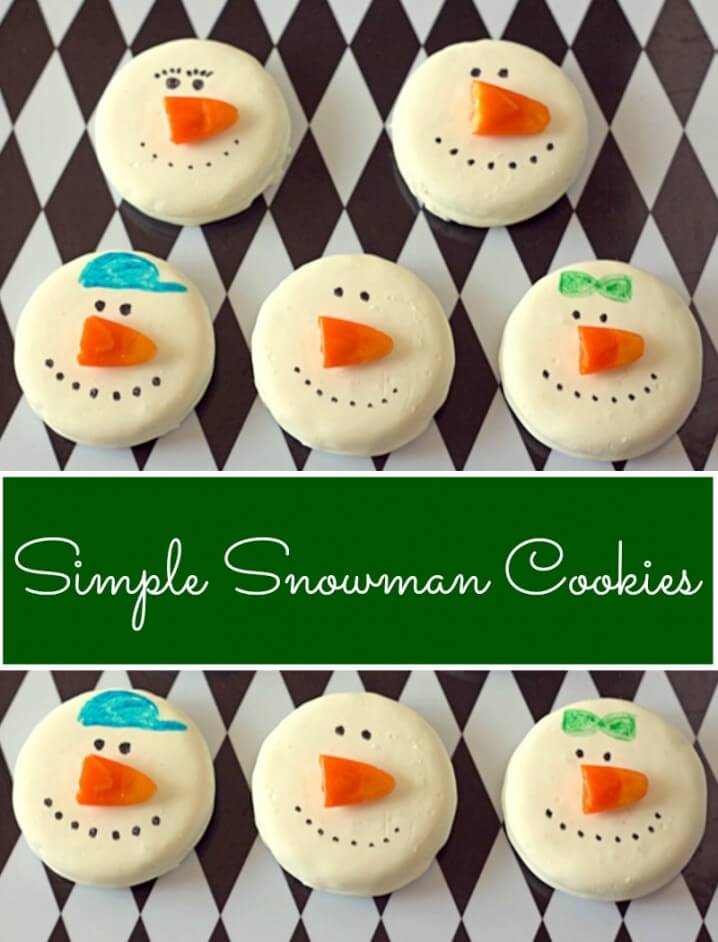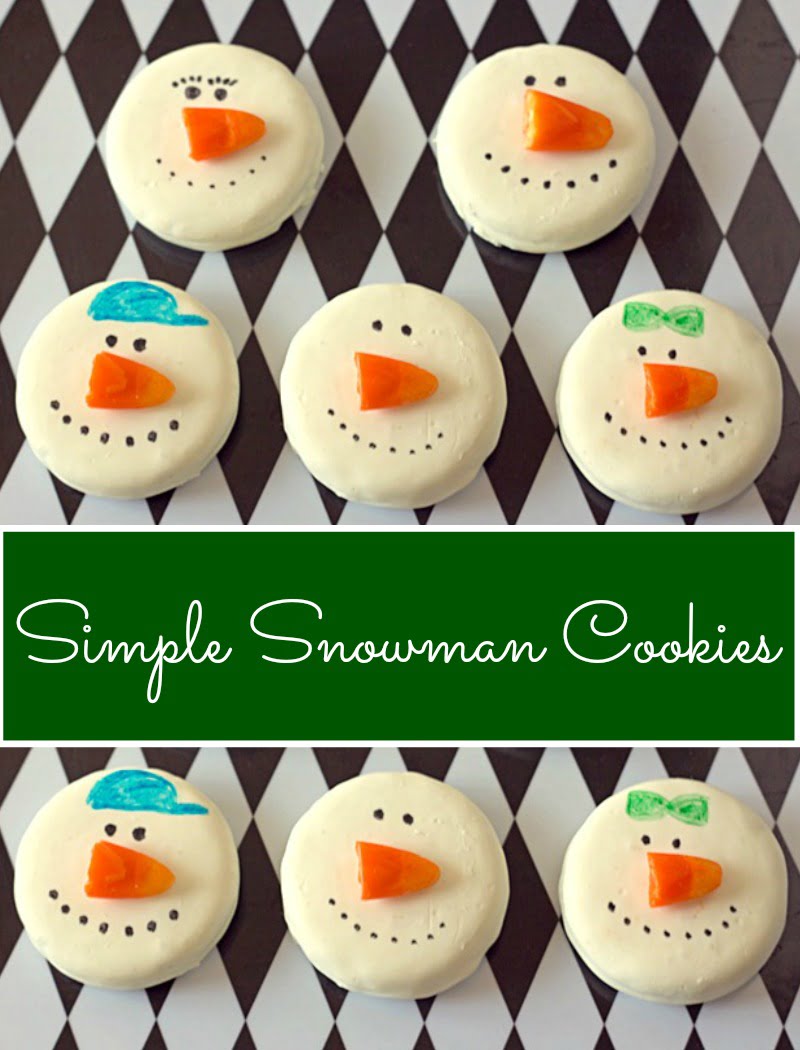 They're SO easy to make that I don't even need to give you an actual recipe.  Just a shopping list and directions for assembly.  First, let me share some WILDLY delicious sounding cookie recipes from the other Cookie Week bloggers.
Chewy Brigadeiro Pecan Bars by Food Lust People Love
Chocolate Cookie Thumbprints with Sweet Pepper Jelly by Omeletta
Chocolate-Stuffed Gingerbread Cookies by i heart eating
Earl Grey Icebox Cookies by Crumb
Gluten Free Chocolate Chip Cookies by Frugal Antics of a Harried Homemaker
Homemade Thin Mints by The Girl In The Little Red Kitchen
Malted Chocolate Chip Cookies by Like Mother Like Daughter
Miso Sesame Cookies by NinjaBaking.com
Peppermint Cream Thumbprint Cookies by Beyond Frosting
Salted Caramel Stuffed Toffee Chip Cookies by The Cooking Actress
Sandwich Cookies by Texana's Kitchen
Shortbread Christmas Mouse Cookies by Cravings of a Lunatic
Giant Ginger Cookies by Jen's Favorite Cookies
SNOWMEN COOKIES ASSEMBLY INSTRUCTIONS
To make my Simple Snowmen Cookies, you'll need:
~ White Fudge Covered Oreos (I found them at Target)
~ Food safe writing markers (available at most craft stores)
~ orange decorating gel or royal icing
~ candy corn (optional)
Use the food markers to give your snow people cute faces and accessories.
I cut the yellow end off of candy corn pieces and used an orange food marker to color in the white end for the snow people's noses, but if you have the decorating skills that I'm lacking, just use the orange decorating gel to give your snow people adorable noses 🙂
I used a dab of decorating gel to hold the candy corn in place.
The most important step of this project is to let your imagination work wonders. When all is said and done, having fun while you work is a GREAT way to keep your spirit fed!