The smell of apple butter cooking in the Slow Cooker all day will have you apple picking every weekend this fall. The simple warmth of cinnamon, vanilla, and brown sugar beg for toast on Sunday mornings.
As soon as the air becomes crisp we are always craving for some apple butter. There are a few ways to make it. You can make it on the stovetop, instant pot, or frankly my favorite is the slow cooker. If you are looking for the IP Chai butter version go here. 
But for this recipe purposes we are cooking apple butter in the slow cooker. It is my favorite as it is a "set-it-and-forget-it" and the smell just wafts throughout the entire home that practically screams that fall is here. 
What is apple butter?
Apple butter and apple sauce are not very different than one another. However, their uses are the primary reason for the difference. Apple butter is essentially apple sauce that has been reduced. Its consistency is much thicker, the color is richer, and is always smooth compared to even slow cooker apple sauce that can be chunky in texture.
Is there dairy in apple butter?
No. Contrary to the name, there is no dairy and no butter in apple butter. The name apple butter is termed due to the thick consistency and similar uses of butter, such as spreading on toast, rolls, and fillings in other baking techniques.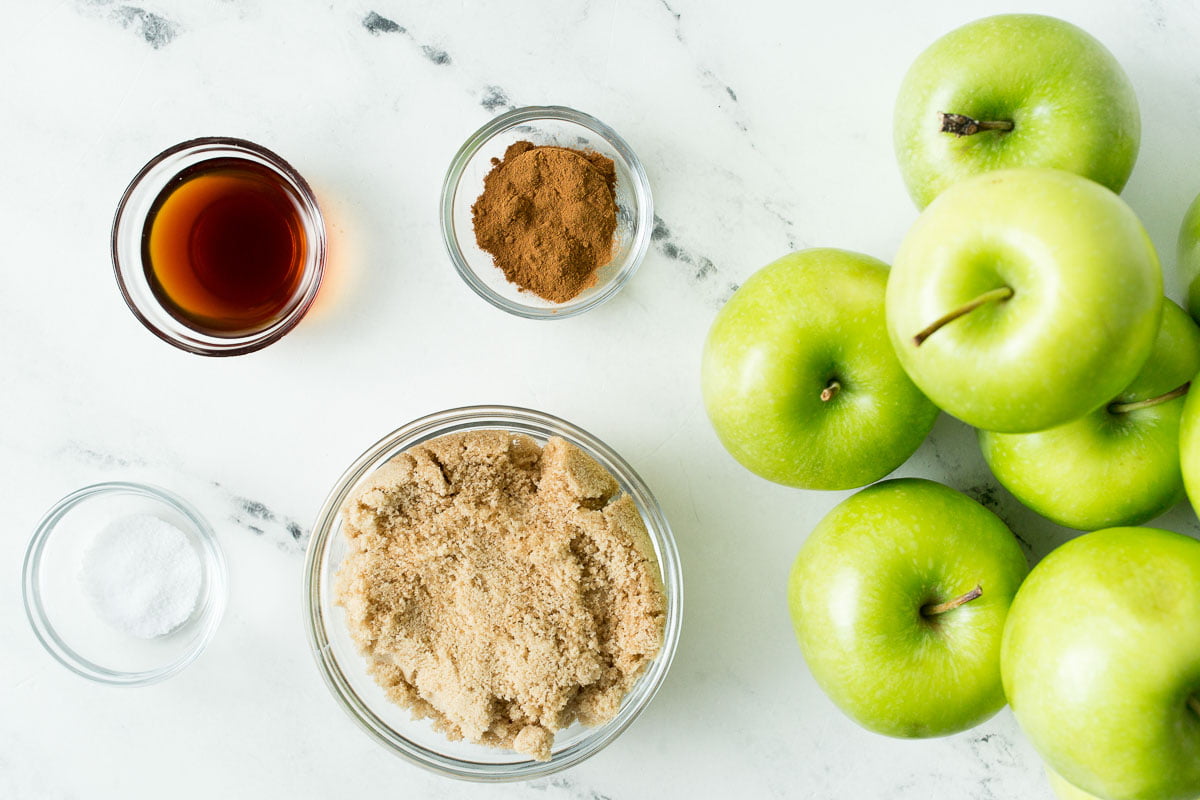 How to make apple butter in a slow cooker
The best news about creating apple butter in a slow cooker is that you can use virtually any slow cooker. While we love this one, you can use any size or brand. Instant Pot even has a feature that will transform it into a slow cooker.
The trick, with any slow cooker apple butter, is to peel your apples, not overfill your pot, and allow for venting to promote a reduction. Covering your slow cooker completely will trap the steam and juices.
Allowing the steam and juices to stay in is great for apple sauce, but an apple butter needs to reduce and thicken for the best results. Low and slow is also key. Like a good brisket, also delicious cooked with apple butter, this dish needs to cook low and slow for about 8-10 hours for best results.
There is no speeding this process up if you want perfection.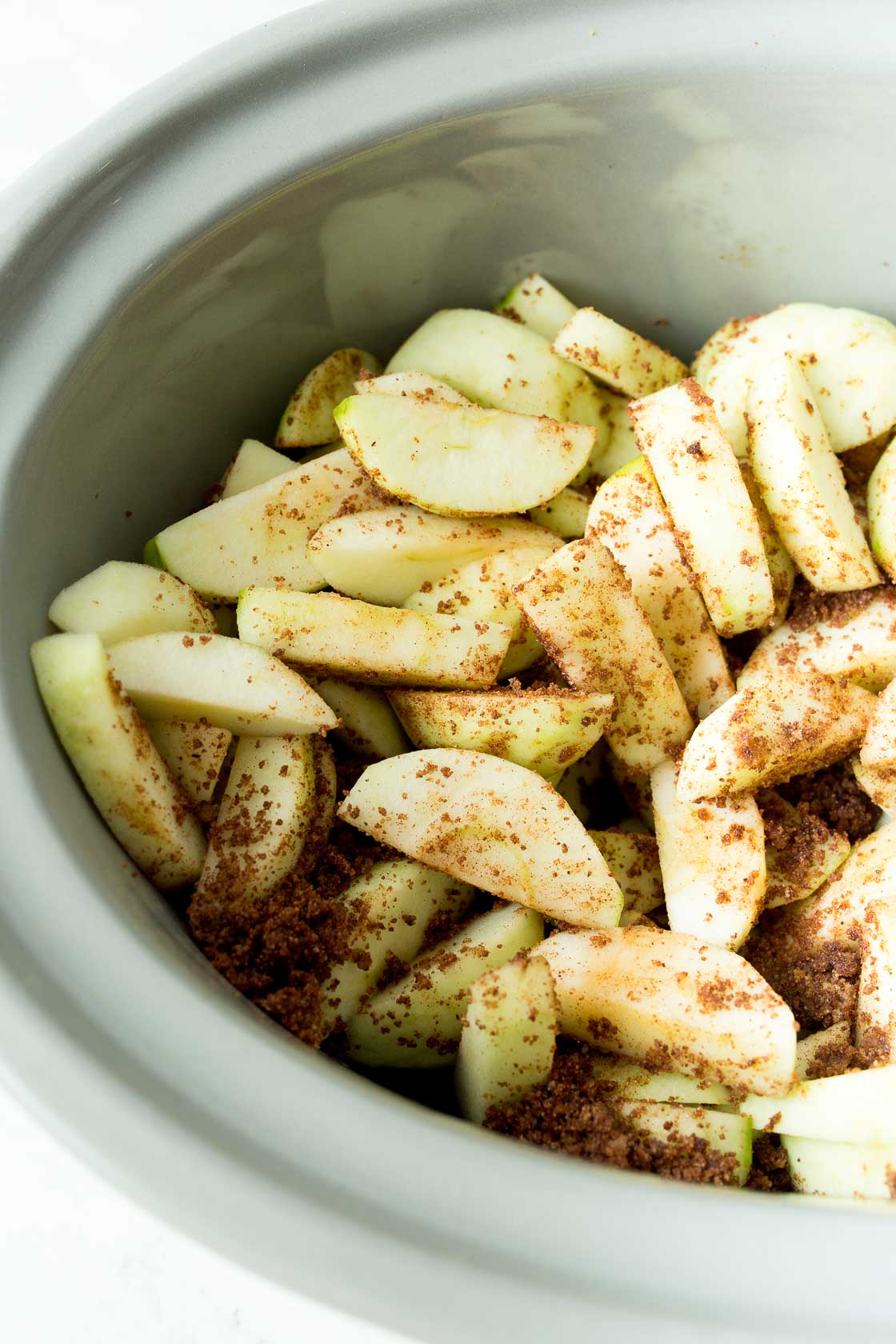 How many apples do I need?
This will depend a bit on your slow cooker but generally speaking, a five to seven pound bag available at your grocery store even during the off season, will be enough to make approximately 3 pints. If you have less and are just looking to use up some apples you certainly can still make this. Just half the seasoning and taste before adding more. 
What apples are best for apple butter?
Granny Smith apples are among our top favorites for any kind of baking that includes apples. However, if you're looking for a more naturally sweet apple butter, you can substitute the kind of apples you have with the brown sugar that's called for.
Pink Lady, Gala, Honeycrsip, or Fuji apples have a higher concentration of sugar compared to Granny Smith. Brown sugar brings a bit of warmth but can be omitted or substituted with the apples (or honey) if need be.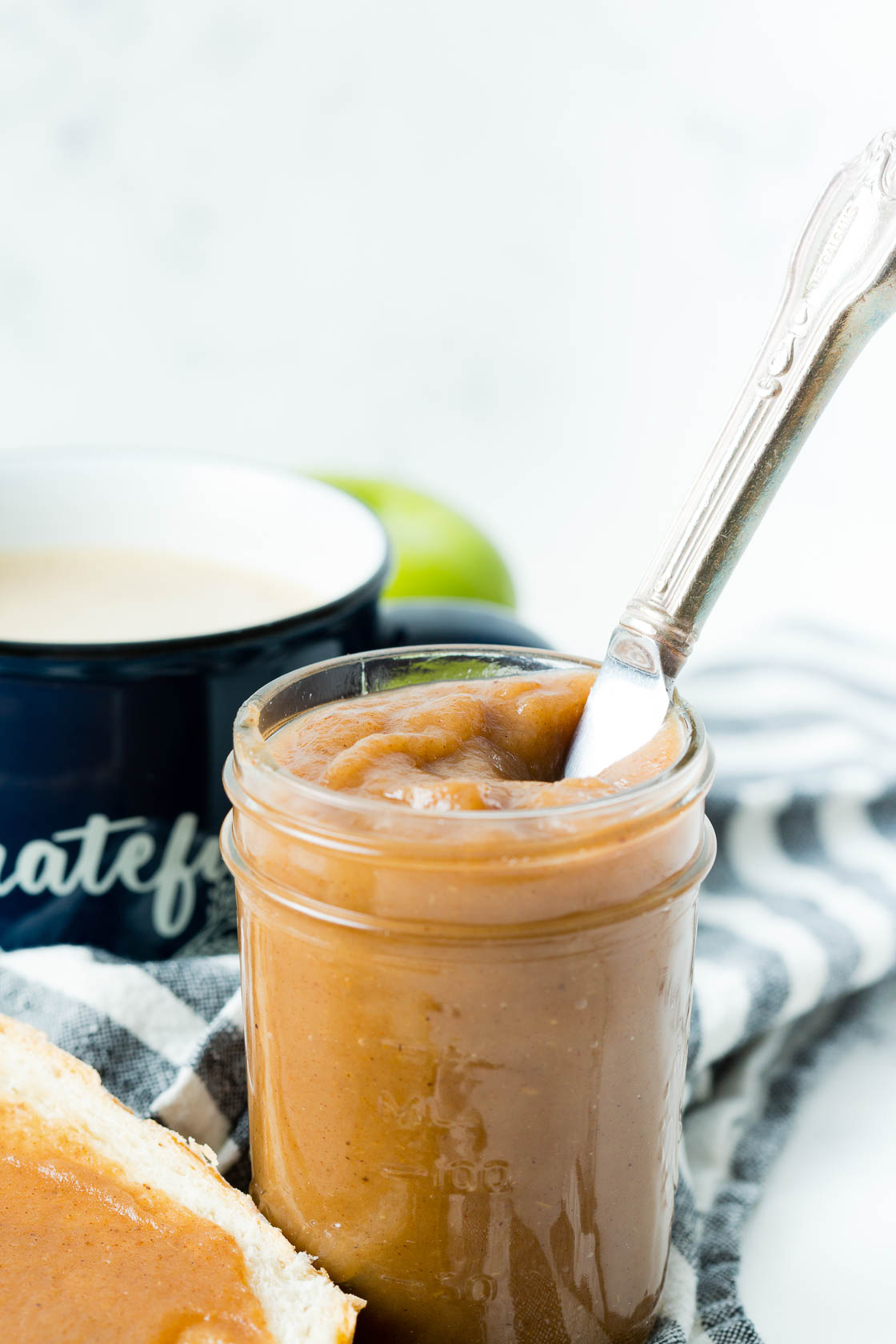 How long will apple butter last?
When properly canned, apple butter is shelf stable for years. When simply stored in a mason jar in the refrigerator, apple butter will last a week once open, though ours has lasted longer. It can also be frozen within the jar HOWEVERRRRRRR with an inch of head space to allow for it to expand, for up to a year "non-canned".
In all honesty, it won't need to last that long anyways. I find that once we make this classic apple butter it's toast with apple butter on it every morning and night till it's gone. I actually enjoy adding a little bit of actual butter to the toast and then adding the warm apple butter on top… it is divine. Let's make this small window of fall COUNT by whipping this up and perhaps giving a jar or two to family to show we love them even in these wild times.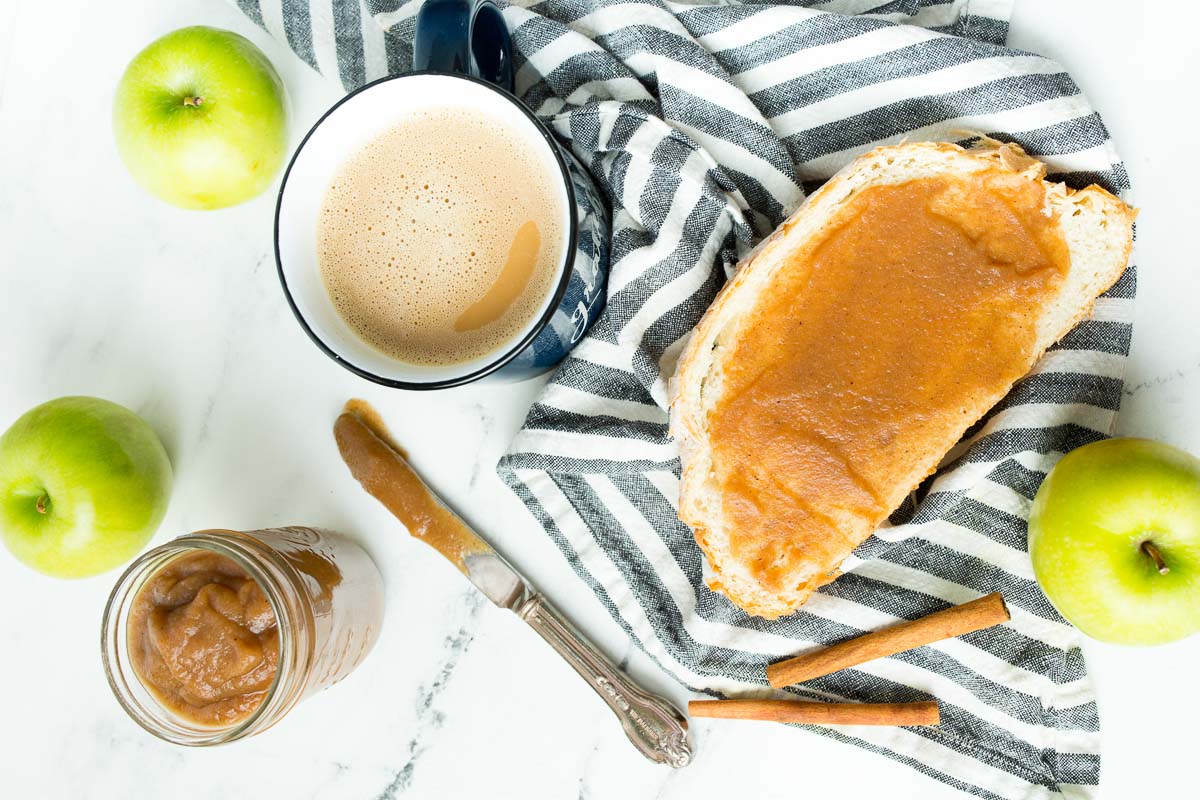 OTHER RECIPES YOU MIGHT ENJOY: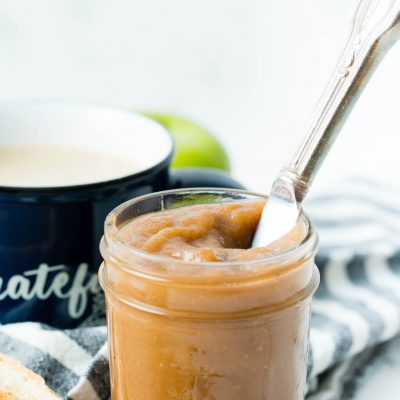 Simple Slow Cooker Apple Butter
The smell of apple butter cooking in the crock pot all day will have you apple picking every weekend this fall. The simple warmth of cinnamon, vanilla, and brown sugar beg for toast on Sunday mornings.
Ingredients
5

pounds

apples

peeled, cored, and cut into 1⁄2-inch thick slices

1

tablespoon

vanilla extract

3

teaspoons

ground cinnamon

1/2

teaspoon

table salt

1/2

cup

packed dark brown sugar
Instructions
Place the apple slices into the slow cooker.

In a small bowl, mix the vanilla extract, cinnamon, brown sugar and salt together;

Stir the spice mixture into the apples gently but thoroughly. Cover the crock, but vent the lid using a chopstick or the handle of a wooden spoon.

Cook on low 7 to 8 hours, stirring once or twice if you are home. You want the apples to break down and thicken.
Notes
* I used Granny Smith. I think any cooking apple (or a variety of several) would be wonderful.
**Nutritional data shown is for one pint, not per serving.
Nutrition
Serving:
1
pint
Sodium:
407
mg
Iron:
2
mg
Calcium:
94
mg
Vitamin C:
35.8
mg
Vitamin A:
410
IU
Sugar:
116
g
Fiber:
19
g
Potassium:
926
mg
Calories:
566
kcal
Fat:
1
g
Protein:
2
g
Carbohydrates:
146
g