Sparkly Spiral Cookies Recipe
Sparkly spiral cookies recipe. Say that 3 times fast!  These fun cookies are a snap to put together and they're loads of kid friendly fun! Come on in to my virtual kitchen and I'll show you how to whip up a batch.  
It's no secret that the price of just about everything has risen…and continues to climb.  Groceries, gasoline, office supplies, haircuts, movie tickets, and sadly…even the cost of a single, semi-stale nibble from the Dunkin Donuts drive-through has risen.  I really don't think a sickeningly sweet doughnut baked at 5 a.m. and left on an uncovered display shelf all day is worth .94, but maybe that's just me being a big WhineOBago.  After all, I know how to make my own… for a lot less money!  Some people may even wish to call me frugally snotty, and that's okay, cuz maybe I am.
I have a reason for being so thrifty lately.  Pair those rising costs of living with the fact that after a VERY brief stint with employment, I'm once again swimming in the jobless pool with a gazillion of my fellow Americans.  It's a rough world out there, Charlie Brown. I've had to suck it up and start becoming as resourceful as possible.  No pie-in-the-sky, get rich quick schemes for me, though, thank you.  I'll just save where and when I can and trust that God will provide for my needs until I can find another job.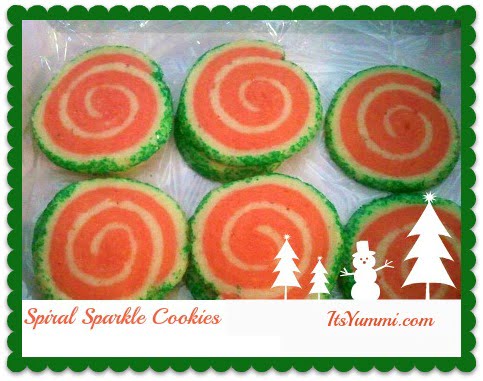 I mentioned a couple of weeks ago that I'm participating in the Great Food Blogger Cookie Swap again this year.  It's so much fun creating cookies for others and receiving yummi cookies in return!  This year, the swap organizers took things to another level.  They partnered  the Cookies For Kids Cancer organization.  All of the participants of the exchange this year donated money as an entry fee of sorts.  OXO graciously offered to match our contributions, too, so we all feel awesome to have risen awareness and helped to fund research to find a cure for childhood cancer.
This sparkly spiral cookies recipe was one of a few that I considered baking for the swap.  In the end, I found one to use that will be easier to ship with less chance for breakage.  These whimsical cookies remind me of the swirly eyes of Mr. Grinch in "How the Grinch Stole Christmas" cartoon.  They're relatively simple to make, and if you've got kids helping, they'll have great fun rolling the dough through the sprinkled sugar.  It's a win-win all around when you sit down with a plate full of these, put on some holiday music, grab a mug of hot cocoa, and watch big ol' smiles appear on the faces in the room!
[mpprecipe-recipe:122]