Easy How To Make Starbucks Whipped Cream Recipe At Home
One of the signature ingredients used by Starbucks that makes their coffee so popular is its whipped cream topping.
A fan favorite, customers often also ask for their espresso shots to be topped off with a swirl of the famous whipped cream.
The good news is that the recipe is not a secret and is relatively simple to make at home.
If made properly, the same sweetness and richness of the store version can be used in your daily coffee without having to frequent the Starbucks shop.
Since the whipped cream is made in a dispenser of 500mL a whole batch can be prepared at once, stored in the refrigerator, and used as needed.
This whipped cream is exactly what is needed to add an extra zing to your hot or cold beverages.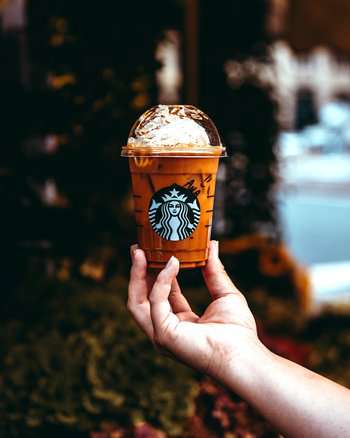 Ingredients
| | |
| --- | --- |
| Whipping Cream | 500ml |
| Vanilla Syrup | 3tablesp |
Heavy Whipping Cream
Any type of heavy cream that is easily available at your nearest supermarket.
Starbucks Vanilla Syrup
Any vanilla syrup may be used, however, to make it an authentic version of the Starbucks whipped cream, you may opt to buy the Starbucks brand vanilla syrup sold in select stores.
Basic Equipment
1 Coffee Dispenser
1 Container For Later Use in Refrigerator
1 Blender For Making Coffee
Time Requirement
A maximum of 5 minutes are required for this recipe.
| | | |
| --- | --- | --- |
| Prep Time | Cook Time | Total Time |
| 5 Minutes | 5 Minutes | 10 Minutes |
Steps of Making Starbucks Whipped Cream Recipe
The recipe can be broken down into two parts: assembly of the ingredients and dispensing method.
Assembly of Ingredients
The required ingredients are 500 mL heavy cream and 2.5 – 3 tablespoons vanilla syrup
For making the whipped cream similar to Starbucks', Starbucks vanilla syrup should be used. It is sold in some stores and it is also possible that a barista may sell a spare bottle directly at Starbucks
Combine the two ingredients in a container
For greater accuracy, a measuring container may be used to quantify the amount of cream to exactly 500mL (1 pint)
Dispensing Method
In order to make your whipped cream exactly the way Starbucks does, you may buy the dispenser used by Starbucks baristas.
They use iSi brand Profi whippers with a maximum capacity of 500 mL (1 pint). These dispensers are available at stores that sell kitchenware.
Alternatively, you may request the Starbucks barista for information regarding where exactly to buy them from.
These dispensers require Nitrous oxide chargers or N2O chargers in order to work.
The chargers do not have to be from a specific brand, as long as they are compatible with the dispenser device.
Step 1: Mix The Ingredients
Open the lid of the whipped-cream dispenser.
Pour the whole mixture of heavy cream and vanilla syrup into the dispenser to maximum capacity.
Step 2: Allow The Dispenser To Work
Tightly secure the lid back onto the canister (dispenser).
The dispenser has two protruding sides, one with a lever and the one opposite the lever. This one is the charger holder which can be unscrewed by rotating it.
Once it is disassembled, place the N2O charger inside the charger holder and fix it back onto the dispenser.
A 'whooshing' sound is heard when the holder is firmly fixed in place. This is due to the creation of bubbles inside the canister from the N2O charger.
Step 3: Shake It Now
Shake the dispenser a few times for the gas to spread throughout the mixture.
Leave the dispenser on its side for a few minutes for the nitrous oxide to take full effect.
At this step, the dispenser may also be kept on its side in the refrigerator for later use.
Step 4: Enjoy The Whipped Cream on Coffee
Finally, the whipped cream is ready to use. Press gently on the lever and move your hand in a swirling motion in order to extract whipped cream from the dispenser.
The exact same texture, taste, and pattern of Starbucks can thus be created, and you may use the whipped cream to top off your coffees and desserts at home.
Nutritional Information of Starbucks Coffee With Whipped Cream
| | |
| --- | --- |
| Starbucks Coffee | https://www.starbucks.com/menu |
| Name | Hot Chocolate With Whipped Cream |
| Serving | 1 Grande 16 fl oz |
| Cuisine | American Drinks |
| Calories with Whipped Cream | 370cal |
| Total Fat | 16g |
| Saturated Fat | 10g |
| Trans Fat | 0.5g |
| Dietary Fiber | 4g |
| Total Carbohydrates | 43g |
| Cholesterol | 50mg |
| Sodium | 160mg |
| Protein | 14g |
| Sugars | 37g |
| Caffeine | 25mg |
Starbucks Whipped Cream on average contains 100 calories per drink, the amount changes depending on drink size and whether it is served hot or cold.
Venti sized drinks are topped with a greater quantity of whipped cream than smaller sizes.
Their whipped cream recipe uses heavy cream, and heavy cream usually contains trace amounts of various vitamins.
However, overall it is loaded with sugar (carbohydrates) and fat content, with only a negligible amount of protein.
Almost all of the calorie intake comes from fat, which makes it tasty but not a very healthy choice of topping for drinks.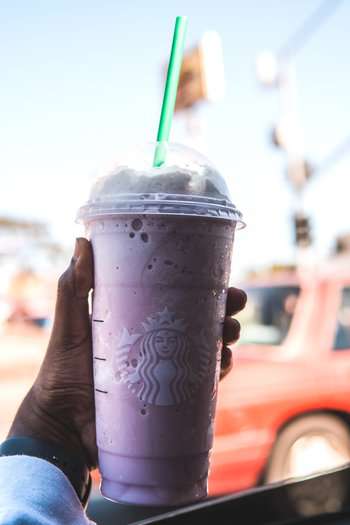 Frequently Asked Questions
Does Starbucks Make its Whipped Cream in-House?
Yes, the Starbucks whipped cream is freshly made by baristas on the spot with your order.
Why Does Their Whipped Cream Taste Different and Better Than The Readymade Versions?
One of the main reasons for this is a key additional ingredient in their cream – vanilla syrup. It adds an extra punch of flavor and sweetness making it unique.
Sometimes with holiday drinks and limited-edition flavors, Starbucks also experiments with its whipped cream by adding flavors other than vanilla.
A favorite flavor in the past has been marshmallow whipped cream.
Can I Achieve The Same Flavor and Results in My Own Home?
Yes. By following the given recipe it is possible to recreate the Starbucks whipped cream at home.
Are All The Ingredients Easily Available?
The required tools and ingredients are all available for purchase in different stores.
If in doubt, you may also request the Starbucks barista to guide you on where to purchase them from.
How Can I Use The Whipped Cream?
The whipped cream can be used to top off your own coffee at home. It can also be used to top other beverages such as hot chocolate.
It can be used as any other whipped cream as the topping for desserts such as cupcakes and mousse.
Is There Any Vegan Version of The Starbucks Whipped Cream?
Starbucks whipped cream recipe uses heavy cream which is a dairy product, making it unsuitable for vegans.
However, some chains of Starbucks in the UK and US have vegan whipped cream options available using lentils or soy milk. The vegan version is not available in all Starbucks locations.
Final Thoughts
Fortunately, it is possible to recreate the delicious and unique-tasting Starbucks whipped cream in the comfort of your own home.
The recipe requires very simple ingredients and the right tools to achieve the same results.
If you are feeling adventurous you can also alter it to add your own choice of flavored syrups and see which one you like best as a topping for your coffee and desserts.
https://www.thespruceeats.com/copycat-starbucks-caramel-frappuccino-recipe-5093263