RSVP for the #MyPicknSave Twitter party! Being held at 10 am CT / 11 am ET  on Wednesday, June 11, 2014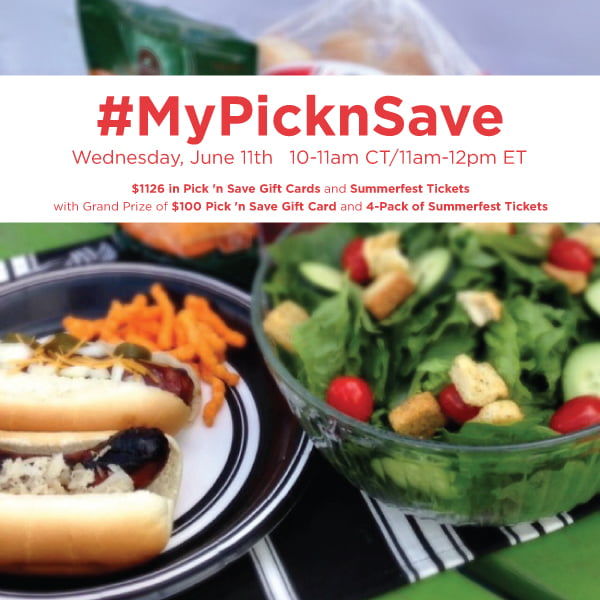 Photo Credit: Coupons for Wisconsin
Do you love a good Twitter Party?  Do you love a good Twitter Party?  You know we do and we're excited to host a party to celebrate summer festivals in Wisconsin! Summerfest, art fairs, and State Fair – oh my!  On Wednesday, June 11th  at 10 am CT/11 am ET, please join us for the  #MyPicknSave Twitter Party, where we'll be discussing all of these fun Wisconsin summer attractions, and giving you a chance to win prizes!
Are you ready for summer?  After Wisconsin's heavy hitting winter (we had over 110 inches of snow in northeastern Wisconsin!), I am beyond ready for the heat and sunshine!  Summer in Wisconsin means street festivals, music concerts in the park, the Wisconsin State Fair, and of course, the nation's largest music festival, SUMMERFEST!  My dad used to take us to Summerfest every year, and it was always one of the highlights of my summer vacation!
Where summer festivals take place, there's always great food close by, and that's where Pick 'N Save comes in to lend a helping hand.  They've helped me out MANY times with last minute party meals from the deli, umbrellas for the rain (which you know ALWAYS happen during an outdoor festival!), and charcoal for my tailgating grill. Wisconsin's favorite grocery store will be joining us for this fun Twitter party, and I'd love for you to join us, too. OH, I almost forgot…if you happen to be a Brad Paisely fan, you'll be crazy excited to know that your Summerfest tickets prize will get you in to see his headlining act! So get ready to join in the summer fun at this fabulous Twitter party!
You know… 'cuz parties are such a bummer when nobody but the host is there.  😉
Join me and RSVP for the #MyPicknSave Twitter Party on SoFabChats!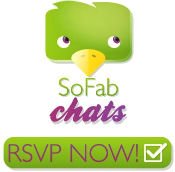 DATE: Wednesday, June 11, 2014
TIME:  10 am CT / 11 am ET
PRIZES:
Prize 1: $25 Pick 'n Save GC & 2 Summerfest Tickets
Prize 2: $25 Pick 'n Save GC & 2 Summerfest Tickets
Prize 3: $25 Pick 'n Save GC & 2 Summerfest Tickets
Prize 4: $25 Pick 'n Save GC & 2 Summerfest Tickets
First Place Prize: $50 Pick 'n Save GC & 2 Summerfest Tickets
Grand Prize: $100 Pick 'n Save GC & 4-pk Summerfest Tickets
– total prize value to be awarded $1126.
EARLY BIRD PRIZE: 1 – $50 Pick 'n Save Gift Card
HOSTS: @WisconsinMommy, @OutnumberedMama, @TheCouponista & @ItsYummi
SPECIAL GUEST: @picknsavestores
RULES: #MyPicknSave Twitter Party Official Rules
RSVP & PARTY GRID: #MyPicknSave Twitter Party Page 
TWEET THIS to share the news of this great party with your friends:
Ready for summer fun, #MKE? #MyPicknSave Twitter Party 6/11 10am CT/11am ET. Summerfest Prizes! Rules http://t.co/nUxagCnpm7 #shop

— Becca ~ It's Yummi! (@ItsYummi) June 4, 2014
How To Participate In A Twitter Party on SoFabChats!
TIP:  How to join a Twitter Party – sign in! Before party starts, click on the green "Sign In On Twitter" bar at the top of the page!
TIP: Who to follow at a Twitter Party? Follow the Party Team by clicking on the Twitter handle links on the RSVP page!
TIP: Want to win Twitter Party prizes? RSVP by clicking on RSVP button before you join the party, follow everyone on the Party Team, and tweet with the party hashtag during the party to be eligible!
TIP: How to win the Early Bird prize? Watch for chance to share a tweet when you RSVP for chance to win!
TIP: Special deals and brand coupons? Keep that options checked when you RSVP for the party!  
TIP: New to Twitter parties? Watch your column and Party Team tweet columns – they are slower paced and easier to follow!
TIP: Where to find Twitter Parties? Check out the SoFabChats Twitter Party Calendar to find more fun parties to attend!
Find more helpful Twitter Party Tips on SoFabChats!