Turkey Chili Con Frijoles (with Beans)
Turkey chili with beans is a great way to have comfort food, but with a little added health benefit. Lean ground turkey and fiber-packed chili beans are stewed with tomatoes and spices, then served up with some low fat cheese and healthy, blue corn tortilla chips!
Yep.  I'm still riding the healthy eating train!  One taste of this delicious turkey chili may cause you to doubt it's healthiness though.  It's packed full of flavor, it's hearty, satisfying, and downright yummi!
Promotional Disclaimer:  In exchange for this review post, I was provided with full-sized bags of Food Should Taste Good products to sample.  No monetary or other compensation was provided. I tasted and reviewed the chips on my own terms.  All opinions expressed in this post are my own.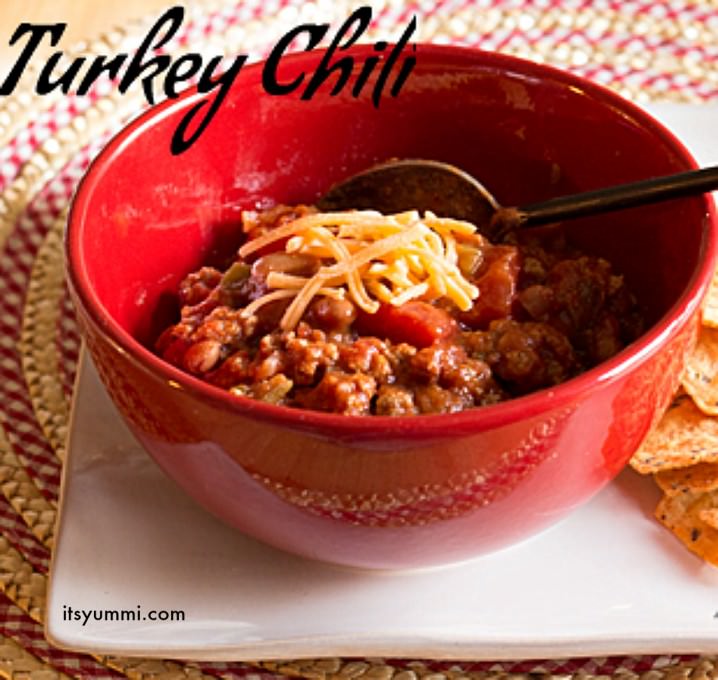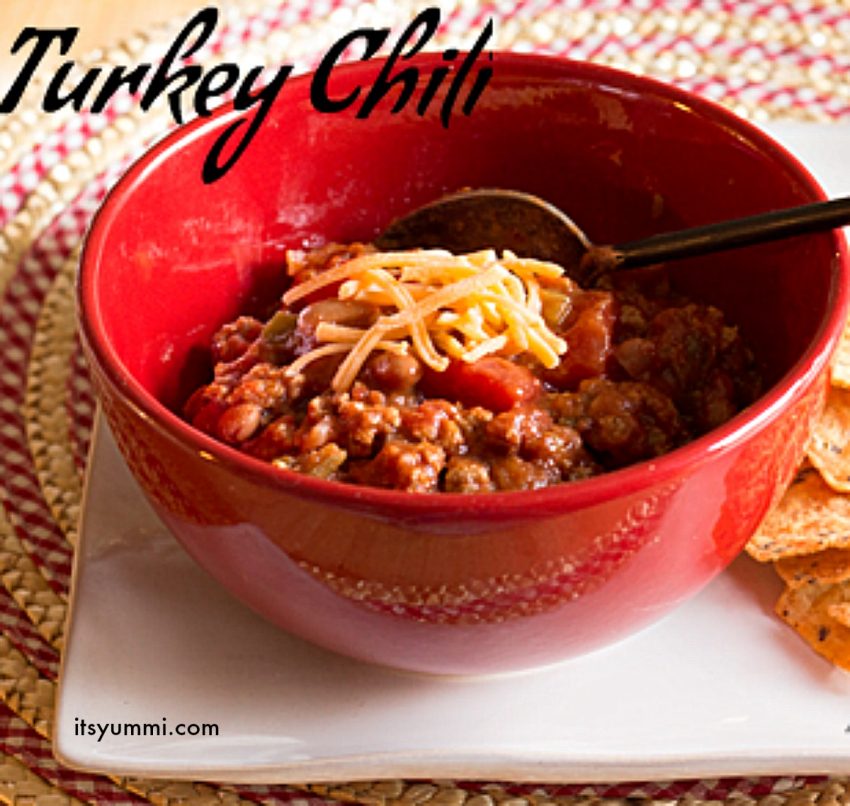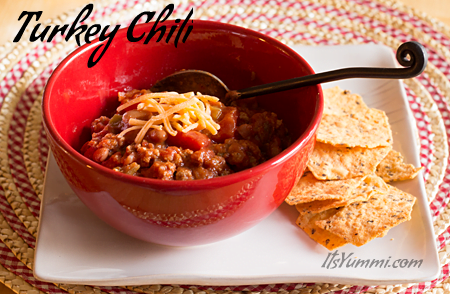 I love being amping up the flavor of meals with fresh spices and herbs especially smoky, deep, earthy ones.  Some of my favorite spices to use are dried chipotle peppers, cinnamon, and cardamom. This turkey chili is perfect, because it contains all three of those spices.
As I try to lose weight, I'm learning just how severe my addiction to carbohydrates is. The foods that I crave the most have unhealthy, simple carbohydrates in them.  I get out of control with my eating when it comes to breads, chips, and pastas.  I recite the "all good things in moderation" mantra daily.  Thankfully, there are low-carb products available to help me snack smarter.
One of those products is made by a company called Food Should Taste Good.
The company sent me a few bags of their snack chips to sample. No kidding, I honestly feel like these chips were made with me in mind! I'm pretty picky about my snack chips, but these are really delicious!
They satisfy my desire for something crunchy and salty without packing on the carbohydrates, and they don't taste like they're healthy.  I tried the sweet potato kettle chips and if I hadn't known that they were healthy, I would never have guessed it!  Because they contain healthy ingredients like flax, quinoa, sunflower seeds, and whole grains, they're much higher in fiber and protein than ordinary chips, which brings the net carb totals down.
Don't misunderstand, though.  These aren't carb-free or anything, but they're perfect for people who need a healthier alternative for their snack cravings.  A one ounce portion (about 15 chips) of the Sweet Potato Kettle Chips is only 4 Weight Watchers Points Plus.  The Cheddar Tortilla Chips calculated out that way, too.
Not too shabby for a snack, or as a side with my turkey chili!  I had a serving of the cheddar tortilla chips with it. They were perfect for dipping.
The healthy news gets even better, though!  The FSTG products are all natural, certified Kosher, gluten-free, and they contain no preservatives.  Thank you, Lord!  I can finally read a label and pronounce every word on the ingredient list.  "Sweet potatoes, sunflower oil, sea salt."  That's it… no nasty High Fructose Corn Syrup or GMO's.  This is real food, my friend!
There are 18 tortilla flavors to choose from, 4 flavors of kettle cooked chips, and they make brown rice crackers, too!  With flavors like onion, cheddar, BBQ, salt & vinegar, Kimchi, hemp, jalapeno, and even CHOCOLATE, there's bound to be a flavor for everyone's taste.  I can't wait to get my hands on a bag of those chocolate tortilla chips!
If you can't find the chips in your local store, you can purchase them through the company's online shop.  They have a great following on their social media pages, too.  I've seen them give away products and coupons from time to time, so you may want to head over and "like" them up on Facebook, Pinterest, and Twitter!
Here is the turkey chili recipe for you. Enjoy!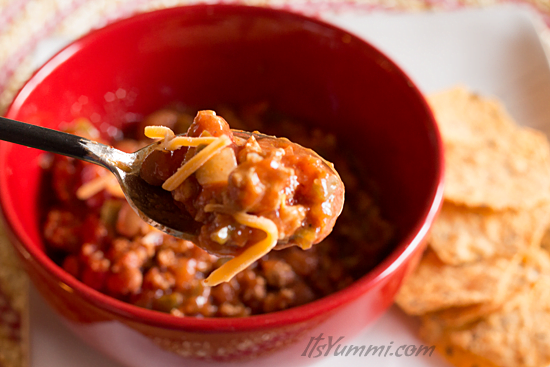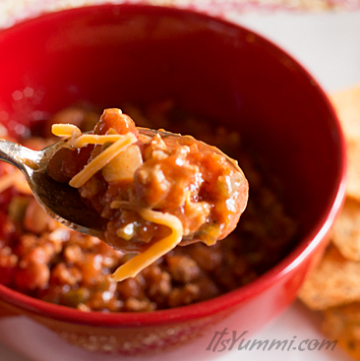 Turkey Chili Con Frijoles
Lean ground turkey, fresh veggies, and dark red kidney beans create this comfort food chili!
Ingredients
16

oz

uncooked 99% fat-free ground turkey breast

1

medium green bell pepper

diced

1

medium yellow onion

diced small

15.5

oz

can dark red kidney beans

rinsed and drained

8

oz

canned tomato sauce

14.5

oz

canned diced tomatoes

undrained

4.25

oz

can diced green chiles

drained

1

Tablespoon

chili powder

1

teaspoon

ground cinnamon

1/2

teaspoon

ground cardamom

1/2

teaspoon

ground black pepper

1/2

teaspoon

garlic powder.

Kosher salt

to taste

1/2

cup

shredded reduced fat cheddar cheese
Instructions
Cook turkey in a large non-stick soup pot over medium high heat. After 2-3 minutes, add the bell pepper and onion. Cook until turkey has browned and vegetables are semi-soft, about 4-5 more minutes.

Add all remaining ingredients, except for cheddar cheese. Turn heat to high, bringing items to a boil, then reduce heat to low and simmer for 10-15 minutes to allow flavors to combine.

Ladle into bowls and garnish each serving with 1 Tablespoon shredded cheese*
Notes
*Each serving is 5 Weight Watchers Points Plus, with or without the cheese on top.
Nutrition
Sodium:
592
mg
Sugar:
7
g
Fiber:
7
g
Cholesterol:
59
mg
Calories:
260
kcal
Saturated Fat:
3
g
Fat:
9
g
Protein:
25
g
Carbohydrates:
21
g