Twice baked potato bites are baked baby red potatoes that have been stuffed with a mixture of potato, bacon and cheese, then baked up again until they're warm and delicious. Perfect for appetizers or game day snacks!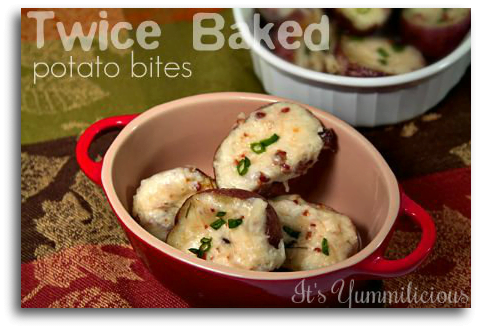 I really appreciate simple things in life. Things that don't require me to think until my brain hurts. Like puzzles with less than 50 pieces, assembly directions with WORDS as well as photos, and ALL WEATHER tires.  Good gravy…Do I look like the kind of girl who'd want to change my tires with the seasons?  Umm… no.
Now that I've mentioned it, who really DOES want to change their tires with the seasons?!  Strange people, I suppose.  They exist everywhere.  Or perhaps those bulky weight lifter people.  I suppose lifting a tire for a weight lifter is the equivalent of me picking up a piece of toast.  Hey, to each their own.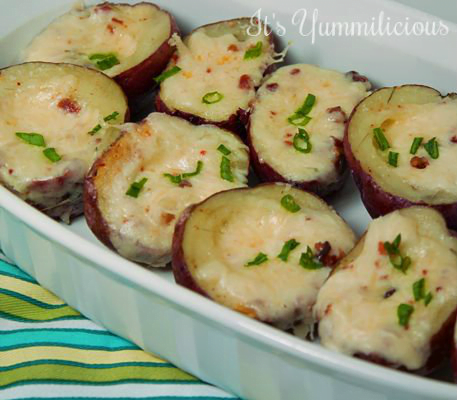 Oh, and I also appreciate packaged food products that have less than 8 ingredients AND it's possible to pronounce all of said ingredients without possessing a Masters degree in biochemistry. SO much simpler (and less fear factor!) It's one of the reasons that I approve of the use of butter over chemically modified, petroleum based, 15-ingredients-of-weirdness, margarine.
I just don't dig slathering tasteless, greasy calories onto my food when there are tastier, healthier, simpler choices available.
So of course, I was super excited when the folks at Land O' Lakes® contacted me to see if I'd be interested in trying out their spreadable Butter with Canola Oil.  I've been using their stick butter products for years, but strangely enough, I'd never tried the spread.  I knew I'd be in for great taste, so of course I said yes!
Coincidentally, the day I went grocery shopping to pick up my free sample of the butter, I received a shipment from The Pampered Chef.  Inside the box were some of the new Spring/Summer products.
I flipped through the Spring/Summer 2013 Seasons Best recipe collection and the recipe for twice baked potato bites sounded like the perfect side dish to make using the Butter with Canola Oil, because like the butter, the recipe also has very few ingredients.
These potato bites can be made in less than 10 minutes, so I think it was kismet that the products both arrived at my house on the same day. Oh, and let me tell you, the recipe and the butter I used to make it…they're a match made in Heaven!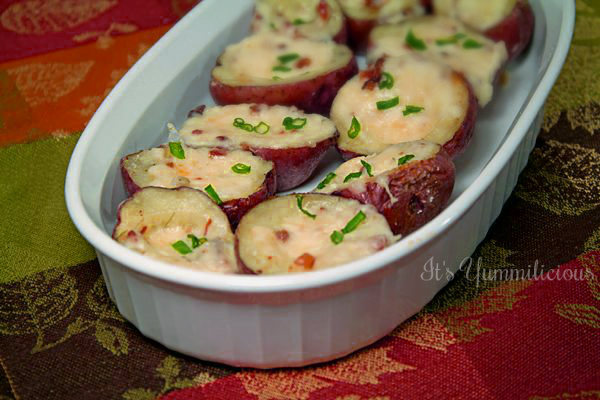 Oh, and if you dig potatoes like I do, you should also check out my recipe for making perfect mashed potatoes (a culinary school secret is the key to those creamy potatoes!)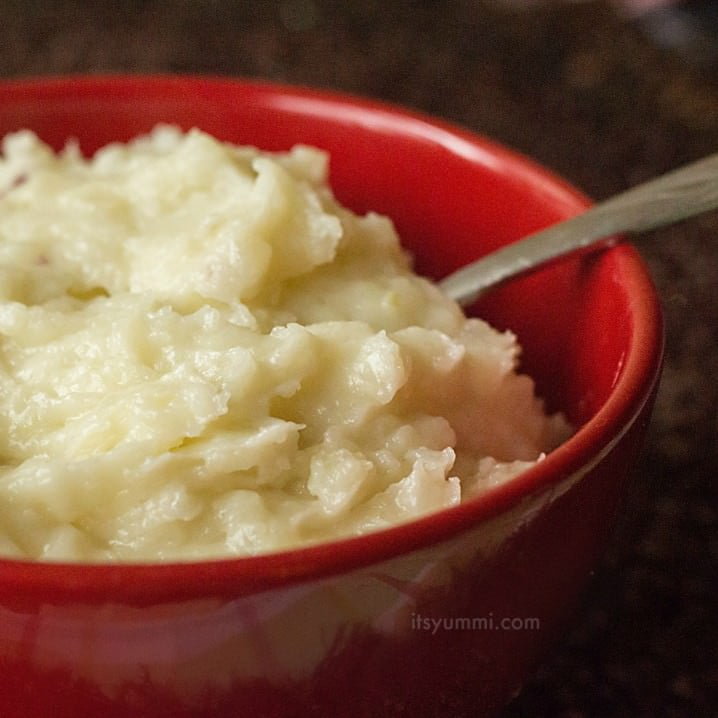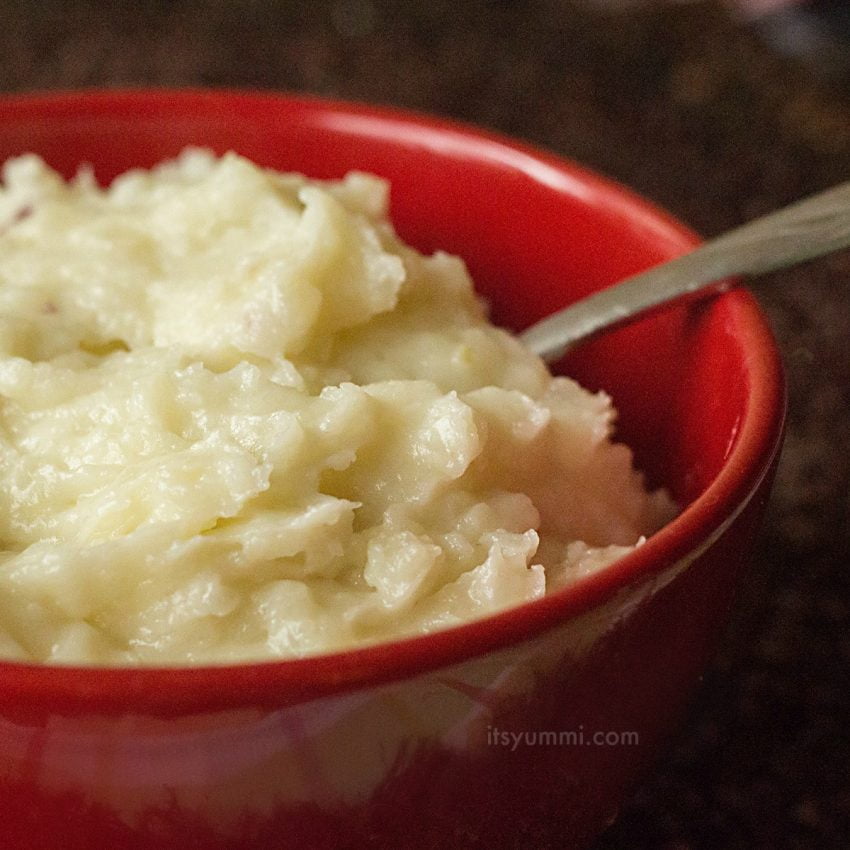 Enjoy this twice baked potato bites recipe!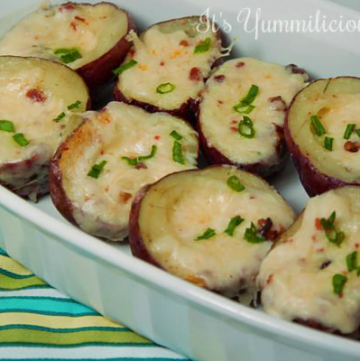 Twice Baked Potato Bites
Baby red potatoes are baked, then stuffed with a mixture of cheeses, bacon, and spices that is sure to impress your appetite!
Ingredients
4

slices

thick cut bacon

cooked & crumbled

10

medium (about 2 1/4 in. diameter) sized red skinned potatoes

unpeeled

2

Tablespoons

Land O' Lakes® Butter with Canola Oil

melted

1

teaspoon

crushed red chili flakes

1/2

teaspoon

lemongrass

1

teaspoon

sea salt

4

ounces

part-skim mozzarella cheese

shredded

2

ounces

freshly grated Parmesan cheese

3

Tablespoons

light mayonnaise

3

Tablespoons

sour cream

2

green onions (scallions)

cleaned, trimmed, and green ends thinly sliced
Instructions
Cut potatoes in half crosswise. Carefully scoop out a 1/2-inch deep well from the center of each potato half (such as Pampered Chef item #1176 "Core & More")

Arrange potato halves, well side up, into a microwave safe pan (such as PC item #1342 "Small Ridged Baker")

Using a pastry brush, apply the melted to the tops of the potato halves and sprinkle with the sea salt, chili flakes and lemongrass.

Cover potatoes with parchment paper or microwaveable safe paper toweling. Microwave on high power for 8-10 minutes or until potatoes are tender.

While potatoes are baking, shred and grate the cheeses (I used PC item #1277 "Rotary Grater")

In a Small Batter Bowl (PC item #2233) combine cheeses, bacon, remaining tablespoon of salt, mayonnaise, and sour cream.

Remove dish from microwave when potatoes are tender and use a small scoop or spoon to scoop cheese evenly into potato halves. Microwave, uncovered, on HIGH power for 2 minutes, or until cheese mixture is melted.

Remove pan from microwave and sprinkle with thinly sliced scallions
Notes
Recipe adapted from "Twice-Baked Potato Bites" as written in The Pampered Chef product #1962; "Season's Best" recipe collection (Spring/Summer 2013)
Nutrition
Sodium:
237
mg
Sugar:
1
g
Fiber:
2
g
Cholesterol:
12
mg
Calories:
159
kcal
Saturated Fat:
3
g
Fat:
7
g
Protein:
5
g
Carbohydrates:
19
g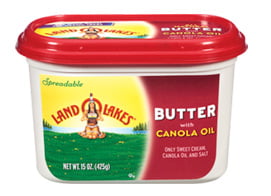 Facebook: http://www.facebook.com/LandOLakes
Twitter: @landolakesktchn
Pinterest: @landolakesktchn
Instagram:@landolakesktchn
THE GIVEAWAY ENDED ON 2/25/13
All prize information and the giveaway widget were removed from this post after the giveaway ended and the winners had received their prizes.