What Are Costco Hours in 2023? Now Plan Your Costco Visit
Wondering to know what are Costco Hours? Costco Hours are not the same across all days of the week as of Walmart and Target.
In addition, Costco's hours also differ across its different locations in different states.
The majority of the Costco stores open at 10 am and close at 8:30 pm from Monday to Friday.
On Saturdays, they open at 9:30 am and close at 6 pm. On Sundays, Costco stores open at 10 am and close at 6 pm.
However, some Costco stores in Texas and California open at 9 am on Saturdays and Sundays. The closing time for these stores is at 9 pm.
Similarly, some variations are also found at Costco hours in other states. To know the exact Costco hours near your location, please visit the website.
On special holidays i.e. Labor Day or Memorial Day, Costco Stores are closed. You will learn about it in the later section.
Key Points
Costco stores are open from 10 am – 8:30 on Monday to Friday. They open at 9:30 am on Saturday and close at 6 pm.
The store timings for Sunday are 10 am to 6 pm. Costco is closed on most of the holidays.
Costco pharmacy hours from Mon-Fri are 10 am – 7 pm.
On Saturdays, pharmacy hours are from 9:3 am – 6 pm. Costco pharmacies are closed on Sundays.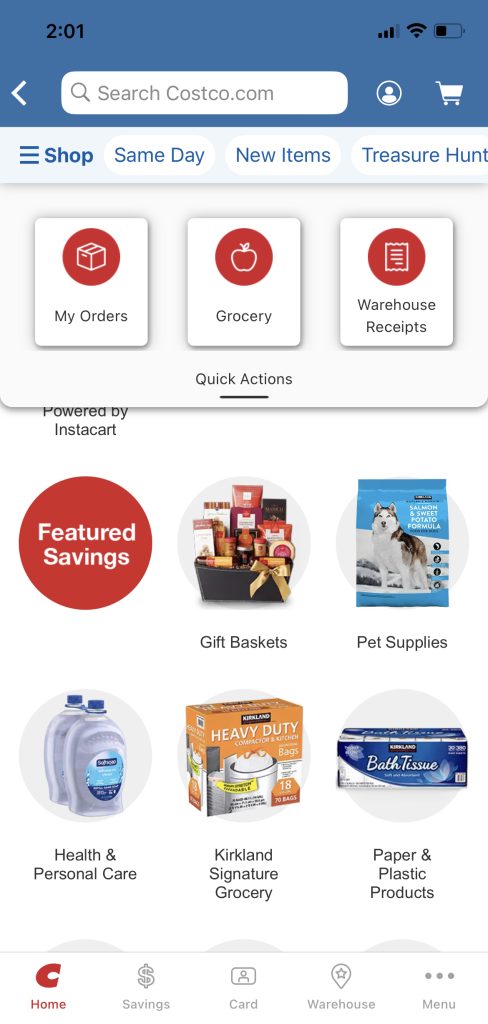 What are The Hours For Costco?
The first Costco store was opened in 1983, in Washington.
It is one of those stores that rapidly grow and start making huge profits within the shortest time span.
Since the very beginning, Costco has decided and followed a strict schedule of operation hours.
None of the Costco stores stay open for late at night or operate for 24 hours.
Instead, Costco believes that working at the most efficient hours makes the most sales instead of working all night.
Therefore, Costco stores are never open until midnight.
Instead, they all are closed sharp at 08:30 pm during weekdays and even earlier on weekends i.e. at 06:00 pm.
Costco store hours across different locations and on different days of the week are as follows:
| | |
| --- | --- |
| Day | Store Hours |
| Saturday | 09:30 am – 06:00 pm |
| Sunday | 10:00 am – 06:00 pm |
| Monday | 10:00 am – 08:30 pm |
| Tuesday | 10:00 am – 08:30 pm |
| Wednesday | 10:00 am – 08:30 pm |
| Thursday | 10:00 am – 08:30 pm |
| Friday | 10:00 am – 08:30 pm |
What Are Costco Holidays Hours?
Unlike many other largest warehouses e.g. Walmart or Target, Costco stores are closed on several holidays.
For example, they are closed when almost all other stores are closed i.e. on New Year's Day or Easter.
However, they are also closed on Labor Day, Independence Day, and Memorial Day when other stores are open.
Black Friday is the only Day when Costco hours are the longest as compared to its hours on other days.
Costco stores on Black Friday open at 9 am and close at 8:30.
On some other holidays i.e. Good Friday, Costco operates for reduced hours.
The table below shows all the information about Costco's holiday hours.
| | |
| --- | --- |
| Holiday | Hours |
| New Year's Eve | 09:00 am – 05:00 pm |
| Memorial Day | Closed |
| Labor Day | Closed |
| Good Friday | 10:00 am – 06:00 pm |
| 4th of July | Closed |
| Easter | Closed |
| Christmas eve | 09:00 am – 05:00 pm |
| Black Friday | 09:00 am – 08:30 pm |
| Thanksgiving | Closed |
| Christmas Day | Closed |
| New Years | Closed |
What Are The Best Hours To Shop At Costco?
The best hours to shop at Costco are from 03:00 pm to 05:00 pm on Tuesday-Thursday.
Costco's stores are less busy during these two hours as many people are still on the job at this time.
Therefore, if you're planning to shop at Costco, make sure to visit during this time for a pleasant shopping experience.
Costco Food Court Hours
From Monday to Friday, Costco's food court hours start at any time from 10 am – 10:30 am.
The closing time for Costco food court hours during these days is anywhere between 8 pm to 8:30 pm.
The food court time on weekends contains variations.
At some of Costco's food courts, service hours are 9:30 am or 10 am to 6 pm or 7 pm.
Wherever you live, place a call at your nearest Costco to inquire about their food court hours before your visit.
For Ordering Food Do I Need a Membership Card?
To order food and to use Costco's food court, you must have a membership card.
However, you don't need to have an active membership to get inside and order food at Costco.
You can still order and enjoy their yummiest pizza or something else if you are at their food court inside the Costco store.
What Are Costco Pharmacy Hours?
Costco Pharmacy hours from Monday to Friday start at 10 am and end at 7 pm.
However, Costco's pharmacies open at 9:30 am on Saturdays and close at 6 pm.
All Costco pharmacies are closed on Sundays as per Costco's rules and policies.
According to the company, they only open their pharmacies during the most productive hours and days.
Sundays are off for the pharmacists at Costco to lessen their burden and give them some time to relax.
Regardless of Costco's pharmacies opening and closing times, they are the best place to buy medicines.
It's because Costco's pharmacies offer the cheapest prices as compared to other pharmacies.
Costco Customer Service Hours & Contact Information
For online order's related queries and concerns, Costco customer service hours are 5 am – 8 pm for Mon-Fri.
On weekends, they deal with online platform customers from 5 am – 7 pm. Contact them at 1-800-955-2292 for online orders related to customer service.
For physical store or business center orders, Costco's customer services hours are 6 am – 5 pm on weekdays.
However, the customer service weekend hours for business center orders are 8 am – 5 pm.
Contact them at 1-800-788-9968 for business center-related concerns.
For customer service technical support, Costco's hours are 5 am – 8 pm from Monday to Sunday.
Contact them at 1-866-861-0450 for Costco's customer service technical support.
For order returns, visit the relevant Costco store in the above given hours.
What Are The Hours For Costco Gas Stations?
Some variations are also found in Costco's gas station hours across various states and cities.
However, most of them open and close at their fixed time i.e. 6 am – 9 pm from Monday to Friday.
Weekend hours for most gas stations at Costco start at 7 am and end at 7 pm.
It means that you can visit any Costco gas station during this time on Saturdays and Sundays.
However, they don't open up late at night on weekends.
Look for other nearby gas stations if you need to fuel up your vehicle after 7 on weekends.
Costco Liquor Store Hours
Costco liquor store hours from Monday to Friday are the same as Costco's regular business hours i.e. 10 am – 8:30 pm.
However, the weekend hours of Costco liquor stores vary from location to location.
Most of Costco's liquor stores open from 10 am – 6 pm on Saturdays.
Some Costco liquor stores open at 9:30 am on Saturdays while closing at the same time i.e. 6 pm.
The liquor store hours on Sundays are 10 am- 6 pm in Alabama, Florida, West Virginia, etc.
These stores' hours are from 9 am to 7 pm at some Costco locations in California.
In Texas, most of Costco's liquor stores are closed on Sundays, and so on.
Costco Pickup & Delivery Methods
At Costco, you get a great variety of delivery options. Here are some of these.
Same-day delivery
2-day delivery
Threshold delivery
Curbside delivery
Pre-scheduled Standard delivery
Standard delivery without pre-scheduling
White glove delivery
Room of choice
Warehouse pickup
All of these delivery methods come up with different terms and conditions.
Also, different shipping fees are also included in different Costco shipping methods.
However, pick-up orders don't involve any delivery fee as you pick up the order yourself.
The time for pickup orders is 07:00 am – 12:00 pm from Monday to Saturday.
Also, you must place an online order by 3 pm to pick it up on the next scheduled day.
Does Costco Offer Free Shipping?
Shipping fee is included in most of Costco's delivery methods.
However, you may get free shipping for certain items if you place an order for a certain amount.
Else, choose the pickup option and pick up your order at the nearest Costco store to avoid the shipping fee.
How To Find Out Costco Store Near Me Online
To find out the Costco store near you, go through the following steps.
Visit the Costco website
At the top right blue colored bar, click on "Locations"
A location search page will open. Under "Find a warehouse", enter your state, city, or ZIP code and click on "find"
A list of relevant options will appear on the screen with distances in miles across your location. Usually, the first one on the list is the nearest to your location
Click on store details to further inquire about your nearest Costco store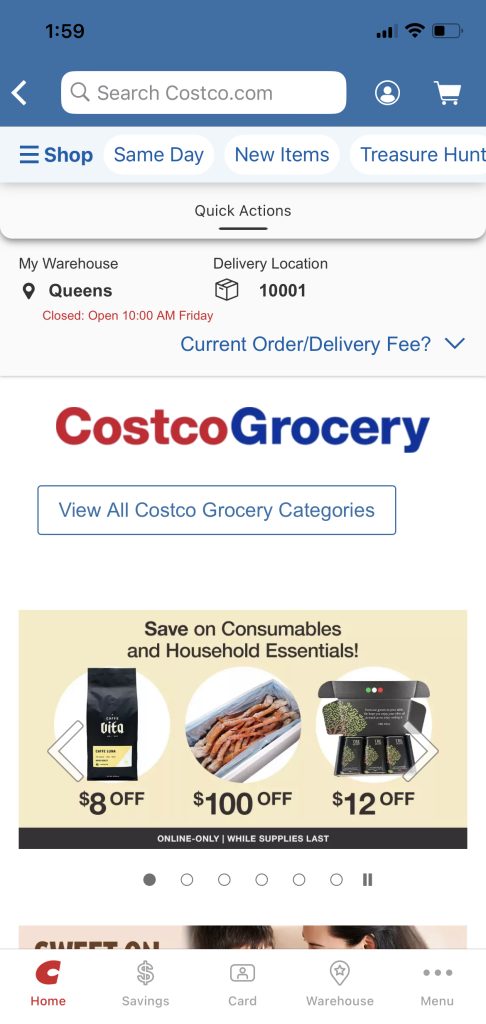 Frequently Asked Questions
Does Costco Let You in Early?
Costco doesn't let everyone get inside the store early.
However, this facility is for their executive members only with Costco's executive membership.
Why Does Costco Close At 6?
The main reason why Costco close at 6 am is that it cares for its employees.
Costco believes that valuing and taking care of the employees and giving them time to take enough rest brings productivity.
Is Costco Busy At Night?
Yes, Costco is the busiest at night.
As Costco closes at 8:30 pm, most of the shoppers come straight to Costco from their jobs.
Is There a Best Day To Shop At Costco?
The best time to shop at Costco is 3-5 pm on Tuesdays, Wednesdays, and also Thursdays.
Can I Get Into Costco Without a Membership?
Costco requires you to have a membership to enter and shop at a Costco warehouse.
Every person with a membership can take two people with him to Costco.
So, if you don't have a membership, go to Costco with someone who has a membership.
Can a Normal Person Get a Costco Card?
If you are 18 years or above and meet Costco's conditions, you can get a Costco card or membership.
How Much Does it Cost To Become a Member of Costco?
It costs $60 to become a member of Costco for a year.
What Documents Do I Need For a Costco Card?
For a Costco Card, you need your latest photo, valid passport or license, and tobacco certificate for some cases.
Which One is Cheaper Costco Or Walmart?
Costco is cheaper than Walmart.
Final Thoughts
Costco is the best as well as the most cost-effective warehouse to shop for daily items.
Although Costco's hours of operation are limited, they assure you of outstanding customer service.
Visit your nearest Costco store during the non-busiest hours i.e. 3 pm- 5 pm for a great shopping experience.
Before you visit, make them a call to confirm their business hours at your location.