Wisconsin Grass Fed Bison Bratwurst Burger
Wisconsin Grass Fed Bison Bratwurst Burger is a big title worthy of a big homemade burger. It's loaded with fresh, Wisconsin-grown ingredients, and it's been created in celebration of National #BurgerMonth!
This amazing, over-the-top (but please don't stop) burger loving event has been organized and is hosted by Kita, from Girl Carnivore. She wrangled up 30 amazingly talented bloggers and some incredibly generous sponsors to join the fun. We even have a giveaway for you! Check out the bottom of the post for details and enter to win a big bundle of gifts including a new grill!
Disclosure: This post is part of sponsored giveaway event. Some of the sponsors sent me fun cooking tools to help me prepare my epic burger, but I was not compensated with cash, and all thoughts in this post are my own.
OK, so back to the details of my Wisconsin grass fed bison bratwurst burger! This burger is loaded with much more than just 6 ounces of Wisconsin grass fed bison and Johnsonville bratwurst.
Piled inside of the soft pretzel bun, you'll find pure Wisconsin goodness in every bite, including:
Cherry jam from Door County.
Wisconsin beer cheese sauce (made by me, recipe below).
And of course, Wisconsin made cheddar cheese curds that are so fresh, they squeak when you bite into them!
Oh, and because there's bratwurst involved, I had to top my burger with sauerkraut and onions. Not just any onions, though… deep fried onions. Take a peek at this creation!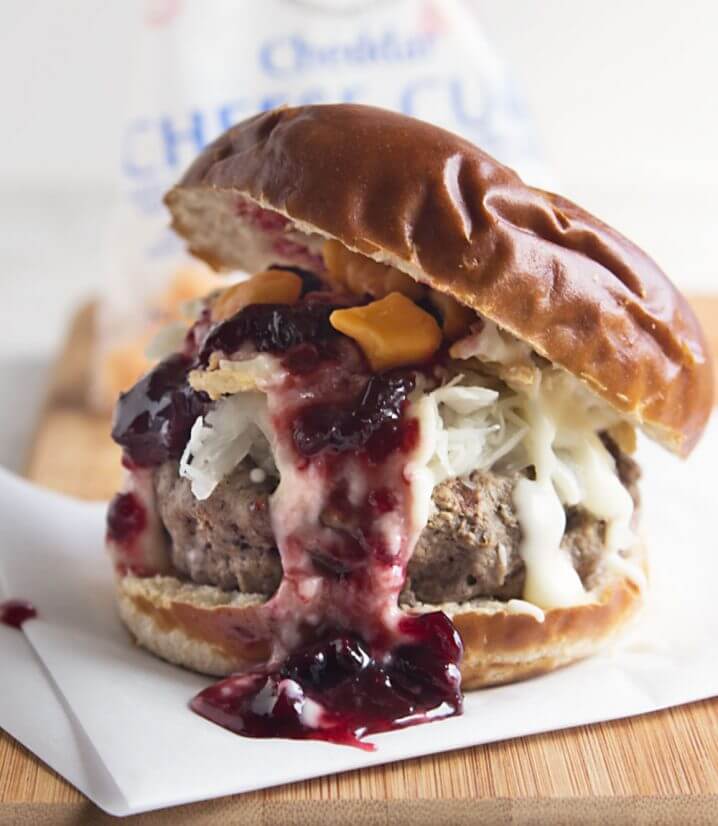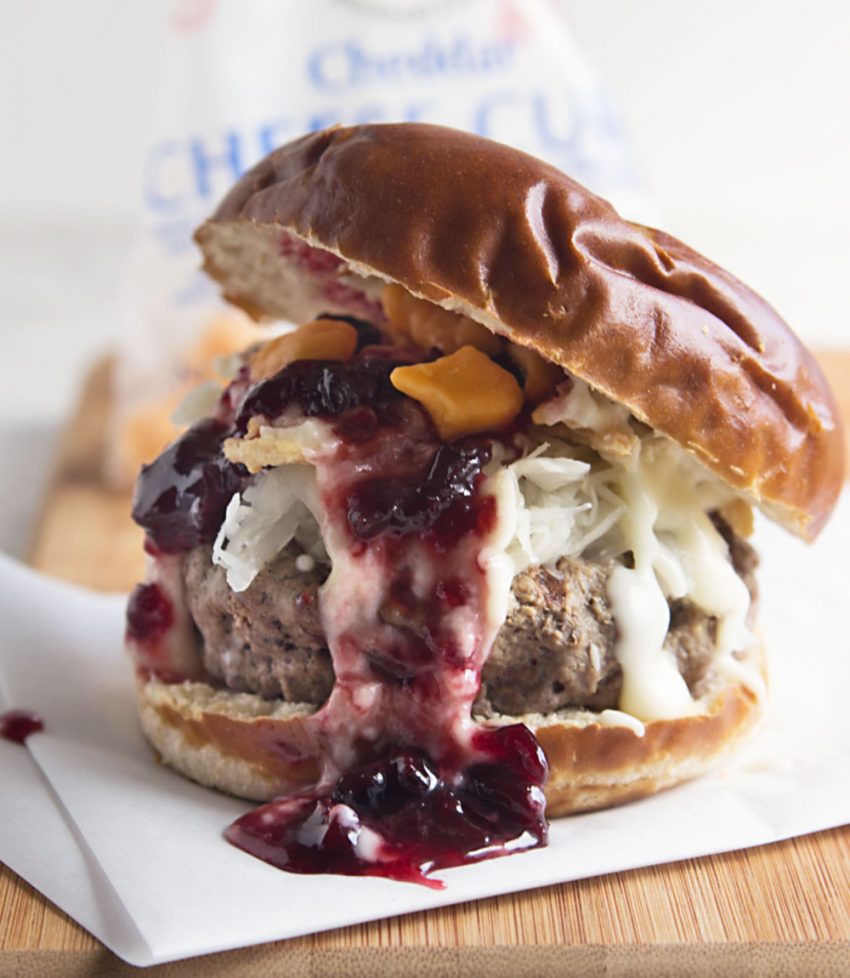 It's not a dainty burger, that's for sure, but to be completely transparent with you, it did start out smaller than this. Here's what it looked like the first time I made one: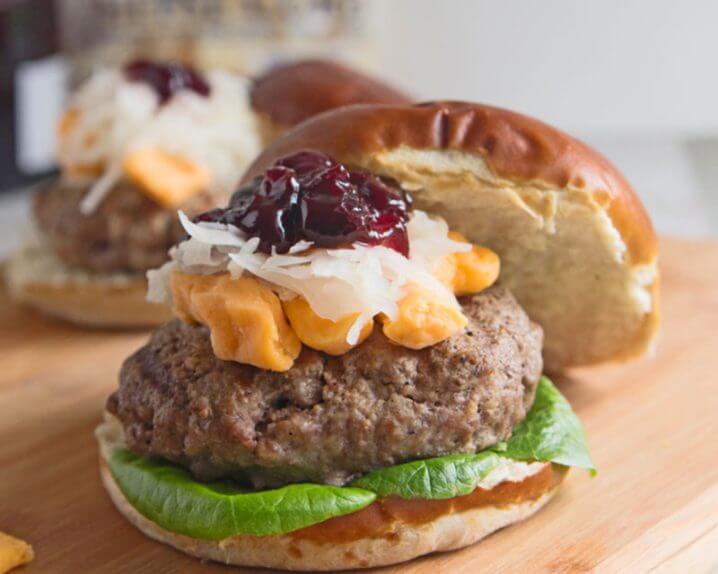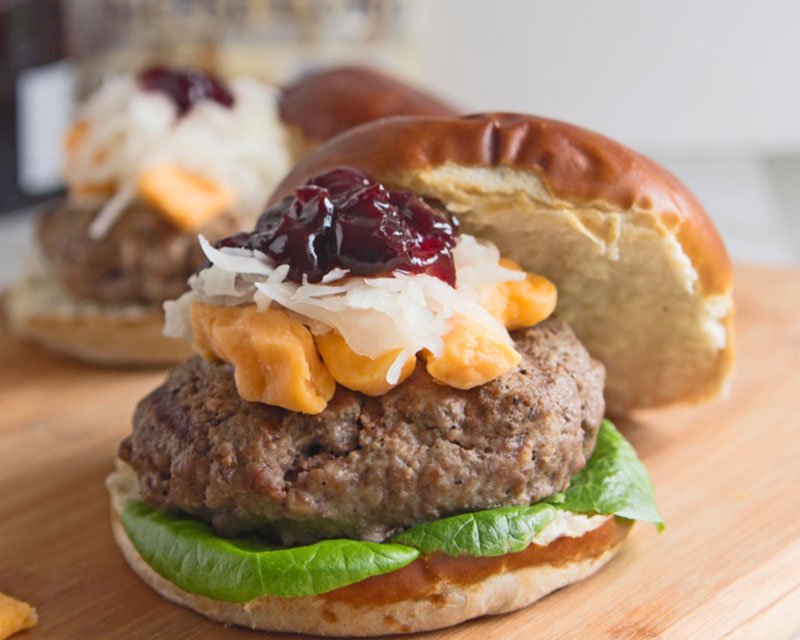 It had some of the goodness on top, but I took one bite and felt like it needed something more. Besides, this burger is playing in the deep end of the pool with some amazing burger creations made by bloggers who are much more talented than I am. Frankly, those creations made my burger look like a little wussie. That's why I decided to make Wisconsin beer cheese sauce and add that plus a fist full of crunchy fried onions to it.
So, it went from a mild mannered, Wisconsin grass fed bison bratwurst burger to this epic creation of awesomeness.
It makes me proud to be a Cheesehead!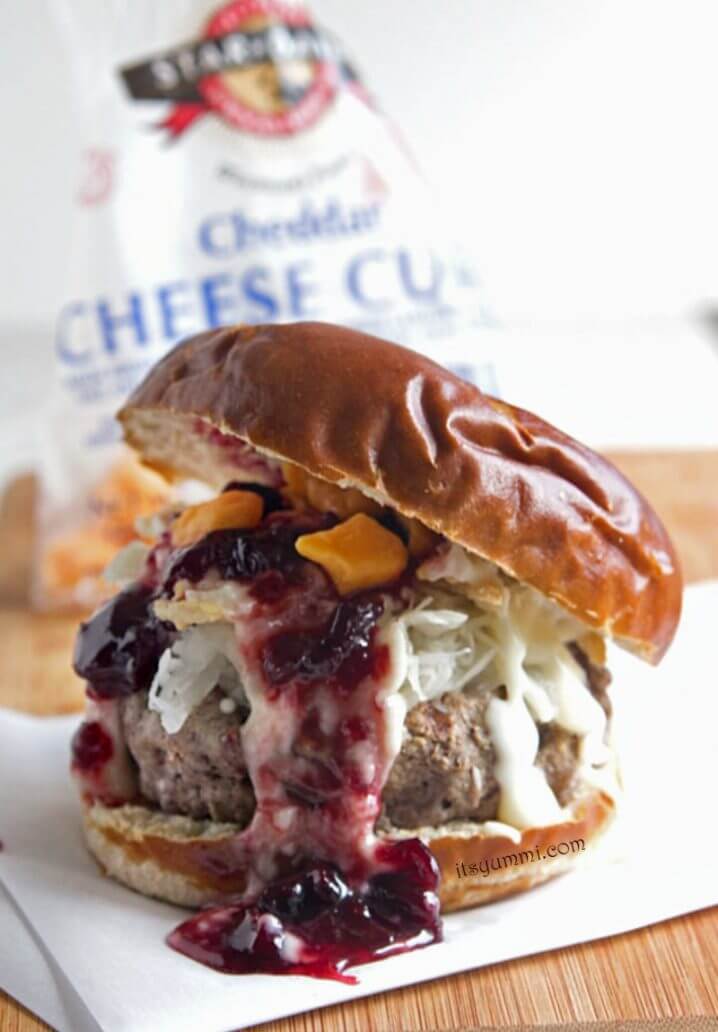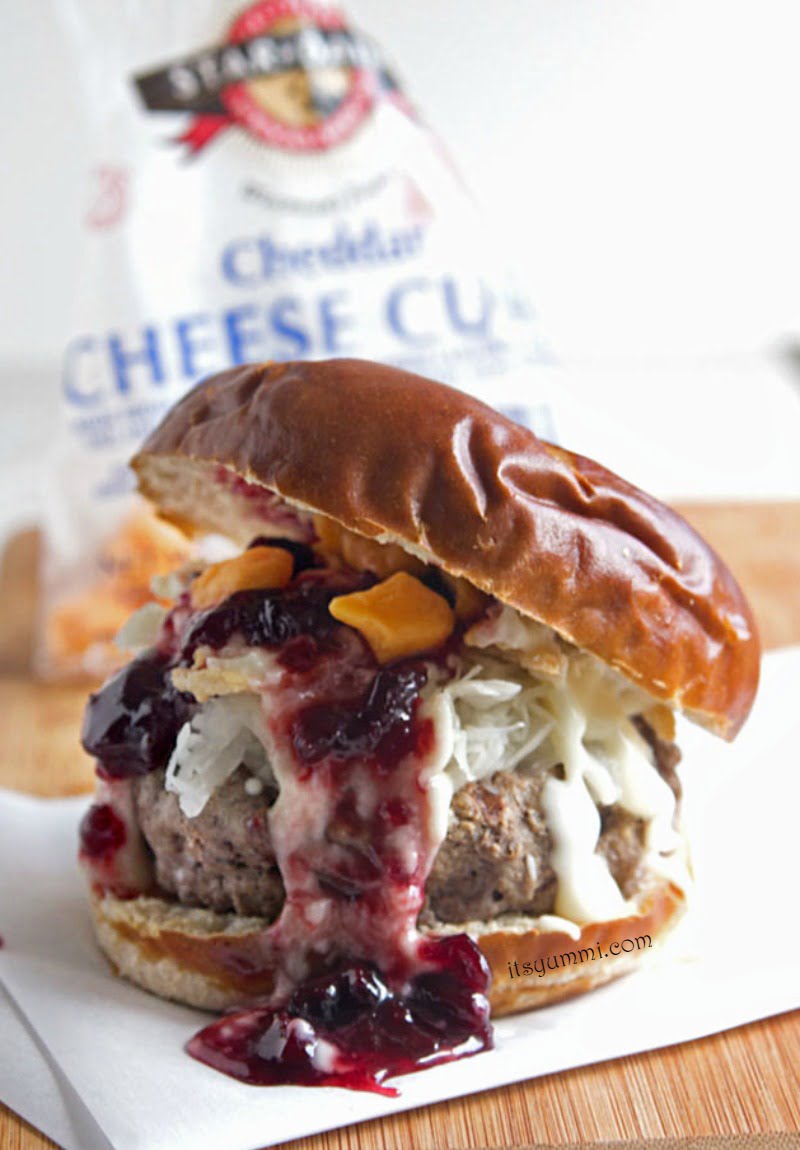 Scroll down to enter the giveaway and check out the other amazing Burger Month creations!
Oh, and click here for more of my burger recipes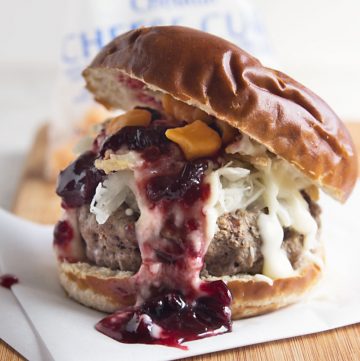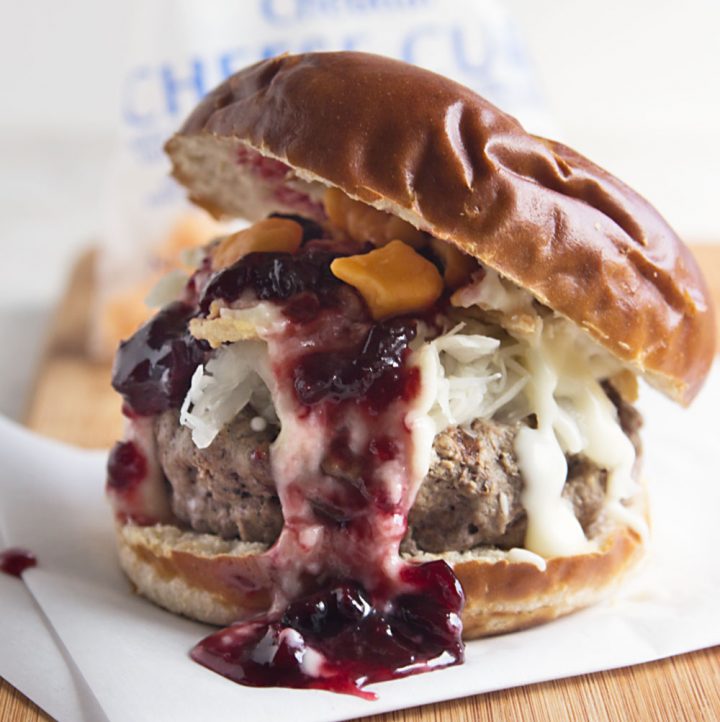 Wisconsin Grass Fed Bison Bratwurst Burger
A mixture of ground Wisconsin grass fed bison and bratwurst creates a juicy, flavorful burger. Topped with some of Wisconsin's finest ingredients, this becomes a burger creation of epic awesomeness!
Ingredients
For the burger patties
1 1/2

pound

ground bison (Wisconsin grass fed bison is what I used)

1 1/2

pounds

bratwurst

casing removed (I used http://www.johnsonville.com/lines/naturals.html
For the beer cheese sauce
1 1/2

Tablespoons

unsalted butter

1 1/2

Tablespoons

all-purpose flour

1/4

teaspoon

dry mustard powder

1/8

teaspoon

cayenne pepper

1

liquid cup (8 ounces) half-and-half

1/2

liquid cup (4 ounces) beer (or water)

1/2

cup

shredded Monterey Jack cheese (NOT preshredded)

1/2

cup

shredded sharp cheddar cheese (NOT preshredded)

1/4

cup

grated Parmesan cheese
Additional suggested burger condiments
Sauerkraut

French fried onions

Door County cherry jam or preserves

Wisconsin cheese curds
Instructions
Add ground bison and bratwurst to a large mixing bowl and use your hands to combine well.

Use a kitchen scale to weigh out 6 ounce portions, or separate mixture into 4 equal sized portions. Use a burger press or your hands to gently form patties. Try not to over work the mixture, as it will cause your burgers to be dry. Allow patties to sit at room temperature while you make the beer cheese sauce and preheat your grill.

Make beer cheese sauce

Melt butter in a medium saucepan over medium heat. Add flour, mustard, and cayenne pepper and cook, stirring constantly, until golden and fragrant, about 1 minute.

Slowly whisk in half-and-half and beer and bring to a boil. Reduce heat to medium-low and simmer until slightly thickened, 8 to 10 minutes.

Remove pan from heat and whisk in Monterey Jack, cheddar, and Parmesan cheeses until smooth.

If sauce seems too thick, stir in a Tablespoon of beer or half and half at a time until desired consistency is reached. If it's too thin, add more cheese.

Grill or pan fry burgers to your liking, then top with cheese sauce and suggested condiments.
Nutrition
Sodium:
1852
mg
Sugar:
3
g
Cholesterol:
311
mg
Calories:
1237
kcal
Saturated Fat:
42
g
Fat:
99
g
Protein:
67
g
Carbohydrates:
12
g
[mpprecipe-recipe:366]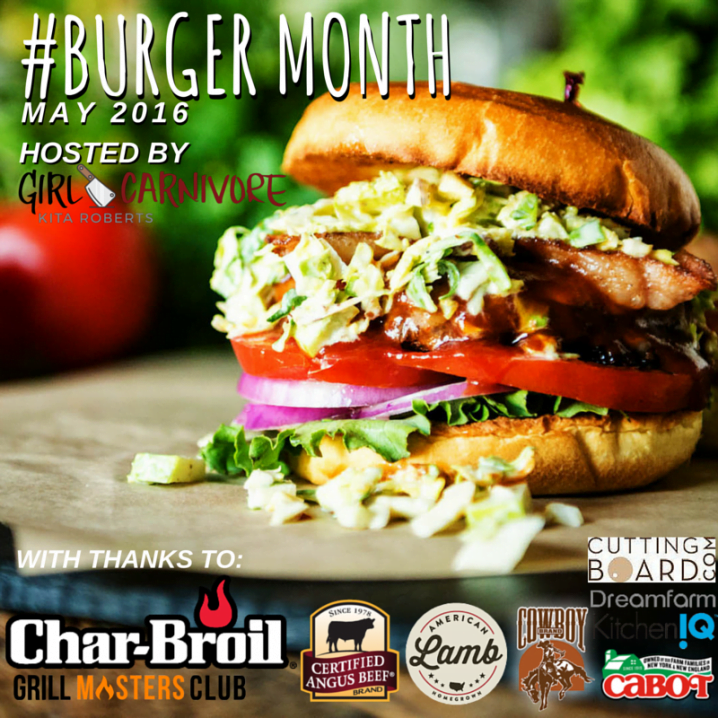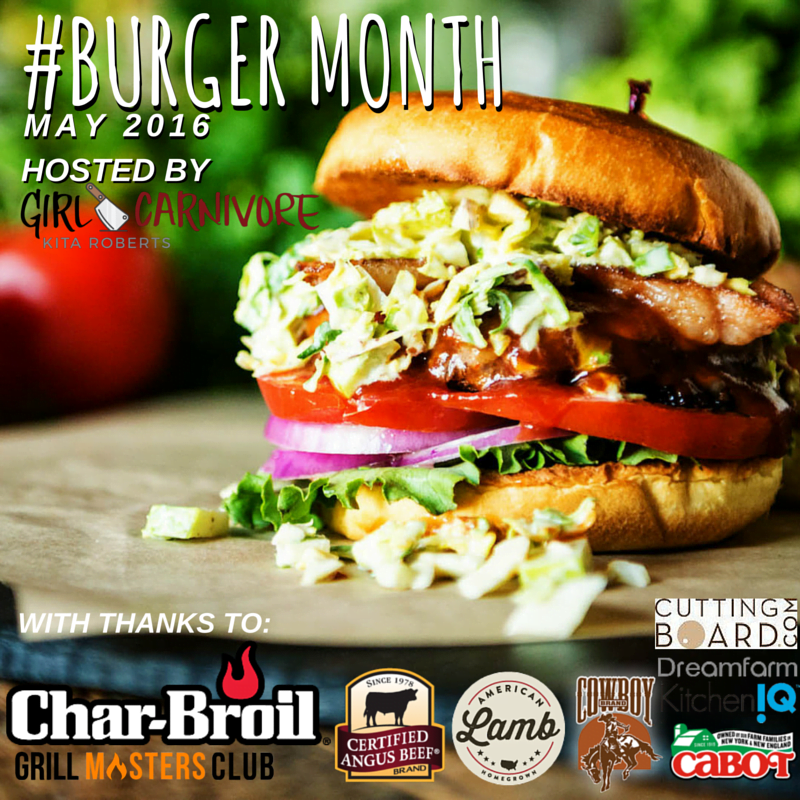 Here's what's up for grabs in this amazing Burger Month giveaway!
I'm a bit envious that you're eligible to enter this giveaway and I'm not, because those prizes are awesome!
A huge thank you to the brands listed above for sponsoring us and for donating the prizes for the giveaway.
To see all of the amazing burgers that my talented, creative, blogging friends created for #BurgerMonth, please visit Kita's Burger Month page.