Zebra Cake with Clementine Frosting
Zebra cake is a moist chocolate and vanilla swirled cake that forms a zebra stripe effect when it's baked! Topped with clementine frosting, it's a delicious chocolate orange dessert that is perfect for any occasion.
The day has finally arrived.  You know, the day I've been standing on a mountaintop shouting about for the last few days. MY BIRTHDAY!  Apparently, some of you think I'm undeserving and annoying, because I even received hate mail from a couple of people, telling me to stop being the most selfish person on the planet and to stop begging for gifts.  Very weird, since I did neither of those things, but hey… with fame comes Becca haters.  I guess it's part of the world of a blogger.  Que sera sera.  You don't have to indulge in my birthday festivities if you don't want to. 🙂
Brian and I have both been sick with nasty head and chest colds for the past several days, but he's had a much worse case of the yuks than I have.  Nevertheless, I've had visions of my birthday cake stuck in my head for 2 weeks, and I was determined to get it baked.  I'm sure it will surprise quite a few of you faithful readers to learn that my cake contains NO Nutella and NO bacon.  Stepping outside the box is a 2012 resolution, so I pressed on without them.
AWFUL PHOTO DISCLAIMER:  My photos are never National Geographic quality, but in this case, my photos were taken as the sun was going down, and with my standard point and shoot camera, so this photo is probably worthy of appearing on Cake Wrecks. My apologies.  ONE of these days I'll be able to afford a DSLR camera and/or a light box.  I pinkie promise that my pics will get better with time.
Zebra Cake Recipe Inspiration
Inspiration for my birthday cake came from a recipe I found on Baking Bites, and the frosting is an adaptation of the orange buttercream recipe I found on the Wilton site.  I knew my cake had to include chocolate, and I love the combination of chocolate and orange, so this really seemed like the perfect pairing for my zebra cake.
I don't like to use excessive amounts of food coloring, so I added freshly squeezed orange juice and orange peel to give the frosting a nice natural light orange color, and I added 2 packets of True Citrus Orange to give the cake an added boost of flavor.  The Wilton recipe calls for orange oil, but to be honest, it's VERY expensive and I just couldn't afford to splurge on a bottle.  Besides, the True Orange is made from real oranges, so I was confident that the flavor would be fresh and wonderful.  The end result was an icing that looked and tasted exactly like a Creamsicle…. YUM!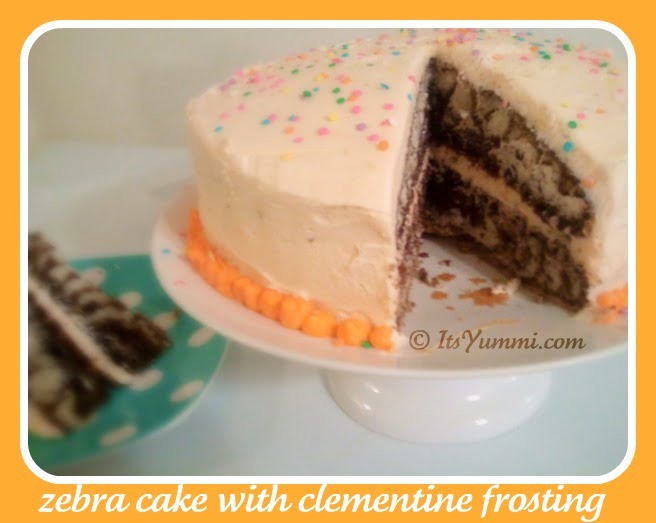 If you take a look at most of the zebra cake recipes out there, you'll find that they're usually only a single layer.  I realize now why that is.  I made 2 pans of the cake and layered them because frosting is my friend, but lo and behold, it completely ruined the zebra stripe effect.  Oh well… I still think it's a stinkin' adorable and very yummi cake!
How to Make Zebra Cake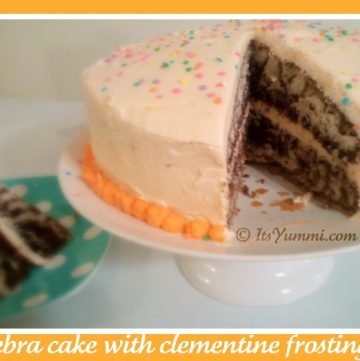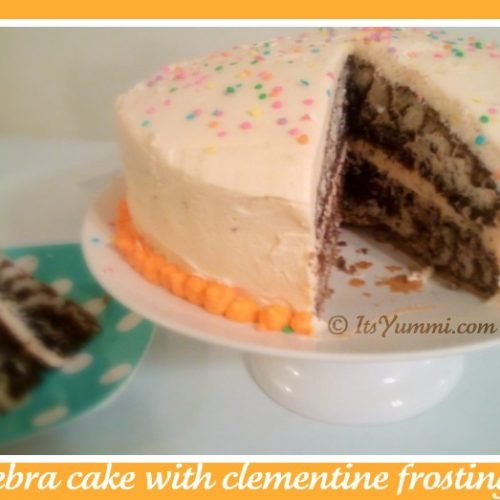 Zebra Cake with Clementine Buttercream
This whimsical cake brings together the flavors of chocolate and orange in a way that is sure to tantalize your taste buds!
Ingredients
FOR THE CAKE (double this recipe if you want to layer the cakes)
4

large

egg whites

(if you include the yolks your cake will be yellow, not white)

1

cup

sugar

1

cup

milk

any variety

1

cup

vegetable oil

1

tsp

vanilla extract

1/8

tsp

almond extract

1

cup

whole wheat pastry flour

1

cup

all purpose flour

1

tbsp

baking powder

1/4

tsp

salt

2 1/2

tbsp

unsweetened Dutch processed cocoa powder
FOR THE ICING
1/2

cup

solid vegetable shortening

1/2

cup

(4 oz.) unsalted butter

1.5

Tablespoons

freshly squeezed orange juice

6

cups

(approx. 1.5 lb.) sifted confectioners' sugar

2

tsp

(2 packets) True Citrus Orange powder

1

tbsp

orange zest

from 3 Clementine (Mandarin) oranges OR 2 naval oranges

Orange gel icing color (optional)
Instructions
FOR THE CAKE
Heat oven to 350F. Line a 9-inch round cake pan with a circle of parchment paper and lightly grease the bottom of the pan.

In a large bowl, mix together eggs and sugar until mixture is light and creamy and the sugar has mostly been dissolved. Stir in milk, vegetable oil, vanilla and almond extracts.

In a medium bowl, whisk together flours, baking powder and salt. Combine with the wet ingredients and whisk to combine.

Measure out just over two cups of vanilla batter and place it back in the medium bowl. Sift cocoa powder over the bowl and whisk until fully incorporated.

Put 1/3 cup of vanilla batter into the center of the pan and let it spread slightly on its own. Put 1/3 cup of chocolate batter in the center of the vanilla. It will push out the other batter and, as it sits for a moment, will also spread itself. Alternating the two batters, repeat the technique until all of the batter has been used up.

Bake for 38-42 minutes, until the cake is light gold and a tester inserted into the center of the cake comes out clean.

Let the cake cool in the pan for 10-15 minutes, then turn out the cake and remove the parchment paper. Reinvert on to a wire rack and let cool before slicing.
FOR THE ICING
Cream butter and shortening with an electric mixer or in a stand mixer on medium speed.

Add orange juice and both packets of True Orange.

Gradually add powdered sugar, one cup at a time, beating well on medium speed. Scrape sides and bottom of bowl often.

When all sugar has been mixed in, if icing appears dry, add more orange juice or water, one Tablespoon at a time.

Continue to beat on medium high speed until the icing is light and fluffy.

Stir in the orange zest and food gel coloring, if desired.
Nutrition
Serving:
1
slice
Calories:
409
kcal
Carbohydrates:
70
g
Protein:
3
g
Fat:
14
g
Saturated Fat:
6
g
Cholesterol:
15
mg
Sodium:
73
mg
Potassium:
140
mg
Fiber:
1
g
Sugar:
57
g
Vitamin A:
180
IU
Vitamin C:
1.6
mg
Calcium:
58
mg
Iron:
0.8
mg