Zucchini Bacon Potato Pancakes
Zucchini bacon potato pancakes are today's yummi recipe. When you're looking for the perfect side dish for dinner, or you want a quick treat for brunch, these potato patties will do the trick. They're made healthier with the addition of zucchini, but a little indulgence from bacon makes them an extra special treat.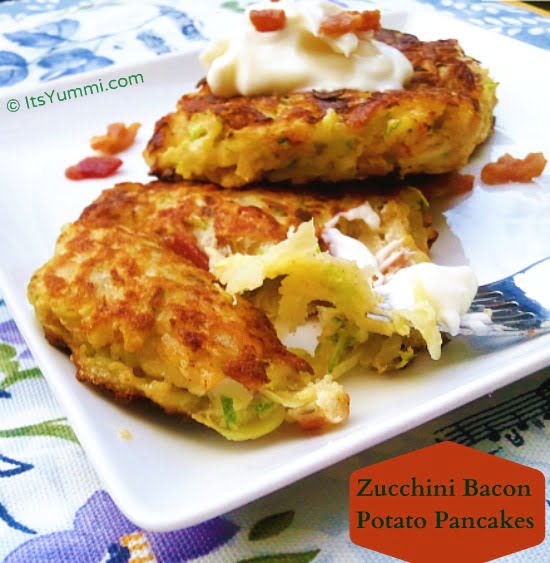 It's Sunday!  In my yummi world, there are three givens that I adore about Sundays:
~~ SLEEPING IN!  Rolling over in the morning and finding the love of my life lying next to me in bed.  Not having his alarm clock making annoying buzzy noises at 5:15 a.m. once a week is beyond blissful!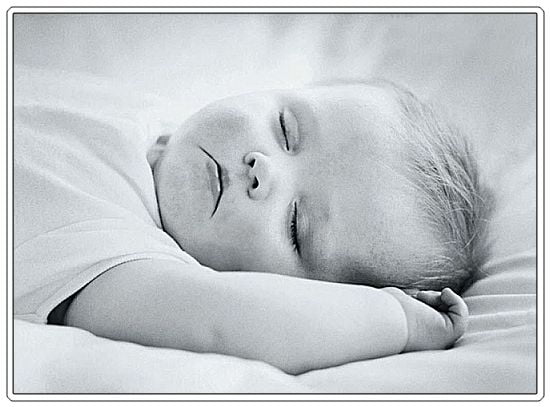 Incidentally, I have no idea whose baby that is, but I secretly hope that the next time I open my front door, I find that sweet angel swaddled in a basket with a note that says, "take me in and love me forever".  I think I'm addicted to those chubby arms and that sweet pouty lip… or maybe I'm just overly hormonal and waxing poetic because I'm going in for a hysterectomy on Tuesday.  Bye-bye uterus.  You've served me well.  Now get lost.
~~ BRUNCH!   Since we usually attend church services on Saturday night, Brian and I are able to stay lazy in bed for a while on Sunday and then treat ourselves with a wonderful late morning brunch.  Nothing says HELLO SUNDAY like comfort food in my face.  It's the WOO to the HOO and the piggy to my pork fat.
~~ SUNDAYS WITH JOY!  Every Sunday for the past couple of months, a group of wonderful food bloggers and I have been creating delicious meals using recipes from Joy the Baker's latest cookbook, "100 Simple and Comforting Recipes
".  I adore everything about the book, right down to Joy's loverly face on the cover.  She's just so sweet!
I think t's a wonderful coincidence that today's recipe for zucchini bacon and potato pancakes, which I adapted a bit from Joy's recipe, fits perfectly into the Sunday brunch category.  Serve these beauties up with some over easy eggs and you've got yourself a double score bonus!!  CHA-CHING!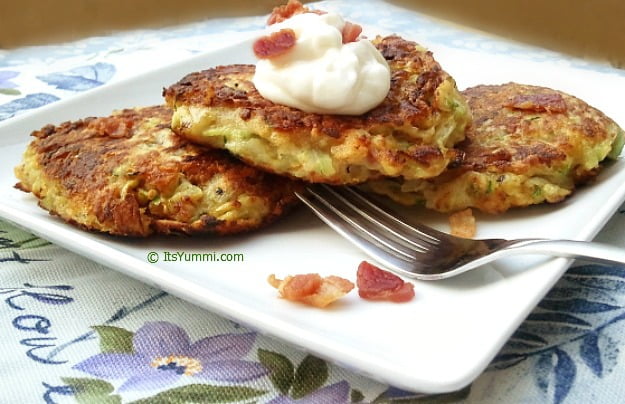 So please do me a favor, won't you?  Leave a comment below and tell me…what's YOUR favorite thing about Sundays?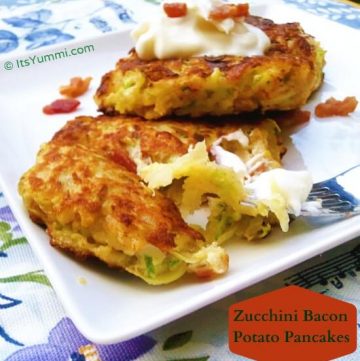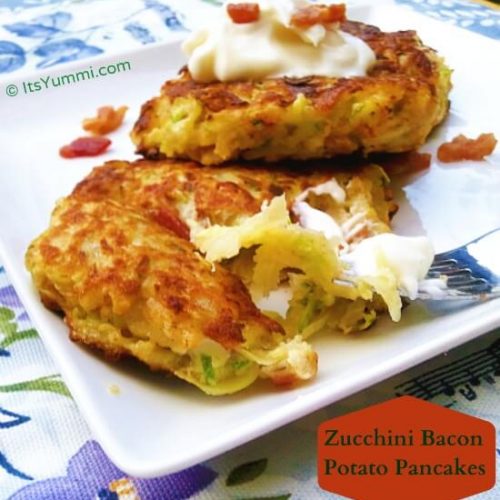 Zucchini Bacon and Potato Pancakes
These pancakes are crispy on the outside, moist on the inside, and packed with comforting flavors that will compliment almost any dish!
Ingredients
2-3

slices

bacon

diced and crisply cooked

1

Tablespoon

salted or unsalted butter

if needed

1

small yellow or white onion

finely diced

1

clove

garlic

minced

2

medium zucchini

grated (I used a box grater)

2

medium potatoes (approx. 5 ounces each)

peeled and grated

1/2

teaspoon

Kosher or sea salt

1

large egg

2

Tablespoons

all-purpose flour

1/2

teaspoon

baking powder

1/4

cup

panko bread crumbs

1/8

cup

freshly grated Parmesan cheese

1/2

teaspoon

black pepper

1/4

teaspoon

paprika

Sour cream or crème fraiche for serving (optional)
Instructions
Place zucchini and potato into a colander over a medium-sized bowl. Sprinkle with salt and toss to coat. Let the mixture sit in the colander for about 10 minutes, then press down with a clean towel to squeeze out the excess water.

While you're waiting for the mixture to drain, place a medium-sized sauté or fry pan over medium heat. Place diced bacon into the pan and cook for 2-3 minutes, until some of the bacon has rendered and there are approximately 1-2 Tablespoons of grease in the pan. Add onion and continue cooking, stirring occasionally, until the onion is translucent and the bacon is almost crispy. Add garlic and cook for 1 more minute. Remove bacon, onion, and garlic from the pan with a slotted spoon and place on a paper towel to drain. Remove the pan from the heat, but do not remove grease from the pan.

In a medium-sized bowl, whisk together the egg, flour, baking powder, pepper, and paprika. Add the bread crumbs, cooked bacon mixture, and the zucchini and potato mixture and stir to combine. Fold in the Parmesan cheese until everything is well combined.

Place the sauté pan you used to cook the bacon back over medium heat. If the pan seems dry, add 1 Tablespoon of butter. Once the pan has reheated, drop in the batter 1/8 cup (2 Tablespoons) at a time. Flatten each pancake gently with a fork. Cook for about 2 minutes, until the edges are golden brown. Flip the pancakes over and cook for an additional 2 minutes. Place on an oven-safe plate and keep the cooked pancakes warm at 200 degrees until you're ready to serve them. If desired, top with sour cream or crème fraiche before serving.
Notes
Recipe adapted from "Joy the Baker Cookbook - 100 Simple and Comforting Recipes" by Joy Wilson
Nutrition
Just an FYI – I won't have access to my computer while I'm in the hospital this week, but if all goes well, I should be home sometime on Thursday.  I'll have another yummi recipe posted for you as soon as this old body allows me to get back into the kitchen.  In the meantime, I'll make sure that someone is posting updates on my condition over on my Facebook fan page.  I adore you for being a part of my world.  Please come back and visit me again soon, ok?