Zucchini Chocolate Cream Cheese Pound Cake
This pound cake recipe is made a teensy bit healthier and much more moist with the addition of zucchini. It's a great way to get your kids to eat veggies!
Hey everyone! I really hope that your weekend has been as awesome as mine has.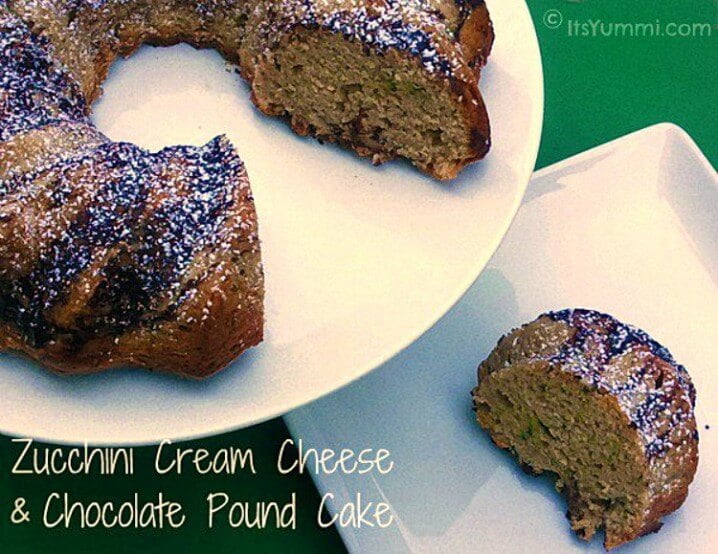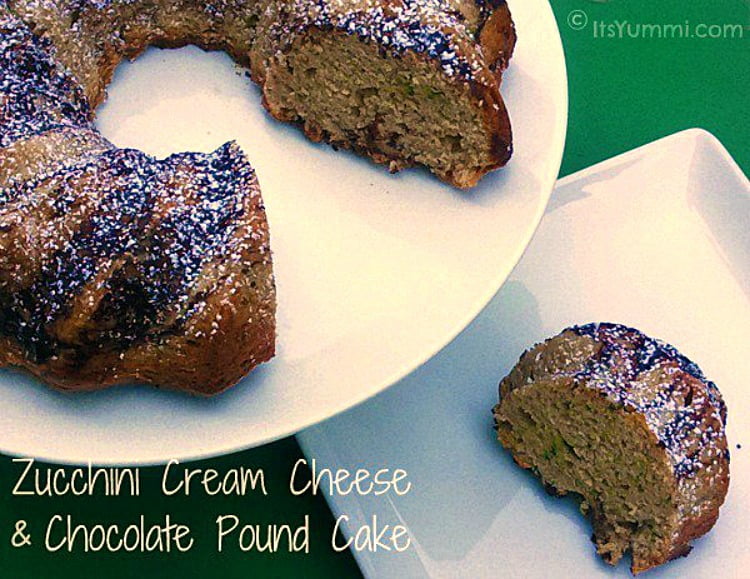 DATE NIGHT – Since day one of our relationship, Fridays have been date night for Brian and I.  He usually takes me out somewhere special so that we can unwind from the week and have some quality conversation time (that means, no phones or computers in our faces).
Unfortunately though, out-of-the-house dates have been few and far between this year.  Anything that involves spending money has taken a back seat because of the mountain of medical bills that I've accumulated over the past year.  Having no medical insurance and 4 hospitalizations within 10 months = a lifetime of date money.
Brian decided that we both deserved a treat last Friday.  His birthday is at the end of the month and he had a free birthday burger offer from Red Robin, so that's where we went for dinner. I love their mac and cheese! It's not quite as good as homemade Grown Up Bacon Mac and Cheese recipe, but it's a great treat.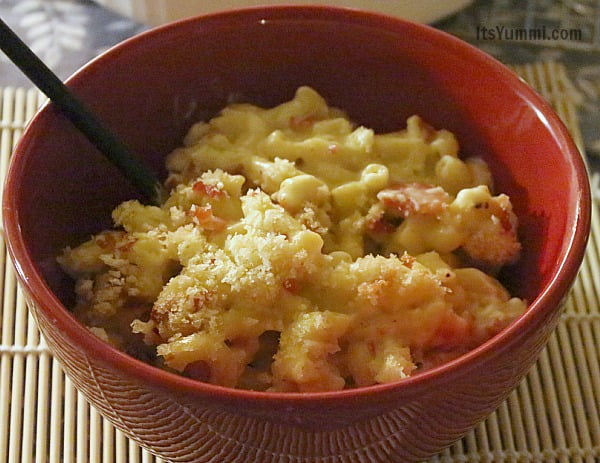 Then the weekend got better when Brian skipped his weekly men's Bible study so that he could take me to the farmers market.  Again, because of no extra cash and his typically being busy on Saturday mornings, we hadn't been able to go to the market at all this year.  It was so much fun to be out spending time with the man I love.  The weather was perfect, we got some exercise in, and we came home with a bag full of fresh produce.
I'll be sharing more recipes as I use up my bounty, but the first thing I bought was some gorgeous zucchini so that I could bake up this pound cake recipe from the Joy the Baker Cookbook.
This pound cake recipe is crazy delicious!
I can't fully describe in words how moist and tender this cake is.  You'll just have to make some and find out for yourself.  I think the moisture in the grated zucchini definitely played a factor.  It prevented the cake from drying out too much during the baking process.
There's a touch of cinnamon and vanilla that give it a great depth of flavor, too.  In my opinion, many pound cake recipes, especially the really old ones, are overloaded with eggs and butter.  After all, the cake got it's name because the original recipe called for a pound each of eggs and butter.  Yikes!  While Joy's recipe is hardly heart healthy, it's much lower in fat, sugar, and cholesterol than many others.
If you bake a lot of pound cake, one of the first things you might notice is that the texture (or "crumb") of this pound cake recipe isn't as dense as a traditional pound cake.  That's because of the reduced amount of fat in this recipe.  Low in fat or not, this cake is definitely rich enough to be worthy of the pound cake crown.  Grab a tall glass of milk, some coffee or tea and sit down with this plate full of love!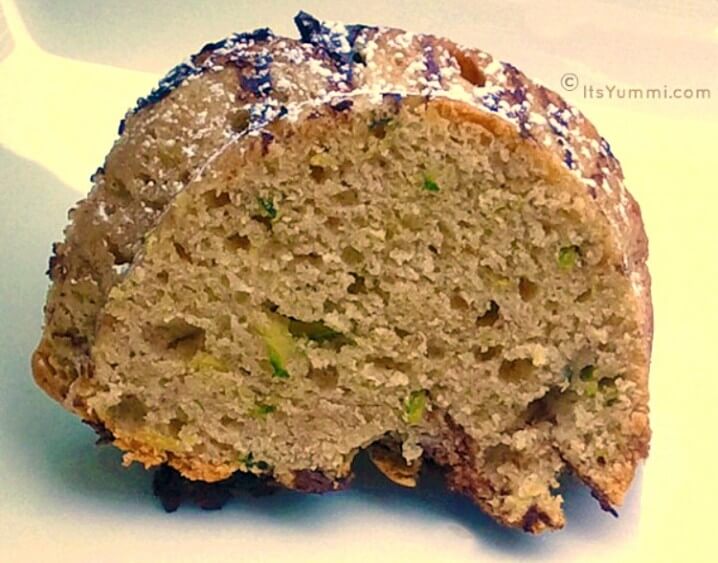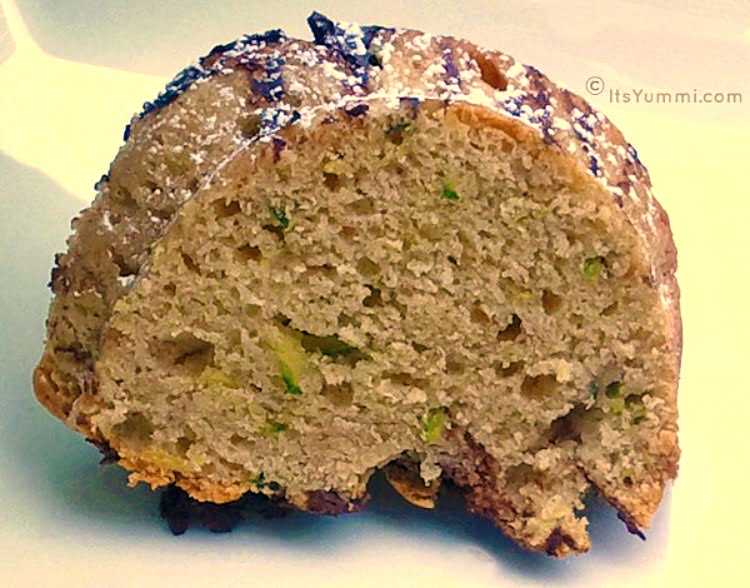 Incidentally, if you have picky eaters in your house, I promise you that the zucchini is a visual ingredient only.  I couldn't taste it at all.  I suppose the fact that I tweaked Joy's recipe by adding some bittersweet chocolate to it may have helped a bit.
Either way, this is a pound cake recipe that's going to make many repeat appearances in my house.  
I hope that you'll try it, too!
If you love pound cake recipes, be sure to check out these, too:

mocha cinnamon roll pound cake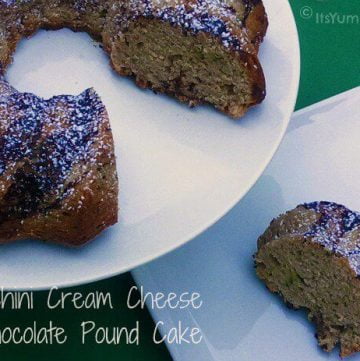 Zucchini Cream Cheese Chocolate Pound Cake
chocolate pound cake with zucchini is a sweet way to get your kids to eat their veggies! This healthier dessert is tender, chocolaty and delicious.
Ingredients
3

cups

all-purpose flour

1

teaspoon

baking soda

1/2

teaspoon

baking powder

1

teaspoon

salt

2

teaspoons

ground cinnamon

8

ounces

cream cheese

softened

12

ounces

(1.5 cups) granulated sugar

3

large eggs

2

teaspoons

vanilla extract

8

ounces

(2 sticks) unsalted butter

melted and cooled

2

cups

shredded zucchini

4

ounces

(1/2 cup) bittersweet or semi sweet chocolate

melted

Powdered (confectioner's) sugar (optional)

for dusting
Instructions
Heat oven to 350 degrees F

Grease and flour a 12-cup bundt pan and set aside

In a medium bowl, whisk together the flour, baking soda, baking powder, salt, and cinnamon. Set aside.

In the bowl of a stand mixer (or with an electric hand mixer), beat cream cheese and sugar on medium speed until well incorporated. Add the eggs, one at a time, beating for 1 minute between each addition, then add the vanilla extract. With the mixer on low speed, pour in the melted butter and increase the speed to medium-high. Continue mixing about 3 more minutes, until the batter is shiny and smooth.

Reduce the speed to low and add the flour mixture all at once. It's important not to over-mix the batter, so beat just until incorporated (there will still be some flour present in the batter). Add the zucchini and use a spatula to fold it in and finish incorporating the flour into the batter. The batter will be thick.

Using a small pastry brush or spatula, "paint" the melted chocolate on the inside of the bundt pan.

Spoon the batter into the pan and bake for 45-50 minutes, until a skewer inserted near the center comes out with just a few crumbs. Remove cake from the oven and allow it to cool in the pan for 20 minutes before inverting onto a wire rack to cool completely.

If desired, dust with powdered sugar.
Notes
Recipe adapted from Zucchini Cream Cheese Pound Cake, by Joy Wilson (Joy the Baker). Source: Joy the Baker's Cookbook - 100 Simple & Comforting Recipes.
This recipe will fill a 12-cup bundt cake or two 9-inch x 2-inch round cake pans
Nutrition
Serving:
1
slice
Calories:
375
kcal
Carbohydrates:
44
g
Protein:
5
g
Fat:
20
g
Saturated Fat:
11
g
Cholesterol:
77
mg
Sodium:
275
mg
Potassium:
152
mg
Fiber:
1
g
Sugar:
24
g
Vitamin A:
625
IU
Vitamin C:
2.8
mg
Calcium:
40
mg
Iron:
1.8
mg