This is the start of a tasty week filled with brunch recipes. Welcome to #Brunchweek 2014! I'm kicking things off with a recipe for Carrot Cake Steel Cut Oatmeal. It's hearty and creamy, with just a touch of sweetness. Be the cool parent and serve this up for your kids. It's so sweet and delicious, they may think they're eating cake instead of good-for-them oatmeal!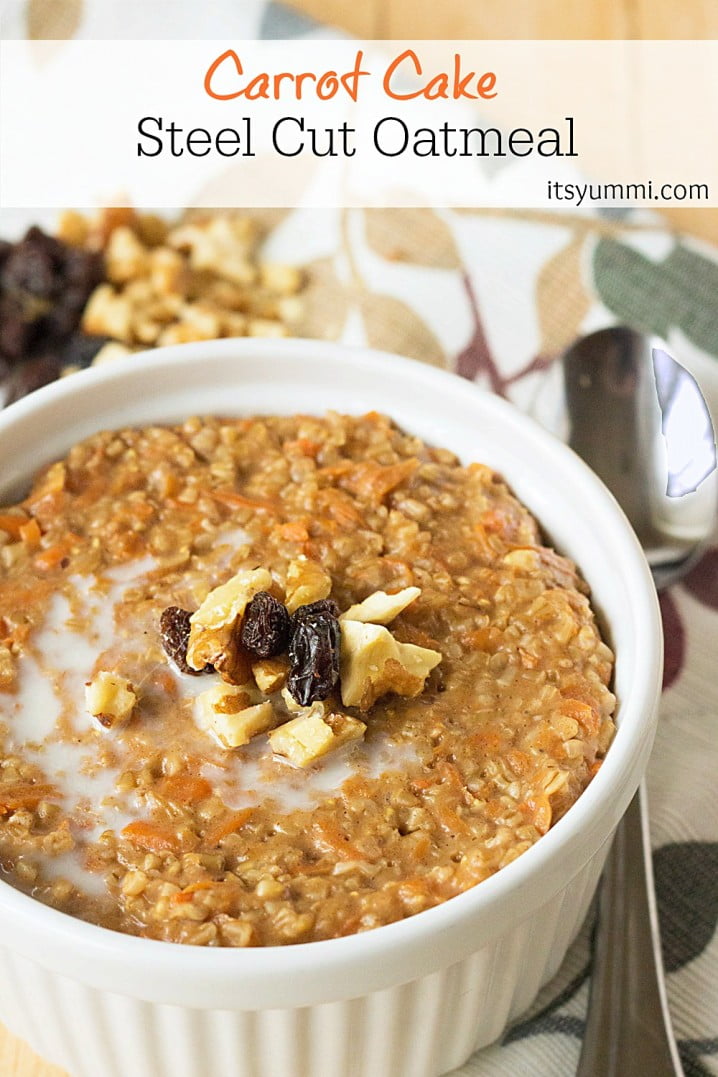 This is the second annual brunch week, and this year, it's hosted by Terri from Love and Confections and Susan of The Girl In The Little Red Kitchen!  Starting today, and running through May 11th, we'll celebrate the deliciousness of brunch and prepare for Mother's Day and the summer brunch season.  We have 32 bloggers bringing you their best brunch recipes, from beverages to main dishes, to salads and desserts. There'll be delicious recipes for everyone's taste buds this week.  Our amazing sponsors have donated some great prizes for a gigantic giveaway, too, and I think you're gonna love the details of this one, my friend!
Click here to jump to the recipe for CARROT CAKE STEEL CUT OATMEAL, or scroll down and check out the prizes for the giveaway first!
GIVEAWAY DETAILS:
Thanks to our wonderful sponsors for their generosity, we have an incredible lineup of 9 FABULOUS prizes available to give away.  Kitchen appliances, gift baskets, food…we've got it all! Take a peek!
Prize #1
Bob's Red Mill is giving one lucky winner a variety of flours, baking mixes, grains, a cookbook, Bob's Red Mill tote bag, whisk, spatula, scale and Bob's Red Mill gift card.
About Bob's Red Mill: Trust, honesty and integrity. The three principles their business is built on. Their packaging is a great example of this commitment: clear bags that let you see the high quality of every one of their products. By producing the very best in whole grain foods, they are able to fulfill their commitment to help look after more and more people through better nutrition.
 Prize #2
OXO is giving one lucky winner a prize pack containing the following OXO tools to host a successful brunch, Egg Beater, Flip & Fold Omelet Turner, 3-in-1 Egg Separator, Batter Dispenser, Mini Silicone Flexible Pancake Turner, Batter Bowl, Medium Silicone Spatula, 4 piece Mini Measuring Beaker Set, Muddler, Angled Measuring Jigger.
About OXO:  OXO's mission is dedicated to providing innovative consumer products that make everyday living easier.
Prize #3
California Walnuts is giving one lucky winner a 14 cup Cuisinart Food Processor.
About California Walnuts: The California Walnut Board was established in 1948 to represent the walnut growers and handlers of California. The board is funded by mandatory assessment of the handers and the California Walnut Commission, established in 1987 is funded by mandatory assessments of the growers.
Prize#4
Grimmway Farms is giving one lucky winner a 5-speed Kitchenaid Immersion Blender with 5 attachments! Perfect to chop and shred fresh carrots, whip up a smoothie or blend a carrot soup. Some fresh carrots will be included to practice with.
About Grimmway Farms: The story of Grimmway began in 1968, when brothers Rod and Bob Grimm set up a roadside produce stand and planted that would blossom into today's Grimmway Farms. Grimmway has become one of the largest growers, producers and shippers of fresh and processed carrots in the world. They are the leading supplier of organic produce with 75+ organic product offerings.
 Prize #5
Baloian Farms is giving one lucky winner a Calphalon Unison Sear nonstick 13" wok, plus some fresh veggies to practice with.
About Baloian Farms: Since, 1917, Baloian Farms, a family operated business which includes 4 generations of Baloian leadership, has been growing premium fresh fruit and vegetables. Today, Baloian Farms has become one of the largest growers, producers and shippers of fresh bell peppers on the West coast.
Prize #6
Woot Froot is giving one lucky winner a Nostalgia Electrics Margarita Maker. Perfect for brunch drinks or slushies during the summer. They will also be sending some freshly sliced, peaches and nectarines to practice with.
 About Woot Froot: The story of Woot Froot begins 25 years ago, when owner Kim & Eric Gaarde began their careers in the peach and nectarine business working for farmers. They learned the business and were content, but one day a simple question changed it all. "Why isn't anybody doing fresh-cut peaches and nectarines?" People told Kim it was impossible and she didn't accept the answer, so she left her job and started her own R&D company to find out. After many years of research and, trial and error Woot Froot freshly cut peaches and nectarines were created!
Prize #7
Dixie Crystals | Pure Cane Sugar is giving one lucky winner an assortment of sugar and a branded apron to wear while cooking their brunch week recipes.
 About Dixie Crystals: Since 1917, Dixie Crystals® has been the South's choice for high-quality sugar and sweeteners. Our pure cane sugar products are all natural, non-GMO and provide consistently delicious results.
Prize #8
Whole Foods Orlando is giving two lucky winners gifts baskets. The first Morning Mimosa Basket contains: Authentic French Brioche, 365 Everyday Value™ Maple Syrup, 365 Everyday Value™ Organic Cinnamon, a Whisk. Allegro® Breakfast Blend Coffee, a bottle of Prosecco, 365 Everyday Value™ Orange Mango Juice. Whole Foods Market Champagne flutes (2). Micro Plane and a Medium Mixing Bowl. The second Breakfast-in-Bed Basket contains: 365 Everyday Value™ Whole Wheat Pastry Flour, 365 Everyday Value™ Pancake Mix, 365 Everyday Value™ Organic Fruit & Nut Granola, a French Press, Allegro® Breakfast Blend Coffee, Friordifrutta™ Wild Lingonberry & Rose Hip Fruit Spread, Allegro® Organic Breakfast Blend Tea, Allegro® Organic Northwest Minty Green Tea, Allegro® Coffee Cup, a Mixing Bowl and a Whisk.
 Prize #9
Bonne Maman is giving five lucky winners a jams and jellies prize pack.
 About Bonne Maman: Bonne Maman Preserves and Jellies, produced in France, are all-natural, with no artificial coloring, no high fructose corn syrup or no preservatives added. Everything in Bonne Maman Preserves and Jellies could easily be found in your Grandmother's kitchen cabinet.
Wait! There are MORE prizes to give away!  Join us Thursday, May 8th from 7pm to 8pm Eastern Standard Time (EST) for our Twitter chat, where you'll have a chance to win 3 additional jam and jelly packs from Bonne Maman, 1 pack of premium Washington apples from Stemilt Growers and this gorgeous mandolin from Vidalia Onions!
 Aren't you just busting at the seams with smiles right now?!  I sure am, and you have no idea how badly I wish I could enter to win these awesome gifts!
The Rafflecopter form you'll use to enter the giveaway and the giveaway rules are listed below my recipe, along with links to the other delicious recipes prepared by the other Brunchweek participants.  I hope you enjoy this incredibly fun, delicious week!  Now who'd like a bowl full of my creamy, hearty, carrot cake in a bowl?

I made this oatmeal with help from a couple of our #Brunchweek 2014 sponsors. I used Bob's Red Mill steel cut oats and Grimmway Farms carrots.  Two of the completely delicious components in this brunch treat!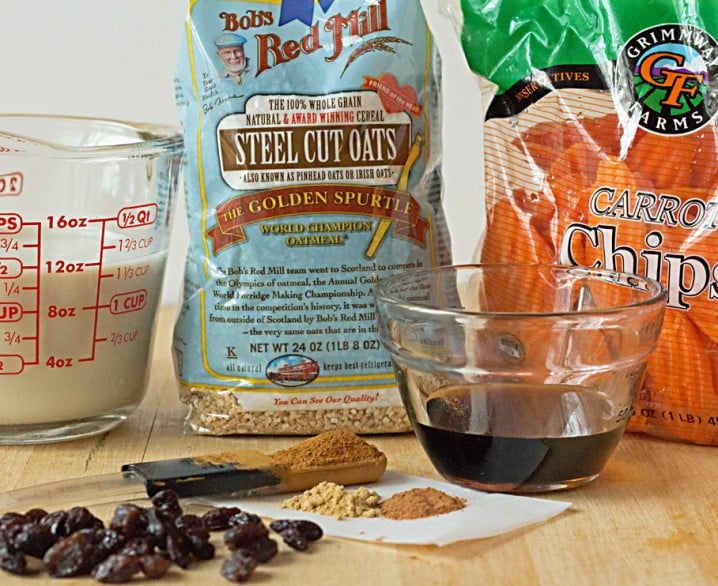 I adapted this recipe from one that my friend Karen made.  She used coconut in her version, but since I'm allergic to all forms of coconut, I left it out of my version. I'm sure it adds another great layer of flavor, so feel free to add 1/4 cup of shredded coconut to the mixture when you're cooking it on the stove, and/or sprinkle some on the top of your finished oatmeal.  I went for raisins and walnuts, and an extra dash of almond milk to top mine off.
This will keep well for a few days if you cover and keep it in the refrigerator. I had it on day 3 with some maple syrup drizzled over the top.  It made my stomach quite happy, and all I wanted to do was shout out the open window, "It's yummi!"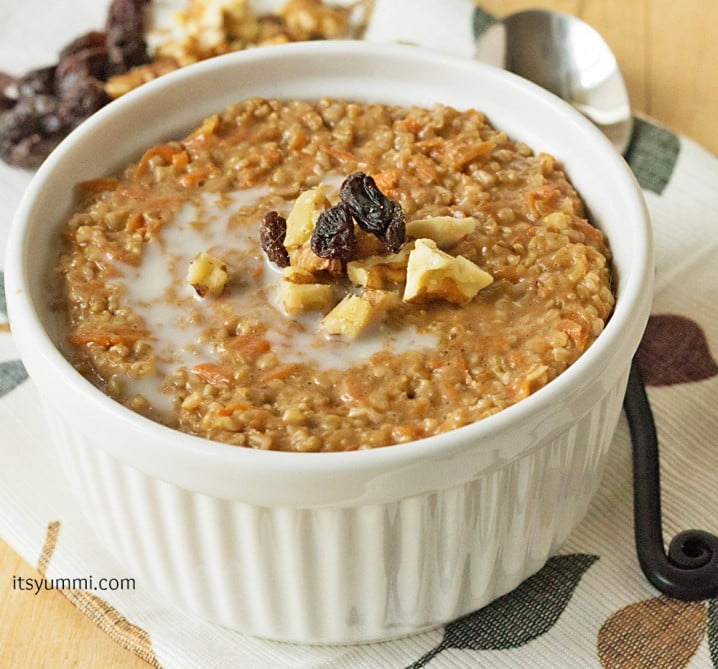 Carrot Cake Steel Cut Oatmeal
Carrot Cake Steel Cut Oatmeal
Created By:
Chef Becca Heflin
Recipe Category:
Breakfast / Brunch
Cuisine:
Cereals / Grains
Prep time:
Cook time:
Total time: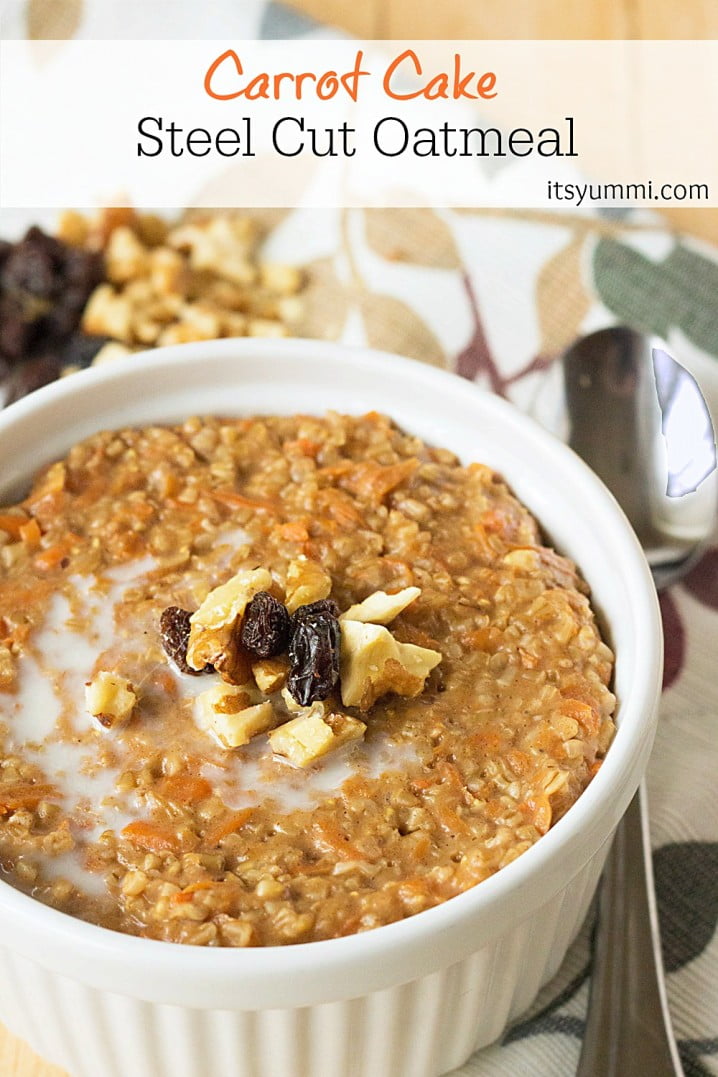 This hearty oatmeal is creamy, decadent, and healthy all at the same time. With just a touch of sweetness from maple syrup, it's almost like eating cake for breakfast!
INGREDIENTS
2 cups steel-cut oats (not quick-cooking)
2 cups finely grated carrots
3 cups almond milk or regular milk
3 cups tap water
1/4 cup pure maple syrup
2 teaspoons ground cinnamon
1/2 teaspoon ground nutmeg
1/2 teaspoon ground ginger
Pinch salt
2 teaspoons vanilla extract
raisins and chopped walnuts for topping
INSTRUCTIONS
To a medium saucepan over medium heat, add the oats, carrot, milk, water, maple syrup, cinnamon, nutmeg, ginger, and salt. Bring to a boil then reduce heat. Simmer for about 20 - 25 minutes until the oatmeal is tender and creamy. Remove from heat and stir in the vanilla extract.
Garnish with raisins and walnuts, and a little extra almond milk or half & half, if desired.
Looking for more delicious brunch recipes? Check out what my blogging friends made!
Beverages:
Brunch Eggs:
Main Brunch Dishes:
Brunch Starches and Sides:
Brunch Fruit and Vegetables:
Brunch Desserts:
Now It's GIVEAWAY time!
How a Rafflecopter giveaway works:
The more entries completed by entrants, the better chance they have of winning. Rafflecopter randomly selects a number of winners from entrants pool, verifies the winners' entries, and announces the winners directly on the Rafflecopter widget.
Terms & Conditions:
There is only ONE mandatory entry: Leave a comment under this post, telling us what your favorite brunch dish is.
There are many more ways to earn entries, as outlined in the Rafflecopter widget, below.
This giveaway is open to residents of the United States only, age 18 & older. The #Brunchweek 2014 giveaway runs from Monday, May 5, 2014 7:00a EDT through Saturday May 10, 2014 at 11:59p EDT. Winners will be randomly chosen and announced on May 11th. Winners will also be contacted by email and will have 48 hours to respond to the email. If a winner does not respond in that time a new winner will be chosen. For more information, see the full terms and conditions in the Rafflecopter widget.
Disclaimer:
California Walnuts, Bob's Red Mill, Oxo, Dixie Crystals, Whole Foods Market Doctor Phillips, Grimmway Farms, Woot Froot, Vidalia Onion, Baloian Farms, Stemilt and Bonne Maman are providing the prizes free of charge.  I have received product related to these brands to use for #Brunchweek. All opinions stated are my own.
 
a Rafflecopter giveaway

 
A huge thank you to all our amazing #BrunchWeek sponsors. Please follow these lovely folks on their social media sites:
Bob's Red Mill – Facebook, Twitter, Pinterest, Instagram
Whole Foods Market Orlando
Faceboook
,
Twitter
,
Pinterest
, Instagram,
Stemilt –
Facebook
,
Twitter
,
Pinterest
, 
Blog
Baloian Farms –
Facebook
Woot Froot –
Facebook
,
Twitter
,
Pinterest
Vidalia Onion –
Facebook
,
Twitter
,
Pinterest
Grimmway Farms –
Facebook
,
Twitter
,
Instagram
,
Pinterest
Bonne Maman –
Pinterest