It's Sunday, so some of you may be wondering where my Sundays with Joy post is.  The truth is, I made the decision not to participate with the rest of the group this week.  It wasn't because I didn't care for this week's recipe.  After all, the SWJ girls baked up beautiful batches of Joy the Baker's recipe for jalapeno cheddar biscuits.  YUMMILICIOUS!  What's not to love about fluffy, tender, cheesy biscuits with a bite of heat?!  If you'd like to take a peek at the gorgeousness, head on over to Carrie or Tiffany's blog and feast your eyes on some beautiful biscuits.  Tiffany's post includes the recipe so that you can bake up a batch of your own!  Here's what I chose to make instead of the biscuits this week:

Truthfully, the reason I didn't participate with the group this week is because I'm missing my mom. Massive amounts of missing her, guys.    You see, August 27, 2011 was the final day that my sweet momma's face graced this earth.  It was the day Granny (the nickname she chose for herself and asked EVERYONE in her life, including her children, to call her when her first grandchild was born) drew her last breath, fastened on her angel wings, and left this world for her eternal home.   I have hopes and dreams that she was reunited with my daddy that day.  When he died, in July of 1979, my dad was the age I am now...48.  Mom was 76 when she left the world.  They were such a beautiful couple...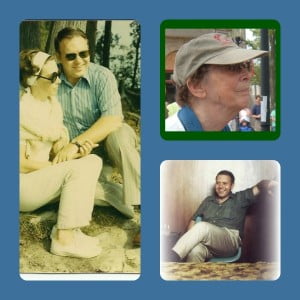 So, I'm a bit weepy this weekend.  I'm crying over loss, but also because of happy memories of a wonderful woman...and her food.
When Granny was alive and I was having a weepy moment, she'd sit me down at the kitchen table, kiss my forehead, look me square in the eye, and encourage me to turn my frown upside down.  Mom was without a doubt the most optimistic woman to ever walk the earth.  I'd go so far as to guess that optimism was her major in college and she just never mentioned it to anyone.  Truthfully, there were times that it bordered on annoying.  There would be NO sitting on pity pots in our house...no siree!
She'd lecture discuss how life was too short to be upset about anything, stressing the importance of blooming where you are planted, making the most of every moment, being grateful to be alive...that sort of thing.  As she continued to speak, she'd walk over to the kitchen counter, slip on her favorite denim apron (my mom was beautiful, but definitely not a girly girl) and then choose six or seven apples from the fruit bowl.  Whatever variety happened to be on hand at that moment would work.  It was usually Macintosh and/or Granny Smiths.
After wiping each apple gently with her apron (her version of washing fruit was adorable, but hardly worthy of meeting food safety guidelines), she'd start peeling, coring, and cutting the apples into wedges.  she'd place them into a medium sized sauce pan and add a little bit (about 1/4 cup) of water or apple cider and a cinnamon stick.  Then she'd let everything simmer gently on the stove.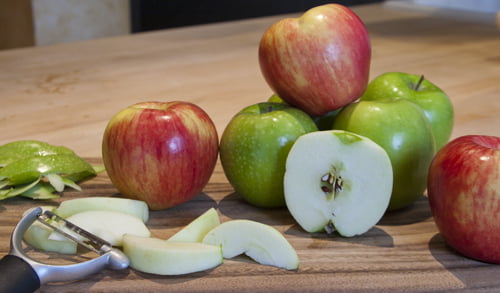 As the apples cooked, Granny would turn her focus back onto me... her second youngest "baby chick". She'd get to the core (no pun intended) of the problem behind my sorrow.  I'd talk and she'd listen, but she'd always keep a watchful eye on the apples cooking on the stove top.  She was a phenomenal multitasker.  I suppose that when you have 6 children within 9 years time, that becomes a necessity.  She would gently stir the apples every 5 minutes or so to assure that they all had a chance to cook, but that none of them became too mushy.  Chunky applesauce was the desired result because she and I both knew that warm chunky applesauce worked the best stirred into a bowl of oatmeal or spooned over a bowl of ice cream.  Oh yeahhhh....
About 20-25 minutes later, when the scent of baked cinnamon apples permeated the air, she would stir in about 2 tablespoons of sugar and a teaspoon of cinnamon.  Then she'd prepare a bowl full for each of us.  Her lips would draw a slight smile as she'd hand me my bowl and say, "Sweet Patootie, life is always better when it's filled with a bit of love."
My sentiments exactly, Granny.
Granny's Chunky Applesauce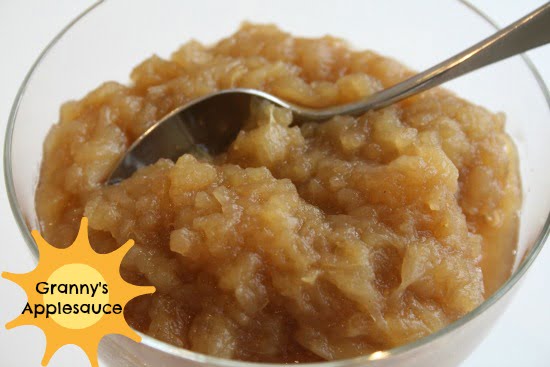 WHAT YOU\'LL NEED
6-7 medium-sized apples (about 2 pounds), such as Macintosh; peeled, cored, and cut into wedges
1 cinnamon stick
1/4 cup apple cider or water, plus more as needed
Pinch of nutmeg
1/4 teaspoon ground cinnamon, more or less as desired to taste
1 tablespoon of sugar, more or less as desired to taste
HOW TO MAKE IT
In a heavy saucepan over medium heat, combine apples, cinnamon stick, nutmeg, and cider (or water).
Cook, stirring every few minutes and adding more cider as needed to prevent scorching, until apples are broken down, 20 to 30 minutes.
Mash large pieces with a spoon; stir in sugar and more cinnamon to taste. Serve warm or cold.
Store in a tightly covered container in the refrigerator for up to 5 days.
http://www.itsyummi.com/memories-of-mom-cooking/
Recipe From: www.ItsYummi.com