Chunky Stovetop & Slow Cooker Applesauce
Making homemade chunky Slow Cooker applesauce has never been easier with your choice of the slow cooker or stovetop. Come home to the smell of fall with slow cooker applesauce, or whip it up for dinner in just 45 minutes on the stovetop.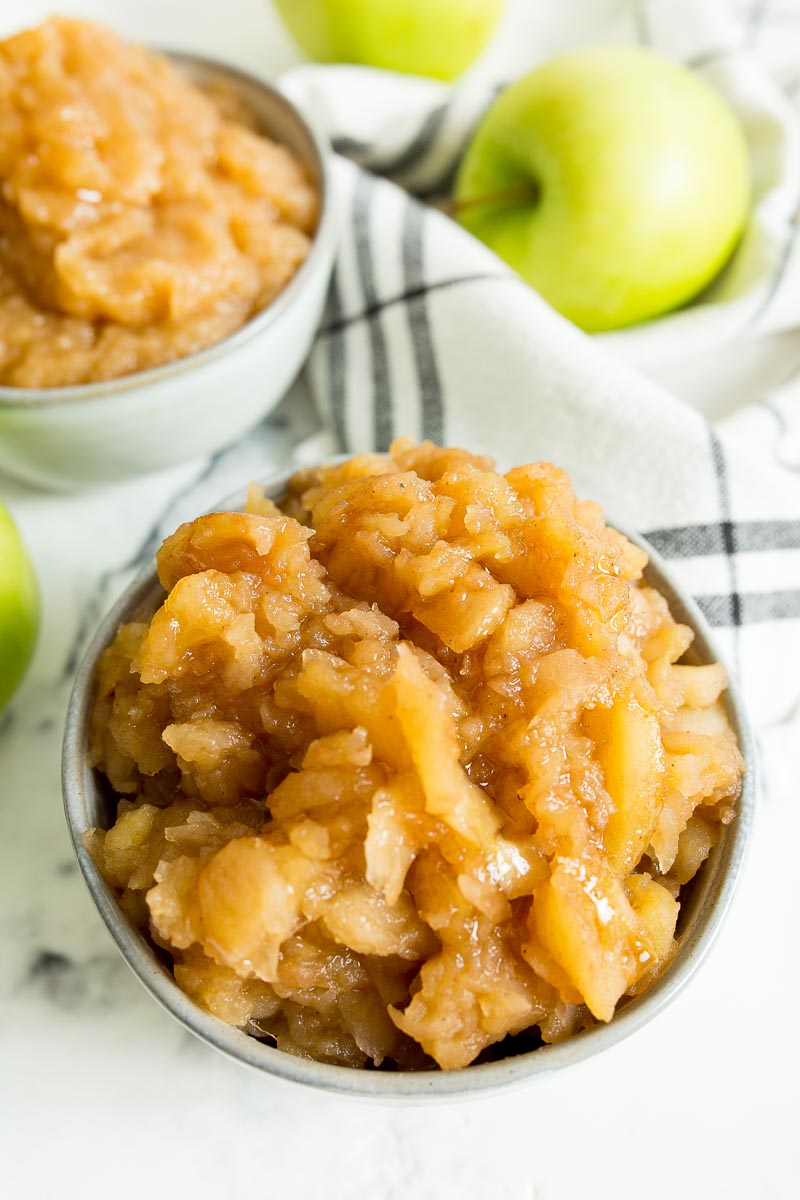 Slow cooker recipes are among my favorite for fall. Apples are one of those quintessential ingredients to fall that are available all year round. But in the fall, you know they're fresh from the orchard, ripe, and ready to use. It 100% means we need to make some slow cooker applesauce.
After a day of picking from the orchard, I come right home and get to work with my favorite apple dishes: apple cinnamon donuts, and then depending on my mood it's either applesauce in the slow cooker or apple butter in the slow cooker with homemade applesauce on the stovetop. My house smells like fall heaven!
Can I make Applesauce without peeling
To peel or not to peel. Much like apple butter, homemade apple sauce is super easy to make. You can even make applesauce without peeling the apples!I personally… I despise peeling apples. I find that it's a waste of good apple fiber. We've actually had numerous conversations with friends about this and it really boils down to.. it's personal preference.I prefer chunky applesauce, and others I want it a bit smoother. You will get the smoother texture without the skins. With the skins I equate it to a chutney texture.To smooth it out even more you can use an immersion blender, food processor, or even your standard blender.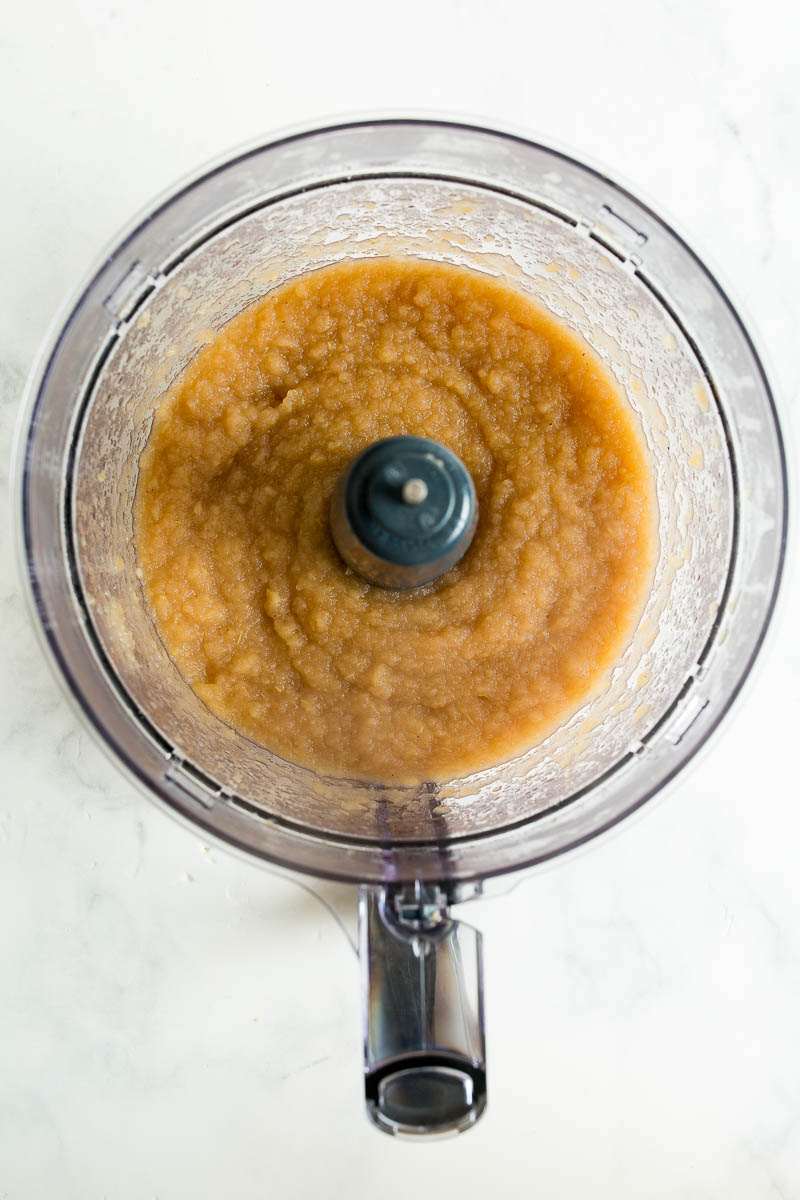 How to Make Chunky Slow Cooker Applesauce. Easy as 1, 2, 3
Gather all your ingredients. Core and slice your apples into equal chunks for an even cooking experience. You can peel or leave the skins on. Both ways are equally delicious and if smoothing in the food processor, the skins will get broken down.
Add all the ingredients to a slow cooker or a dutch oven on the stovetop. Stir, cover, and let the magic happen. In the slow cooker it will take only 4 hours on high. Whereas on the stovetop, you're looking at about 30-40 minutes over medium heat for the apples to breakdown. Note that on the stovetop, you may need to add more liquid to encourage the breakdown of the apples.
Use a potato masher to smash the apples before smoothing with a food processor or canning.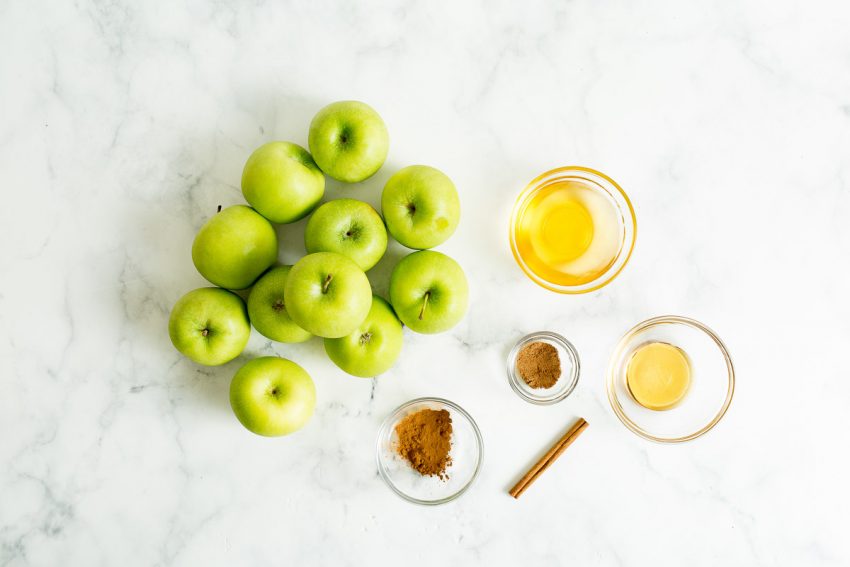 What apples to use for applesauce?
While there are varieties best suited for eating straight from the tree, and others that are better enjoyed when cooked, applesauce is an easy recipe that calls for both.
We personally like too use granny smith or macintosh but you really cannot go wrong when it comes to homemade applesauce and the apples chosen. Use one kind or multiple varieties. They blend so perfectly with the cinnamon and honey, you can't go wrong.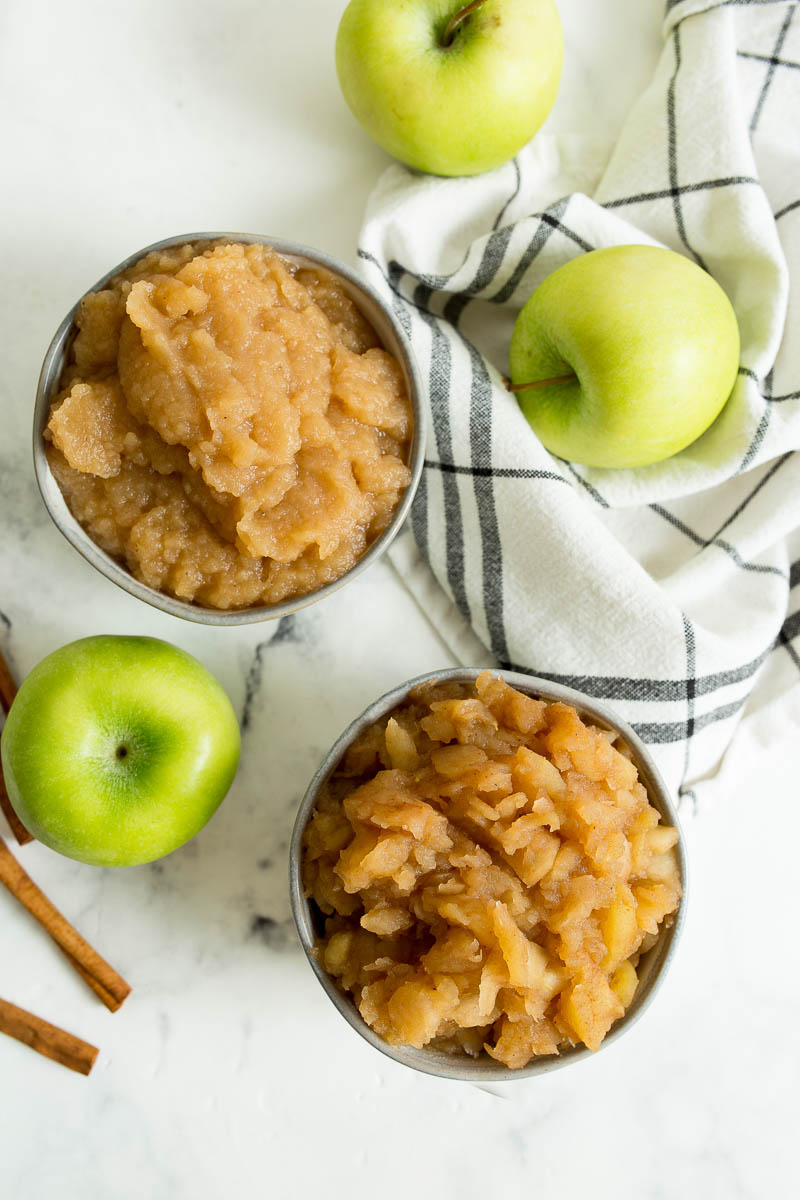 How to store homemade applesauce
Storing homemade applesauce is as easy as a mason jar. When kept, uncanned, in the refrigerator, a mason jar of applesauce will last a week or two.When canned appropriately, you can expect months to even a year depending on the recipe. I know many people who end up canning as their family simply cannot go through it. It's also economically smart as well when you can get apples for cheap and then you can enjoy year round.
Can you freeze applesauce?
Yes! Freeze as ice cubes or in Ziploc bags and pull from the freezer as needed for treats like Peanut Butter Applesauce Cookies year-round. You will want to be sure to leave space in whatever freezer container you use since there is liquid that will expand. It will last frozen up to 2 months.Once you are ready to eat it, simply dethaw in the fridge and consume within 2-3days.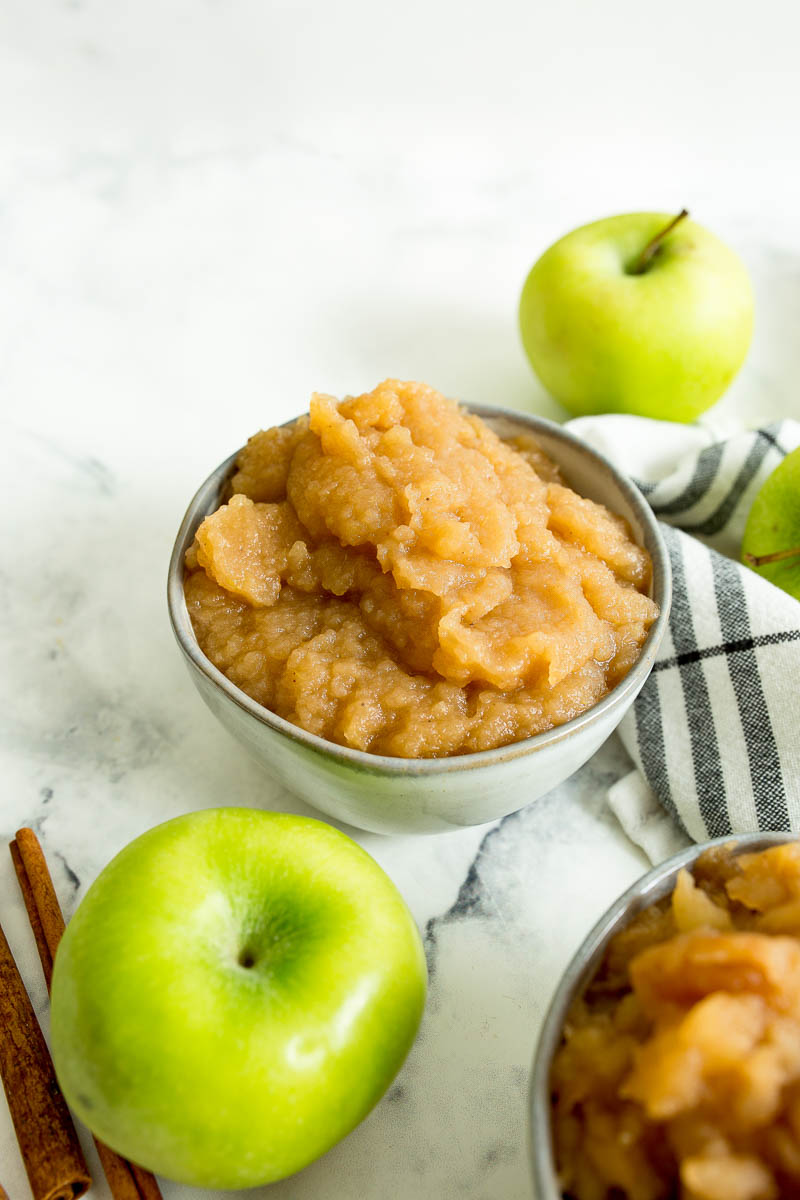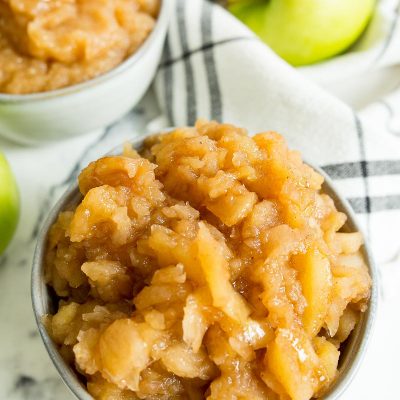 Homemade Chunky Applesauce
Make this recipe in the slow cooker or on the stovetop for the taste of fall all year-round.
Ingredients
2

pounds

(6-7 medium-sized) apples

such as Macintosh, Gala, or Granny Smith; peeled (or not peeled), cored, and cut into wedges

1

cinnamon stick

¼

cup

apple cider

apple juice, or water, plus more as needed

1

pinch

ground nutmeg

¼

teaspoon

ground cinnamon

more or less as desired to taste

1

tablespoon

raw honey

or sugar; more or less as desired to taste
Instructions
On the Stovetop
In a heavy dutch oven over medium heat, combine apples, cinnamon stick, nutmeg, and cider.

Cook over medium heat, stirring every few minutes, adding more cider as needed to prevent scorching until apples have broken down, 20 to 25 minutes.

Mash large pieces with a potato masher or the back of a spoon; stir in honey or sugar and more cinnamon to taste. Serve warm or cold.

Store in a tightly covered container in the refrigerator for up to 10 days.
For the Slow Cooker
Core and chop apples. Combine all ingredients into the slow cooker and cook on high for 4 hours. Mash and puree as desired.
Nutrition
Serving:
0.5
cup
Calories:
96
kcal
Carbohydrates:
25
g
Sodium:
2
mg
Potassium:
171
mg
Fiber:
3
g
Sugar:
19
g
Vitamin A:
80
IU
Vitamin C:
6.9
mg
Calcium:
15
mg
Iron:
0.2
mg