Bacon Cheeseburger Sandwiches
It's time for more bacon! What kind of blogger would I be if I didn't support my favorite protein by offering up great bacon-filled recipes like these bacon cheeseburger sandwiches? Answer: a BAD one, and we can't have that!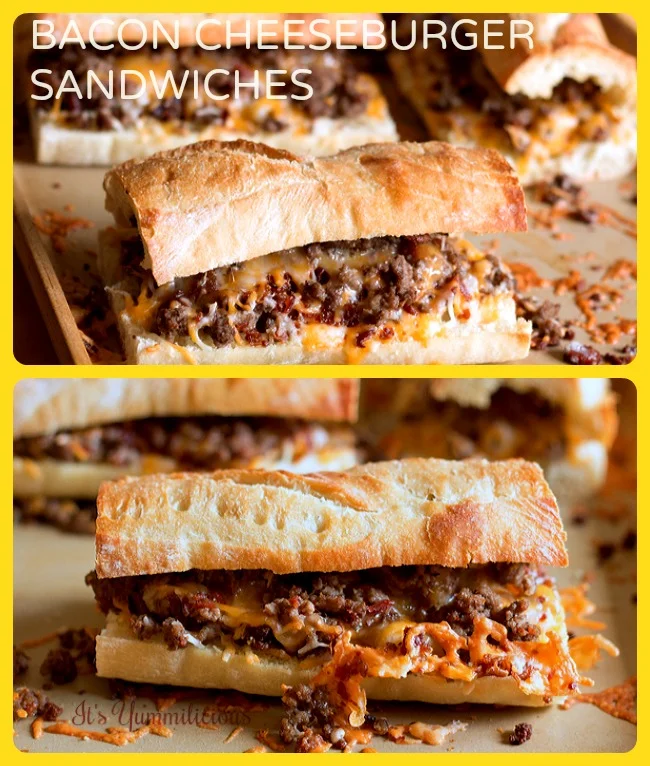 I was rushing to get out the door and head over to work when I made these bacon cheeseburger sandwiches, so I didn't spend more than 20 minutes assembling and baking them. In other words, this version would be the PERFECT lunch or dinner for those of you who have busy lives and want to spend as little time in the kitchen as possible.
If you've got a few more minutes to spare, I suggest that you dice up and saute onions, mushrooms, green peppers, jalapenos, or anything else that you think will make this sandwich the perfect burger sandwich for your taste buds.
I brushed the insides of the French bread with melted garlic butter before baking them, so I really didn't need to add much more to my sandwich to make it perfect for me. Just a bit of shredded lettuce and tomato and I was great to go. Brian added horseradish and onions to his bacon cheeseburger sandwich, which, in my opinion, makes him condimentally brilliant.
If your perfect bacon cheeseburger includes toppings like pickles, jalapenos, mustard, ketchup, or even BBQ sauce, by all means, pile them on and make yourself happy!
Now that the technicalities are out of the way, let me get to the recipe so that you can dig your teeth into one of these bad boy bacon cheeseburger sandwiches!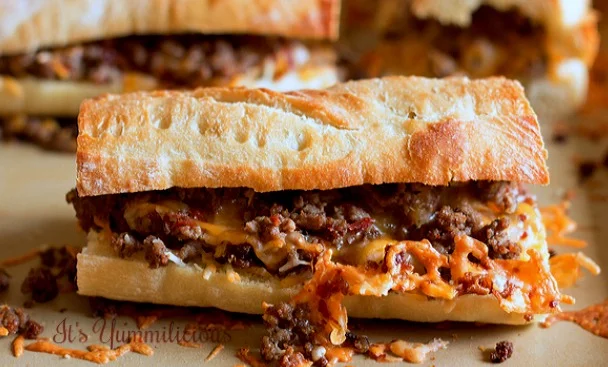 I hope you love these bacon cheeseburger sandwiches!
Bacon Cheeseburger Sandwiches
These loose meat bacon cheeseburger sandwiches can be topped with any of your favorite burger condiments, creating a new twist on the traditional burger!
Ingredients
1

pound

lean ground beef

4

slices

bacon

cooked and crumbled

2

tbsp

butter

1

tsp

minced garlic

1

French baguette

1

cup

shredded cheddar cheese

or cheese of your choice
Optional Toppings
diced onions

sliced mushrooms

shredded lettuce

tomato slices

condiments: ketchup, mustard, etc.
Instructions
Heat oven to 375 degrees F.

Add uncooked beef to a large skillet. Sprinkle with seasoning mix, salt, and pepper, and cook over medium-high heat, breaking up meat with a fork to crumble and stirring occasionally to prevent burning. (If desired, add diced onions and mushrooms after 3 minutes). Cook until no pink remains, about 8 minutes. Remove pan from heat, drain grease, stir in cooked bacon and set aside.

Add butter and garlic to a small, microwaveable dish. Cook on high power until butter is melted, about 25 seconds.

Cut French loaf into 4 equal sized pieces, and then slice each piece horizontally. Lay pieces cut side up on a sheet pan or baking stone. Brush each piece with melted garlic butter, add some of the beef and bacon mixture, and top with shredded cheese.

Bake at 375 for 10 minutes, or until cheese has melted. Top with your favorite condiments and place two slices of bread together, forming the perfect sandwich!
Nutrition
Serving:
1
sandwich
Calories:
583
kcal
Carbohydrates:
32
g
Protein:
39
g
Fat:
31
g
Saturated Fat:
15
g
Cholesterol:
129
mg
Sodium:
829
mg
Potassium:
532
mg
Fiber:
1
g
Vitamin A:
460
IU
Vitamin C:
0.4
mg
Calcium:
263
mg
Iron:
4.8
mg