Best Ever Brownies Recipe
The Best Ever Brownies are the brownies that are ooey-gooey, loaded with fudge, have a crackling crust on top, are slightly chewy, and solidify your reasons for being a chocoholic. These are those brownies!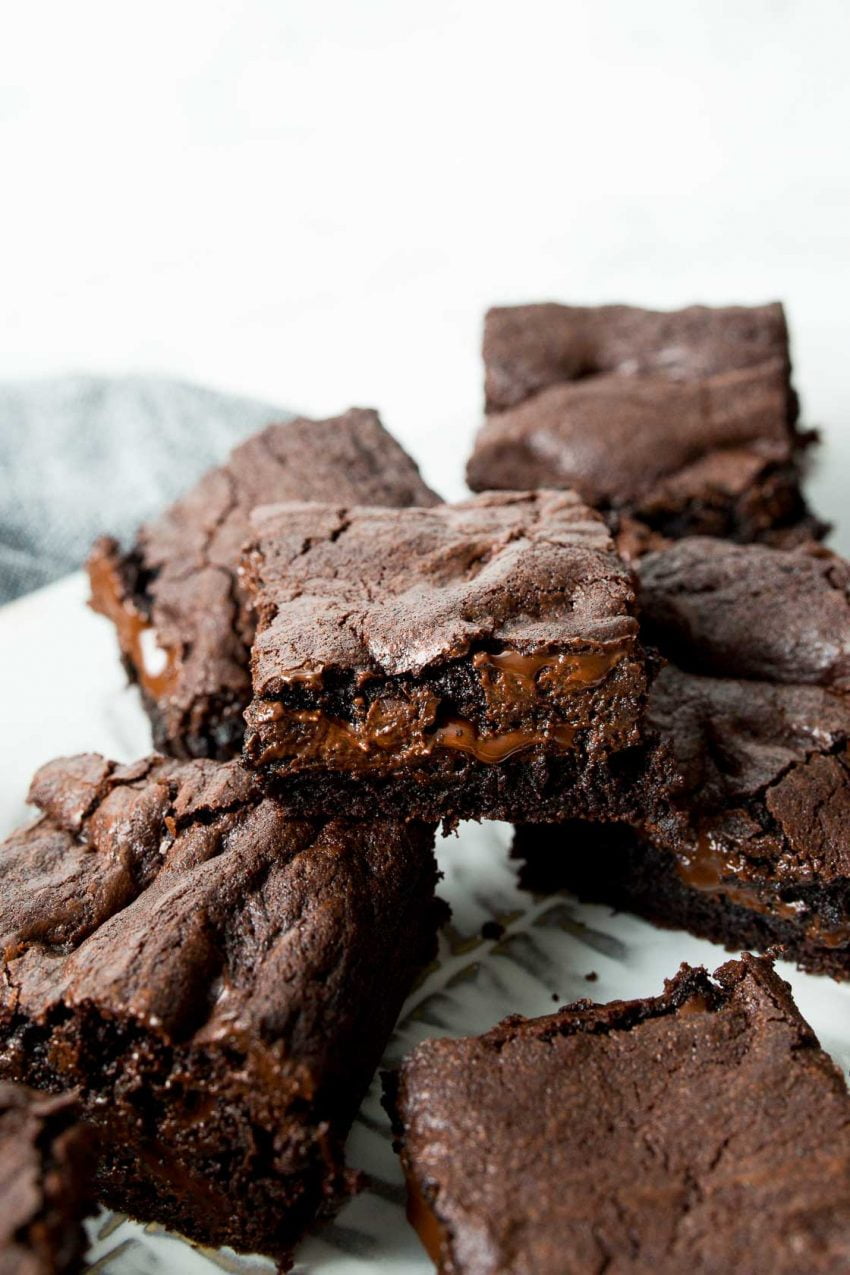 It should go without saying that you're only going to get the best ever brownies by making them from scratch. Knowing your ingredients, watching the process, and baking with love over oil, are key components to making the best brownies. But what are some other qualities in a good brownie?
Best Ever Brownie requirements
The best brownie recipe needs to be one that yields crisp, dense edges where the batter has kissed the pan during baking. It needs to have fudge-like consistency, but not so much that it falls apart in your hand while warm.
Melted chocolate should ooze out of every bite thanks to the addition of chocolate chunks in the batter. And while it should be sweet, there needs to be a balance of bitter notes from the use of rich cocoa powder.
That is at least our qualifications of a favorite brownie. We prefer the fudgy brownies. That is in our book the main component to some spectacular brownies. Take these Salted Caramel Hot Fudge Brownies for example.
These
Brownie M&M Cookies
are a delicious take on brownies in cookie form too.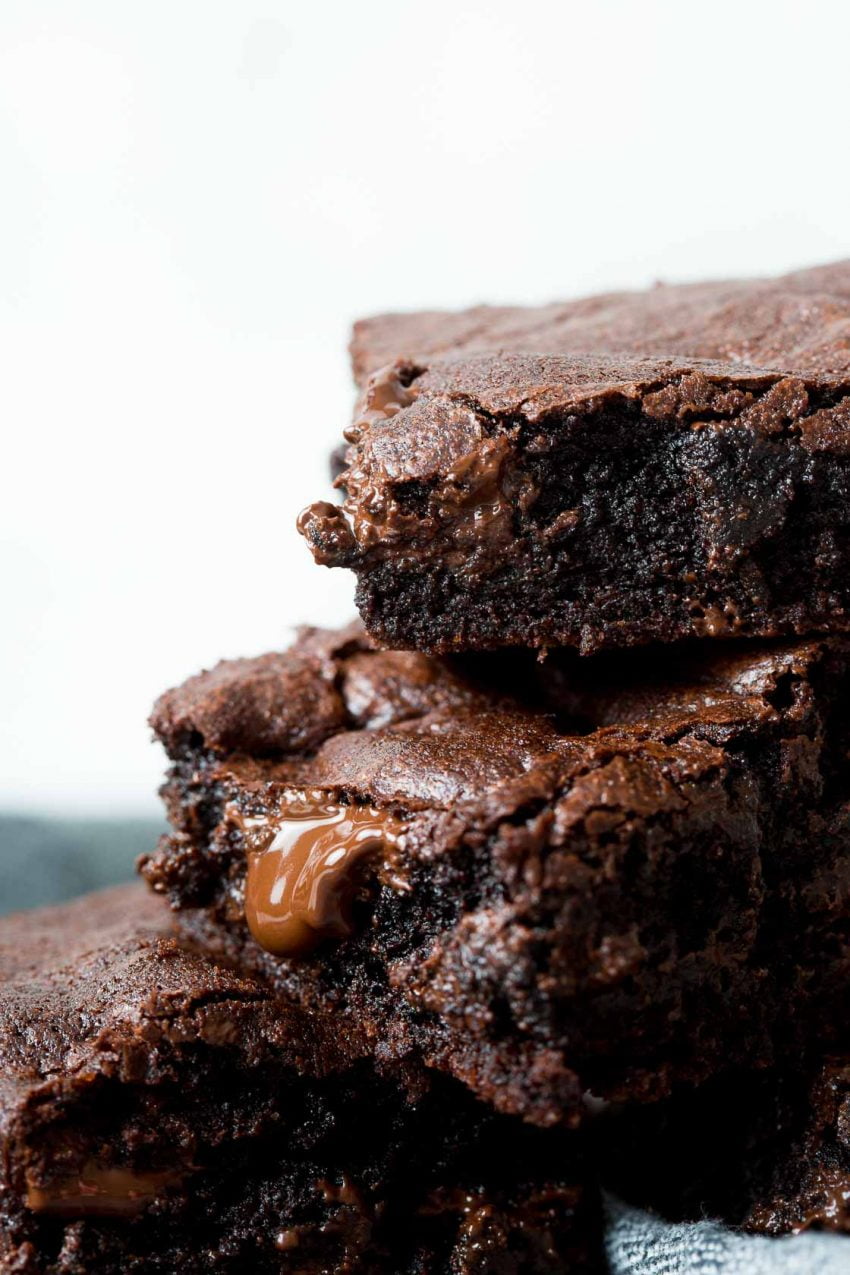 How to Make Brownies from Scratch
Simple ingredients make for moist, luscious brownies with a thick chocolate flavor. Gather these ingredients at the store and keep them on hand to make your brownies whenever the craving strikes!I know that making things from scratch many times is super difficult. We've been conditioned though to think that making it from a box is somehow easier. Really, it is not that difficult. Bonus factor is that you get to have complete control over your ingredients. Want to make them with your favorite chocolate? No problem. Making brownies yourself really gives you plenty of opportunity to make these and tailor them to your needs. Ready for even more-so a bonus? These can be made gluten-free!!! Yesssss. Simply swap this out with gluten-free 1-1 flour and you'll be golden. Be sure that this flour blend has xanthan gum in it as well. It's best if it's is a blend of rice, tapioca and cornstarch is our favorite blend personally.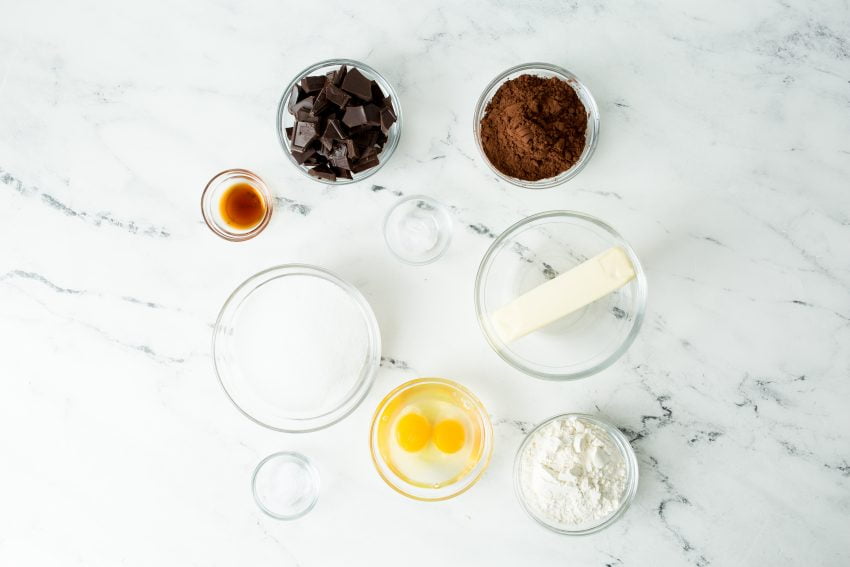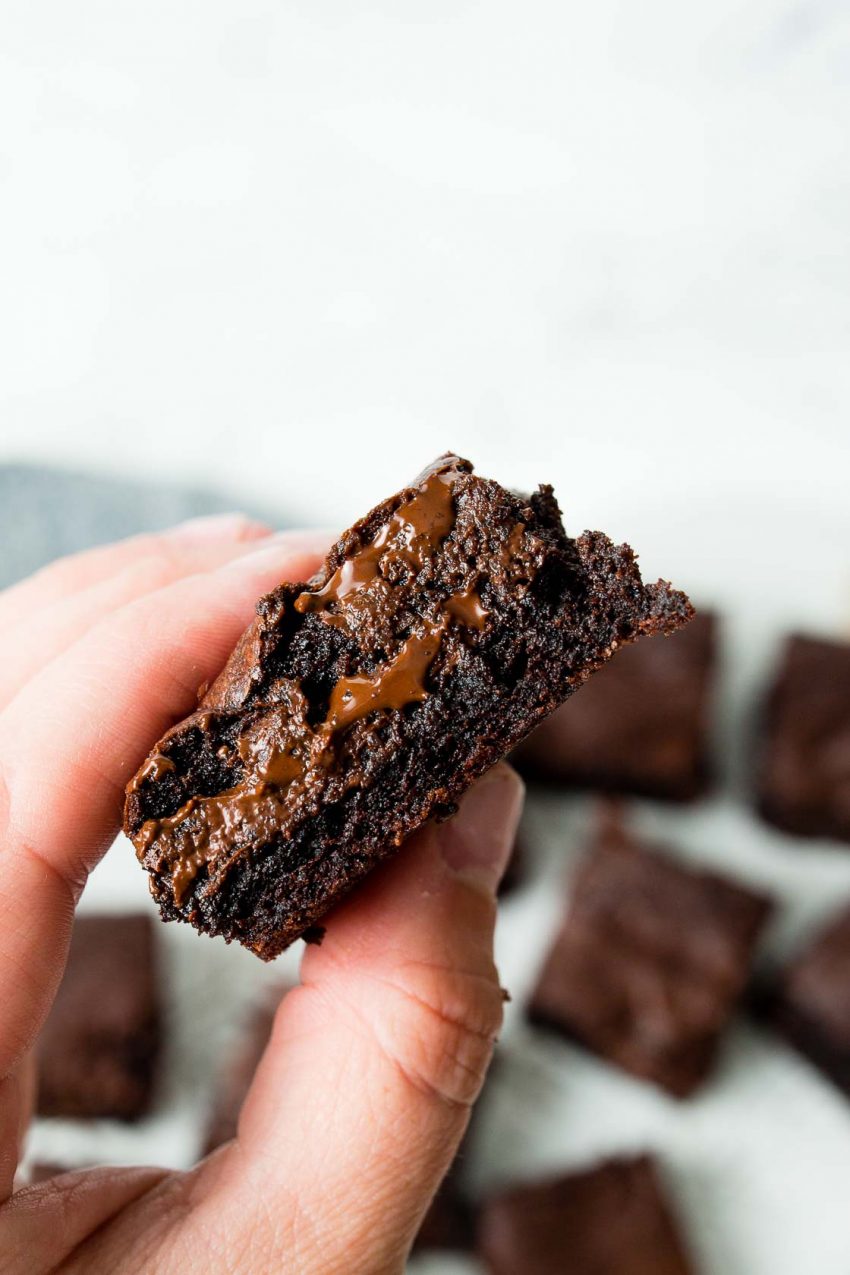 Tips for making this brownie recipe from scratch
Always start with room temperature ingredients. In any baking, the temperature and order in which you combine ingredients is crucial. Making homemade brownies starts with creaming the butter and sugar together. For this you need room temperature butter. Too cold and your butter will not cream.
Don't MELT.. Melted butter and your sugar ends up getting dissolved and prevents the soft fluffy clouds of butter from forming.
Eggs. The same goes for eggs. Room temperature eggs added to room temperature butter ensures the batter is mixed evenly and will result in a more even rise during the baking process.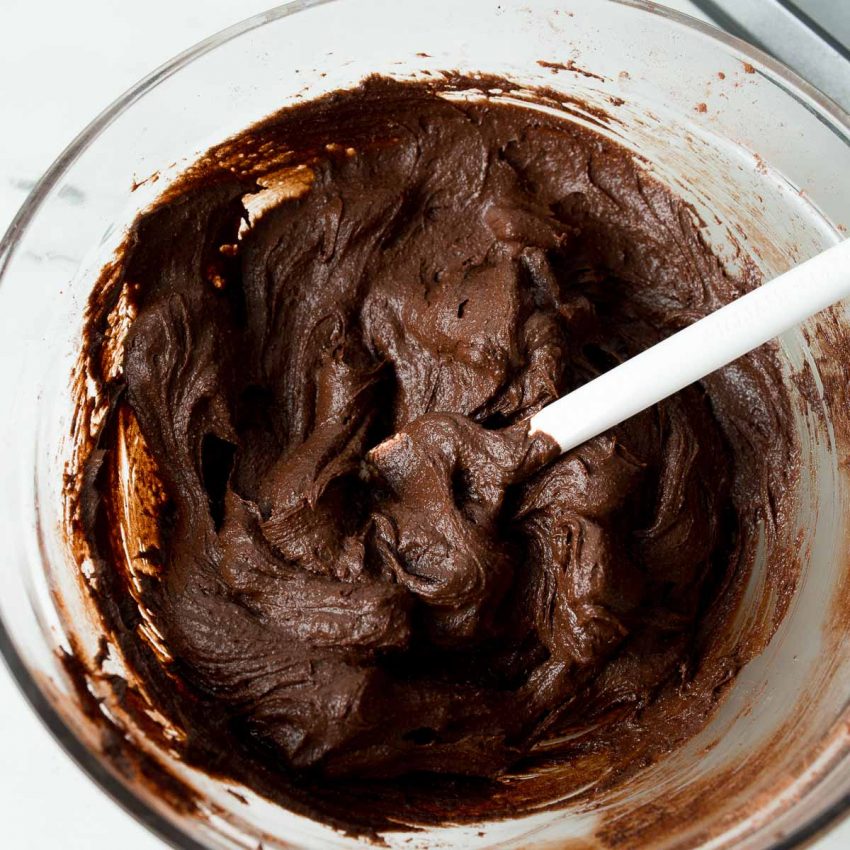 How to measure flour correctly
Spoon flour for measuring, never scoop directly. This goes for the flour and the cocoa powder. If you want to get really precise, we recommend measuring by weight with a kitchen scale. However, spooning your ingredients into a measuring cup and leveling off with the straight edge of a knife will suffice. Spooning the dry ingredients gives them the ability to breathe and fluff.Whereas scooping directly from the bag or container will result in a packed version of the ingredients. Thus, you end up with more in quantity than your recipe calls for which will result in hard bricks of brownies. We do not want that.After they come out of the oven you must do one more thing.
Wait for your brownies to cool. I know it's hard to wait, but the cooling process solidifies the binding agents within the batter. Allowing your brownies to cool completely before cutting is one way to ensure they do not fall apart in your hand. Once they are cooled, you can cut them easily and reheat in a bowl topped with no-churn honey ice cream for a warm hot-fudge brownie sundae!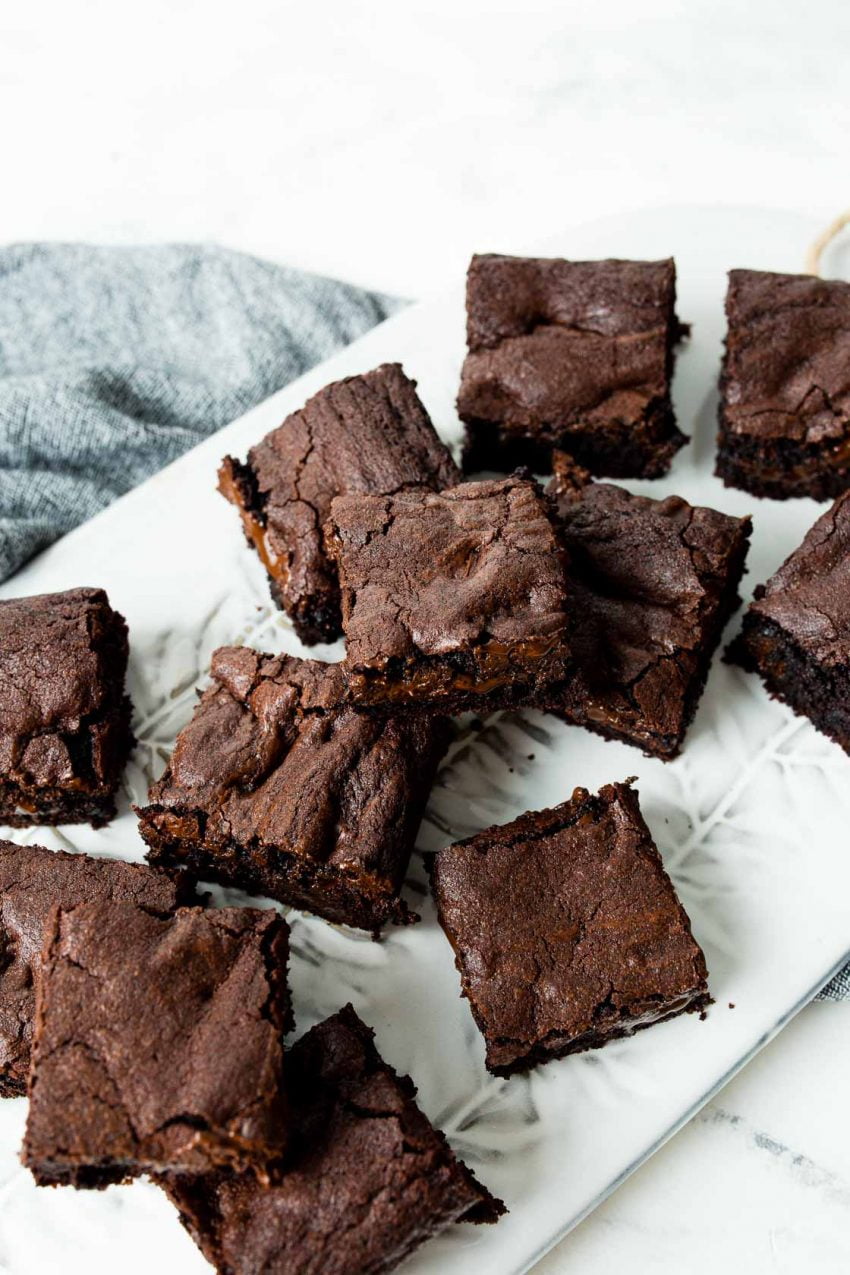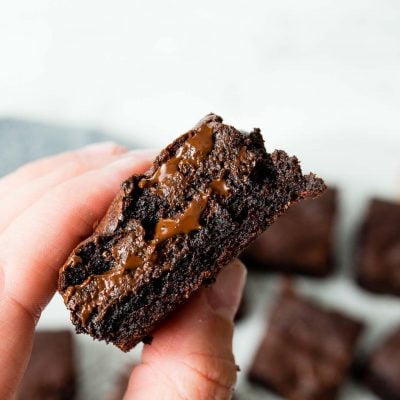 Best Brownies Ever
These brownies are fudgy and chewy, loaded with dark chocolate chunks, and topped with a crackled crust that'll make your heart swoon!
Ingredients
4

ounces

(1 stick) unsalted butter

room temperature

1

cup

granulated sugar

1

tsp

vanilla extract

2

eggs

½

cup

all purpose flour

½

cup

Dutch process cocoa powder

¼

tsp

baking soda

¼

tsp

salt

1

cup

bittersweet chocolate chunks
Instructions
Heat oven to 350 degrees F. Line the bottom AND up the sides of a 9-inch x 9-inch baking pan with parchment paper.

Beat together the butter, sugar, and vanilla in the bowl of a hand or stand mixer. Add the eggs one at a time, mixing well between each addition.

Stir together the flour, cocoa powder, and salt. Gradually add the dry ingredients to the butter mixture. Mix in the baking soda.

Mix in the chocolate chunks with a wooden spoon or spatula.

Pour the thick batter into the prepared dish and spread evenly.

Bake for 25 minutes, until brownies begin to pull away from the side of the pan. If you like your brownies less fudgy, add 5-7 minutes of additional baking time.
Nutrition
Calories:
320
kcal
Carbohydrates:
43
g
Protein:
4
g
Fat:
18
g
Saturated Fat:
11
g
Cholesterol:
63
mg
Sodium:
118
mg
Fiber:
3
g
Sugar:
33
g