Brown Butter Blondies with Almond Flour
Brown butter blondies are soft cookie bars with deep, nutty flavor. This is a healthier blondie recipe – these low carb blondies are made with almond flour and a plant-based, low glycemic sweetener. A Weight Watchers Freestyle dessert recipe!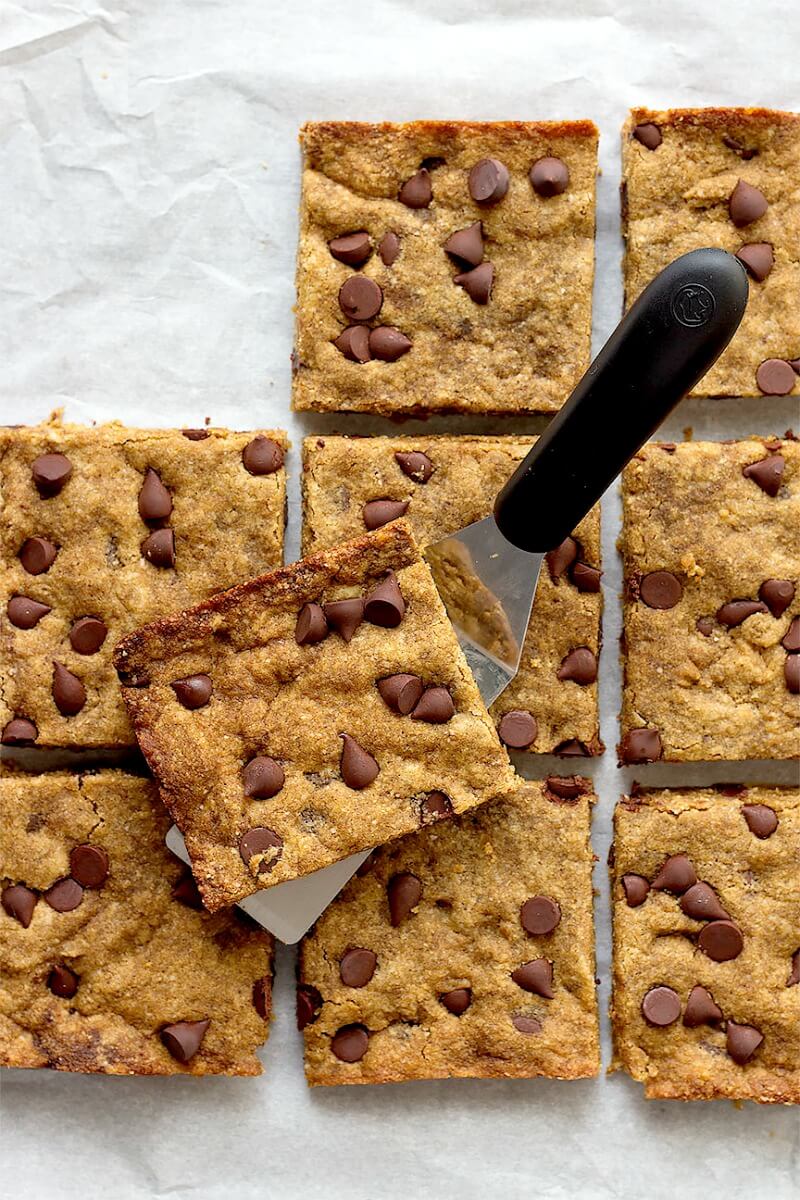 Creating healthier sweets isn't always easy, especially if there are food allergies to be taken into consideration. For example, I'm allergic to all forms of coconut. Heck, I'm so allergic to it, I can't even touch coconut without itching like a dog with fleas!
It's no secret that there are health benefits in coconut products; flour, oil, sugar, and even coconut milk. What are the health benefits of coconut? See my friend Erin's recipe for Coconut Flour Cookies… She gives the low down.
Sadly, my coconut allergy requires me to use alternative healthy ingredients. Thankfully, I have them, in the form of almond flour. Both of these ingredients are present in this brown butter blondies recipe.
A note regarding almond flour: There are two basic types available on the market; coarse and superfine.
Coarse almond flour is widely available in most large supermarkets, so it's what most people use for baking. While there's nothing wrong with doing so, I have a quirky aversion to textures, so coarse ground almond flour feels a bit gritty on my tongue. I'll use it in a pinch, but I much prefer superfine almond flour. In addition to the texture difference, superfine almond flour is physically lighter than coarse, so cakes made with superfine almond flour have a lighter, softer consistency.
All of that being said, these brown butter blondies are soft, but a bit crumbly, so use of either variety of almond flour will work perfectly.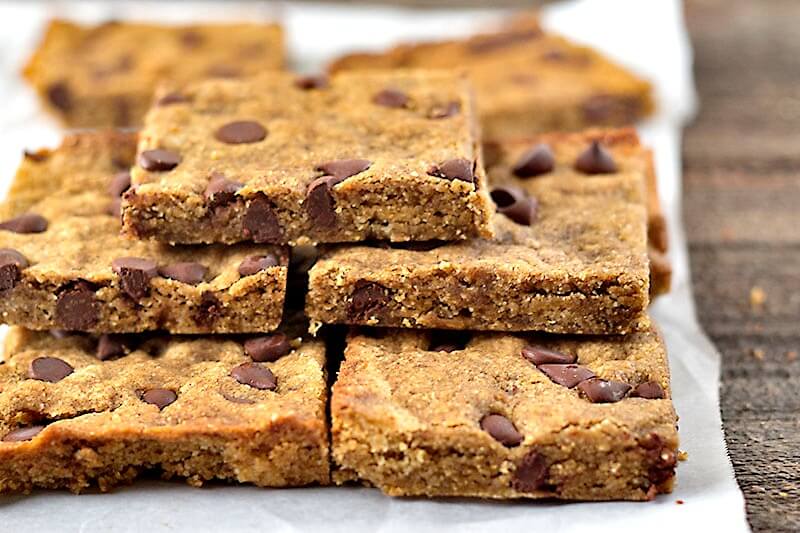 Ingredients in Almond Flour Brown Butter Blondies
The almond flour is just the first ingredient in this blondies recipe that I love. The brown butter blondies get their rich, nutty taste from browned butter, obviously If you've never made browned butter before, don't worry… it's very easy to do. Just be sure that you don't have any distractions before you start making it, because it can go from a perfect, nutty taste to burned in a short amount of time. Simply put, brown butter is butter with the water and milk solids cooked out of it.
If you make brown butter blondies starting with clarified butter, you'll save a little time, because clarified butter already has the milk solids and water removed.
It just hasn't been cooked long enough to turn a wonderful shade of amber.
Brown butter originated in France, by the way. Over there it's called beurre noisette. Anyway, this video will show you how to make brown butter.
I think you'll fall crazy in love with the healthier blondies. If you have any problems or questions about the recipe, don't be afraid to ask! Just leave a comment below, or hop over to my Facebook page and post your question there.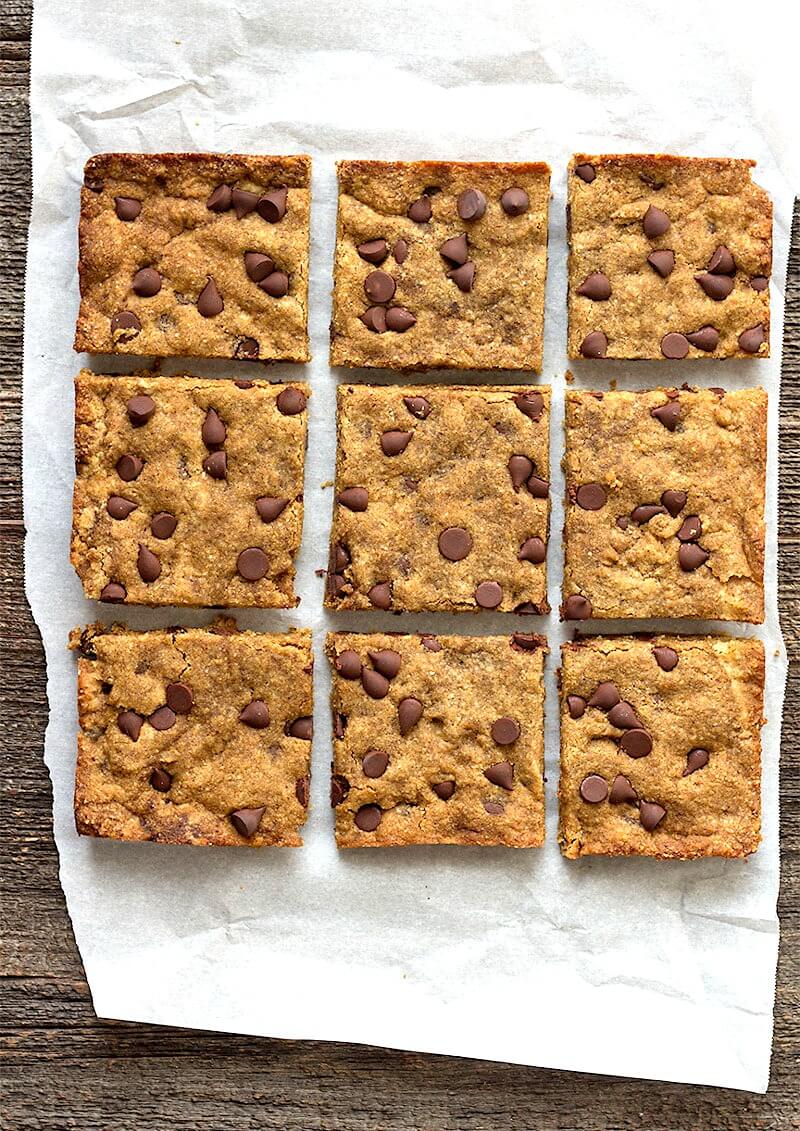 A little FYI: browned butter is great in savory foods as well as in sweets! The nutty flavor adds loads of dimension to savory dishes like my friend Tanya's browned butter homemade waffles with spiced pears.
Brown Butter Blondies Nutritional Information
Based on the ingredients noted in the recipe, one brown butter blondie has 2 net carbs and 7 Weight Watchers Smart Points (based on the Freestyle program).
This low carb brown butter blondies recipe is adapted from one created by Carolyn, from All Day I Dream About Food. She uses different sweeteners than I do, and she uses sugar-free chocolate chips, whereas I use bittersweet chocolate chips. Otherwise, the recipe is the same. You can see Carolyn's recipe here.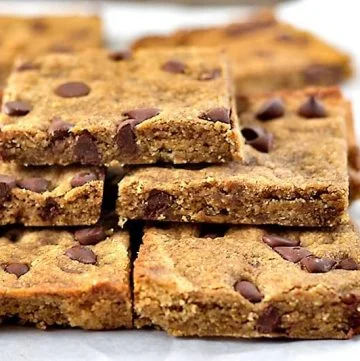 Brown Butter Blondies with Almond Flour
Brown butter blondies are soft cookie bars with deep, nutty flavor. These healthier sweets are made with low carb almond flour and a plant-based, low glycemic sweetener. For extra rich flavor, they're studded with dark chocolate.
Ingredients
½

cup

unsalted butter

2

cups

superfine almond flour

½

cup

erythritol

1

teaspoon

baking powder

½

teaspoon

salt

2

teaspoons

molasses

1

large egg

½

teaspoon

vanilla extract

½

cup

bittersweet chocolate chips
Instructions
Turn on oven to 325 F and grease a 9×9 inch square pan with butter or non-stick cooking spray. Set aside.

In a large bowl, whisk together almond flour, sweetener, baking powder, and salt. Stir in egg, molasses, cooled browned butter and vanilla extract until well combined. Stir in half of chocolate chips.

Press dough evenly into prepared pan and scatter remaining chocolate chips across the top.

Bake 15 to 18 minutes, or until edges are brown and the middle is set and golden brown.

Let bars cool completely before cutting into squares for serving.
Notes
Nutritional information compiled from the USDA database. Net carbs per serving = 2
Coarse ground almond flour may be substituted for superfine almond flour.
Any cup-for-cup sugar substitute can be used in place of erythritol.
Use light or dark unsulphered molasses. Avoid blackstrap molasses unless you want a richer, less sweet blondie.
Nutrition
Serving:
1
bar
Calories:
167
kcal
Carbohydrates:
7
g
Protein:
3
g
Fat:
14
g
Saturated Fat:
5
g
Cholesterol:
25
mg
Sodium:
83
mg
Potassium:
77
mg
Fiber:
1
g
Sugar:
3
g
Vitamin A:
190
IU
Calcium:
62
mg
Iron:
0.7
mg