Chocolate Crinkle Cookies
Chocolate Crinkle Cookies baked with love, are one of the best holiday cookies that you can make during the holidays. Make them traditional crinkle cookies or low carb with our simple ingredient swaps.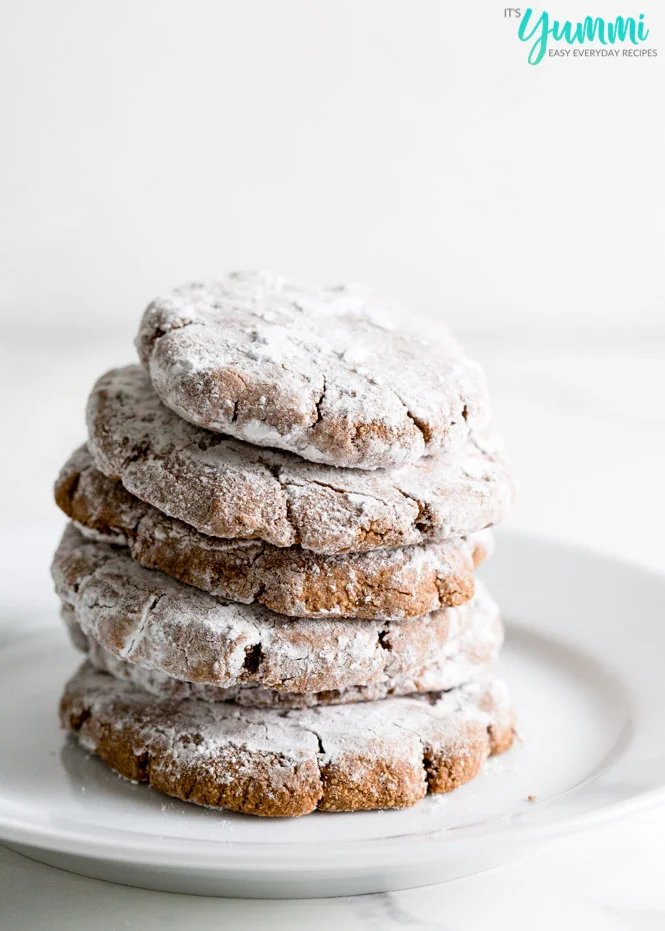 I feel like spending time in the kitchen baking up holiday treats is just the best way to spend time with family. It all began with my grandmother, cookies during the holidays is a requirement. At her house, there was usually a fresh batch of biscuits or a warm plate of cookies or brownies around 24/7.
These Chocolate Crinkle Cookies are exactly the type of cookie that would be sitting in her cookie tin.
Molasses Crinkle Cookies are still one of my favorite holiday cookie recipes. There's something special about the chewy, molasses loaded goodness that grabs my heart. The powdered sugar on my fingers and lips, falling down onto my clean shirt never bothers me one bit. It just makes the cookies taste that much better!
We've taken everything we love about crinkle cookies and added the chocolate. Crinkle Perfection. ????
Bonus – we've got ways for you to be able to make this a little bit more diabetic and low carb friendly for those family members and friends you love. Tis' the season to enjoy something sweet! Alright lets dive in.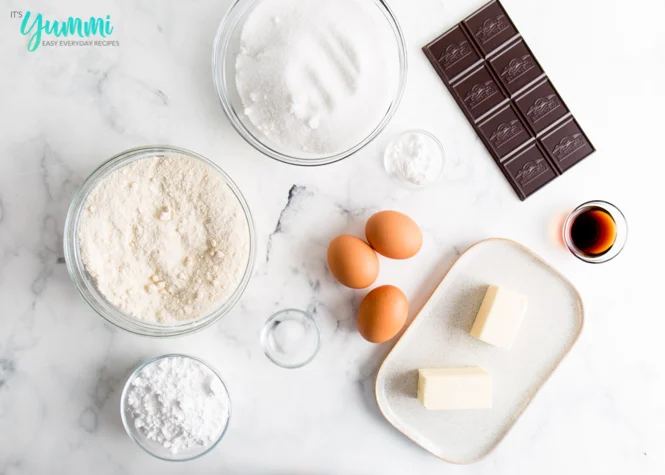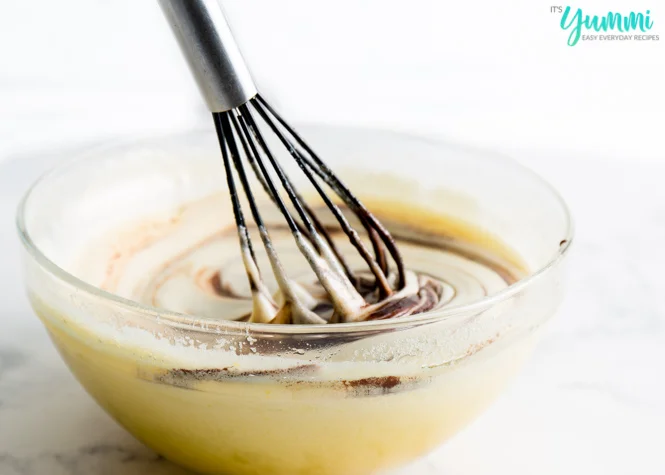 Holiday Cookie Recipes for everyone
We've provided two ways for you to enjoy this cookie. You can make it traditionally with all-purpose flour, sugar and powdered sugar. They are absolutely divine.
Now that I'm grown up, my love for chocolate crinkle cookies remains strong, but our lack of self-control where chocolate is concerned leaves me struggling to stop after eating just one cookie. So, I decided to lighten this cookie up a bit for the upcoming holiday season for those who are needing to keep their blood sugars in check OR want to have an option for those family members who are diabetic.
HELLO Low Carb Chocolate Crinkle Cookies!
There are just a few VERY simple swaps that you can do to make these crinkle cookies low carb.
This is one of those holiday cookie recipes that really should be enjoyed. So if you've got to keep your blood sugars in check this is a fantastic alternative.
Low carb crinkles are thinner than traditional crinkles, because low carb baking mix is heavier than all-purpose flour. Then simply swap out the sugar and powdered sugar with low carb sweetener alternatives.
If you're the type of person that doesn't have anyone that needs to be low carb then feel free to substitute equal amounts of all-purpose flour, granulated and confectioner's sugar for the low carb ingredients. The only notable difference will be in the appearance.
If the carbs don't matter to you, you can also make my chocolate gingerbread crinkle cookies or molasses crinkle cookies.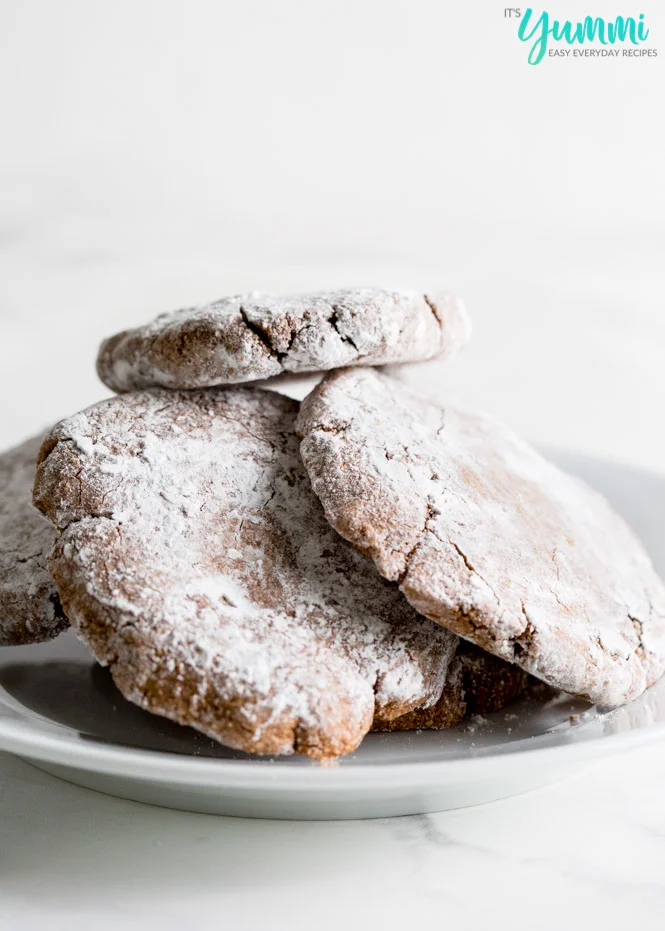 What are crinkle cookies?
Crinkle Cookies get their name because of the appearance of them AFTER they bake. Due to the sugar that the dough has been rolled in melting during baking.
How to make crinkle cookies
It's rather simple. It depends on what type of ingredient you decide to go for. We've found when following the low carb version the cookies will 'crinkle' just not as dramatic as say this Chocolate Gingerbread Crinkle Cookie.
To make pretty much any cookie a 'crinkle' cookie you want to roll into some sugar and while it bakes it will crack and create the oh so perfect crinkle look.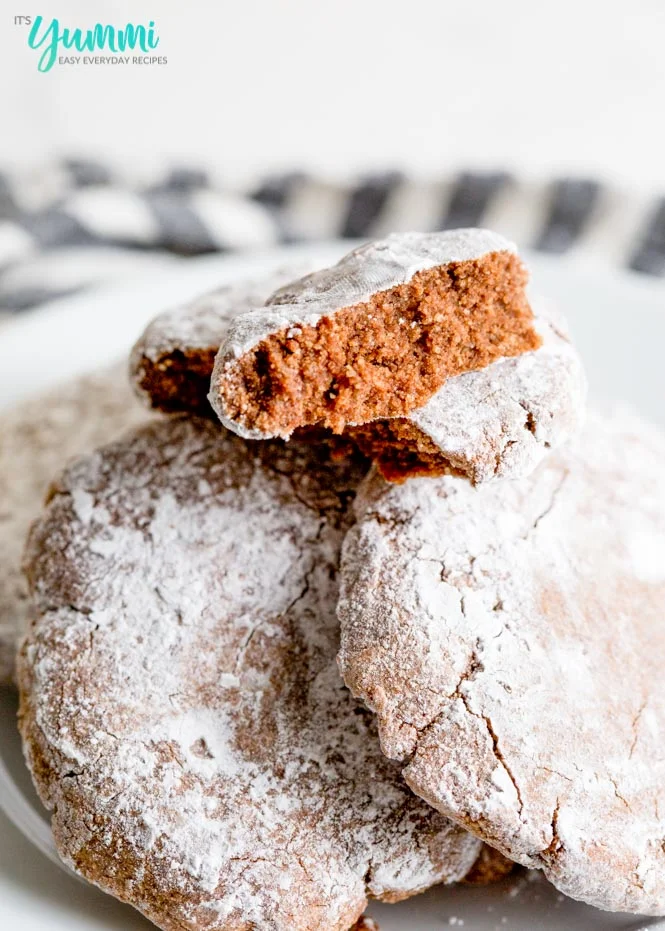 After you've printed the recipe, please share the link to this post with a friend. Let's keep this one moving through the generations!
If you make the low carb chocolate crinkle cookies recipe, please come back and leave a comment and rate the recipe. It's helpful for me to know what I'm doing right (and wrong!)
More Christmas cookie recipes: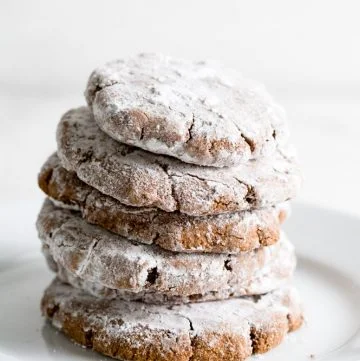 Chocolate Crinkle Cookies
Chocolate Crinkle Cookies baked with love, are one of the best holiday cookies that you can make during the holidays. Make them traditional crinkle cookies or low carb with our simple ingredient swaps.
Ingredients
4

ounces

unsweetened chocolate

4

ounces (1/2 cup)

butter

or organic vegetable shortening

3

large

eggs

lightly beaten

15

ounces (2 cups)

sugar

or low carb sweetener

2

teaspoons

baking powder

2

teaspoons

vanilla bean paste or vanilla extract

¼

teaspoon

salt

8.4

ounces ( 2 cups)

all purpose flour

, low carb baking mix or almond flour

½

cup

powdered sugar

, or low carb powdered sweetener
Instructions
Add chocolate and butter to a small saucepan over medium low heat. Stir until contents have melted completely and mixture is smooth. Remove from heat and allow to cool for 15 minutes.

Add eggs, sugar, baking powder, vanilla, and salt to a large mixing bowl. Use a whisk to incorporate the cooled chocolate mixture, then use a mixing spatula or spoon to gently fold in the flour. Be careful not to over mix. Cover bowl with plastic wrap and chill for at least 2 hours before proceeding. (The longer you allow it to chill, the less the cookies will spread.)

When ready to bake, heat oven to 375 F.

Line two rimmed baking sheets with parchment paper or silicone baking mats.

Shape dough into balls approximately 1.5 Tablespoons (0.8 ounces) in size. Roll each ball in confectioner's sugar to coat completely, then space 2 inches apart on prepared baking sheets.

Bake cookies for 9-10 minutes, or until edges are just set. Remove pans from oven and allow cookies to cool on pan for 5 minutes before transferring to wire racks to cool completely.

Makes approximately 4 dozen cookies.
Notes
Recipe adapted from The Better Homes and Gardens NEW Cookbook (16th ed.), by Meredith Corporation; published by Houghton Mifflin Harcourt
Nutrition
Serving:
1
cookie
Calories:
92
kcal
Carbohydrates:
15
g
Protein:
1
g
Fat:
4
g
Saturated Fat:
2
g
Cholesterol:
18
mg
Sodium:
35
mg
Potassium:
47
mg
Fiber:
1
g
Sugar:
10
g
Vitamin A:
78
IU
Calcium:
13
mg
Iron:
1
mg